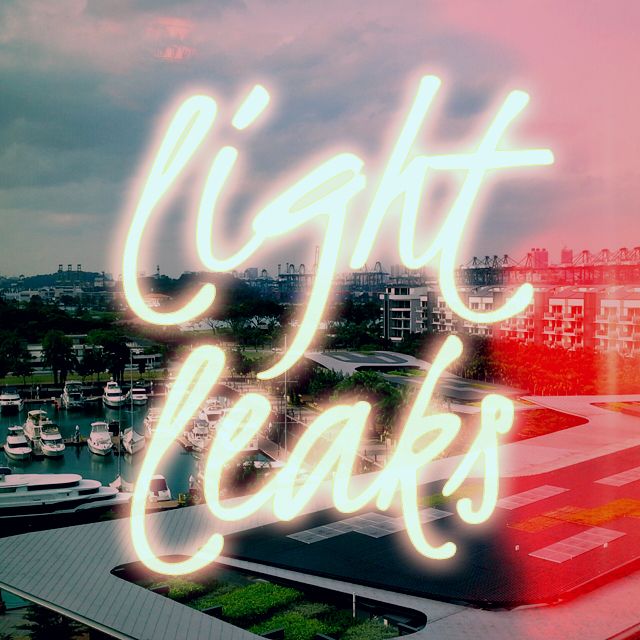 How often do you apply a light leak filter on your photos?
How many ways to Sunday can you do it?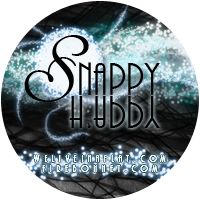 Welcome back to Week 5 of the Snappy H'appy Photo Challenge hosted by weliveinaflat and firebonnet ;) This challenge asks you to (1) share a good photo that you took or edited last week, (2) run it through a photo app on your smartphone or mobile device and share with us the result. We're back to the theme of Light this week and we will look at Light Leak Effects.
Our awesome Snappy H'appy crew includes co-host Meghan (Firebonnet) and also Melinda (1stWorldDog), Christy (Sassmuffins), CompletelyDisappear, Gretchen (Zeke's Adventures), Meg (Little Dogs Laughed), Blogagaini and Mary (RoxyTheTravelingDog).
If you didn't join us in the last four weeks, there are 8 weeks left in the challenge, so feel free to join in the fun. Backdated posts for the previous weeks are optional. ; ) For more details about the challenge, check out the Photo Challenge page. Now then, let's talk about light effects.
Light Leak, what is it exactly?
A light leak is a hole or gap in the body of a camera where light is able to "leak" into the normally light-tight chamber, exposing the film or sensor with extra light. This light is diffuse, although parts within the camera may cast shadows or reflect it in a particular way. For most purposes this is considered a problem. Within the lomography movement it is seen as a positive effect, giving photos character. – wikipedia
Light leaks, especially those big stripes of red on a photo could be a little cheesy but some light leak affects can also have a dreamy, romantic feel or a dynamic city feel that this video tries to incorporate.

A Day In Surabaya from Hifatlobrain on Vimeo.
App #1 – Pixlr Express' Leaks and Leaking Overlays
If you like simple and straight forward, Plxlr Express has Light Leak texture maps that are easily applied to the image at the tap of a finger. You can find them in the Overlay section in two categories – Leaking HD and Leaks.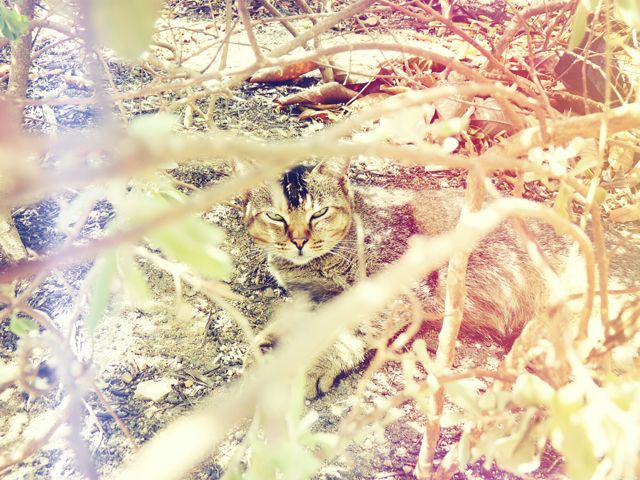 Applied the Ovverride Leaking HD filter, Fade not 100%, in Pixlr.
App #2 – PicsArt Lights
PicsArt has  a selection of Lights Effect, which when set to the Screen setting can imitate the diffused light leak effect.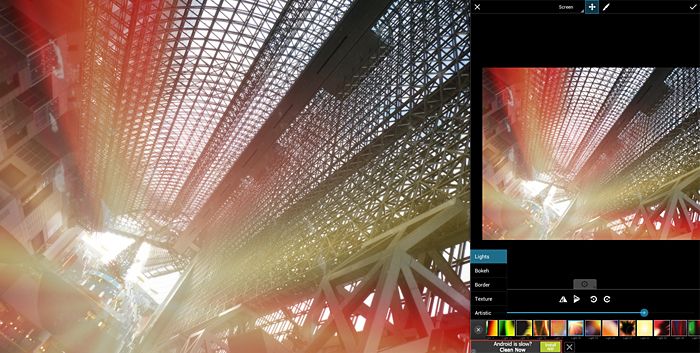 Under Effect > Lights, Light 18 is applied to the photo with a screen setting (see dropdown menu at the top of the screen) to create a dreamy atmosphere.
The screenshot below shows you the other controls that lets you flip, rotate and make more or less transparent the light leak or light effects being applied to the photo.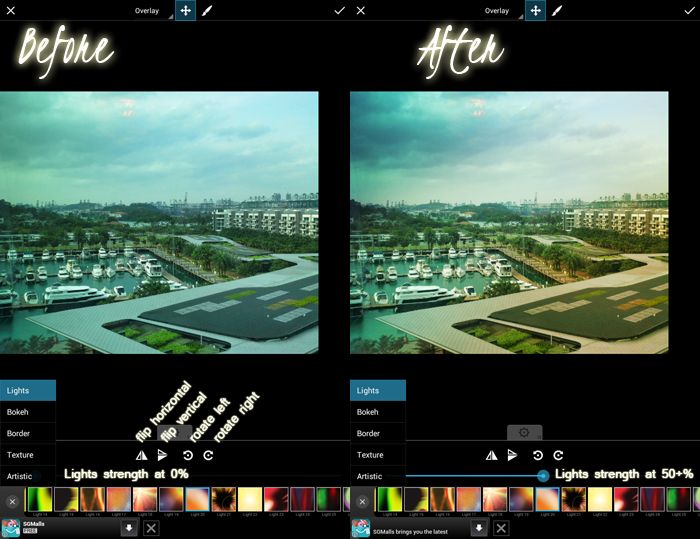 App #3 – Snapseed Retrolux
If you like slightly less control, retrolux in Snapseed has a randomize function that applies retro effects, including light leaks when you "roll the dice". Or you can start out with a preset and customise from there. Within the different Retrolux effects offered by Snapseed, swipe your finger up or down and you will call up the menu that lets you adjust brightness, saturation, scratches, style strength and yes, light leaks within the Retrolux effect you have chosen to apply.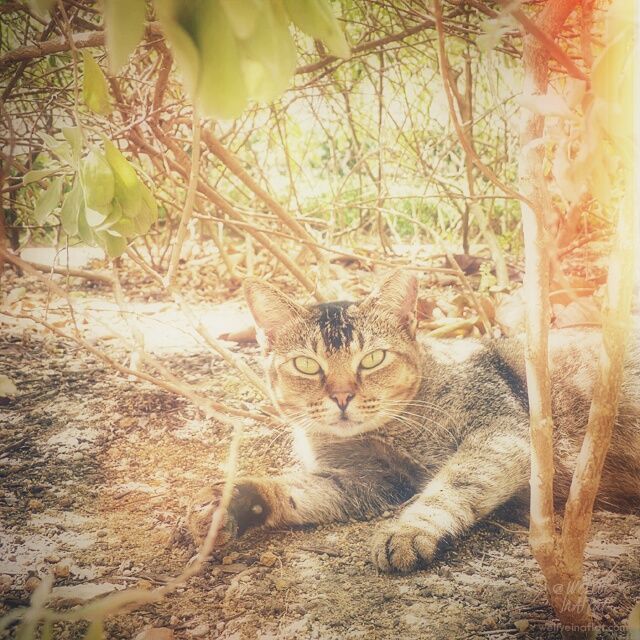 Image with added light leak from Retrolux in Snapseed


With a heavy hand, I repeated layering Snapseed retrolux filters and ended up with a photo that is quite different from the original, but whether it looks better or worse than the original is debatable and down to the individual.
In the instance of this cat photo, my preference is for the original without the Retrolux filter. A general rule of thumb, if it distracts from the photo's subject and focal point, than it's perhaps better to do without. But if it enhances the photos, achieves your motive of a cohesive vintage or lightleak inspired photo set and helps focus the eye on the subject, than why not? ;)
Light Leak photos do not have to be light and dreamy
Lomography photos can be colourful with intense lights and darks as well.
Within the Lights section of Picsart, there is a dropdown at the top of the screen that offers different blend modes. Earlier in this post, we selected the "screen" setting to create a dreamy light leak effect using one of the filters available. The dropdown has more than just Screen settings, so you can always experiment and choose the setting you prefer for a different effect.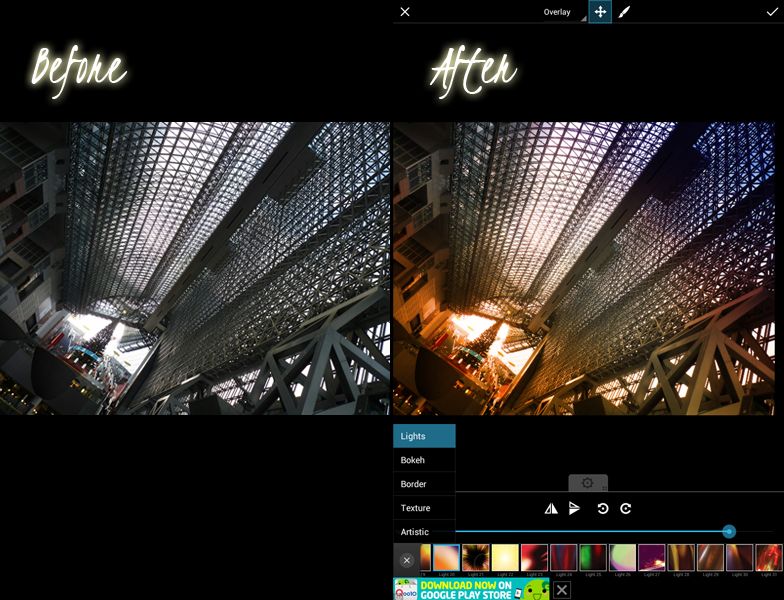 Light 20 is applied to the photo with the overlay setting (see dropdown menu at the top of the after screen) and that created more a dynamic and colourful photo, rather than a light, dreamy look for the building interior.
So now I've showed you the different ways, I use the apps on my mobile device to create light leak effects on my photos. Here are ten more photos from other people to give you further inspiration!
---
Get inspired!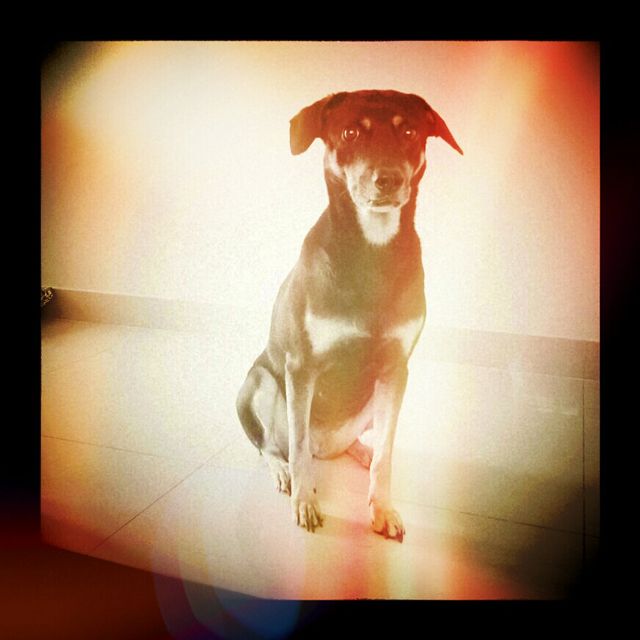 Ten Light Leak Photos –
different subject, different approach, by different authors of the images. ;)
[ Flowers 1 | 2 | 3 | 4 | Close ups 1 | 2 |  Scenes 1 | 2 | 3 | 4 ]
---
Go get it!
Photo apps for your mobile devices
iPhone users
Apps covered in this post

Dedicated light or light leaks apps

Because light leaks are closely associated with lomography, you may also want to check out the vintage film camera app – Hipstamatic iPhone only 
Android Phone users
---
Host challenge post
My photo of the week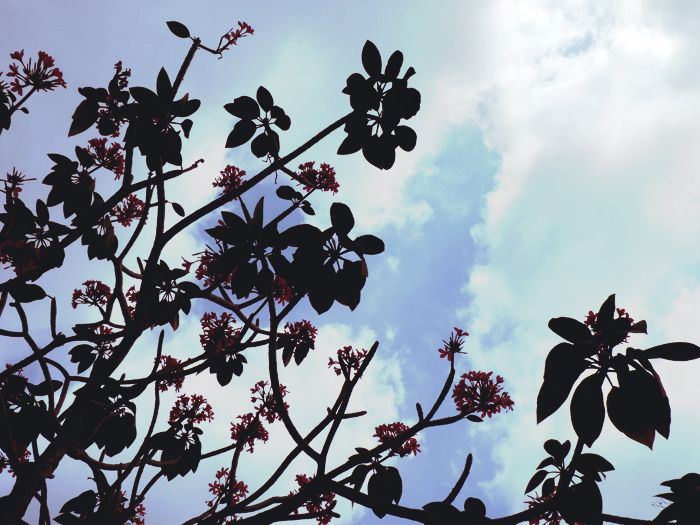 This are the only thriving flowering plant in the garden below the flat right now. Everything else is drying and dying as we are experiencing a dry spell at the moment.
App Challenge Image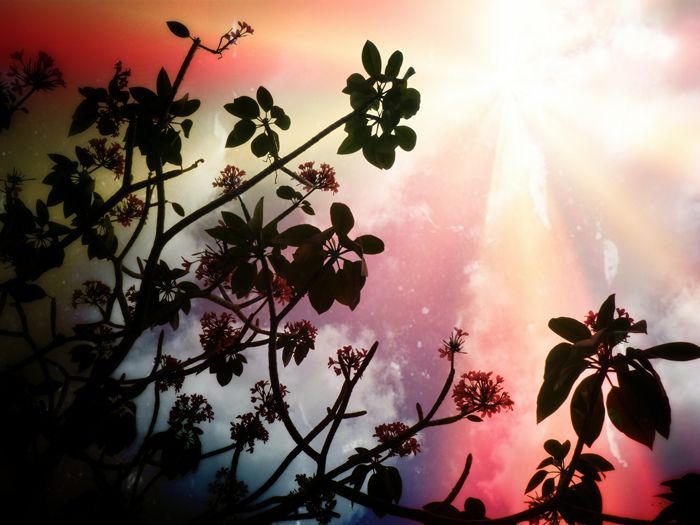 PicsArt, Light 18, using the Overlay setting. I like how it looks kind of mystical with the tops of the foliage reaching out to the light beams shooting down. ;) I edited the original photo with Snapseed before applying the light filter in PicsArt.
---
Now it's your turn to share!
Create your challenge post from now until Sunday, 16 Mar end of your day. Post your Photo of the Week and your App-ed version of that photo on your blog. (You can follow my format above if you like).
Pic 1 – Your Photo of the Week can be taken with any equipment – a regular camera, a DSLR, a smartphone, hack even a pin-hole camera if you so choose!
Pic 2 – Pic 2 is optional. The theme this week is Light Leak Effects, but if that is not your cup of tea, you are free to choose other app effects for your app-ed photo. In all cases, it would be helpful if you can name the app effect used so we can understand what you are doing ; )
Add the challenge badge and link your post to the host and co-host sites. Be nice and visit with some of the other challengers for this week! :) And do remember to leave me your blog post link in the comments below, in case I do not receive the pingback/trackback from your link.
For more information, you can read in detail more about the challenge and the instructions at the About page here. You can also grab the badges here.
Questions? Feel free to pose any questions in the comments below or email me at weliveinaflat@gmail.com. Next up, what happens after you have linked up? Why you start getting your challenger photo grid filled up!
---
Challenger Photo Grids
Every week, challenger grids get updated with the new photos! At the end, you get to grab your grid off this blog for your own pleasure. :D Meanwhile, you can view one another's photos on the blogs by clicking on the linked numbered weeks above each challenger's photo grid. I will try to keep it up to date as quick as I can ;)
Host| weliveinaflat.com
[ photos tagged "snappy happy" ]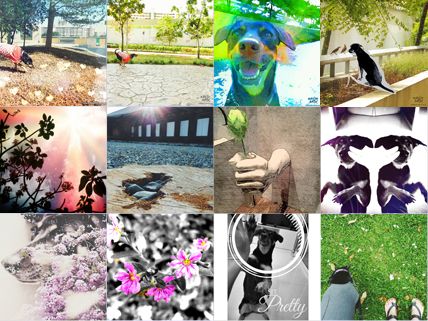 Host| firebonnet.com
[week 1 2 3 4 5 6 7 8 9 10 11 12]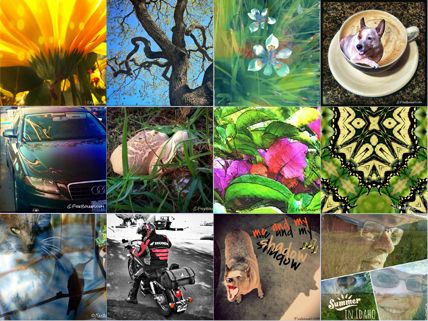 Challenger| 1stworlddog.com
[week 1 2 3 4 5 6 7 8 9 10 11 12]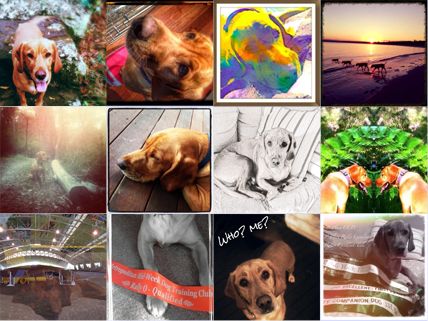 Challenger| Little Dogs Laughed
[week 1 2 3 4 5 6 7 8 9 10 11 12]

Challenger| Roxy The Traveling Dog
[week 1 2 3 4 5 6 7 8 9 10 11 12]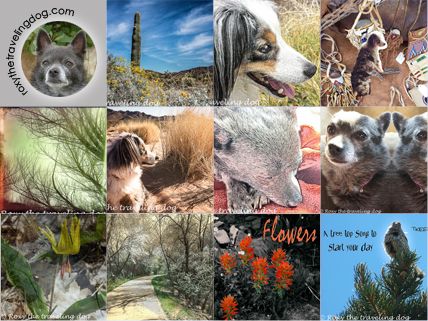 Challenger| completelydisappear.com
[week 1 2 3 4 5 6 7 8 9 10 11 12]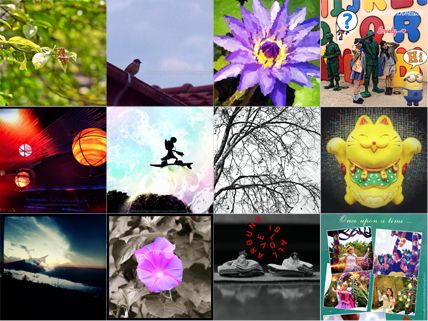 Challenger| Zeke's Adventures
[week 1 2 3 4 5 6 7 8 9 10 11 12]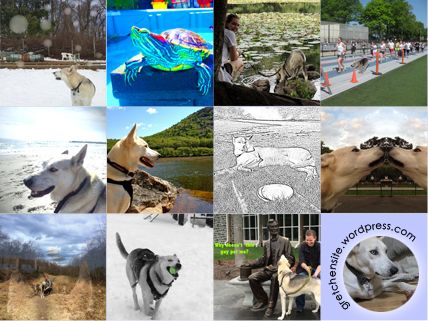 Challenger| sassmuffins.com
[week 1 2 3 4 5 6 7 8 9 10 11 12]

Challenger| Blogagaini
[week 1 2 3 4 5 6 7 8 9 10 11 12]

Challenger| Claim your photo grid, join the challenge today!
Next week, we'll get Snappy H'appy with Colour Filters! Thanks for checking out this Photo Challenge and making it all the way to the end of the post! ;)