Hello! Today, we'll take you around the block to look at the white flowers growing in our area.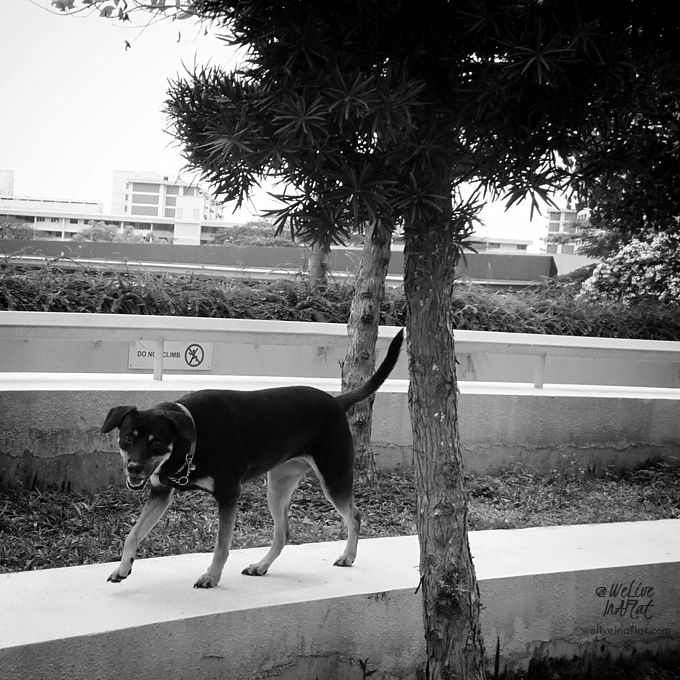 Take a joyful step with Donna now! LOL
At Donna's height, mostly she'll come in contact with the weeds. Here's my particular favourite, the delicate five-petal Lavender Sorrel. Each flower is smaller than the tip of a finger.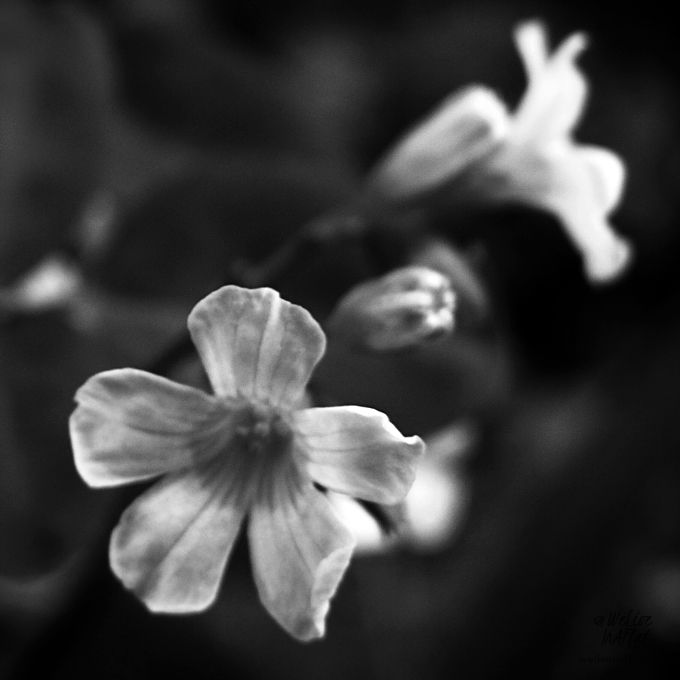 The leaves are apparently edible in small quantities. They have a sharp, sour flavour because they contain oxalic acid, I suppose hence the scientific name Oxalis Barrelieli. So less concerns if Donna happens to bite off a leaf. Do note that oxalic acid in large quantities can be bad for dogs.
Also named after a French Botanist Jacque Barrelier, Barrelier's Woodsorrel is not really pure white. Though it appears so, the white petals show pink veins at closer inspection. Its distinctive yellow heart with the white petals also makes this roadside weed easy to identify. You can see more photos of this plant in colour here.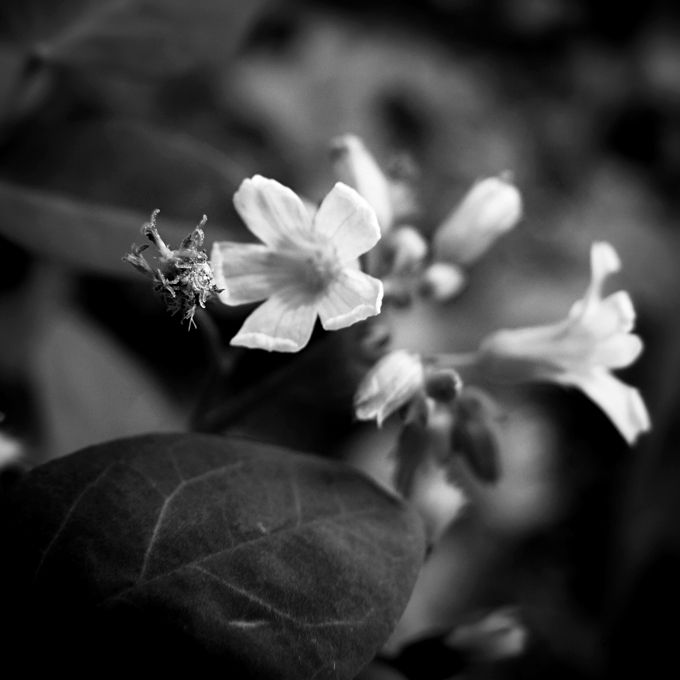 That little untidy cluster next to the flower (picture above) is a different weed called the Little Ironweed. It is apparently known to have some traditional uses for fever, etc ailments.
Up next the Cupid's Shaving Brush.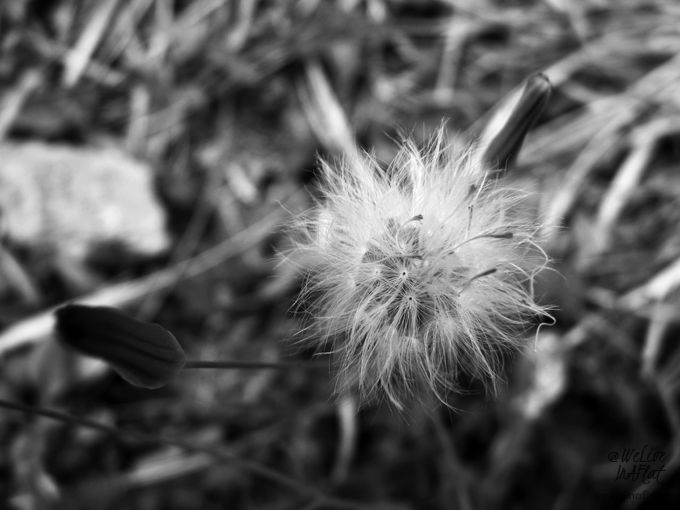 A check across different webpages writing about the same plant concurred that the Cupid's Shaving Brush can be eaten and has in fact some medicinal uses as well as…
The flower heads are chewed and kept in the mouth for about 10 minutes to protect teeth from decay – source: plants for a future
 And guess which part of the plant Donna has eaten before?
Evidence


I suppose she grew impatient with me stopping the walk to take a picture of it, so she decided to stop me by eating it. Not the flower but the seeds.
What's left after she ate it.


Pictures from this post.
The plant didn't do her any damage. I wiped whatever I could of those fluffy seed off her tongue, whatever that she hadn't swallowed anyway.
Alright, wrapping up with white flowers that she can't really reach. Some Crape Jasmine flowers (pictured below) blooming above her head on walks. These are white with yellow centres too.

Another Jasmine on a bush, on the cusp of unfolding.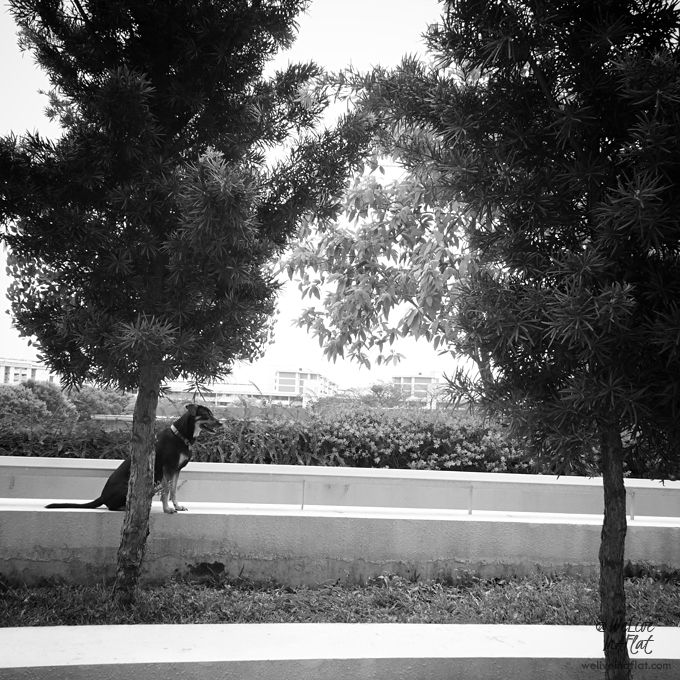 Donna has inspected all the scents coating the grass and weeds in the grass and has gotten bored, so she sits and waits.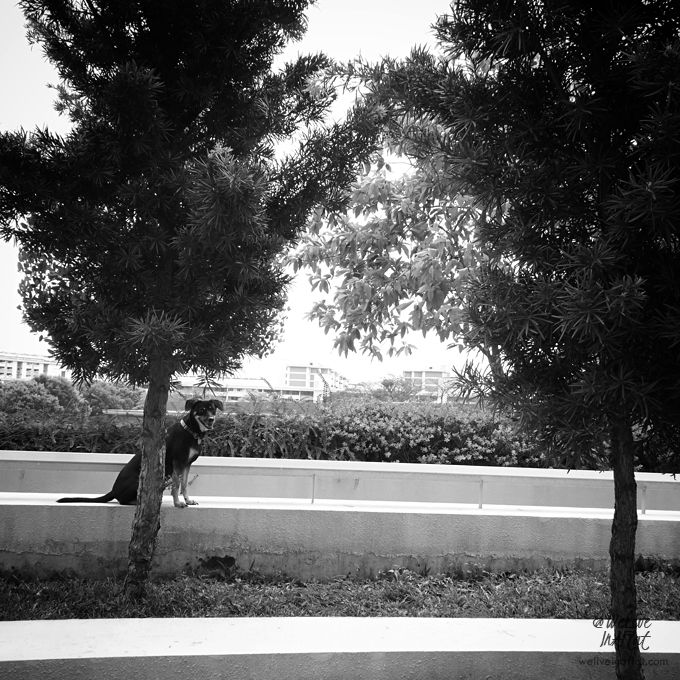 Can we go now, human? 
Happy Easter everyone ;)
References
- plant colour photos: lavender sorrel, little iron weed, cupid's shaving brush
- plants for a future – cupid's shaving brush, lavender sorrel
- urban forest – lavender sorrel, cupid's shaving brush, little ironweed