8. Treats
But if you want real treats, lots of Ciao Churu flavours to choose from. Pet store, Nekojam, tells me Ciao Churu is really popular with cats in Singapore.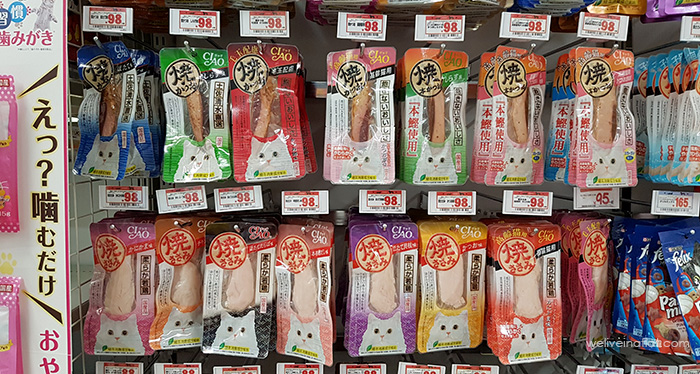 As for dog treats, you will probably be better off getting better quality treats for specialised pet shops rather than the pet section of a discount store. :P See specialised pet shops in Kyoto and Osaka, click!
Others
9. EVA floor tiles
Well, technically nobody buys bulky floor tiles on holiday. But these EVA interlocking tiles came in a pack of 9, which makes it more economical than buying it for $2 a piece at Daiso for example. :P And I was already thinking of getting them for those tricks that will have a higher impact on her joints. :)
Tourists are eligible for tax rebates if they spend above 5000yen per receipt in Japan. Note that they help you pack your items into bulk packages that stipulate that you are not suppose to open them until you leave Japan. So if you are buying, for example, sheet masks in boxes, it may help you save some luggage space to ask the staff to help you open and repack those items with bulky packaging. Language is not an issue if you can converse in Mandarin at Don Quijote stores, because they appear to be well-staffed with Chinese immigrant workers.
Happy shopping!
Are you an expert when it comes to shopping in Japan? Where do you like to shop for your dog and cat there?
Tell me in the comments below. I would love to know!
---
Come :) Follow weliveinaflat.com on
Instagram @weliveinaflat |  Facebook donna.weliveinaflat | Youtube Mutt Vlog