In 2015, I wrote an introduction to Commercial Raw Dog Food. At that time, there were limited brands of commercial freeze dried dog food – only 2. It has been slightly more than a year and a half, and the good news is we have more choices today than before! Let's take a look at five freeze dried commercial raw dog food brands that you can find on the shelves today! :)
The five brands are Stella & Chewy's, Northwest Naturals, Stewart Raw Naturals, Primal Freeze Dried Nuggets and K9 Natural.
Here's Donna's review of them :P
Now that you've seen Donna's review, we'll go on to the human's review of the food. ;) In this post, we will review the food along the following themes:
Budget-wise
What is the Cost per day? How long does each pack last?
Quality-nutrition
What is the quality of the ingredients that go into the bag
Food safety
Which brand has recalled their food before? What food safety programs have they put in place to protect our pets and family members?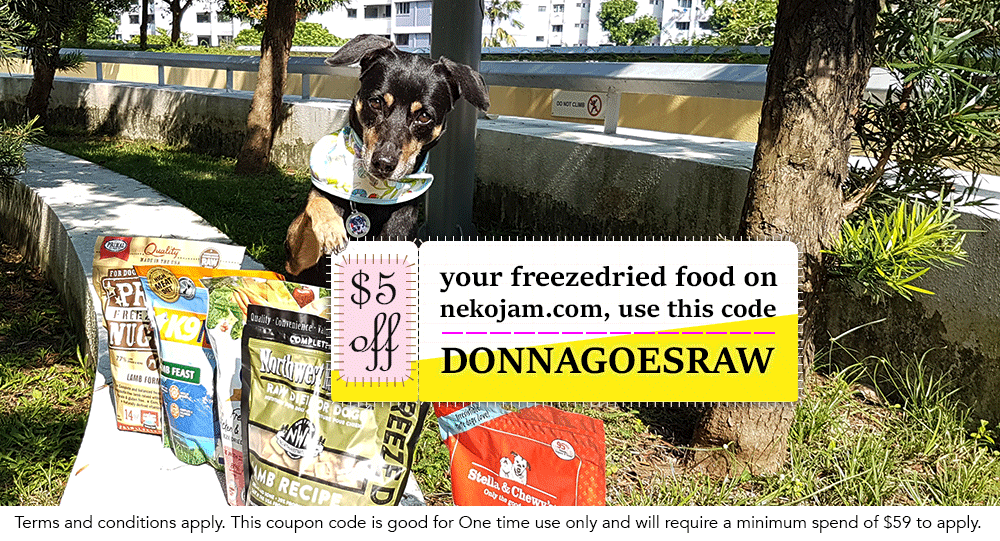 Freeze Dried Raw Dog Food: Most Value for Money
First, let's address the elephant in the room.
Cost is the main reason that we do not feed Primal as a main meal for Ashley.
– Ashley the Border Collie's review on FurFlr
Freeze dried raw dog food is expensive so I was interested to find out how these five freeze dried brands compared with each other. Are there particular freeze dried brands that are cheaper or last longer compared to others?
It seems like based on Donna's weight of 14 kg or 30 pounds, most freeze-dried dog raw food at around 12-15 oz packs will feed Donna between three to five and a half days.
List of freeze dried food in order from lowest to highest cost per meal
Scroll down for details in the photos below. You can see how I have repacked each pack of freeze dried food into daily servings based on its recommended feeding guide. This gives you an easy to see view of the number of days they can last, and the cost per meal for a 14kg dog like Donna.

People do adjust the amount they feed based on whether their dog has gained or lost weight while on the food. Obviously, it's not advisable to keep feeding the recommended amount if your dog is overweight and not losing weight at all.
But the interesting thing is, each of these brands have different recommendations how much kilocalories (kcal) a day that 14kg (30lb) Donna needs. You can see in the table below, the recommended kcal/per day can range anywhere from 401kcal/day to 726kcal/day! That's a big range.
So the key takeaway here is:
Monitor your dog's weight and adjust the feeding portion accordingly.
Depending on the amount of food you have adjusted to feed your dog at each meal, each of these freeze dried dog food brands may become cheaper or more expensive for your individual case.
For example, if Donna starts to gain weight on K9 Natural, I may reduce the serving size from 2.2 cups (726kcal) to less than that so that she gets closer to the 610kcal that may be better for her in terms of weight maintenance.
This may mean that I can then stretch the 5 days' worth of food in the pack to longer than that, since I would be feeding less at every meal. The cost of each meal will therefore also become less. But yes, it still costs more compared to feeding dog dry food.
And, some of the brands like K9 Natural and Stella & Chewy's can come in larger size packs than what is compared here. The price per meal will be cheaper with the bigger packs compared to these 12oz-15oz packs that are closer to the other brands reviewed in this post.
Freeze dried raw dog food is expensive
So Why the Growing Interest in Freeze Dried Dog Food?
Freeze dried raw dog food has a relatively short history in the market. Interestingly, some of the brands covered in this review were founded by dog owners with sick pets, who got better after being put on the raw diet. Their success inspired them to pursue this as a business opportunity.
An example is Matt Koss, founder of Primal Pet Foods. He started doing research and making his own raw dog food because of his ailing dog in 2001.
 "…I saw a transformation of health in an animal that had otherwise taken a turn for the worse," Koss says.

Eager to share the benefits of this newly created raw food recipe with other pet owners, later that year, Koss launched Primal Pet Foods with a single recipe—the raw frozen Canine Chicken Formula…
Freeze dried food companies like Primal appeal to dog owners who have bought into the benefits of the raw diet. This includes,
relief from certain allergies, vibrant skin and coat
greater stamina and vitality, healthy immune system
They may believe that traditional methods of processing dog food using heat lessens the nutritional value of the food. Raw food formulated to mimic the diet of animals in the wild are supposed to be highly digestible. This means the nutrients may be more readily available and absorbed by the dog.
What makes commercial freeze dried dog food products more attractive to pet parents? Well, I do like how easy it is to prepare and feed this category of pet food.
There is no need to:
research on how to balance the home made raw dog food recipe
be knowledgeable about potential issues with eating too much of a particular raw part of any animal
source for 5-8 proteins, sometimes from different vendors
source for affordable grass-fed, cage-free animals and/or organic produce
needing the space in a tiny flat for an additional freezer so you can buy and store in bulk to reduce costs
spend time on food preparation and clean up
Most of us have lives too busy for us to dabble with the mess and hassle of feeding a balanced and quality raw diet. 
Now that you know what I think about this category of commercial freeze-dried food for dog, here's what I think about each brand.
The Brands!
Primal Pet Food – freeze dried raw dog food
What's in my bag of freeze dried lamb formula?
What I like about Primal
Come on if i'm paying $44 for a packet that will last Donna around 4 days, it had better be organic, grass-fed, free-range, hormone-free and table-grade, on top of quality named meat. And Primal is. I'm pretty sure my own human food is not as antibiotic or hormone-free and definitely low on organic!!
In addition to only using human-grade ingredients, Koss explains that Primal Pet Foods is very particular about the suppliers it partners with. The company looks for sources that follow strict animal-care and food-safety protocols, as well as proteins from antibiotic- and steroid-free animals. In addition, Primal only sources from the U.S. and New Zealand. "Our goal is to deliver the cleanest possible product," he says. – A Primal Craving, Petbusiness.com

Primal Pet Food Formulas contain 100% certified organic, unrefined, nutrition-packed supplements that offer your pet additional benefits to immune, circulatory and digestive health. – primalpetfoods.com
What I don't like about Primal
I have said many times before that a diet rotating different brands can only be beneficial for dog because different companies employ different recipes with different nutrient profiles. So while I do like Primal as a brand, I wouldn't recommend any dog to be just on Primal pet food.
Let me use Primal as an example to explain why.
Primal has been recalled before for cat food that does not contain adequate levels of thiamine, a nutrient that is essential for cats.
When examining the guaranteed and dry matter analysis of the Primal flavours, I found that most flavours of Primal had pretty low fibre.
Dogs do poorly when fed the same food over and over again. Just like humans they need variety. So even if Primal is a premium pet food known for quality, feeding the same recipe over and over again will just mean that the dog is not getting the variety and balanced diet that she needs overtime. The problem is compounded if the food is actually found not be balanced, like in the case of the cat food that was recalled.
By rotating brands and meat sources, you are spreading your risks out, because then your dog would be getting the variety offered across the different brands and be less affected if there were a recall or imbalance in the diet.
See Primal Freeze Dried Nuggets 4.5 stars review on dogfoodadvisor.com
K9 Natural – freeze dried raw dog food
What's in my bag of freeze dried lamb feast?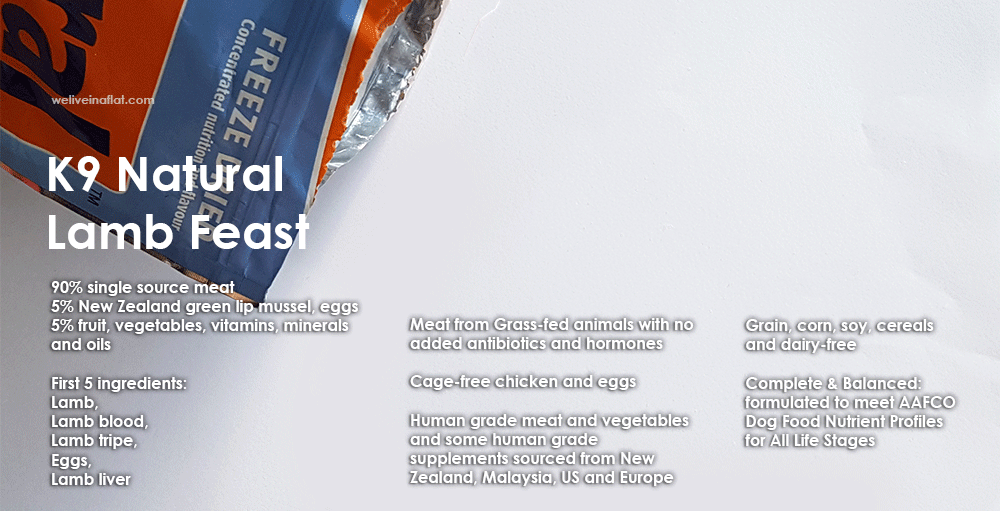 What I like about K9 Natural
The food is of course high quality – cage-free, grass-fed, human-grade meat and vegetables.
K9 Natural's manufacturing facility is inspected and certified by New Zealand's Food Safety Authority and meets EU standards. (Sidenote: If you buy Canadian pet food (which is very highly unregulated), a good way to check if that Canadian pet food is of good standard is to see if they are imported by Europe. :P)
This brand of pet food has not been recalled before.
K9 Natural is the only food on the planet that can travel to any continent, including Europe, without being irradiated, cooked or sterilized," founder Geoff Bowers claims. "Why? Because of the stringent food safety regulations we subscribe to in New Zealand and the products we use to make the food."

Bowers adds that achieving certification took many months and thousands of dollars. "No one had done this before," he says. "The hardest places to export to are the EU and Australia; we are the only company able to import a truly raw, uncooked, non-irradiated product into both of these continents. "

– K9 Natural ensures raw pet food is here to stay, petfoodindustry.com
What I don't like about K9 Natural
It made my hand itch before. #truestory So handling is not so hassle-free for me. I handle it with plastic gloves. :P
Personal problem aside, K9 Natural is the other brand with low fibre. HAHA.
Unlike other products on the market, K9 Natural also appears to have in general higher fat content compared to protein in the guaranteed and dry matter analysis. Not good news for fat pets. And when I think that I'm feeding raw, I think I am feeding a high protein diet. It just doesn't sit right with me because in this case it seems I'm feeding a high fat diet instead!
What does that mean for my dog's health in the long term? I don't know. :P But I'd rather feed her with the kind of proportion of protein to fat that I see more consistently in the other brands, yah?
Again, less of an issue if you feed a rotation diet and giving your dog that variety she needs.
Stewart Raw Naturals – freeze dried raw dog food
What's in my bag of freeze dried chicken and salmon recipe?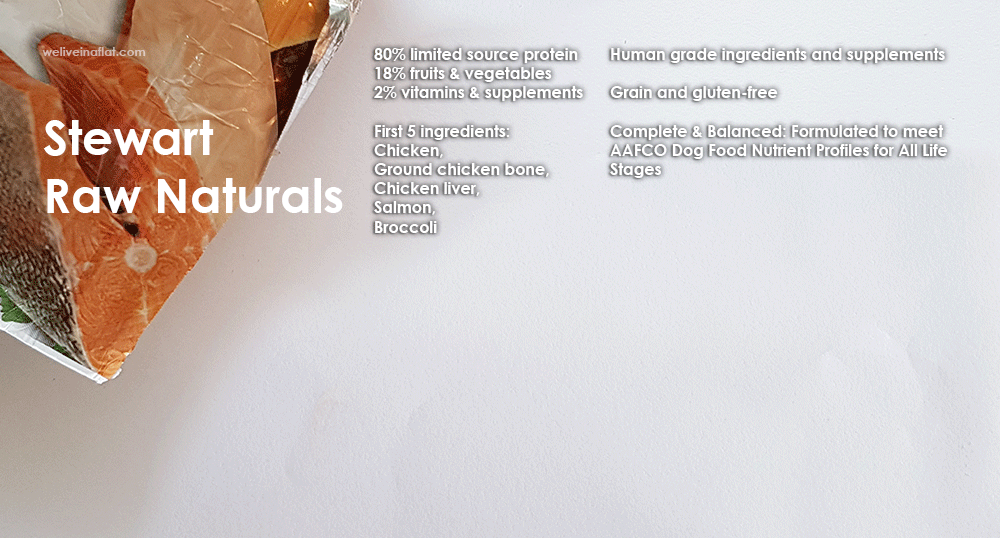 What I like about Stewart Pet
Well, I get perhaps the lowest cost per meal among the brands in this post with Stewart pet. But that comes with some compromises, the food is human-grade but the ingredients may not be as grass-fed, cage-free, antibiotic- and hormone-free as Primal or K9 Natural.
What Stewart Pet is committed to offer is its industry-recognised food safety programs and third party food safety audits. This brand of pet food has not been recalled before.
Given the ingredients list looks decent and the guaranteed/dry matter analysis appears comparable to other brands, I have no issues feeding this to Donna.
More about Stewart Raw Naturals 5 stars review on dogfoodadvisor.com
Where I am not so sure about Stewart Pet
Unlike Primal and K9 Natural, Stewart Pet Food is one of the brands owned by MiracleCorp. MiracleCorp also sells health, first aid, grooming and other products, including the QuickFinder Deluxe reviewed here.
I could find very little information on Stewart Pet, that does not sound like corporate spiel. So as a brand, it is harder for me to identify with Stewart Pet. :P
Sourced and Made in safe countries like USA

"Raw Naturals™ Fresh-to-Home recipes offer complete and balanced nutrition with the widely recognized benefits of a raw diet.  We understand the responsibility that being a food provider requires a complete commitment to the quality and safety of the products we produce.  Stewart products are proudly made in the USA using the highest quality materials and adhere to a strict safety protocol ensuring that our customers receive the safest food and treats on the market." – miraclecorp.com
Northwest Naturals – freeze dried raw dog food
What's in my bag of freeze dried lamb recipe?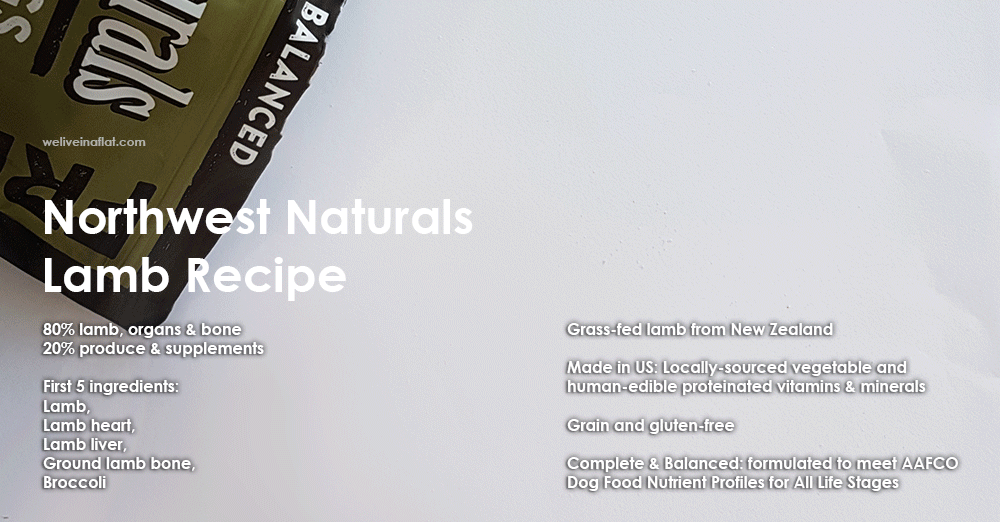 What I like about Northwest Naturals
I actually didn't know much about Northwest Naturals before writing this article but what I learnt about it so far has been positive. Northwest Naturals started in 1956 as a family owned business processing table-grade meat for restaurants and grocery stores.
So of course, this brand also offers grass-fed protein meat sources, human-grade ingredients including vitamins and minerals. (Some of the other brands featured in this post can include supplements that are not human-grade.)
Northwest Naturals is owned by Morasch Meats… a family run business since 1956, specializing in meat processing products for restaurants, grocery stores, and independent retailers. They own a facility in Portland, Oregon, where High Pressure Processing and Freeze Drying for both human and pet products takes place.
What further differentiates this brand from others is it publicly discloses which farms it sources its food from on their website here. That says a lot about Northwest Naturals' accountability and transparency to its customers.
Northwest Naturals offers the same industry-recognised food safety programs and third party food safety audits that Stewart has. This brand of pet food has not been recalled before.
More about Northwest Naturals 5 stars review on dogfoodadvisor.com
What I don't like about Northwest Naturals
I have examined the guaranteed and dry matter analysis and the ingredients list and they all seem pretty decent. One thing I am unsure about is how coincidental Northwest Natural's first five ingredients in some of its products when compared to similar Stewart Pet Food products appear identical. :P
In anycase, this is food that I am happy to give Donna at the moment. There really is nothing I dislike about this brand at the moment, except for it being the highest priced brand in the freeze dried dog food category. :P
Stella & Chewy's – freeze dried raw dog food
What's in my bag of freeze dried dandy lamb dinner patties?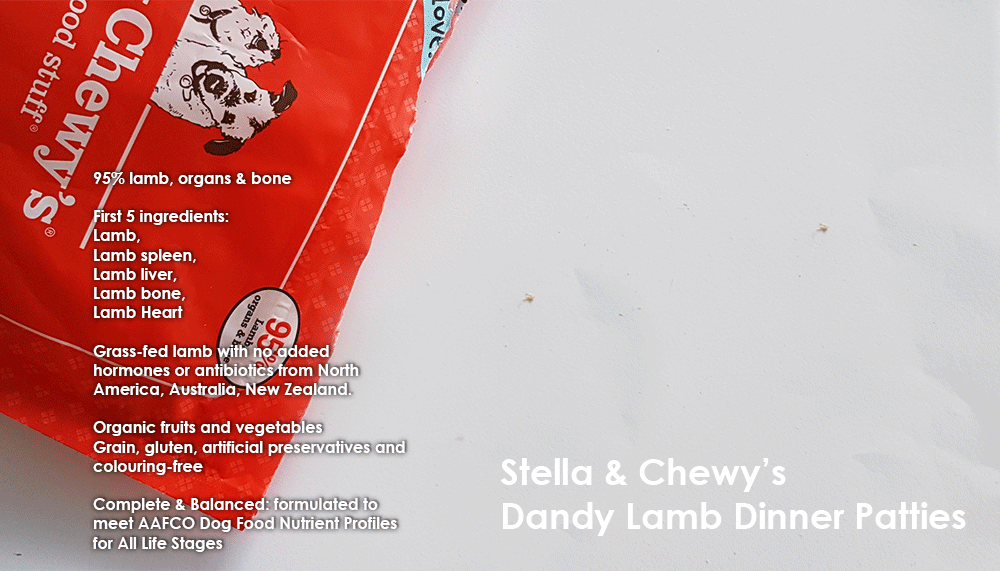 What I like about Stella & Chewy's
Stella & Chewy's branding focuses very much on organic raw ingredients.
"It all began when I adopted Stella, a terrier mix, in 1997. … I figured she'd be happier if she had a boyfriend…—so Chewy, an Airedale/Shar-Pei mix, joined the family.

I soon found out from the vet that Chewy was very sick with distemper. I began researching raw diets so I could nurse Chewy back to health. I shopped at Whole Foods, filling my cart with organic meats and veggies, which I prepared for him. Chewy's health dramatically improved on this organic dog food diet.

Based on my success with Chewy, I was determined to bring a healthy pet-food product to market… Stella & Chewy's, my organic raw pet food line, was born in 2004.

– Choices: 'Why I stepped down as CEO', American Express OPEN  forum
Besides the focus on quality, this product is also the only one of the five examined in this post with not less than 10,000,000 CFU/oz microorganisms in the bag. This is a level significant enough for the food to give your dog the benefit of its healthful, probiotic properties.
More about Stella & Chewy's 5 Star review on dogfoodadvisor.com
What I didn't like about Stella & Chewy's
If your objective is a high protein diet for your dog, Stella & Chewy's gives you that. This brand has consistently high levels of protein and fats in it's guaranteed and dry matter analysis across its range. However, bear in mind not all dogs do well on a high protein diet so this brand may not be for every dog.
Again this is less of an issue if you rotate brands or even rotate between different formats of food such as home-cooked, dry food, etc.
This brand has also been recalled before, but I feel it has redeemed itself. #personalopinion You can actually check the test results for the lot of food your pack of Stella & Chewy's belong to, on their website so you definitely know it is safe or not safe to feed to your dog.
Why is freeze dried food priced at a premium?
May be because they offer higher quality or human grade ingredients which are costlier to produce compared to affordable dry food brands like Taste of the Wild and Wellness.
And unfortunately, they do have to ship all the way from the USA or New Zealand to reach us.
Food Safety & Recalls for Freeze Dried Raw Dog Food
In December 11, 2015, Stella & Chewy's voluntarily recalled four of its products in the U.S. and Canada due to concerns of a possible presence of Listeria monocytogenes. 
Listeria is an organism which can cause serious and sometimes fatal infections in young children, frail or elderly people, and others with weakened immune systems… healthy individuals may suffer only short-term symptoms such as high fever, severe headache, stiffness, nausea, abdominal pain and diarrhea, listeria infection can cause miscarriages and stillbirths among pregnant women.

– Stella & Chewy's Voluntarily Recalls Frozen Dinner Morsel Products Due to Possible Health Risk, fda.gov
The fact is Food Safety is always an issue, particularly when it pertains to commercial raw food with high meat content. 
Will Henry, director of research and development for Extru-Tech Inc., said at Petfood Forum 2016, 'Meats carry a higher risk of harboring dangerous pathogens than many other pet food ingredients… Along with the demand for more meat, an increasing number of dog and cat foods buyers want that meat to be raw. However, tripling the amount of raw meat in a formulation also triples the pet food safety risk exposure.' – source
In my review of the five raw dog food brands, I found that Stella & Chewy's and Primal have been recalled before. Stewart, Northwest Naturals and K9 Naturals do not appear to have a record of food recalls.
This is why it's important for us to know which brands had issues before, and what steps they have taken to ensure the food is safe.
1. Most of these brands are made in the US in their own independently-operated USDA inspected facilities.
This means that should there suddenly be a health concern with one brand, such as a recall due to a health risk, you can still safely feed your dog other brands. Since they were not all co-packed in the same facility, you won't run the risk of the other brands getting the same contamination.
2. Food Safety Programs are in place
Brands like Stewart Raw Naturals and Northwest Naturals also have clear information on their website and on the pack detailing the food safety programs that their food is produced under.
3. The food is tested to ensure it is safe
Stella & Chewy's website even has the functionality for you to search the Lot # of your pack of Stella & Chewy's food. When I searched the Lot# 133-16 printed on my pack of Dandy Lamb Dinner Patties, the site called up the corresponding Certificate of Analysis report that shows you on page 6 that Freeze Dried Lamb (FD Lamb) LOT# 133-16 tested negative for E. coli, Listeria and Salmonella on 25 May 2016. See the pdf here. Honestly speaking, I really like this functionality.
4. Voluntary recall by brands before the harm is done
Responsible pet food brands can also voluntarily recall the product before it harms the pet, e.g. in this case where the food falls below required nutritional levels.
March 13, 2015 – Primal Pet Foods is voluntarily recalling a single batch production code of Feline Turkey Raw Frozen Formula 3-pound bag. FDA tested product in response to a single consumer complaint. Primal Pet Foods was alerted by FDA that the testing of two bags of this lot resulted in a low thiamine level…

Cats fed only diets low in thiamine for several weeks may be at risk for developing a thiamine deficiency… Symptoms of deficiency displayed by an affected cat can be gastrointestinal or neurological in nature…

– Primal Pet Foods Voluntarily Recalls A Single Lot of Raw Frozen Cat Food, fda.gov
So there you have it, my complete review of 5 freeze dried raw dog food available in Singapore.
Budget-wise
We examined the Cost per day and How long each pack lasts
Quality-nutrition
We examined the quality of the ingredients that goes into the bag. And also  what I like and disliked about each of the brands.
Food safety
We reviewed past recalls and the safety programs and features the brands put in place to put safe and health-giving food into your dog's bowls
Now it's up to you to decide what you are comfortable or not comfortable giving your dog!
Do you know that not all freeze dried raw dog food are made equal?
Personally, I would not feed just any one brand to Donna. I have always subscribed to a rotation diet for her, which means I'm pretty likely to feed these different brands of food to her in rotation with other brands and formats of pet food.
But I do eyeball each and every product in that brand to weed out specific products that I do not feel comfortable feeding her. If you want to know what these are and other inside scoops on freeze dried dog food :P, sign up for the email in the field above! :P
Put in your Email Address in the field below and Sign up now!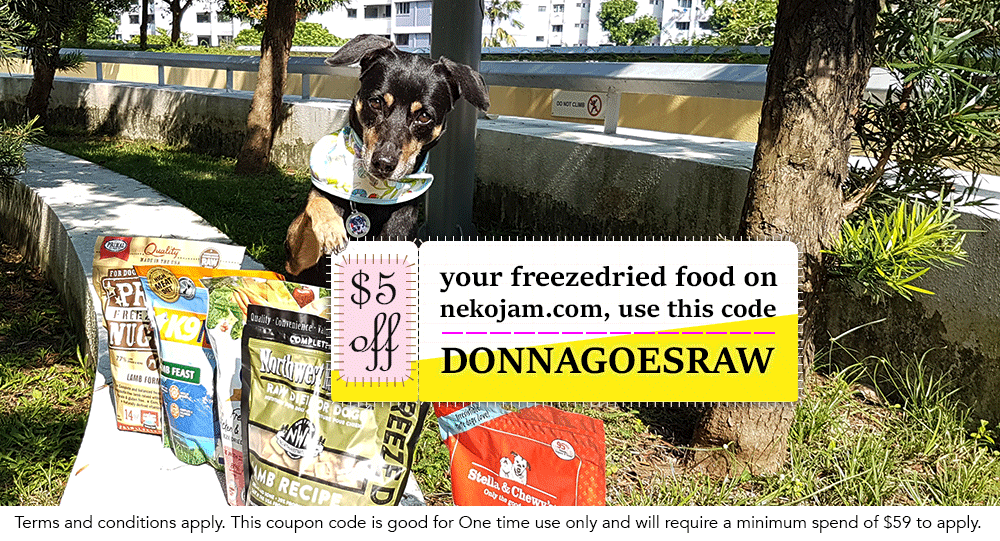 Before we end this post, I need you to come away from it clear on one thing.
Let's be clear about what exactly is freeze dried raw dog food!
Although freeze dried food is often categorised together with dehydrated food on various online pet supplies stores, freeze dried food should not be mistaken to be the same as dehydrated food. Dehydration is a gentle drying process using warm air, unlike the freeze dry process.
For freeze dried food, cuts of meat are diced or shaped to the desired form, then put into a blast freezer for a deep freeze.

After that, it's rolled into the freeze-drying chambers, where it stays for about 12 hours.

Finally the trays are rolled out and packaged, explained Justin Stadden, senior business unit manager of The Scoular Company, which provides freeze dried ingredients to the pet food industry.

– Why the freeze dried pet food market continues to grow: petfoodindustry.com
Since freeze dried food has not been heated or cooked, it is the closest you can get to raw dog food. But without the inconvenience or mess of preparing fresh raw food for your dog yourself. It can be pricey, but guess that's the price for avoiding the hassle out of sourcing (and prepping) grass-fed, cage-free meat, fresh and/or organic produce and supplements from safe sources. :P
Bon Appétit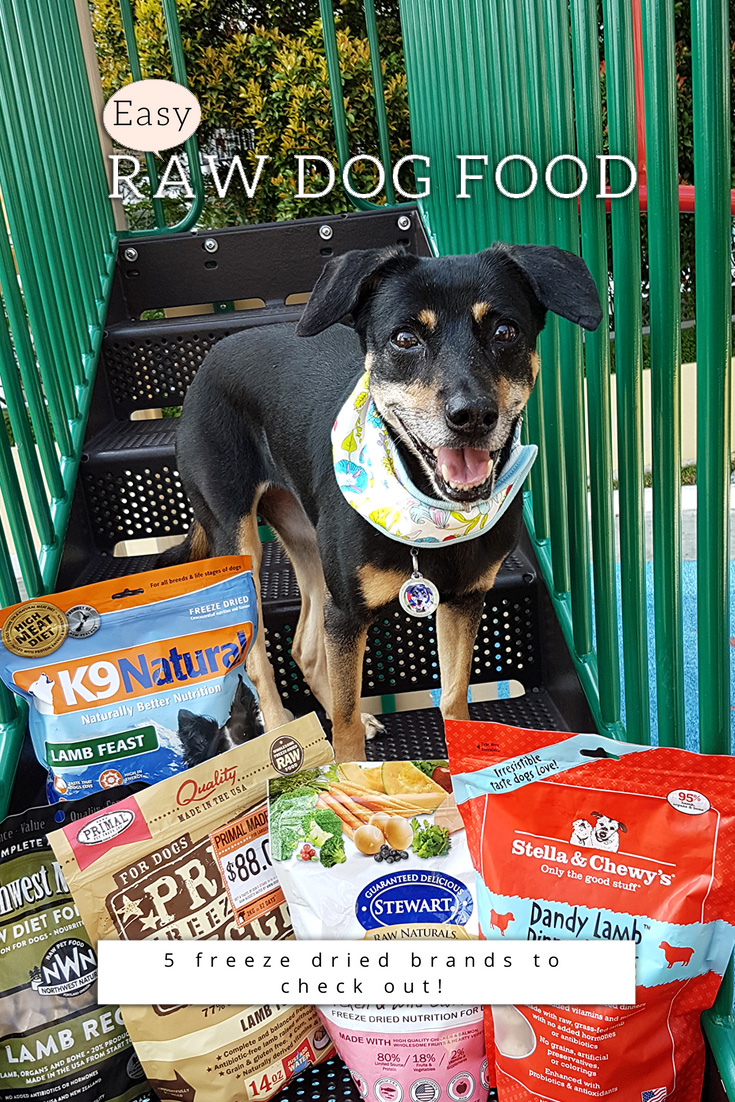 Disclosure:  This review of Freeze Dried Raw Dog Food Brands available in Singapore is kindly sponsored by Nekojam online store. Products featured are available for purchase on their site.
All the content in this post is researched, consolidated and finally written independently by weliveinaflat. Manufacturer's sites, industry articles, third party data sheets and information as well as direct email replies with manufacturers and Nekojam were referenced at various points in the writing.
You can check out the manufacturer's sites here: K9 Natural | Northwest Naturals | Stella and Chewy's | Stewart Pet Food | Primal Pet Food
Leave a comment
This commercial raw dog food review is personal opinion only. Please feel free to share in the comment box below if you have other opinions/comments about freeze dried food or the specific products and brands featured. Or if you found it useful, I would love for you to let me know as well! ;P
You can also comment and share with me what your dog eats! Donna eats a variety of food including freeze dried, home-cooked, dry, canned and dehydrated. I guess Donna can pride herself to be the true food connoisseur of sorts. She has eaten all varieties of dog food and treats, all mom-approved of course. Although I have to say, Donna doesn't have the most discerning palette, which is why she doesn't really get to choose all the junk food she can eat :P :P :P
Comment on Facebook here or below.
Wow, you made it to the end of this post! Give yourself a clap on the back!! :P
---
Come :) Follow weliveinaflat.com on
Instagram @weliveinaflat |  Facebook donna.weliveinaflat | Youtube Mutt Vlog