I don't need to tell you that Japan is a favourite travel destination for many. The country is beautiful and safe, even for single female travellers.
And if you have a dog or cat, it's actually pretty fun to shop or even just window shop through the stores selling pet-related goods. I recently returned from a short trip to Kyoto, Nara and Osaka.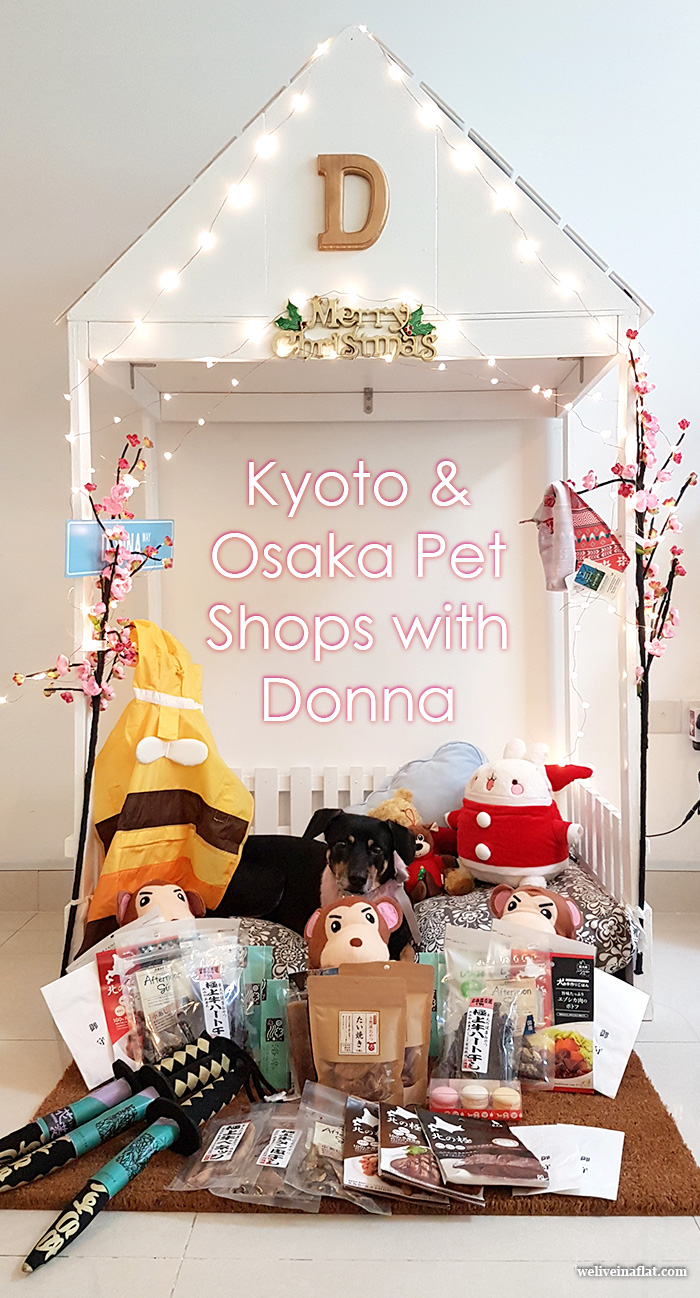 In this post, I'm sharing with you some of the Kyoto and Osaka pet shops and cat and dog products I saw in Japan.
These include:
Pet sections in the discount chain store Don Quijote
Pet shops in various shopping malls of Osaka

Pet Paradise Plus (Yodobashi),
P2 (Namba Parks and Grand Front OSaka)
Tokyu Hands (Shinsaibashi)

Pet shops in Kyoto

Aeonpet (Aeon Mall)
Kyoto dog cafe
Don't wait! Come check out the Kyoto and Osaka pet shops with me! :)
On a budget? Skip Daiso and head for Don Quijote in both Kyoto & Osaka
We already have Daiso in Singapore, and they seem to stock the same limited items over there as over here. So head over to Don Quijote instead if you are looking for budget-friendly shopping!
Popularly known as "Donki", Don Quijote stores are like megamarts that stock EVERYTHING. Food, drugs, luggage, cosmetics, clothing, you name it. Heck, they even have ridiculous PPAP costume kits if you want to star in your own PPAP Youtube video. Anyway, this of course means, that Don Quijote also has a pet section.
The other great thing about Don Quijote is they stay open till late while most stores closed by 9pm. So definitely the place to head to at night if you were unable to squeeze time into your day for shopping.
What did I buy here at Don Quijote? Toys!
And mostly toys for cats! LOL!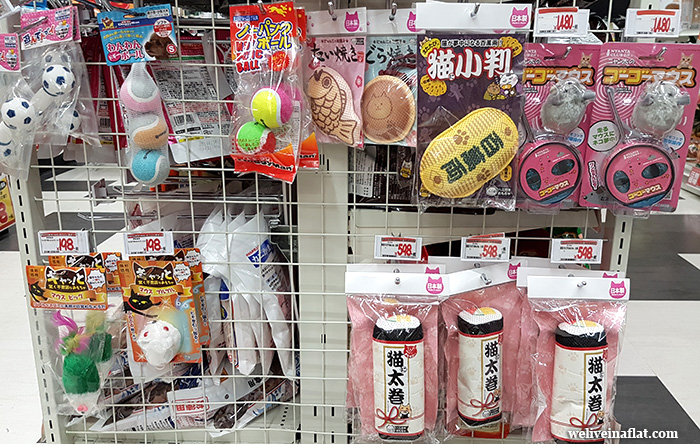 Personally, I found the items for cats here more interesting than the items for dogs :P.
But as you can see they stock a variety of products from both local and international brands.
See also, 10 things to buy for your cat or dog at Don Quijote in Japan. Click!
Note: Tourists are eligible for tax rebates if they spend above 5000yen per receipt in Japan. Note that they help you pack your items into bulk packages that stipulate that you are not suppose to open them until you leave Japan. So if you are buying, for example, sheet masks in boxes, it may help you save some luggage space to ask the staff to help you open and repack those items with bulky packaging. Language is not an issue if you can converse in Mandarin at Don Quijote stores, because they appear to be well-staffed with Chinese immigrant workers.
Looking for variety? Check out the different pet stores at the malls
Pet supplies stores in Japan are so much more interesting than Singapore because of the variety of goods that they appear to have. It's difficult to buy pet food because of the language difference, but Japan is definitely the place to splurge if you are looking for pretty, well-made clothing items for dogs.
While in Osaka, these were the pet shops I was able to visit!
Osaka Pet Shops
Pet Paradise Plus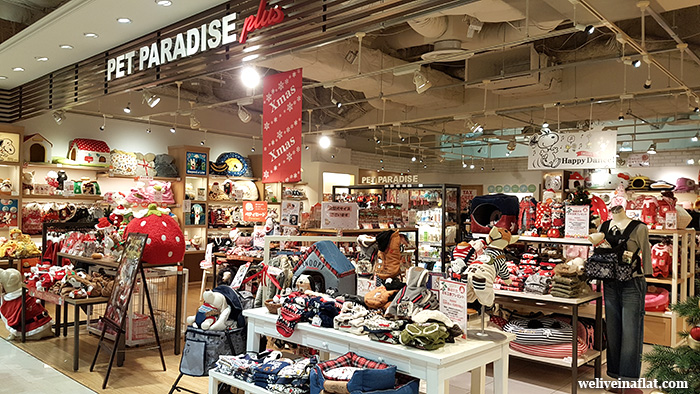 Located in the IT mall Yodobashi-Umeda in Osaka, Pet Paradise Plus sells a dominant mix of licensed brand pet clothes and accessories.
Expect to find Disney, Gaspard et Lisa, Snoopy and J.Press themed pet merchandise!
While most of my pictures in this shop were of the brightly-coloured Disney and other brand-themed merchandise for dogs, Pet Paradise Plus does sell pretty cat products and locally produced treats as well.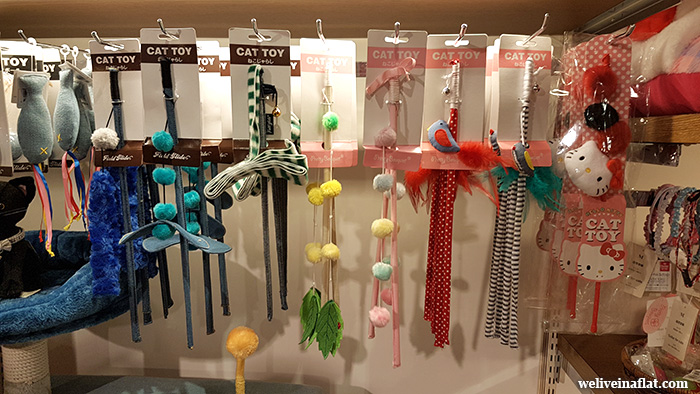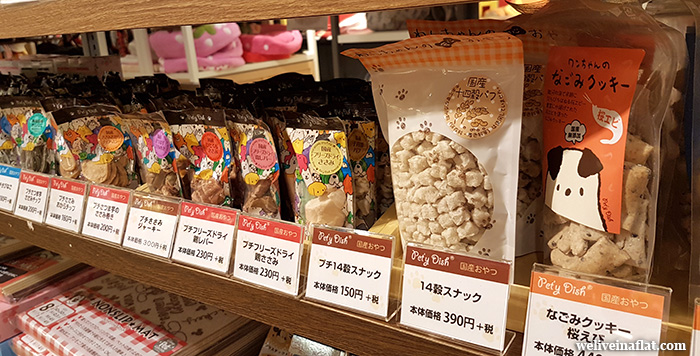 What did I buy here at Pet Paradise Plus?
Well, needless to say the pet clothes and accessories in this shop were very attractive. But they can also get as expensive as $50 or more for the Woody the Cowboy costume for a dog Donna's size or larger. For that kind of money, I would rather buy something more functional for everyday use. And also something I know I will NOT be able to find easily for cheap on Taobao. :P (At least I hope not! HAHA).
So I ended up with this busy bee raincoat and an Insect Shield bandana, both from from Creative Yoko. Pet Paradise Plus is owned by Creative Yoko, which also has their own line of Creative Yoko branded products.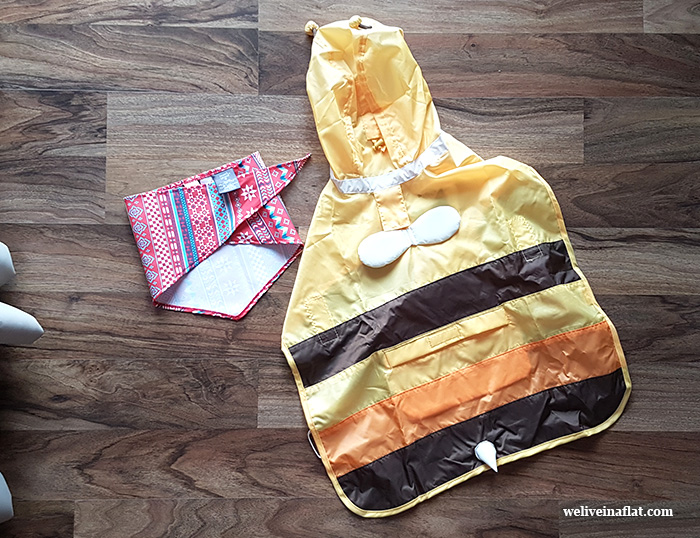 I am totally in love with the construction and the details of the Creative Yoko raincoat – from an opening for you to hook your leash to her collar at the back of the neck to the adjustable hood to ensure Donna's vision is not obscured, to the little bee wings and the bee stinger behind! There is also a handy little pocket just above the stinger.
The Insect Shield bandanna was interesting to me since we know that heartworm is spread by mosquito bites. According to the Insect Shield website, "Insect Shield® Repellent Apparel has been proven and registered to repel mosquitoes, ticks, ants, flies, chiggers, and midges (no-see-ums)… … The Insect Shield process binds a proprietary permethrin formula tightly to fabric fibers—resulting in effective, odorless insect protection that lasts the expected lifetime of apparel. Permethrin has been successfully used in the United States as an U.S. Environmental Protection Agency (EPA)-registered product since 1977, with an excellent safety record."
Is your dog susceptible to bug bites? Check it out. Insect shield pet gear on Amazon.
And yes, be sure to enable overseas transactions on your credit card if you can't resist all the cute toys, apparels and accessories in this shop. :P
P2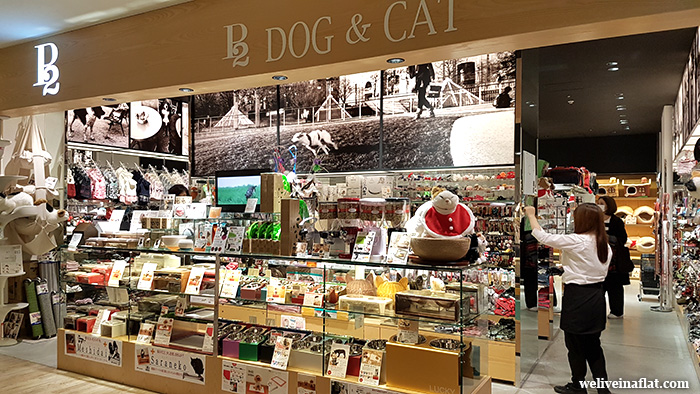 P2 Dog & Cat can be found at Namba Parks and also Grand Front Osaka, and the variety of goods they offer in the store can get overwhelming, if you like me, were just passing through and didn't really have the time and leisure to browse. 😭😭😭 I ended up not buying anything there 😭😭😭 #muchregret 😝😝😝
At P2 Grand Front Osaka, you will find rows and rows of pet clothes,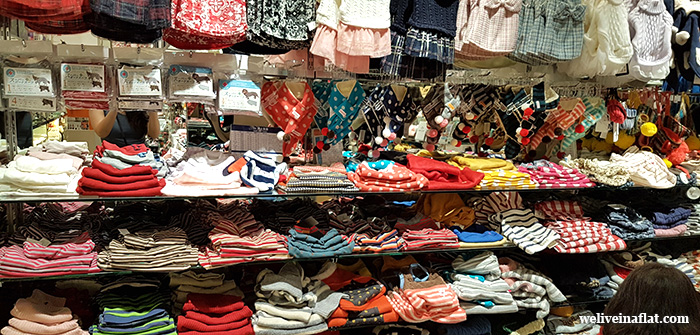 … and pet collars, accessories and harnesses.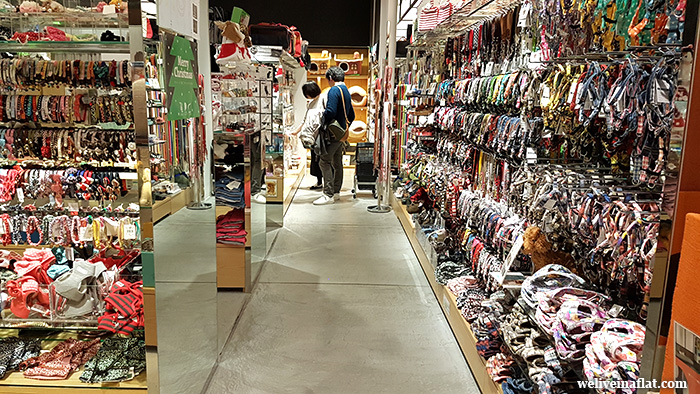 P2 Dog & Cat also offers a variety of pet toys and thingamajigs that will look good in the home. Take for example, these pretty cat baskets and cat balls.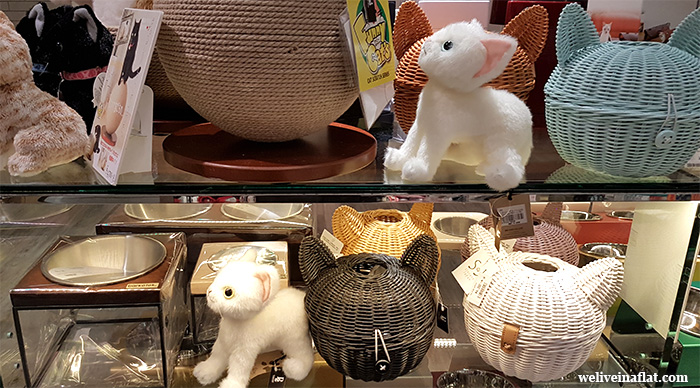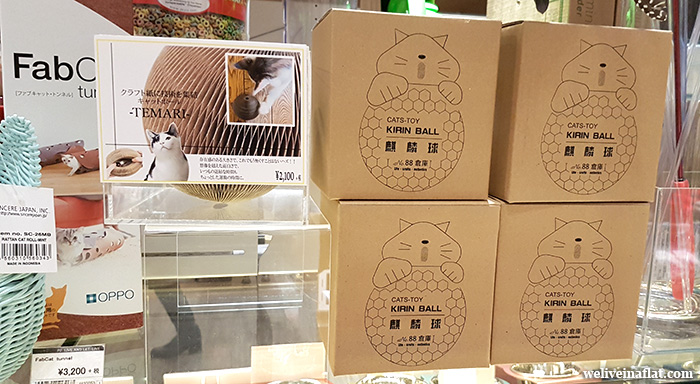 And also this wooden acorn and pear food dispensing toy for dog. Each design gives the dog a different level of difficulty – beginner, intermediate and expert.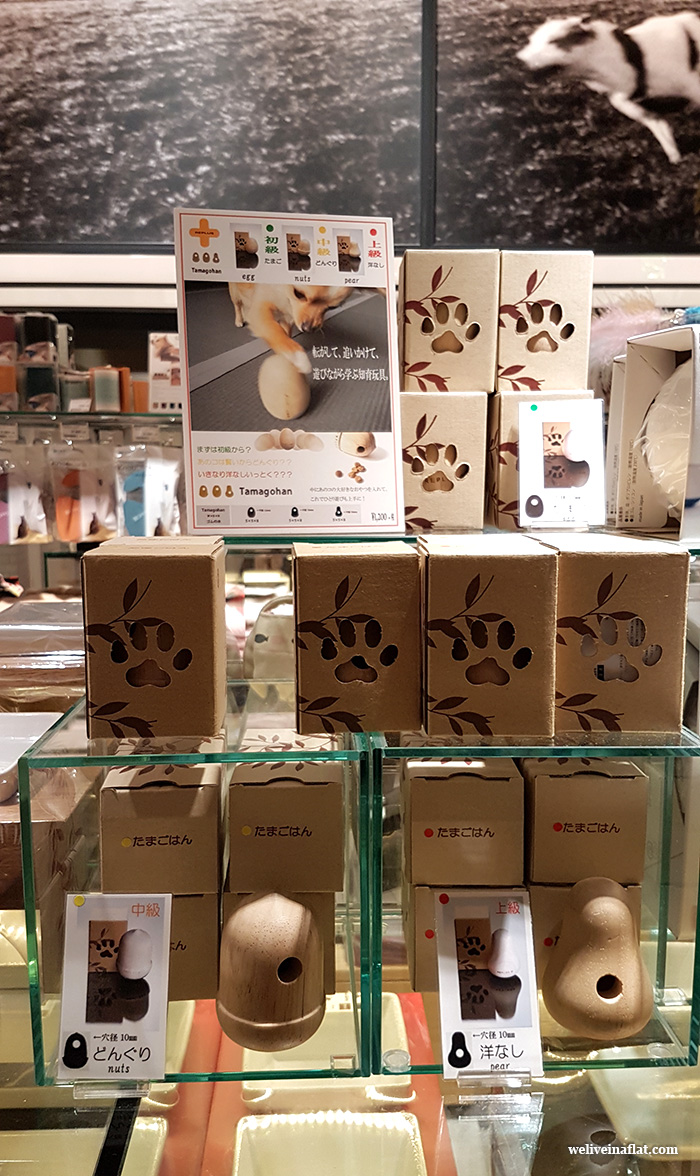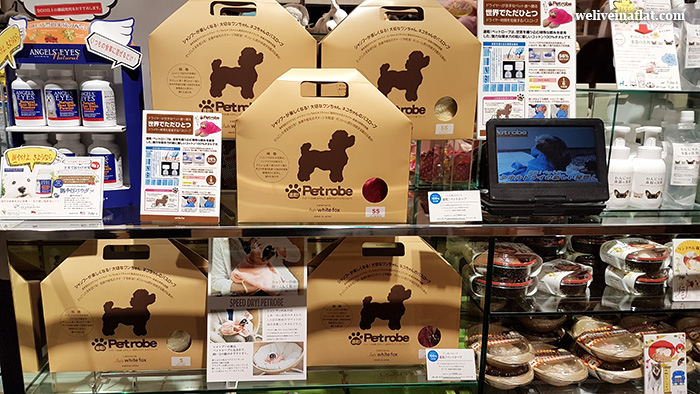 The shop front at Grand Front Osaka displayed various interesting pet goods, such as  the Petrobe. The packaging claims that the Petrobe helps you dry your pet quickly after bath because of it's strong absorption capability. Next to the Petrobe on the lower shelves are pet bentos. :P
Over at Namba Parks, the P2 shop front displays more pet carriers, air buggys and cat scratching posts.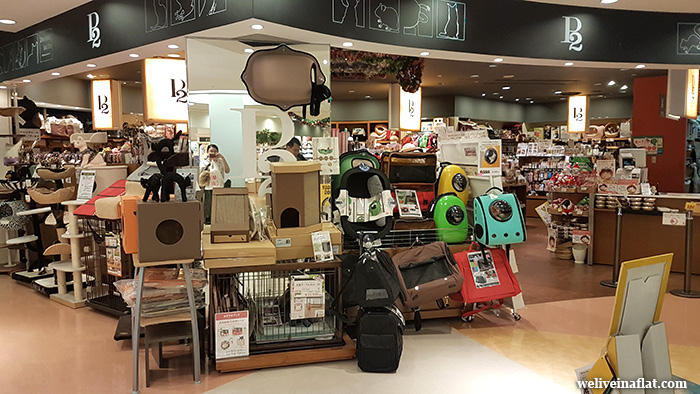 And there's more to explore on the inside.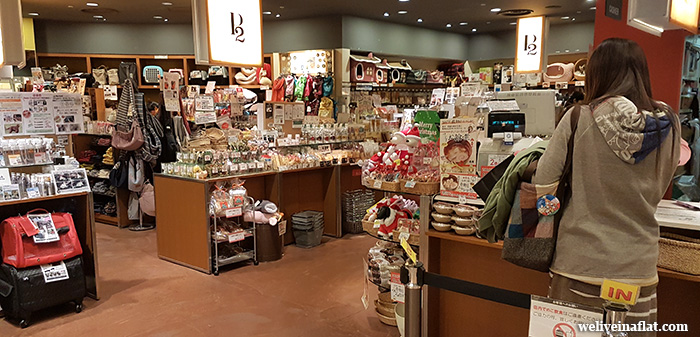 P2 is definitely one of the Pit Stops for me to check out the next time I return to Osaka! :P If you have small pets like hamsters, parakeets, etc, the P2 store at Namba Parks has a wing catered to them as well!
Tokyu Hands, Shinsaibashi
There are Tokyu Hands outlets in Singapore, three in fact, but erm I've never visited any of them except for that one time when the first outlet opened in Westgate. 😂 So I actually have no idea if these outlets in Singapore have a pet section :P. But the Tokyu Hands at Shinsaibashi, Osaka has a pretty fun pet section on its own. ;P
So it shouldn't be difficult for you to find something for your cat or dog ;) If you will be in the area for more than two weeks, you can even plan to bring home something personalised like a breed specific pet tag or keychain!
See also,
For dogs
Because my dog, Donna, is greedy, I usually gravitate to the food section. :P The packaging has a Muji vibe, no?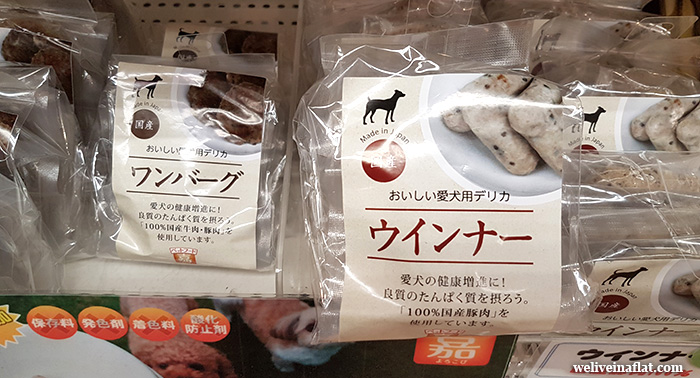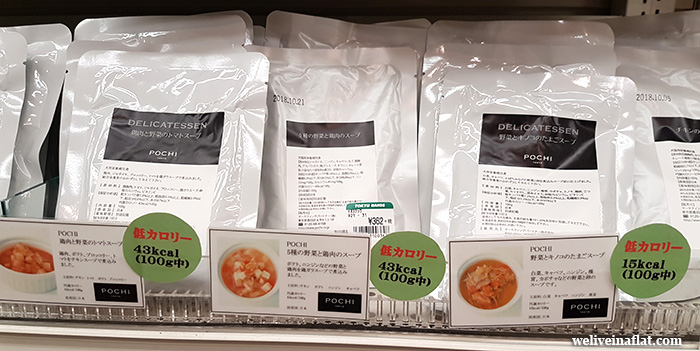 But besides food, there are also many colourful collars and leashes and pet toys to choose from. I pay less attention to these since I have my own preference for multi leash rather than normal leashes. (See sportleash multi-lead on Amazon) Also, the mall stores tend to stock international brand toys like Kong, AFP and JW Pet which I have no trouble getting in Singapore :P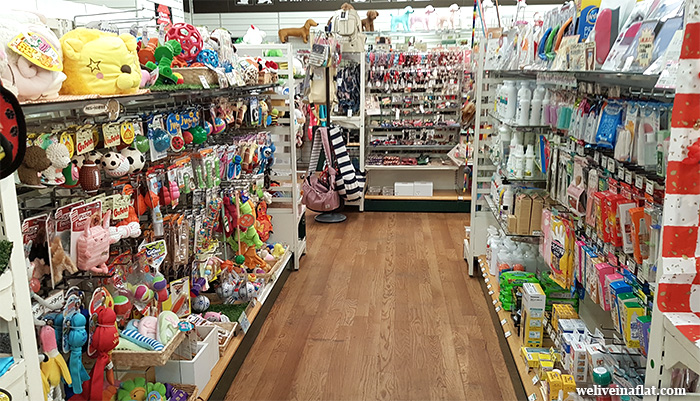 Cats get their fair share of goodies too!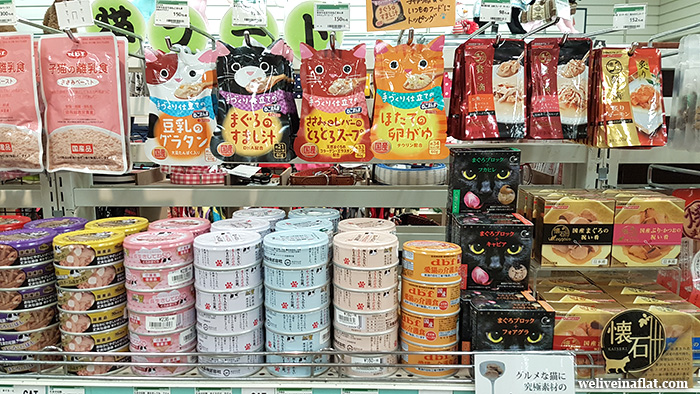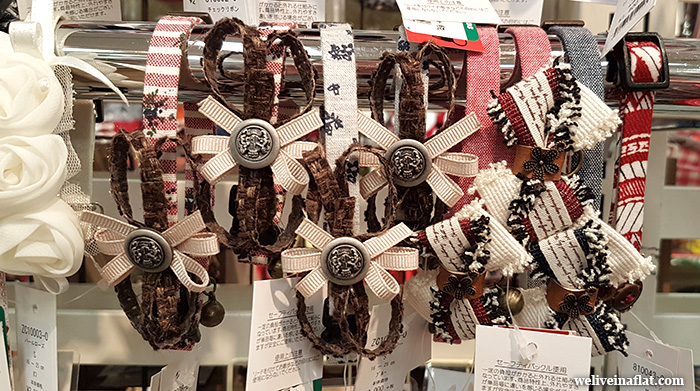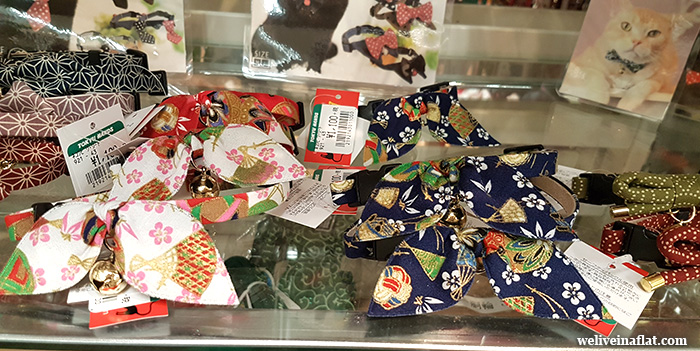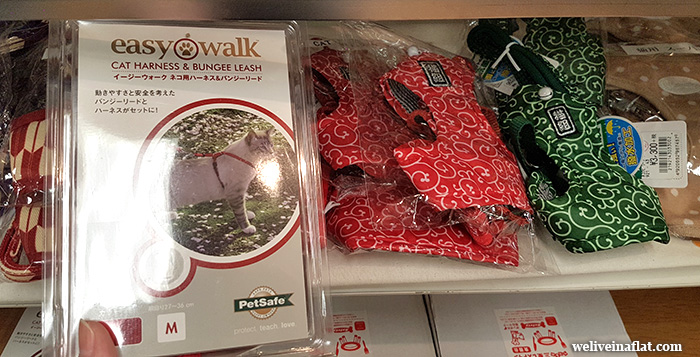 And even if you are just an animal lover with no pets, outside of the pet section, Tokyu Hands has lots of random animal related merchandise that you can check out.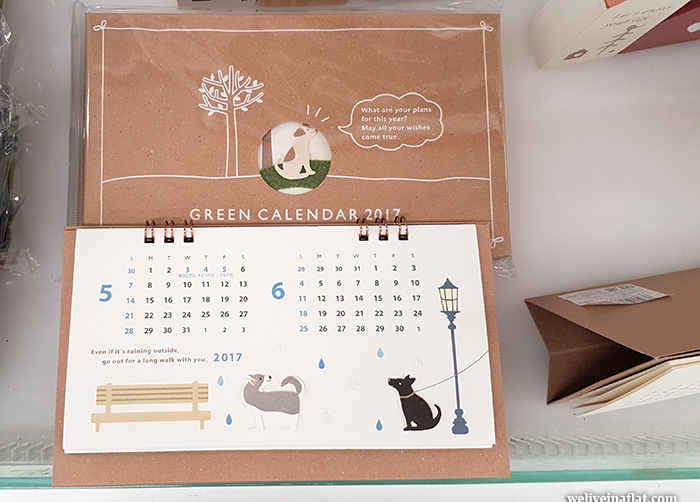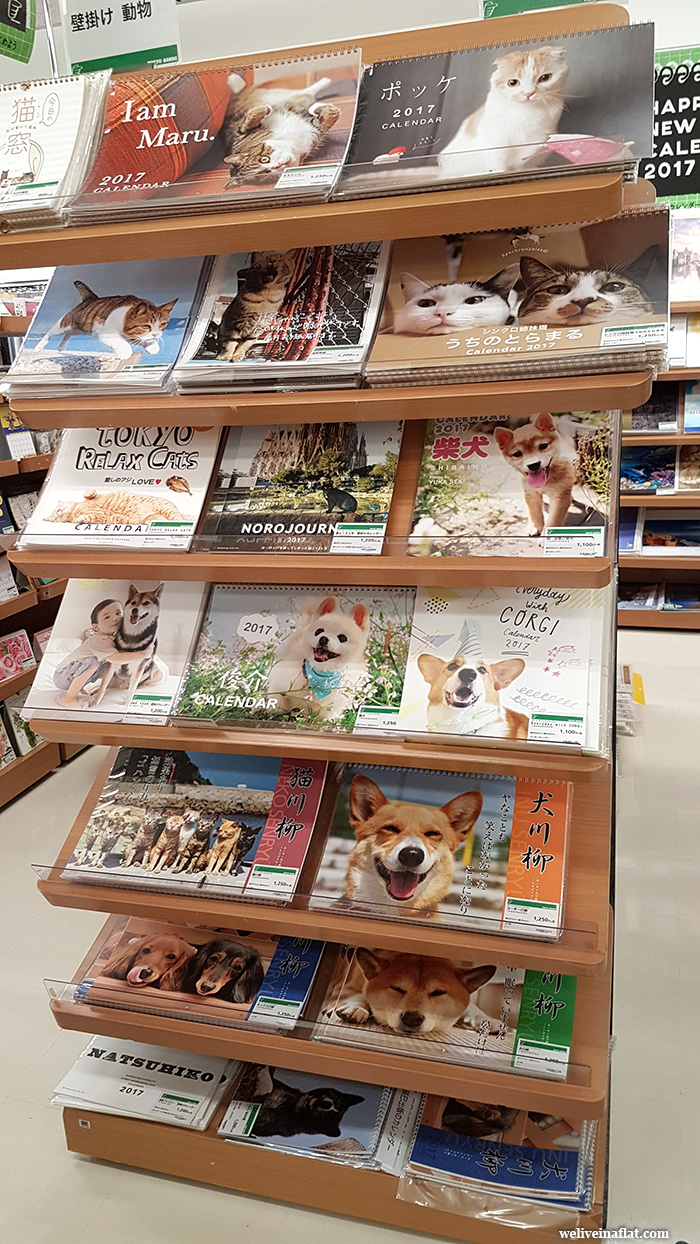 What did I buy at Tokyu Hands Shinsaibashi? 
Sometimes I am a sucker for packaging, so I bought some of the food here: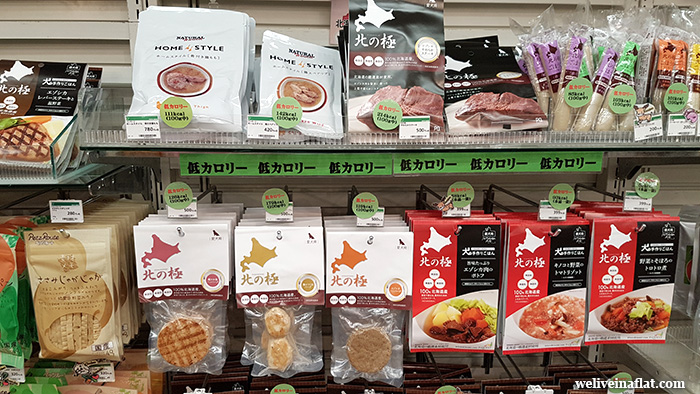 And also I got the faux fur Toi et Moi collar for a little festive yet sophisticated vibe on Donna this Christmas :P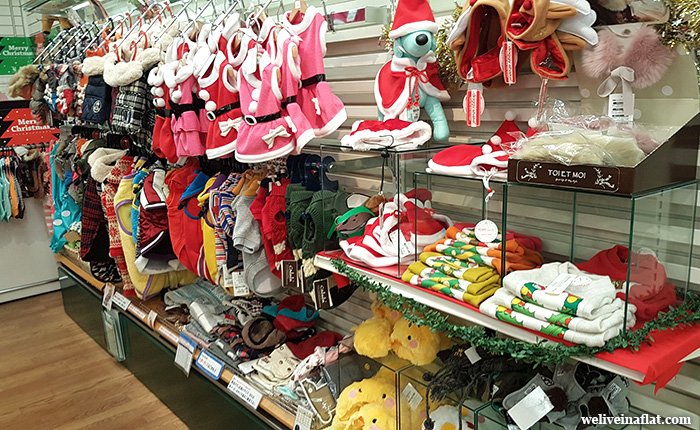 Outside of the Tokyu Hands building, continue to explore Shinsaibashi and Shinsaibashi Suji.
You will find more pet stores such as this Coo&Riku store along these shopping arcades. ;)

More pet stores to check out in Osaka on Yelp
Pet Shops in Kyoto
Aeonpet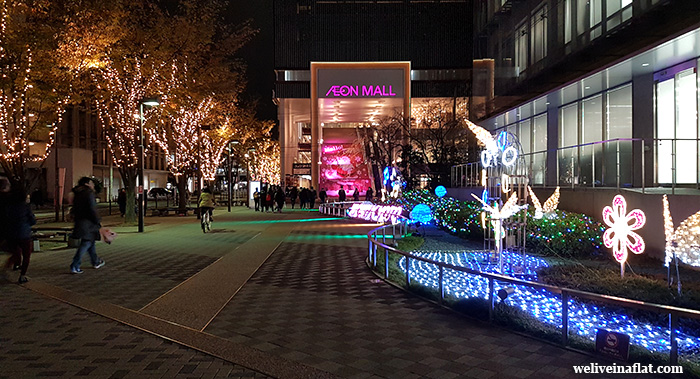 Located in the Kaede wing of Aeon Mall near Kyoto Station, Aeonpet pet store caters more to locals than tourists. That's why you can see whole aisles of pet food just as if you were at Pet Lovers Centre or Sunpetgamart in Singapore.
Aeon Mall is pet-friendly, so you will get a chance to see pets out with their humans at Aeonpet. The only difference is Aeonpet stocks a lot more variety of dog clothes and accessories, cat toys, pet beds and even pet flooring.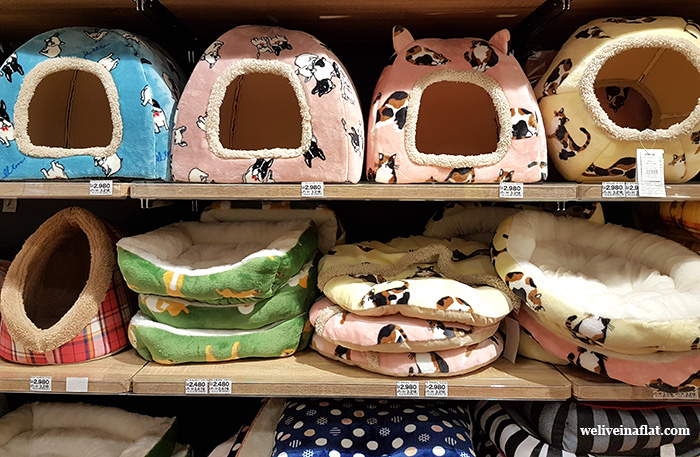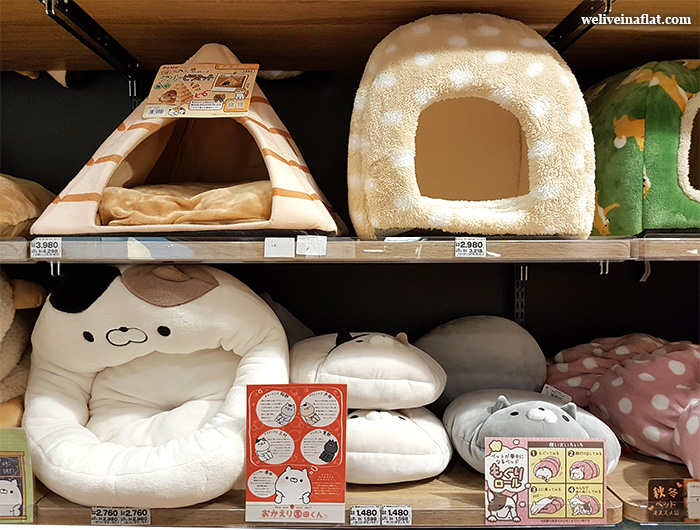 Some of the stuff for cats at Aeonpet
Some of the items for dogs at Aeonpet
Order your Greenies from Amazon!
What did I buy at Aeonpet in Kyoto?
A mix of dehydrated beef treats, baked fish treats, Taiyaki (a Japanese fish-shape cake) treats for dogs and dog macarons (not very Japanese lol)! And this also tells you that it's really a mix of some healthy and some junk treats… :P I'm not such a food nazi when it comes to treats because Donna actually seldom gets treats-treats. She gets her breakfast and dinner as food treats typically. :P :P :P
Kyoto Dog Cafe
I originally planned to visit Kyoto Dog Cafe because they stock the Ruffwear Web Master multi-use harness. Eventually I bought the Sleepypod clickit sport car harness on Amazon. And since it can double up as a walking harness, I had no reason to buy yet another harness in the same month. That said, I decided to visit Kyoto Dog Cafe anyway just for fun. :P
Check out why I bought the Sleepypod clickit sport harness for car rides in Finding the Safest Car Harness for Dogs!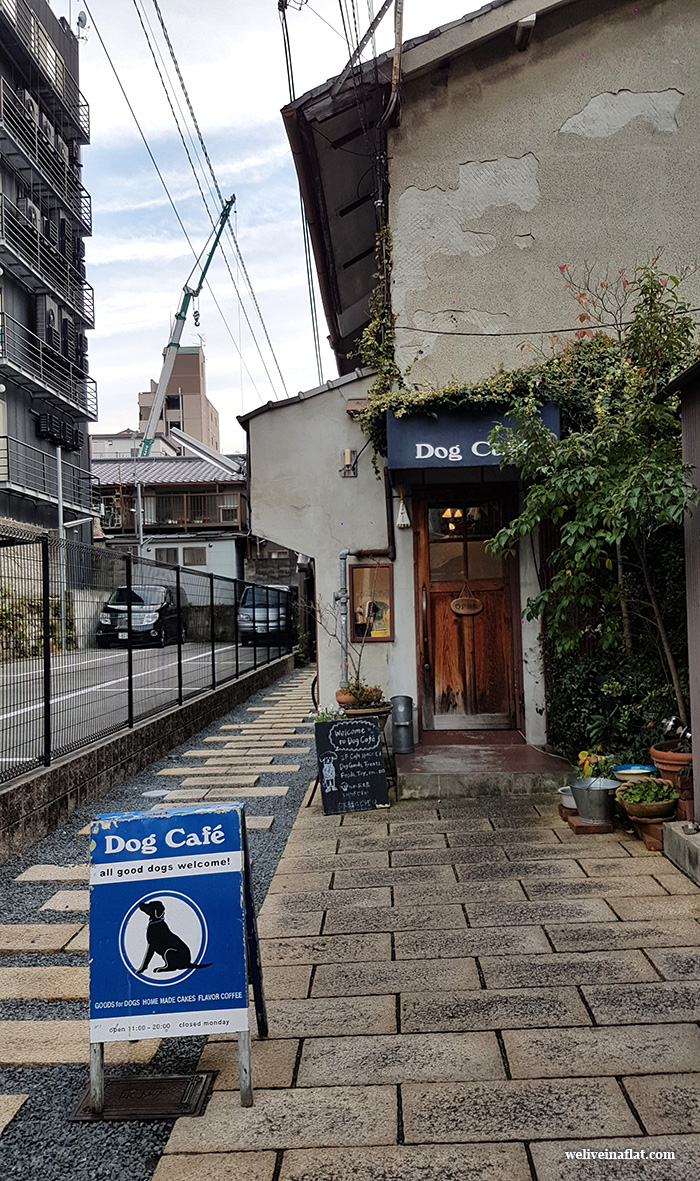 Kyoto dog cafe is a quaint little space with dog goods on sale on the first floor and a small cafe space on the second floor.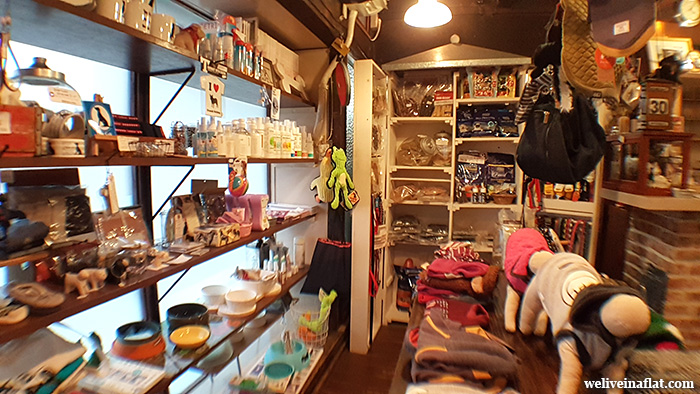 Patrons can buy coffee and dessert while they spend time with their dog at the second floor cafe space. The room I have to say is pretty small, so it will do for toy dogs to play but certainly will be pretty restrictive for an active, medium size dog like Donna. 
What did I buy at Kyoto Dog Cafe? Fish treats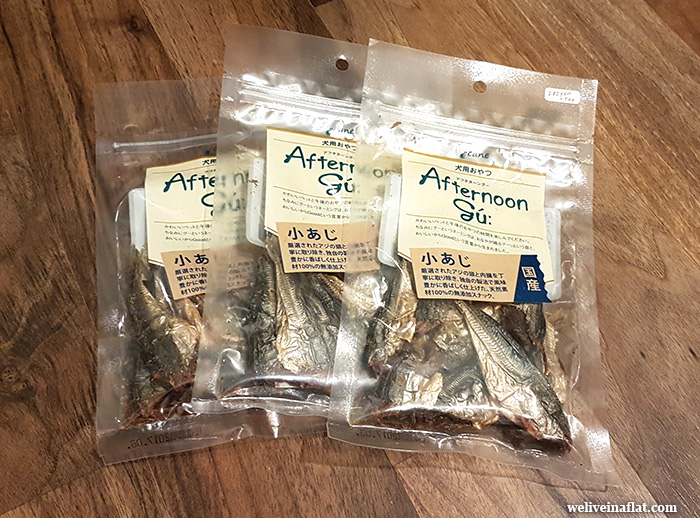 More pet stores to check out in Kyoto on Yelp
Kyoto and Osaka pet shops are great for discovery of pet products that are different and interesting.
We were on holiday with P's parents so pet shopping time for me was really limited. But I had a lot of fun checking out the stores I was able to visit.
Pet clothing
Overall, the shopping is going to be easier for dogs shih tsu-size or smaller. If you have a bigger dog, Pet Paradise Plus is definitely a good bet for finding something suitable. The clothes can be pricey, but you pay for quality. The Insect Shield Bandana I thought was also a great and practical souvenir to get for friends, so I wish I had bought more.
Pet treats
All the pet stores stock a variety of locally produced pet treats. Look at the ingredients list carefully particular if you are picky about your dog's treats. Some of these treats can have additional ingredients like sugar or salt. Some of the treats are also high in carbs. This might be an issue for some raw-feeding pet parents, but not to me.
Pet toys
Pet toys in malls tend to be more expensive since they do stock a variety of imported brands, including Kong. P2 is definitely where I would go to check out the more interesting, innovative or just well-designed, great looking local pet products. And Pet Paradise Plus will cater to Disney and Star Wars fans ;)
Bargain hunting pet parents
Don Quijote stores may stock some pet products at lower prices compared to the mall stores, so visit and compare prices if you are keen to economize.
Packed itinerary? Shop wherever :P
Often we travel to explore and for adventure, and not to just go shopping. So if you're itinerary is too packed with outdoor exploring and you have no time for mall hopping, fret not. It's actually pretty possible to find cute items for pets and pet lovers wherever you are going as well. ;)
Stay tuned for the next post where I bring you to the key tourist traps in Kyoto and show you some of the items for pets and pet lovers that you can get there! ;)
Have you joined the #donnajapanhaul giveaway?
Simply,
1. tag 3 friends in the comments of the Facebook post below
2. Like fb.com/donna.weliveinaflat on Facebook
3. Like @weliveinaflat on instagram
4. Repost on facebook and Instagram to get an extra chance to win 😁😁5. Remember to tag your reposts with #donnajapanhaul so that I can retrieve them to tabulate and give you your extra chances to win! ;)
Play the video to get a sneak peek of my complete Japan pet products haul for Donna and also extras for the giveaway! :)
Are you an expert when it comes to shopping in Osaka and Kyoto? Where do you like to shop for your dog and cat in japan?
Tell me in the comments below. I would love to know!
---
Come :) Follow weliveinaflat.com on
Instagram @weliveinaflat |  Facebook donna.weliveinaflat | Youtube Mutt Vlog