Sun Petgamart. A convenient one-stop shop for dog owners staying in the north and central Singapore!
Sun Petgamart

26, Seletar West Farmway 1 Singapore 798126
Phone: 6484 0709
SGD$38 for 5-year membership gives you discount on purchases and free usage of doggy pool weekends and public holidays. $10/dog on weekdays.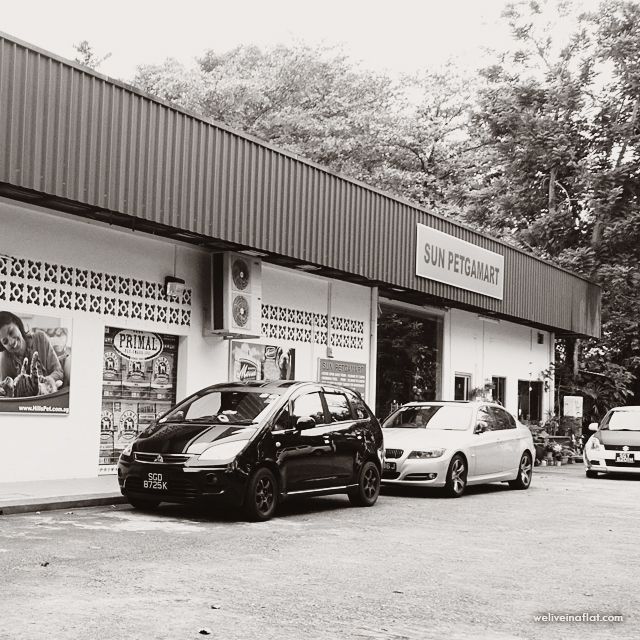 Here we were at Sun Petgamart – a one storey megamart for pets! The following entries are ordered by dates as I'm consolidating our trips here into one post! :P
July 25, 2016 – Dog Supplies Shopping at Sun Petgamart with Donna
Besides the general observation that Sun Petgamart offers lower prices to members compared to other Singapore pet shops, I also like shopping at the physical store just because of the serendipity of find bargains and unexpected products. You just can't replicate this experience on our local online stores currently.
See also
Some of the interesting products and bargains I've found at Sun Petgamart include:
#1 Pet Widget
I don't have first hand experience with this product so I wasn't sure if it worked. But word of mouth on Facebook is that the Pet Widget tracks via the app on location. All the data about the pet and the owner are on the tag. Just scan the QR code to retrieve the data, which means there is no need for someone who found a lost pet to bring the dog to the vet to scan for microchip number to find a match in the database.
#2 Greenies – Buy 2 Get 1 Free Offer
Because of my hectic schedule, I sometimes missed brushing Donna's teeth, so more and more greenies are becoming a must!! I prefer Greenies because it's one of the few products available in Singapore that has been awarded the VOHC (Verterinary Oral Health Council) Seal of Acceptance in 2013-2014 for effective Plaque and/or Tartar control.
#3 Reusable canned food covers for dog wet food – $0.50 each!!
I typically use wet food as topping on dry food, or I dole it out in scoops when it thunders or when we train, so there's always leftovers for next time. So these lids really come in handy!
July 8, 2014 – Birthday Present Shopping for Cookie at Sun Petgamart
An impromptu trip with @mangothesheltie and her human to get @somewhitecookie's birthday present for the birthday party we were invited to. I can't believe I never took a photo of both of them here together! *facepalm*
Anyway, the selection of toys in this place is limited to this wall on the right.
I remembered @somewhitecookie's human had some interest in intellectual toys for dogs. But sorry, no such thing here at Sun Petgamart. Mostly plasticky toys that are likely to be loud and irritating. So, no. *sad*
There is a selection of chews, but keep your eyes wide opened. Because I just had to pick up some dried bones with bugs crawling in and out of the packaging. OMG! D: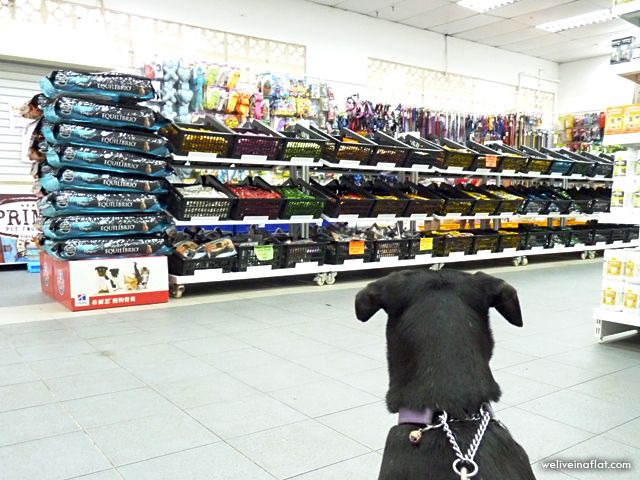 Go for the vacuum-packed/sealed stuff guys! Safer.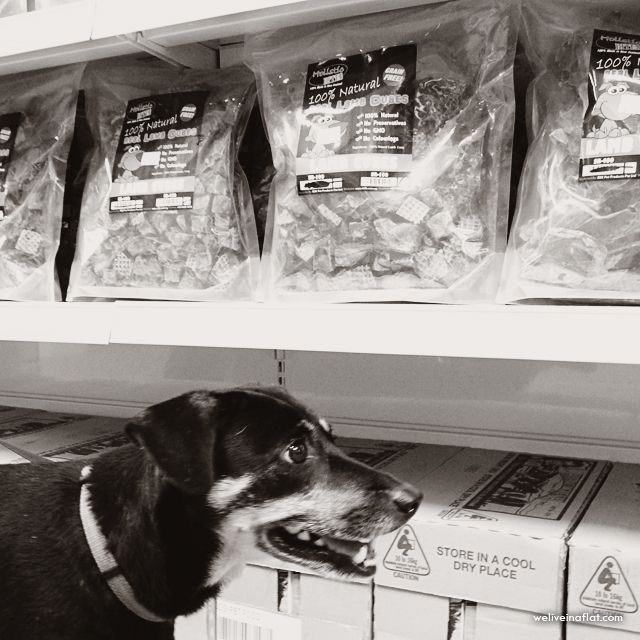 Donna seems to have less interest in the air dried natural stuff that Mango likes and kept trying to head to the back section which seems to be where all the kibble and canned food are??? Maybe next time my dear, when your food runs out.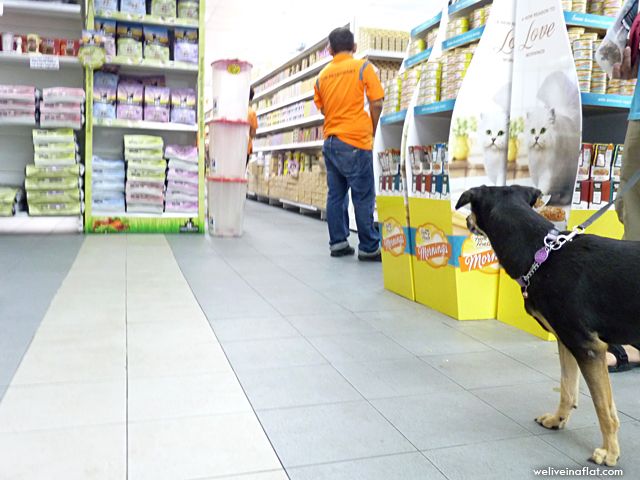 How about some weird foot toys for dogs?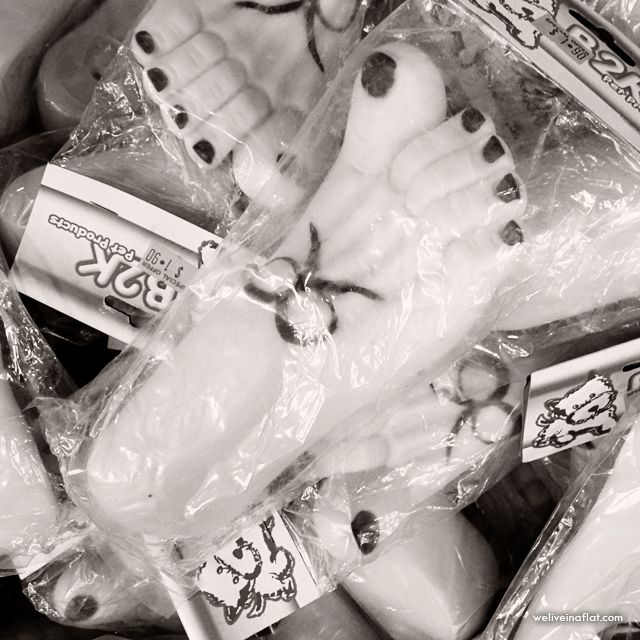 No thank you, I think I prefer my rubber chicken.
In the end, we got some piggie ears and a collapsible water bowl for cookie. Not sure if they made good gifts, but they were interesting and practical. And at least we didn't buy food/treats with beef in it which he doesn't eat!
Paying at the counter, to the left you see a section with home accessories – cages, crates, beds, pee pan and more cat stuff…
And right in front of the counter, the shop dogs. I'm kind of nervous about the black one. He's actually way bigger than Donna and was barking at her… so I dunno…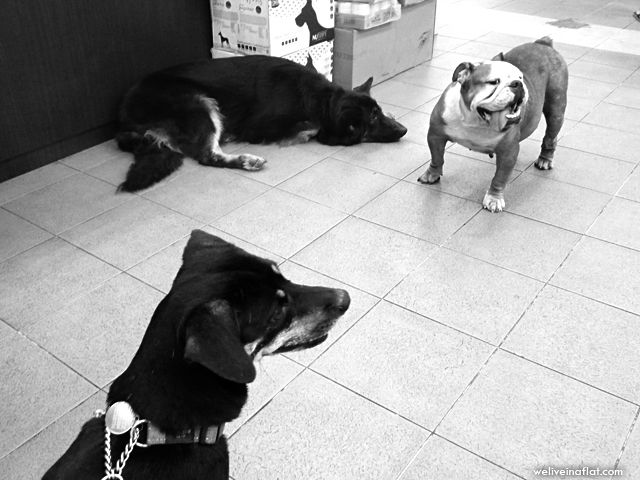 So that concludes Donna's first trip to the pet store, yay!!!! LOL.
I was hesitant about the membership before, but Mr P decided to get it so we can bring Donna swimming at the doggy pool they have on the premises. You can check out the pool here. Now I'm looking forward to bringing Donna swimming.
I liked the wide aisles of the shop and look forward to looking more thoroughly at the other sections next time we go food shopping. Hopefully the rest of the products are good quality and well-priced, despite the bugs I found. There's limited pet shops we can bring Donna to that's not too far away from where we live with wide aisles like here.
Parking seems to be fairly limited in this place though.
26, Seletar West Farmway 1 Singapore 798126
Phone: 6484 0709
SGD$38 for 5-year membership gives you discount on purchases and free usage of doggy pool weekends and public holidays. $10/dog on weekdays.
---
Come :) Follow weliveinaflat.com on
Instagram @weliveinaflat |  Facebook donna.weliveinaflat | Youtube Mutt Vlog