Attention Most of what is written below is valid in terms of the methodology used, but the ranking has been updated & upgraded :P
This is the latest Top 10. The older article starts from after this table.

Don't forget that you can also buy from Amazon.com
! The pet section has a variety of products on offer! Best of all, even if you are not in the US, you can get FREE shipping when you buy above USD$125 with FREE AmazonGlobal Saver Shipping
. How awesome is that? ;)
See also
---
Where do you buy your dog food and other pet products from?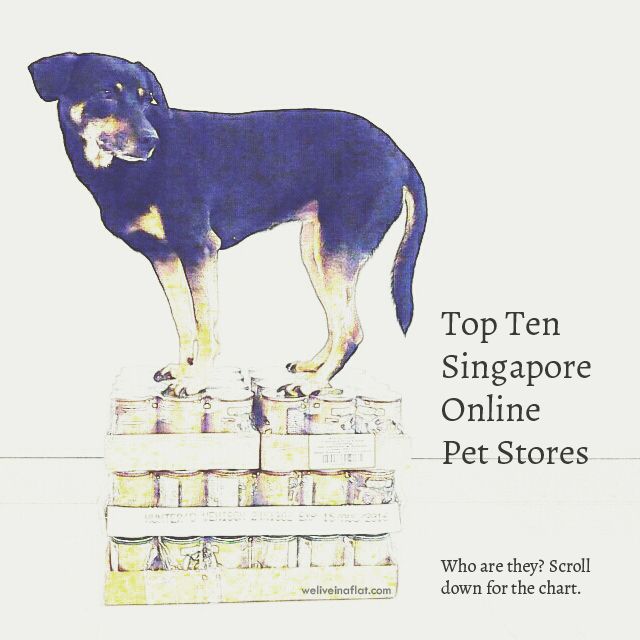 When we adopted our first dog, we quickly found that her food costs added up really fast. We also found that she scratched and shed more on the dry and canned food that the shelter so kindly provided us with to tide us over the early days. That's when we decided to upgrade her to try out other dry and canned food that meet the nutritional standards established by AAFCO – Association of American Feed Control Officials.
These food tend to be more expensive. And so costs jumped especially when we cut out canned food that we can get from the supermarket and bought more of the better regarded brands.
It wasn't long before I decided to put on my bargain hunter hat to check out some online shops. I wanted to get a sense of the price difference between them and the more convenient chain store that we sometimes buy from.
A quick search on Google showed that it's not difficult to find listings of local online pet shops all claiming to be the top pet shop in Singapore. But honestly, there can only be one top pet shop, isn't it?
Which of these online stores are trustworthy?
Which have the lower prices?
Which online stores make it easy to find the products on their website?
Which of these online stores are the most popular or have the highest traffic?
Here are the Top 10 Online Pet Stores in Singapore based on Alexa Global Ranking, broken in to two charts.
Top 10 Online Pet Shops in Singapore : #1-#5
| | | | | | |
| --- | --- | --- | --- | --- | --- |
| Online Pet Store Ranking | Global Rank | Bounce rate (%) | Daily Page Views | Daily Time on site (mm:ss) | FB likes |
|  01. petloverscentre.com |  509,065 |  37.2 |  9.0 |  4:17 |  23,393 |
|  02. moomoopets.sg |  1,417,725 |  16.7 |  12.0 |  5:53 |  4,644 |
|  03. petsstation.com.sg |  1,550,521 |  53.3 |  5.0 |  3:54 |  4,911 |
|  04. singpet.com |  1,572,649 |  25.0 |  4.3 |  5:50 |  n.a. |
|  05. polypet.com.sg |  1,753,041 |  46.2 |  11.0 |  5:08 |  1,685 |
Global Rank and Facebook Likes data retrieved between period of 8 May to 15 May, 2014.
 Since revenue, order volume or total customers information is confidential, we can only try to make a guess looking at website traffic estimates from Alexa. Now I would be the first to say that Alexa is a free data source and it is not the most accurate source of data in the world, but this exercise is really just for fun so bear with me :P If you feel that I should verify if a store you are using should be in the list but is not, let me know.
Did you know?
Although supermarkets do sell dog food, 80% value share of dog food are sold via pet shops and pet superstores in Singapore. – Feb 2013 Market Indicator Report
#1 and #3 – It should come as no surprise that the two local pet chain stores are in the top 5.
#2 – MooMooPets is the more surprising for me in the Top 2 spot. MooMooPets started out as an online store that later opened a retail outlet in Jurong West. The outlet has since closed down.
#4 – Singpet.com originated from Australia, and is a localised copy of vetproductsdirect.com.au
#5 – Polypet is a 10-year local pet supplies retail store with the one shop-front at Sunset Way in Clementi.
Singapore-based online pet shops appear to be less mature in terms of the variety of products they carry and the e-commerce user experience. Therefore, it made sense that customers would gravitate towards trusted local retail stores that have got an online presence.
With the exception of Doggyfriend, the next five appear to be online stores in existence 4 years or less.
Top 10 Online Pet Shops in Singapore (#6-#10)
| | | | | | |
| --- | --- | --- | --- | --- | --- |
| Online Pet Store Ranking | Global Rank | Bounce rate (%) | Daily Page Views | Daily Time on site (mm:ss) | FB likes (as of May 8, 2014) |
|  06. doggyfriend.com.sg |  1,818,596 |  50.0 |  5.0 |  2:43 |  527 |
|  07. goofypets.com.sg |  2,250,923 |  42.9 |  2.7 |  2:47 |  4,731 |
|  08. petcare.com.sg |  2,453,880 |  64.3 |  2.3 |  1:48 |  208 |
|  09. theonlinepetstore.com.sg |  2,748,714 |  46.7 |  6.0 |  4:09 |  394 |
|  10. pawfamily.sg |  4,454,204 |  n.a. |  1.5 |  n.a. |  1,072 |
Global Rank and Facebook Likes data retrieved between period of 8 May to 15 May, 2014.
The data presented in the charts above are put together for an informal comparative reference of the popularity of Singapore online pet stores. Note that the data can change over time. I was able to find 47 online pet stores, out of which these are the 10 leading the pack in terms of Alexa Global Rank. All stores need to have e-commerce shopping cart capabilities to be included in this exercise. Stores that exist only on blogs, Facebook and/or Qoo10 are not counted. Stores that do not sell dog food are not counted in the sample. Please note that Alexa Global Rank cannot measure the true value of the stores' popularity and transactional activity occurring with each store. Based on my own experience transacting with some online stores, after my first visit to the store, sometimes the repeat purchases can occur via SMS or email, with no actual visit to the online store.
I have compiled this information freely on my own time. Provision of the information does not mean that I know, visit, transact with or in any way recommend their store. I did not verify if any of the stores are engaged in the trade of live animals, in case you have any questions about that.
It honestly took me quite some time to compare the different online stores to find one with the best value. But in the end, it was all about compromise. The pet shop with the cheapest cost for the product I want may not have the variety for me to accumulate a total order value that qualifies me for free delivery. The shop that does have the wider range of products priced the products higher and also had a higher value set for free delivery.
Young start-ups likely have the challenge of generating traffic and interest. They also have to work harder to establish a reputation for trust and reliability. I do find myself trusting them less. If I do buy from them, I usually choose to pay Cash on Delivery rather than by Credit Card.
The result was that we continued to buy from both the brick-and-mortar shops and some of the online stores largely based on the situation. Sometimes we needed to save time and have the convenience of getting the product immediately from the nearest pet chain store. Sometimes an online pet shop may have promotional discounts, or I finally have a longer shopping list to meet the free delivery rates to make an online order.
So we have bought Donna's canned and dry food from about three different online pet shops. One of them in the top ten list above, the other two ranked more than 10. We bought from them simply because the same pet food brand cost cheaper/cheapest with them and there is the option to pay cash on delivery. The downside is, regardless of the variety they advertise on their sites, they usually are out of stock for less popular products and even when I asked about it, they don't seem inclined/have the capacity to bring in more stock. This means their product range is more limited in reality then what is being sold on their website.
So that in a nutshell is a rough ranking of online pet shops in Singapore and our experience buying from them.
Have you bought your pet food from an online pet shop before? Which one is it?
How do you decide which online store is trustworthy to buy from?
Did you have different experiences from us?
Note: Top Ten Online Pet Store chart data may change with time.
To be updated when we refresh the chart, subscribe to our newsletter.

Go to weliveinaflat Facebook
Sign up for our newsletter and get a full list of the 47 Online Pet Stores sampled in your email.
---
Come :) Follow weliveinaflat.com on
Instagram @weliveinaflat |  Facebook donna.weliveinaflat | Youtube Mutt Vlog