A dog owner's blog that talks about Living with a Dog in densely-populated Singapore.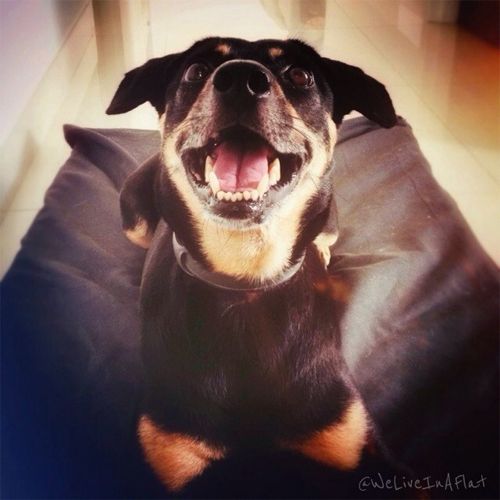 Who are you?
We're a regular couple who adopted a dog after the first year of our marriage.
We've never had a dog before so we didn't really know how to live with one. Like everyone else, we ingested a lot of Cesar Millan on TV.
But once we adopted Donna we realised CM was not a whole lot applicable in her case. Thankfully, we found that positive training worked extremely well with our fearful, adopted dog.

This blog follows our journey as we learn more about how to manage, live and play with our adopted, adult Singapore Special mongrel.
Why did you start blogging?
I started this dog blog in the second month of adopting Donna. She didn't have any canine friends then, and I hoped that we would be able to meet potential friends for her via the blog, so that she can have positive socialisation.
Eventually we found that Instagram was a better avenue for making friends. The blog continues as a platform to diary events and also the things that we learn along the way like what we are training and the videos of Donna that document her behaviours interacting with other dogs.
Through this constant process of reviewing while writing, we've come to understand our dog better. And that helps a lot in helping us articulate the issues that we face and from there how to figure out ways to solve it. Having a global circle of blogger friends to listen to and give us advise definitely helped alot too!
Who is the blog for?
It's hard to say who the blog is for. I've always thought I am my blog's biggest fan so it must be for me.
But along the way, I find myself writing on pet photography and photo-editing topics for other global bloggers who are just learning about these topics.
I write about positive training and am glad if it provides options for anyone outside of their regular CM TV diet.
I write about dog lifestyle because I realise that helps me connect greatly with local friends.
Whoever you are, if you find value in spending some time reading this blog, then my blog is for you. :)
What's something that you've been working on lately that you're REALLY proud of?
2014 was the year of heavy involvement with the Dogs of Instagram SG group. For 4 months straight we hosted a twice monthly photo contest with sponsored prize giveaways to group members. We've created an almost cost-free photo contest platform that small and new businesses can leverage on to grow their following because we are non-profit. And at the same time created some excitement for local instagrammers, who often feel left out in US-centric pet contests.
Our next big event was the Dogs of Instagram SG Christmas Party. Bigger sponsors may be disappointed to hear that the event only hosts 30-40 dogs, but for us, it's a big deal. Each dog boosts an average 1,500 followers on Instagram. The party is entirely paid for by guests, again we are non-profit and to have 30-40 dogs willing to pay to attend our own party was FABULOUS! Our small online stores were happy to sponsor the local dog rescue with dog food and leashes for every attending guest. We are definitely very proud of our supportive guests and sponsors. :)
2015 was a year I decided to slow down. So I left the Dogs of Instagram group and began to host my own mini giveaways. That gave me control over my own timelines and schedule, and also the opportunity to grow my e-mail newsletter database.
Organic traffic for the blog was steadily climbing so the frequency of blog posts dropped from 5 posts a week to 1 -2 weekly posts. The result was quality blog posts with greater shares on social media, as well as more engagement with businesses and startups who are starting to hear about the blog. More importantly, I was happy to have people reach out to me via email or social media at the point while they are considering adoption or have questions arise during a homestay that they are seeking more opinion on. Definitely happy to be of help!
Donna continued her regular community service with Therapy Dogs Singapore, and also started Agility Classes in the second half of the year. She is doing really well and Mom is always proud of her. Why do you think Donna features so prominently on all her social media channels? Haha!
What's the ONE MESSAGE that you hope people take away from your blog?
If you adopt/bought a dog, you have the responsibility to socialise the dog positively, to train him/her, to spend time with him/her and to stick around for the long term. We hope people don't adopt or buy just to give up or rehome the dog.
More about our dog Donna
Donna is a sweet black and tan mongrel weighing in at about 14kg. We adopted her at age four. She was previously adopted, not treated well and returned to the shelter where she was born. For more about Donna, read 20 facts about Donna.
More about our adoption story here:
Life with a dog | A dog is not a plastic toy. Like living with another human, living with a dog requires constant adjusting to one another's moods and proclivities. And just as a person grows and changes, a dog does to. We are enjoying and putting up with new things from our dog everyday.
If you have enjoyed reading our dog blog, please visit and "Like" our Facebook page at facebook.com/donna.weliveinaflat!
Thank you so much!
Looking for more Singapore dog blogs? Come this way.