Doggy facial expressions can change in a blink of an eye. And unless you film a slow-motion video like this Pedigree ad (Phantom Camera at a 1000 FPS (frames per second) ), a lot of the dog's emotional and facial expressions could be missed.
"I noticed that my dogs make the funniest faces when catching treats," says Aki (@bordernerd), who shares photos of her two retired search and rescue dogs on Instagram. "So I decided to photograph them catching different things … balls, kibbles, treats and such. Bubbles gave me the funniest pictures." – souce instagram blog
And that was the start of the #catchseries on Instagram.
I love how pictures taken of these dogs when they are fixated on catching treats or toys flying at them could end up showing a range of different expressions. Whether it's your own dog or somebody elses', perhaps there will be some cute and quirky expressions that make you laugh when you look at them time and time again.
Here are 9 different dogs with their different expressions when faced with a flying object heading for them! ;)
9 quirky dogs catching things #catchseries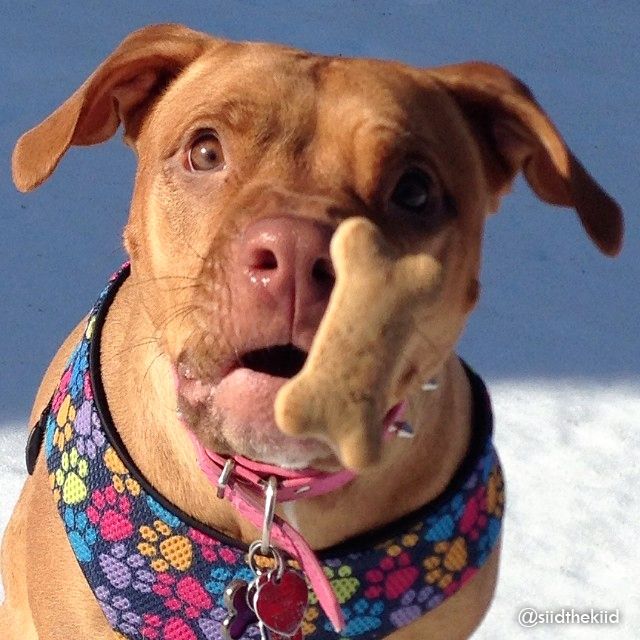 \\ Wondrous things fly here //
Bella
Pit bull. Female. 2-years-old. New Jersey, USA.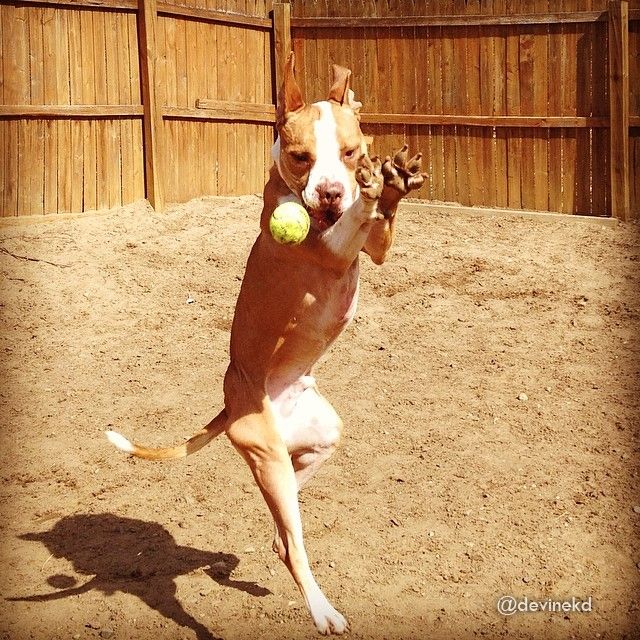 I am a ninja! Ooops!
Max
Pit bull. Male. 3-years-old. New Jersey, USA.
Available for adoption at Ferndog Rescue Foundation. He loves to play.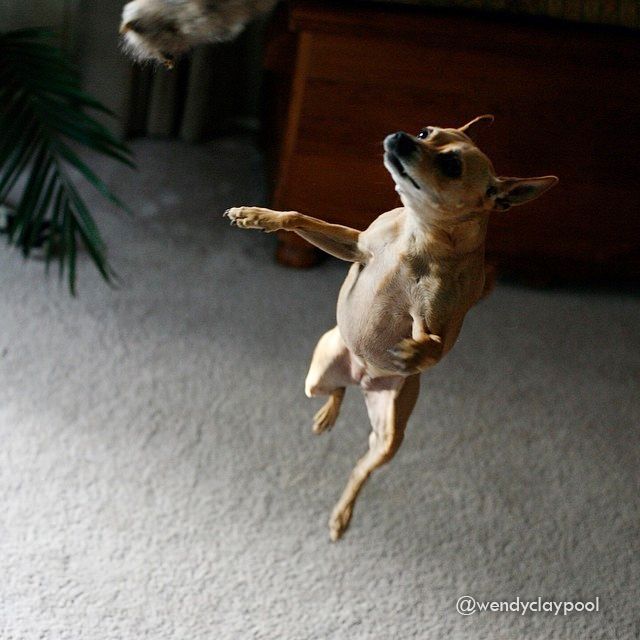 I fly… like in the Matrix. 
Pepper
Miniature Pinscher. Female. 4.5-years-old. Rescue. Los Angeles, USA.
Pepper was rescued from a high-kill shelter in Los Angeles at around 8 months old. Her foster mom Wendy fell in love with the very sick and fearful puppy. Pepper has not looked back since she was adopted by Wendy. She went to training lessons and her signature move is jumping up on Wendy's command.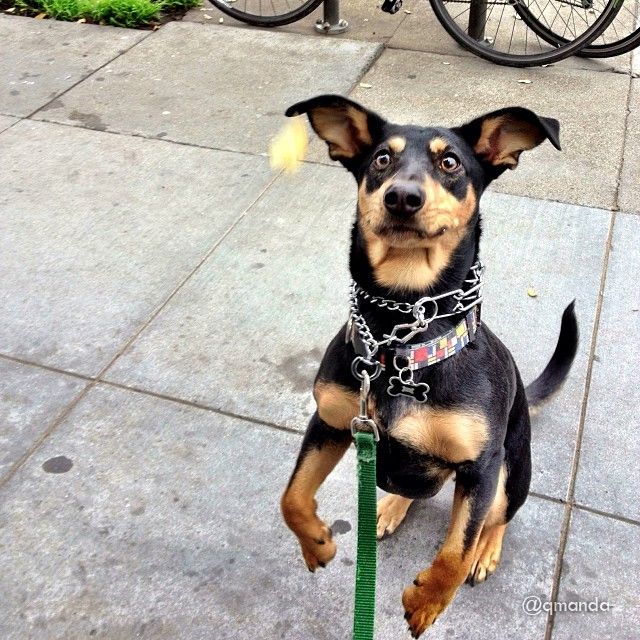 It's coming. It's coming. It's coming 
Porter
Mix breed, maybe Dachshund-German shepherd. Male. 2-years-old. USA.

I got it. It's cool.
Sammy
Golden Retriever. Male. 2-years-old. USA.
His buddies are Boomer, Alice and Neon. Ages 1-4.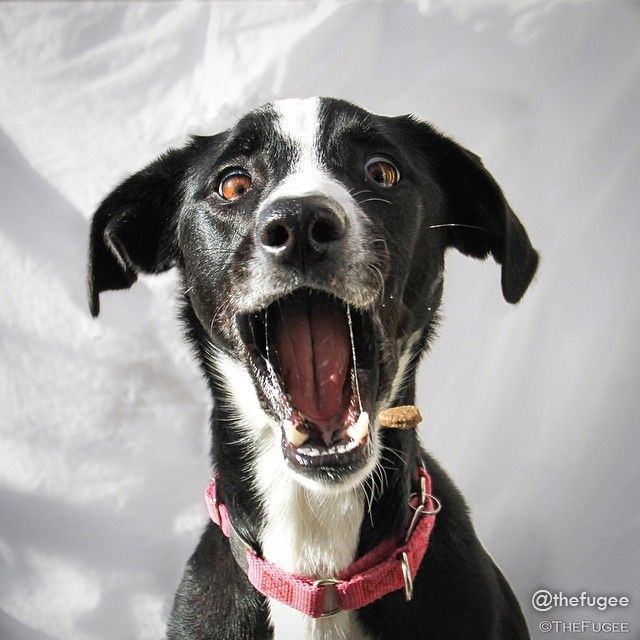 I just open me mouth and it will fly in. Easy.
Fugee
Border Collie mix. Female. 3-years-old. Los Angeles, USA

I am gojira!
Alphie
Shetland Sheepdog. Male, 3-years-old. Taiwan.
He is a happy-go-lucky ball hog!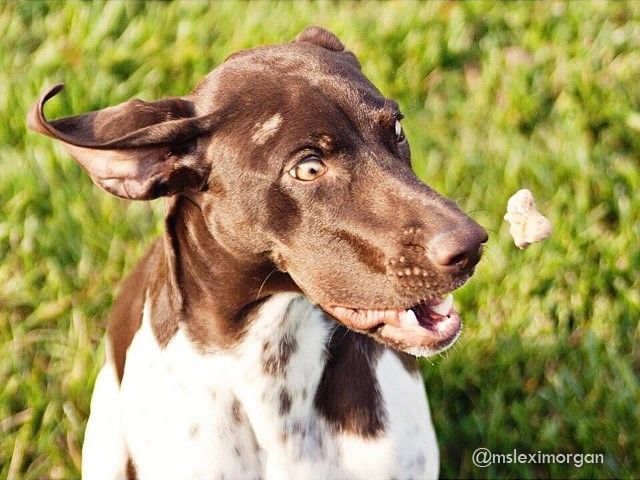 Imma… Imma… Imma…
Lexi
Germain Shorthair Pointer. Female. 10-months-old.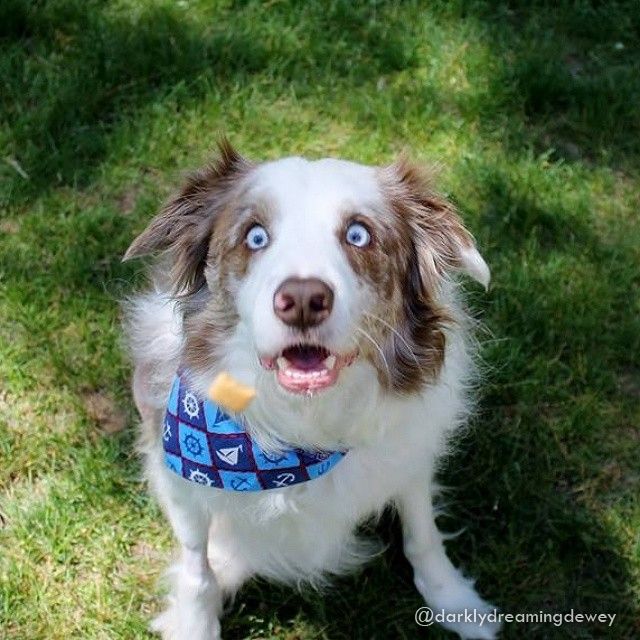 It's here! It's here! What do I do? What do I do? It's here!
Dewey
Border Collie. Male, 5-years-old. Rescue. Springfield, USA.
So many different interesting expressions, yah?
Let's make a #catchseries photo!
So I've been trying to make a #catchseries photo for days now and I have to say, my failure rate is really high!
Here are the outtakes for the first attempt outside during our morning walk.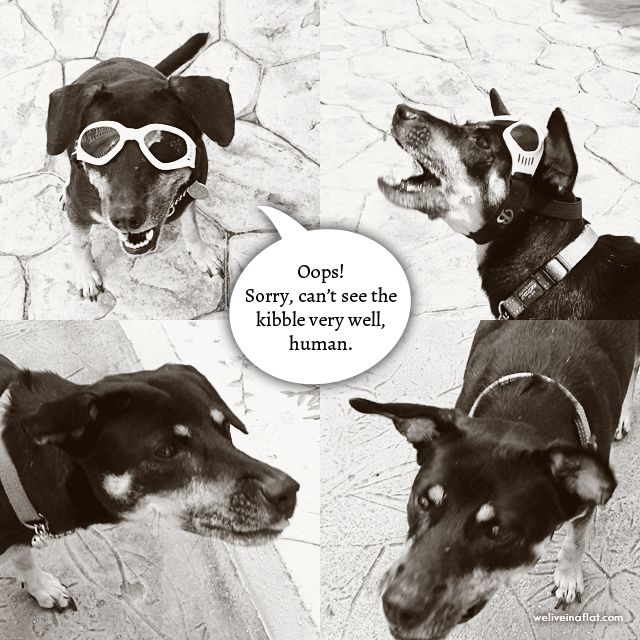 Outtakes
Problems
My aiming is really poor so you see Donna's head going sideways.
My timing is really poor so Donna usually has caught the treat when my camera takes the photo.
If I throw high, Donna tends to leap out of the frame so her head gets cut off.
If I throw low, the shot is usually blur since I don't have the time to hold the camera steady before clicking.
The treat I was using was really light so it kept blowing away in the wind before Donna could catch it! Haha!
You know what?
I either need a tripod or a second person helping me to throw treats. Or both! … And heavier treats, of course.
This is the only somewhat sharp action shot coming out from that session.

Do you really have to take pictures when somebody is trying to snatch treats from the air, human?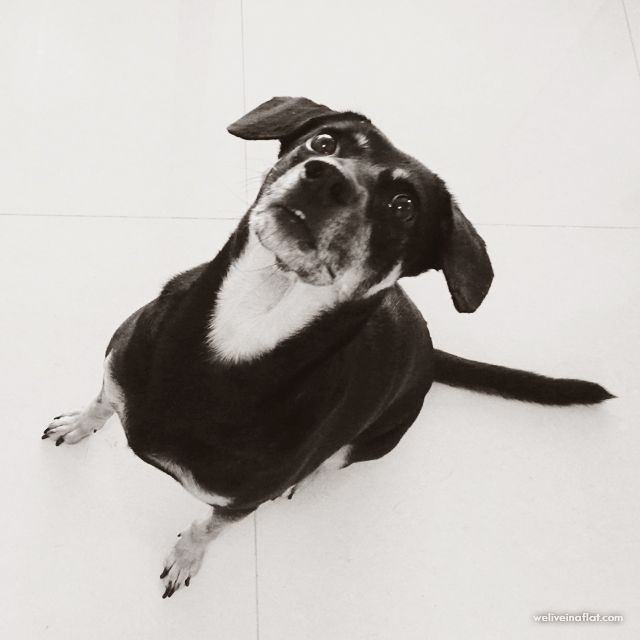 The lighting was even worse indoors, so the only somewhat sharp shot came from Donna keeping still tracking the flying treat just before jumping for it. Haha!
So I took it outside for one last try on the balcony.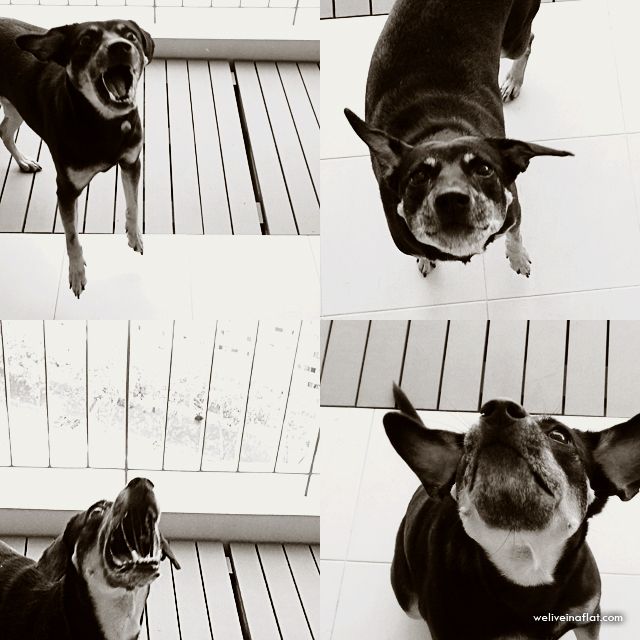 Outtakes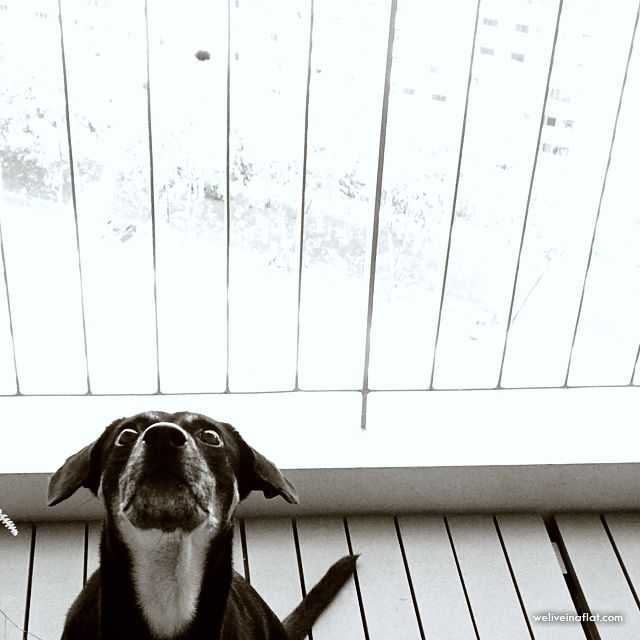 Finally, a shot that I am pleased with more because of the way the photo is cropped than the quality of the capture. Oops ! And no she's tracking but not catching the kibble yet. So I suppose it doesn't really count as a #catchseries photo! – – The backlighting was obviously an issue but the over exposure did show up that flying kibble really well. :P
In conclusion, I guess the #catchseries of photos can only be executed well if you really spend some time to set up, take control of the lighting, have the camera stable and maybe an extra hand to help throw treats well.
Oh, and a dog that likes to catch treats, regardless of whether he is a good catcher or not. Haha! (Yes, I have been told today that some dogs actually don't try to catch a treat thrown at them. Imagine that!)
Ending off with funny videos of dogs who aren't so good at catching stuff ;) At least, they try!

via Barkpost – 6 insane videos of dogs catching things

.
Do you have any tips for getting a good photo of your dog catching treats?
Perhaps a good action shot app for mobile photography?
Or a camera with canine face recognition! How well do those work anyway?
Share a photo if you have one!
.
References
– These dogs trying to catch things are awkwardly perfect
– @bordernerd's canine #catchseries
Note This post is in no way an endorsement or recommendation of the Pedigree brand of pet food to you. I only used the video because it was very well made, regardless of what pet food brand it is advertising. We do not feed Donna this brand of pet food.
Copyright and fair usage
With the exception of the black and white photos in this post belonging to me, all photos on this post are copyrighted to their respective authors. The first image is derivative of all most of the represented authors, so I imagine each author would have rights to the specific portion of the image they created. 
They have generously agreed for me to use their photos on this article. If you feel that I have misrepresented you in any way, please let me know and I will amend ;)
I picked the photos based on the image and concept and also only if the creator is happy for me to used their photos. While it was difficult to have a representative mix internationally, I'm glad that there was a mix of some different dog breeds. 
The photographers' Instagram user names are clearly identified on the bottom right corner of each photo so you can easily find them on Instagram. So feel free to go check out some gorgeous accounts ;)