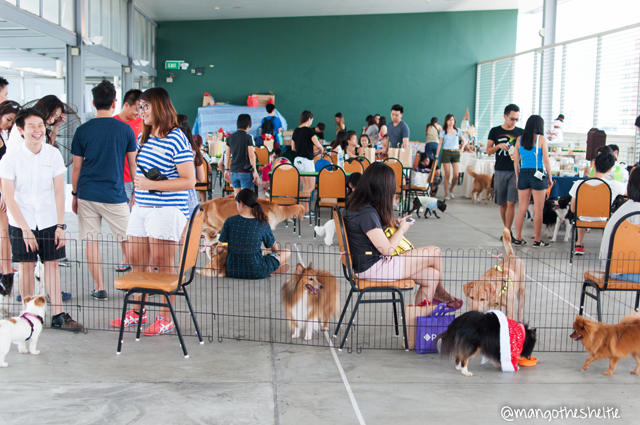 So the human has never considered hosting a Christmas Party before, so we probably never will if it wasn't for Life with Lycan Lexie who proposed the idea. So together with Life with Lycan Lexie, Mango the Sheltie and Some White Cookie, the Christmas Party came to life in early December.

Check out the crowd! :D … and the party animals, lol :P
Dogs of Instagram SG Christmas Party 2014!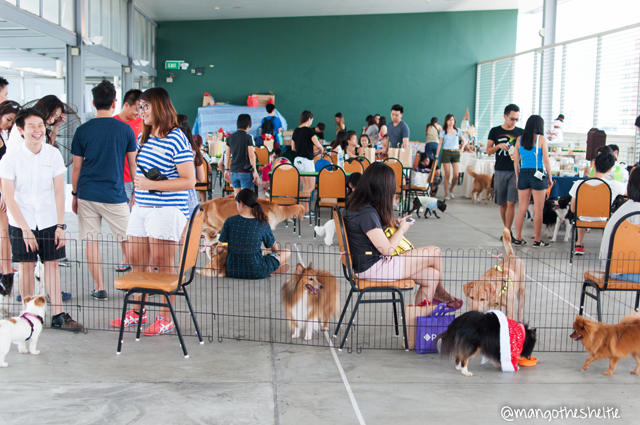 Tickets were sold at $35/human and $5/dog, and the goal was to fill the space with 50 human guests. Including the sponsors and their dogs, we hit about 45 dogs that day at Serangoon Community Club and more than 50 humans.
The space ensured we could hold all the dogs – big, medium, small and cute – comfortably.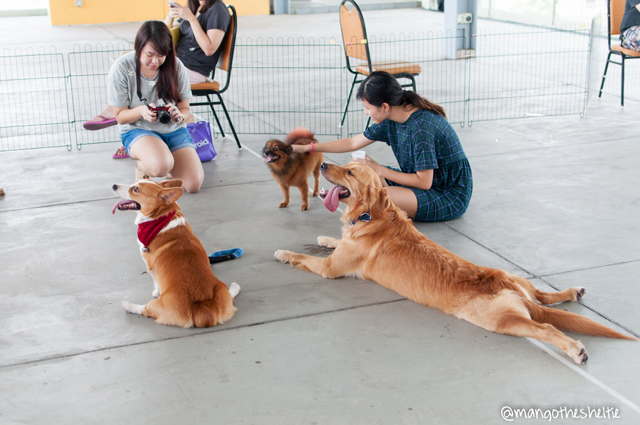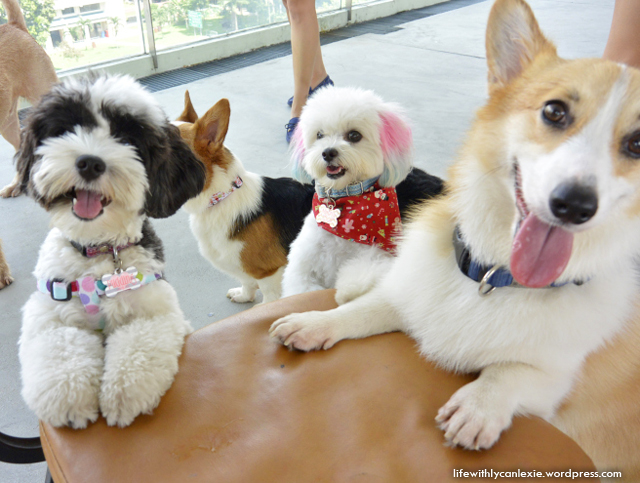 To minimise conflict between dogs, the space was divided into two using playpens so owners who preferred their dogs to roam freely can leave them in the play area, while those that require more supervision can remain outside the play area.
The big space and the management of the space worked well. At least to me, I noticed less conflict among the dogs than in previous events like our Halloween Picnic and our Cycling event.
Buffet!!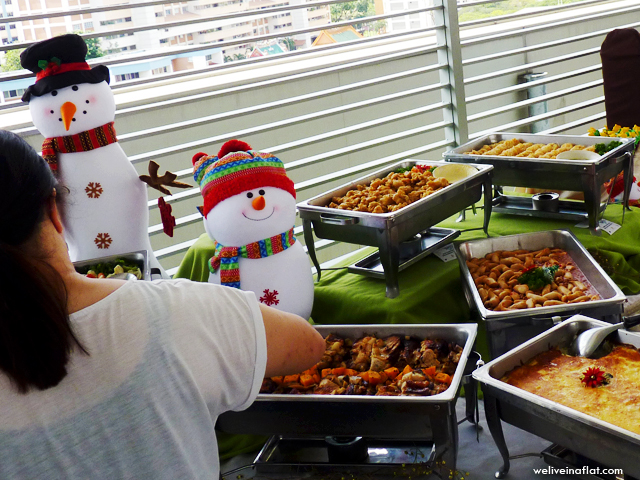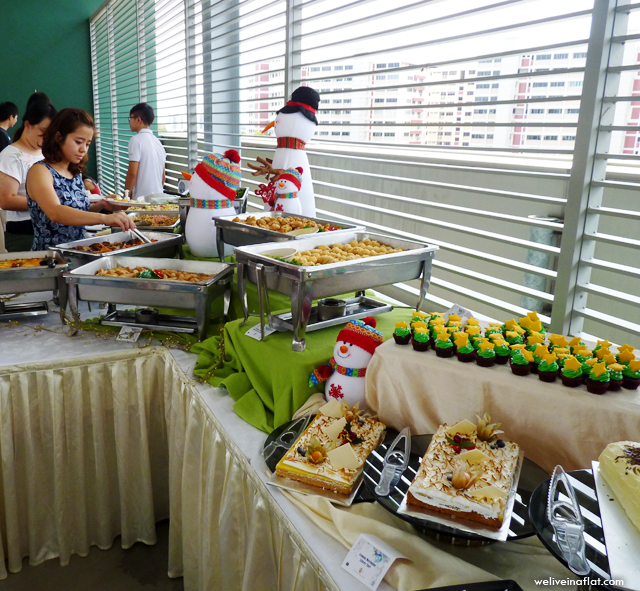 The ticket costs cover the cost of food for the humans, as well as the rental of the event space, tables and chairs, a cleaning fee after the party and other miscellaneous costs like additional ice, drinks, etc.
A job well done to Life with Lycan Lexie, Mango the Sheltie and Some White Cookie for selecting the buffet. I was looking forward to chocolate log cake but the girls said "no" because there is always a chance the cake may be spilled on the floor and that will be a danger to the dogs. So I definitely appreciated the thought these girls put into the choice of food.
And I have to say the table setting looks great. Very festive :P And most guests appeared pleased with the food that was catered. :)
But of course Donna was more concerned about the FREE BUFFET for dogs! Haha!
Doggie Treat Tables by Barking Good and The Barkery
Donna can't wait to hit the FREE Doggie Treat Tables. So let's head on over.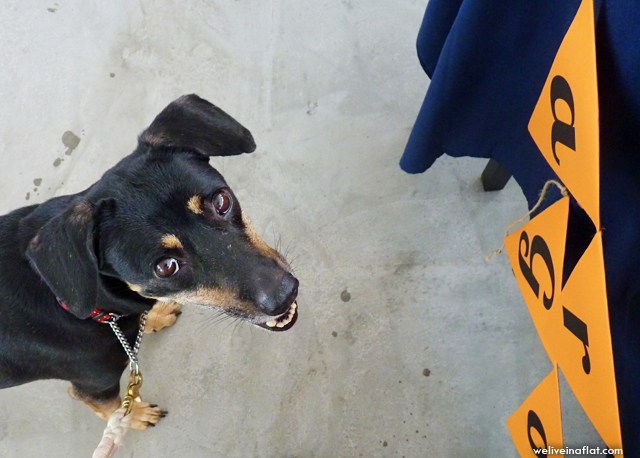 First stop, Barking Good. Meet Dionne and her boyfriend, the people behind the Barking Good online store for dog treats. And Lycan who knew the best spot to be is right in front of the treat table, where else!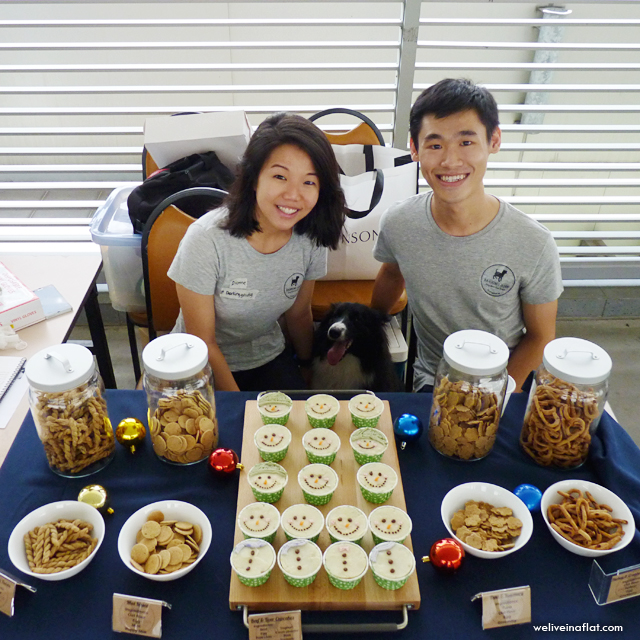 So many yummy treats and biscuits from Barking Good, Donna is spoilt for choice!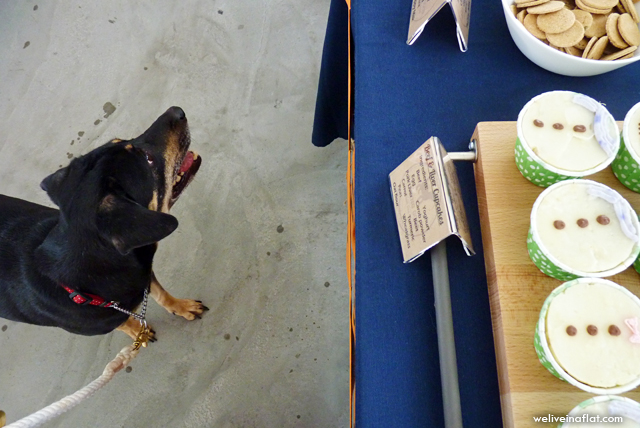 What should Donna start feasting on first? How about a beef and liver cupcake?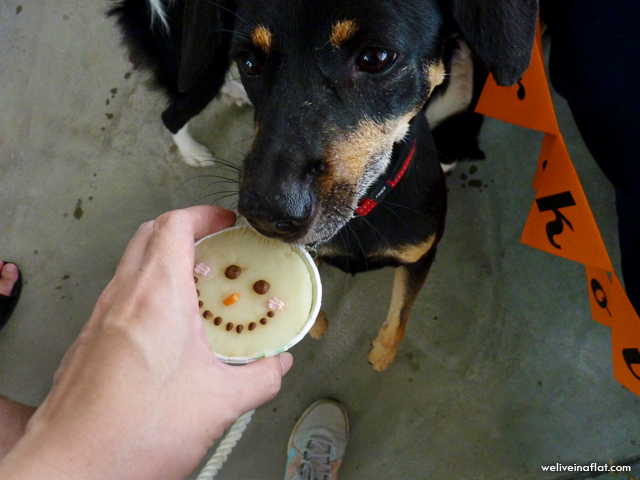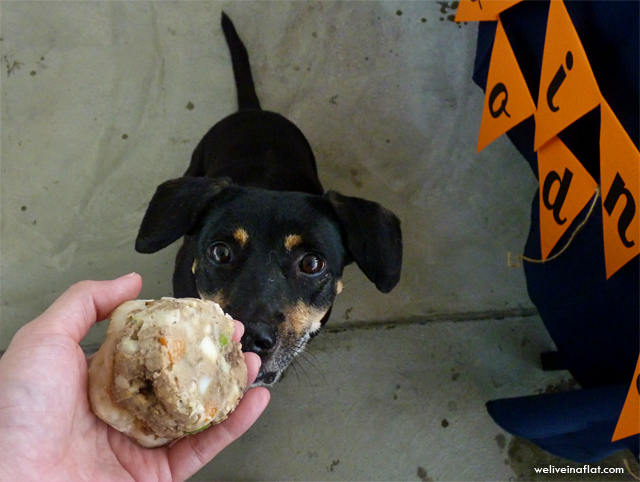 Ingredients: Beef, Egg, Pork Liver, Carrot, Peas, Oat Flour, Yoghurt, Carob powder, Beet, Turmeric, Wheatgrass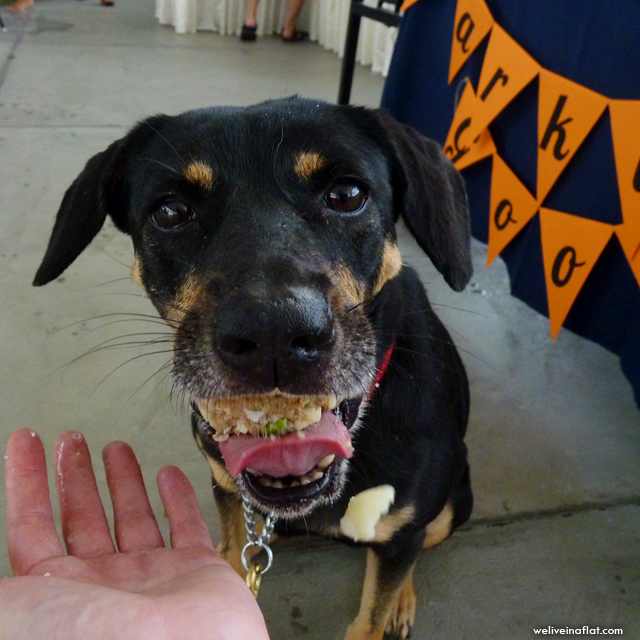 Donna says you cannot be shy or care about your image when there is food involved. 
How about some eggnog to wash it down?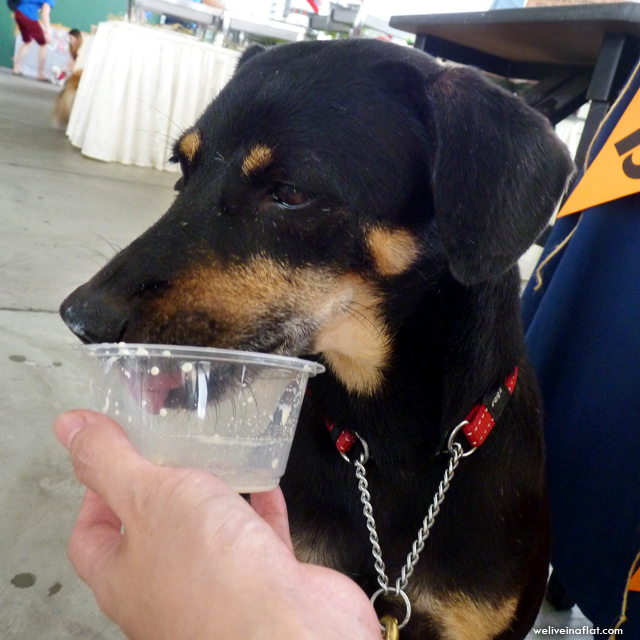 Special thanks to Barking Good for the freeflow pupcake and eggnog that helped a little to distract Donna from the thunder when it started to storm. I was totally unprepared for that!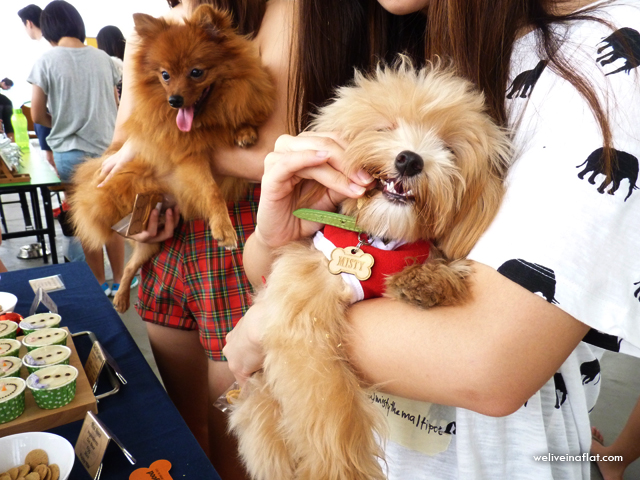 Donna is not the only dog enjoying the doggie treat tables!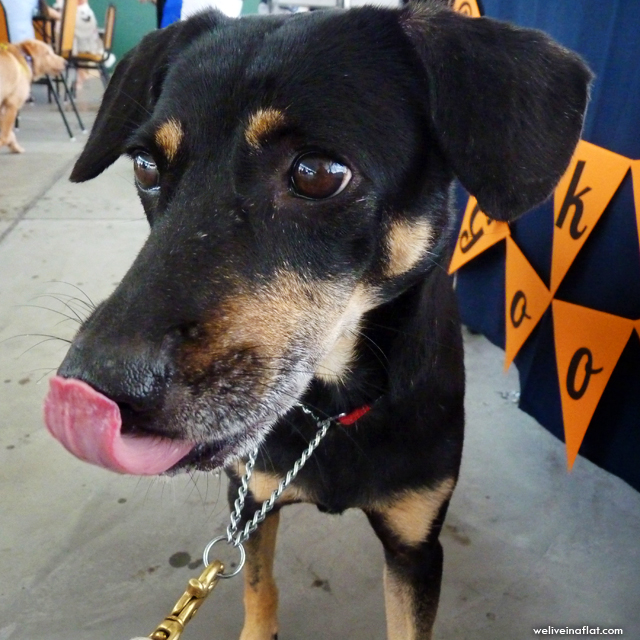 Yumz, said Donna. Let's go for Round 2!
Hello Ann from The Barkery! Look at all your jars of goodies!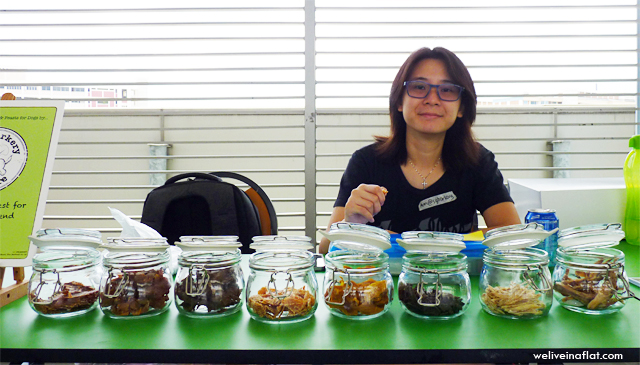 For a full list of the dehydrated treats available, click here!
The human was most attracted to the dehydrated tripe because it seems pretty hard to find it in Singapore. According to the raw food community that the human lurks in, tripe has to be green in order for it to be most nutritious. But the human and lifewithlycanlexie both have no idea where to find green tripe in Singapore.
So is this green tripe that the Barkery has for us?
Well, Ann has news for you. Obviously Ann has probably spent more time sourcing out food for dogs than busy dog humans like us who have day jobs or other preoccupations. What she found was green tripe was just not available in Singapore. What was available was unbleached but cleaned tripe. And this is what Donna is having. Better than nothing, if you ask us :P We just believe in feeding the dog a variety of edible stuff :P Haha!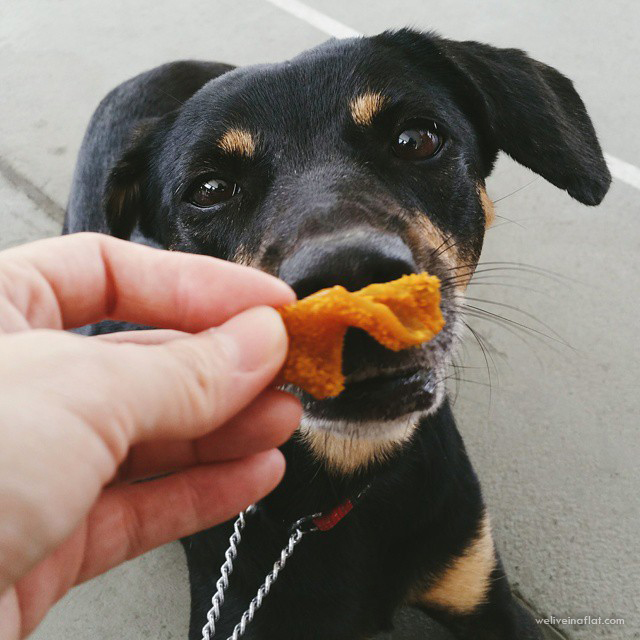 Rich in selenium, protein and calcium, The Barkery's beef tripes gets its yellow colour from its turmeric seasoning. Turmeric is known for its documented anti-inflammatory, anti-oxidant and anti-cancer properties. –  The Barkery
But actually, what was most popular at The Barkery's doggie treat table was the probiotic chicken feet. It was gone before Donna could get her jaws on one, omg!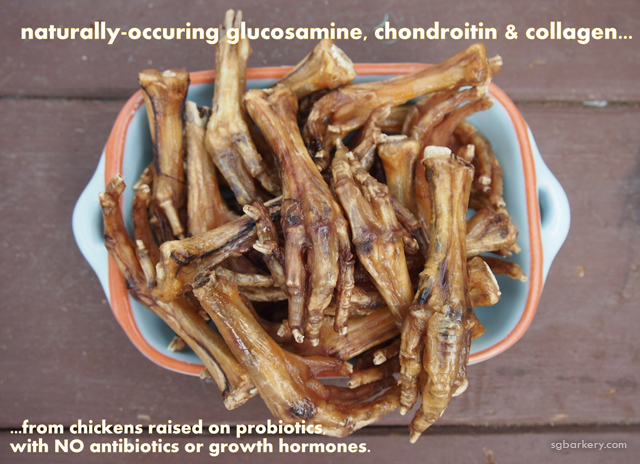 Chicken feet are an excellent source of naturally-occuring glucosamine, chondroitin and collagen, making them the IDEAL treat for dogs with joint or skin issues. – The Barkery
So now that we have our tummies filled, how about some entertainment?
Ann had some pies stashed away in her boxes for the fun-filled Recall Runway game! :D More about it here. These dogs can't wait for the game to start!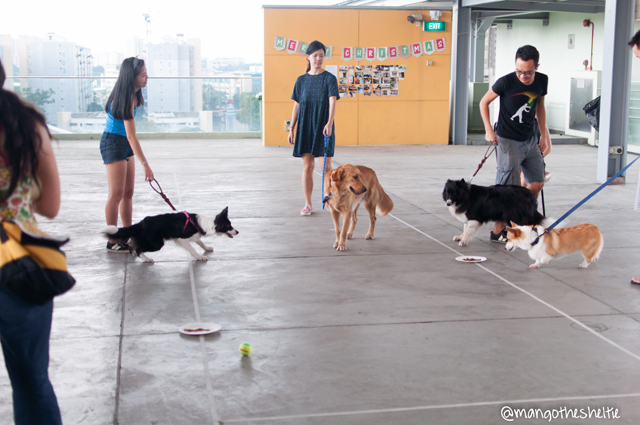 See also All other posts on Dog Food by weliveinaflat ;)
Ohpopdog.com new collection
Donna and I also stopped by ohpopdog who kindly brought their travelling suitcases to our party to showcase their new collection of dog clothes and accessories.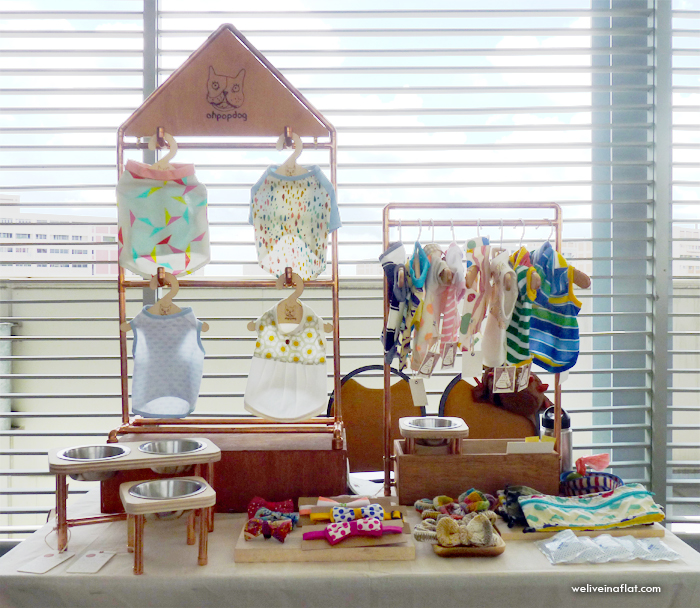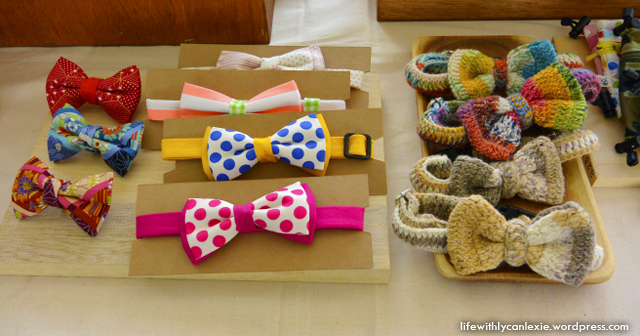 We're secretly waiting for the day they make their whale shirt in Donna's size. LOL
Donna met Bacon, ohpopdog's mascot and they played a little, which was cool :) They played until the video camera came out, and then they stopped. – – So the video below is not very interesting. Hahaha!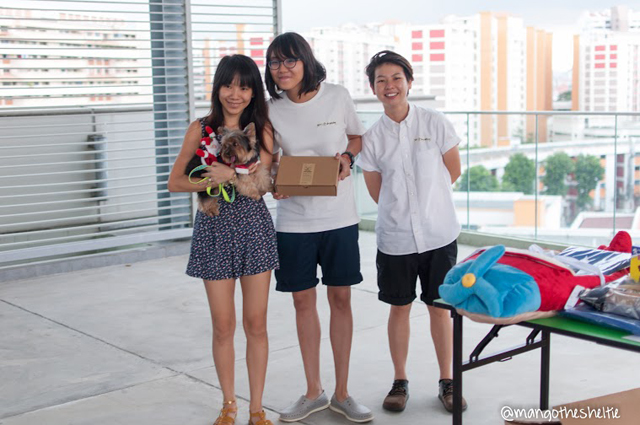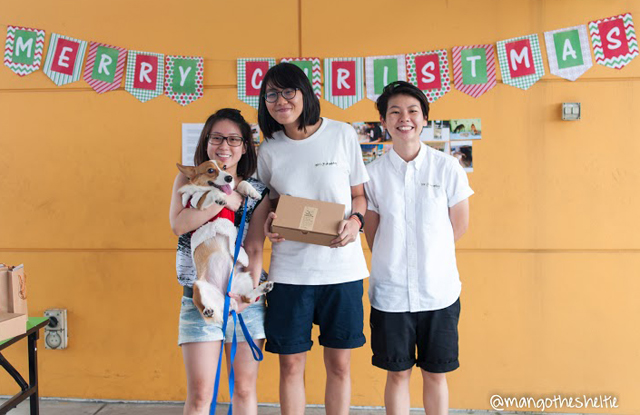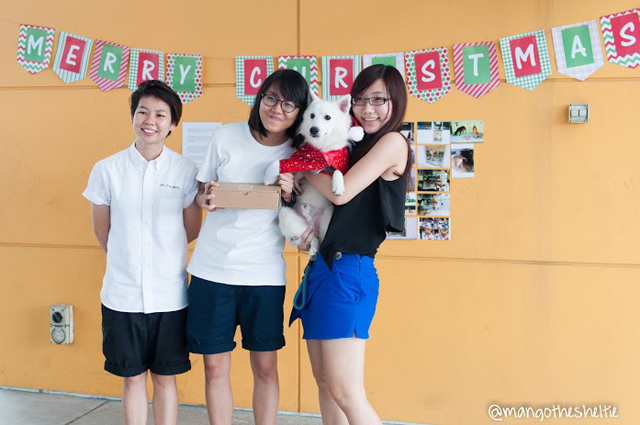 ohpopdog also sponsored the Best Dressed Christmas Dog contest. More about it here.
Donations and Lucky Draw
Since we were gathering a group of Instagrammers together for a Christmas Party, we thought we might perhaps get some sponsors to donate food to dog welfare groups.
We are pleased to say that on behalf of our 50 guests:
myfurfriends has donated 3 bags of 15 kg food worth $294 (on their website)
feedmypaws has donated 55 pupcakes worth $264 (1 pupcake retails at $4.80)

to Uncle Khoe's k9, Paw Perfect Love and Doggie Rescue Shelter

littlecherry has donated over 5 bags of 15kg food equal to the value of $500.

to be shared among Gentle Paws and Friends, Uncle Khoe's k9, Paw Perfect Love and Doggie Rescue Shelter
A note of appreciation to Pawmart for selling the food near cost price to littlecherry so we can get more food for the same amount of money for the shelter dogs!

In addition, myfurfriends has donated 50 leashes to be shared among the different welfare groups.
In conclusion, we have managed to raise over $1000 worth of food donations to five different animal welfare groups – Hope Dog Rescue, Uncle Khoe's k9, Paw Perfect Love and Doggie Rescue Shelter and Gentle Paws and Friends. This certainly cannot be accomplished by the few of us alone.
Along with the donations, we also have some kind sponsors for the party's Lucky Draw!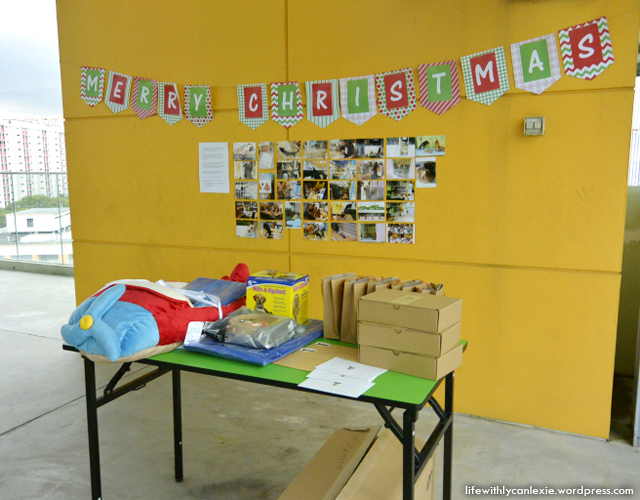 Lucky draw prizes against the backdrop of photos from Feed My Paws donation trip to Uncle Khoe's.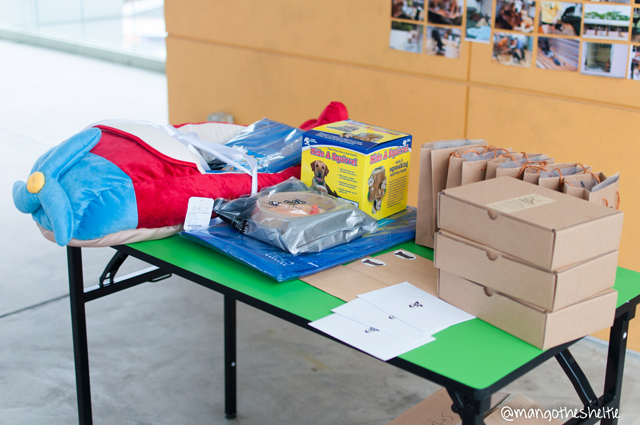 We were thankful for the amount of sponsored prizes we were able to get!
What was available to be won?
To see the lucky winners, check out LifewithLycanLexie's post here.
Presents!
Some of our guests are really kind and prepared guests for the other guests. In particular, @yodacutiepie contacted us in advance wanting to know how many presents to prepare for the dogs attending the party. How thoughtful is that?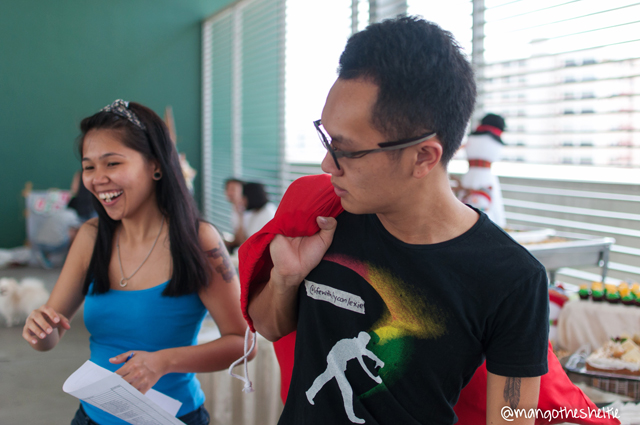 Playing Santa for @yodacutiepie's (not pictured) sack of presents
Group Photo
Donna was too disturbed by the thunder to pose, oops :P This is not the full 50 guests as some had to leave early, but thank you so much for purchasing a ticket to attend the party everyone!!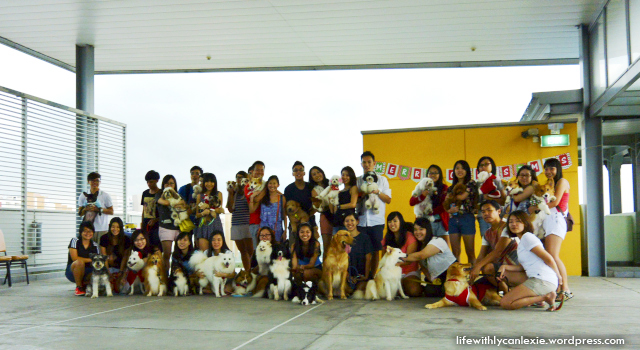 We hope all the dogs and humans had a great time!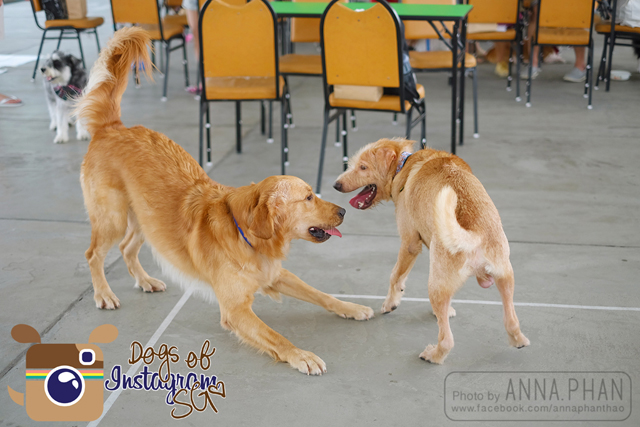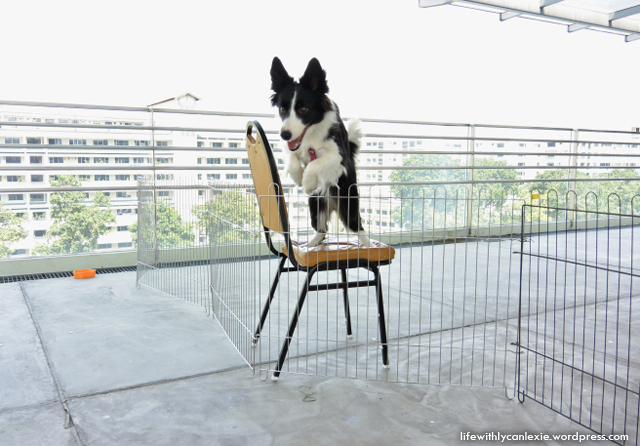 I think they did :P
Merry Xmas!!
For more event photos, check out the hashtag #sgdogschristmasparty on Instagram
To check out any of our sponsors, visit our sponsor shopping guide here.
---
Come :) Follow weliveinaflat.com on
Instagram @weliveinaflat |  Facebook donna.weliveinaflat |  Youtube Mutt Vlog