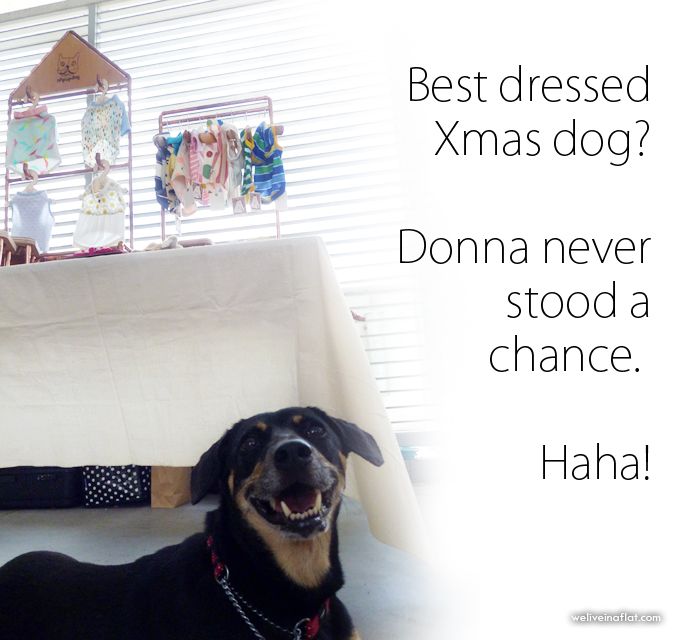 Because well, I didn't exactly have the time to prepare anything for her. *Oops*
But thanks to ohpopdog.com, three lucky dogs got to go home with clothes and accessories from the local dog clothes maker at our Dogs of Instagram Singapore Christmas Party!
Check it out, the latest AW14 collection from ohpopdog for our preview even before the collection was launched. Which of these are part of the prize?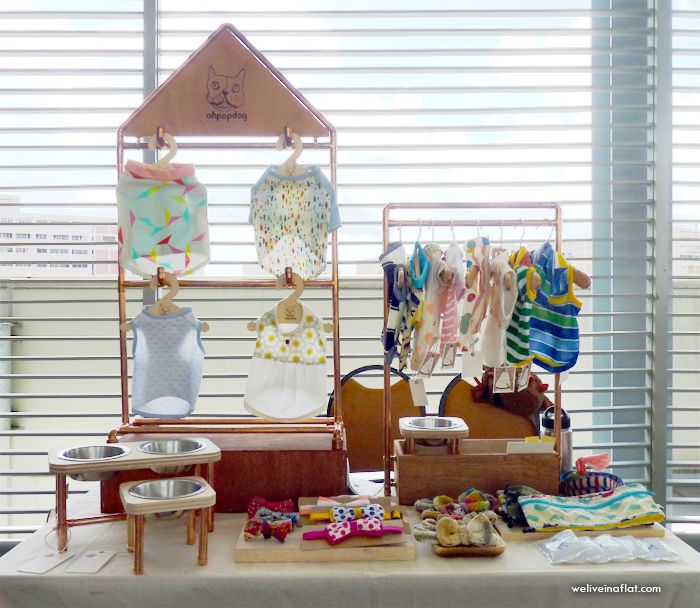 The shirts were all too small for Donna, haha! But the bowties can fit dogs even bigger than Donna. Those bowls are just gorgeous. Wouldn't it be nice is Donna can bring everything home? Including clothes her size? HAHAHAHAHAHA!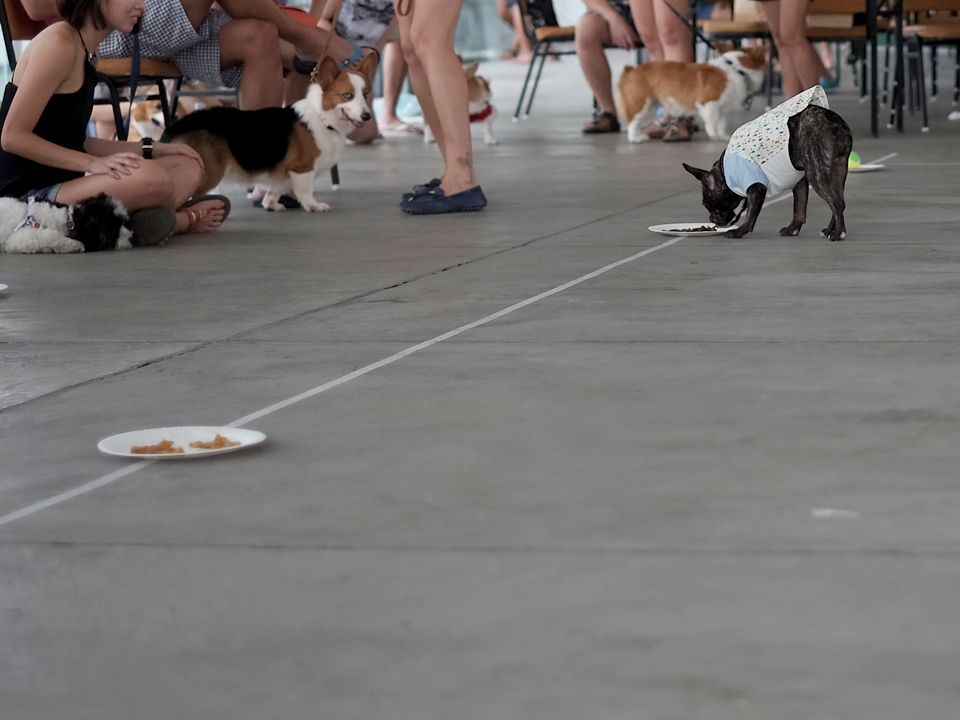 Bacon models one of the shirts from Ohpopdog's new collection on the Recall Runway. Photo by Anna Phan. 
So since Donna was out of the running, who exactly are the lucky dogs who were in the running for the Best Dressed Christmas Dog prizes? Who won?

Left photo of @muffinlicious by Anna Phan. Right photo @yodacutiepie.
Was it cute little Muffin with her Christmas scarf and dress? Or Yoda and Vader in their Christmas shirts made by their mom?
We put it to a vote…
And little Peanut @ahcui09 won the prize for Best Dressed Small Dog.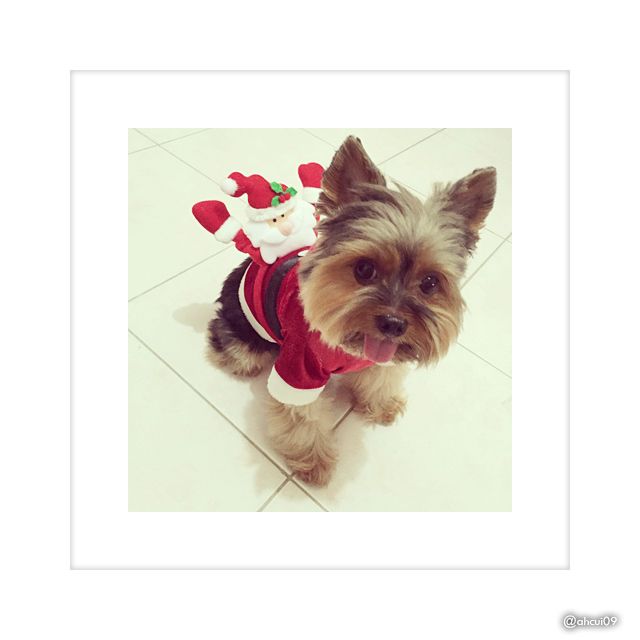 I think it's awesome that Santa has little Peanut's back! And he looks pretty joyful about it. Haha!

Geraldine and Zee from ohpopdog present the prize to Peanut, lol.
Back home, Peanut tries out the fit of his new shirt from ohpopdog, but wait there's still something else in the bag!

That brightly coloured bowtie gives a pop of colour to Peanut's outfit of the day. :P 
Ohpopdog also gave out two prizes for bigger dogs – Chanel the Corgi and Kanon the Japanese Spitz.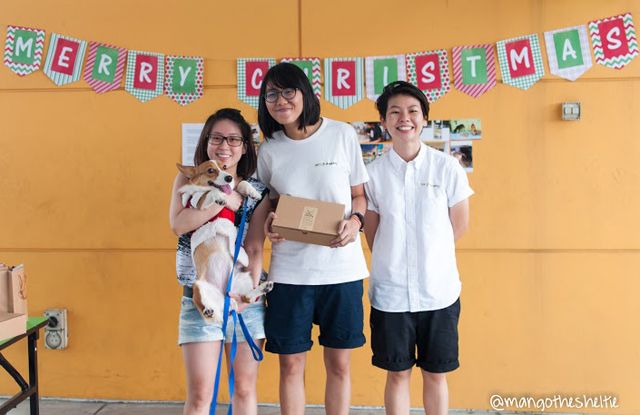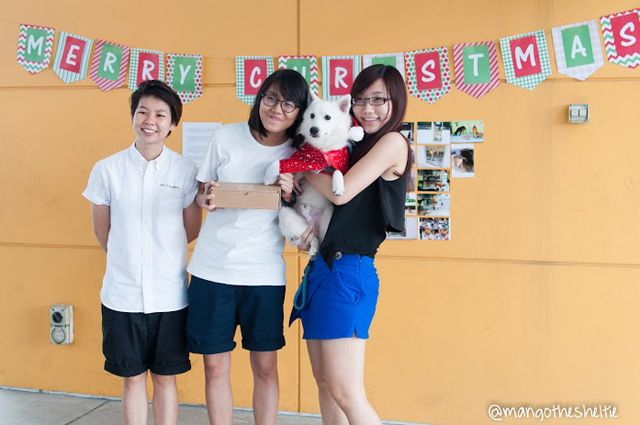 Geraldine and Zee from ohpopdog present the prizes to Chanel (top) and Kanon (botttom).
Kanon has his grandmother to thank for his win. His Christmas nightcap and cape were lovingly sewn by his grandmother. Doesn't he look the picture of a dashing boy? :P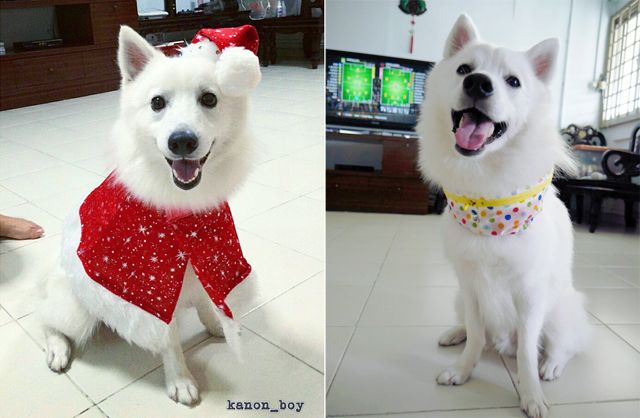 Left, Kanon in his prize-winning handmade Christmas get up. Right, Kanon wearing one of his prizes – the cool collar from opopdog. 
And here's Chanel looking very pretty in her winning outfit and also wearing her prize – the hand-knitted bowtie.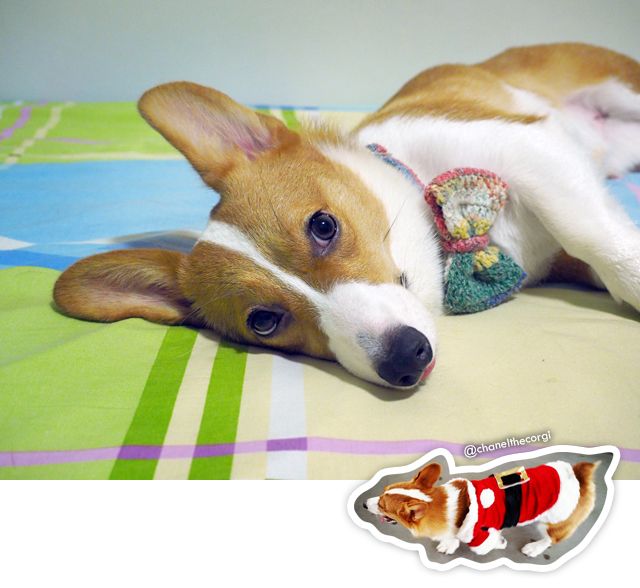 Congratulations once again!
Many thanks for Peanut, Kanon and Chanel's humans for sending me their photos with the prizes!
And also to ohpopdog for sponsoring the following: 
For Best Dressed Dogs (2):
Handmade Knitted Bow-tie & Cool Collar (One set)
So there will be two sets for this.

For Best Dressed Small Dog (1):
Handmade Knitted Bow-tie & A piece of our clothing

Note: Cool collar is our new launch product. It's a scarf collar, that holds cool gel packs, and help to minimize the heat stress while at walks/activities.

You can check out ohpopdog's new collection here on their online store on Etsy. Cool collars are not listed but may be ordered via email hello@ohpopdog.com