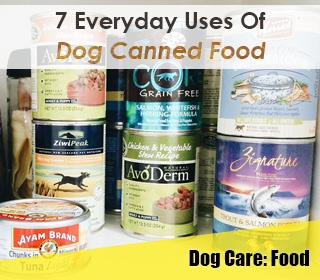 In this post, I share with you 7 everyday uses of canned food for Donna here in the flat. Click on to see what canned food Donna is eating, and how it is served to her.

So, dry food is a popular choice for feeding dogs because it is generally more affordable than canned food or commercial raw food. There are also people on the other end of the spectrum who want control over what they are feeding their dog(s). They prefer fresh food, whether it is raw or cooked.
Meanwhile, dog wet food or canned food seem to be just sitting on the sidelines while people argue over kibble versus raw. And yet, it doesn't seem that canned food is going out of fashion any time soon. Visit a pet shop and you'll find shelves lined with them.
Here in the flat, we have a shelf just for Donna's canned food. Tadah!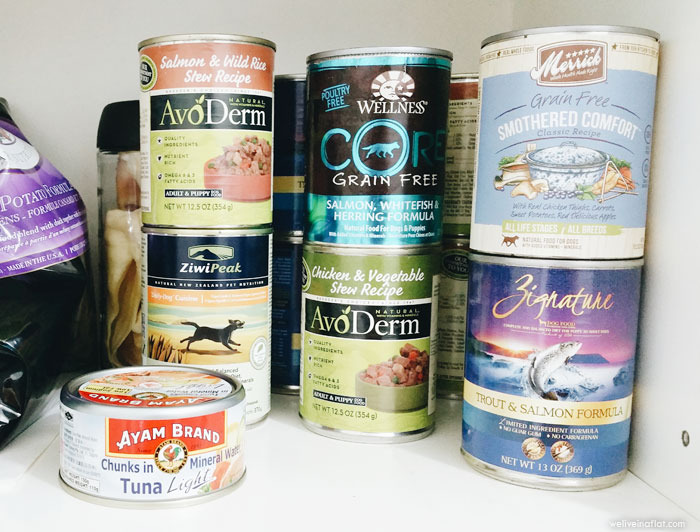 Note| I don't usually buy so many different brands at a go. But I figure this is a good time to buy some new brands since I am reviewing Donna's rotation of canned food brands. 
At one point, the stuff overflowed into the storeroom because I bought 3 cartons of canned dog food from a bulk sale all in one go. But it made sense because canned food has a long shelf life, and I do have a lot of everyday uses for it.
In this post, I'll share with you how canned dog food is used in the flat. We will cover the following points:
Picky dog? Dog Canned food is more high value than kibble
Higher proportion of protein and fat in wet food than dry food on a dry matter basis
Training effectively, while keeping diet complete and balanced
A comforting distraction for nervous or worried dogs
Novel canned food brands may help the allergic dog
One of the rare sources of green tripe in Singapore
Human canned food for dogs? :P
1. Picky dog? Mix that bowl of kibble up with wet food
Canned food is more high value than Kibble. It has a stronger, richer smell. It is also softer and takes less effort to eat than dog dry food.
Donna didn't like to eat the Pro Plan dry food that her shelter gave to us when we first brought her home for the first of her handful of trial home-stays with us. I had to mix in canned food just to get her to eat some portion of it. Even then, she had the disgusting habit of picking out her kibble and dropping it outside the bowl so she can enjoy the wet food and chicken feet inside.
We were then given a can of Addiction Hunter's Venison Stew to try. Again I mixed it up with her dry food, and she lapped up everything! That set the course for us buying Addiction Canned food regularly for her.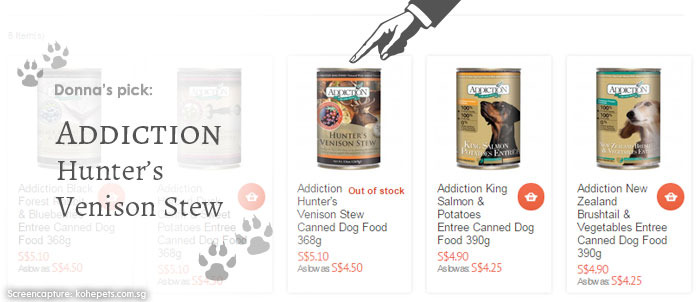 Donna's pick | Yummy thumbs up for dry food coated in Addiction Hunter's Venison Stew. *slurp slurp* *oops, must be out of stock because Donna ate it all! :P 
2. Worried about the lower proportion of protein and fat in dog dry food? Supplement with dog canned food
Dog canned food generally is said to contain higher proportions of protein and lower carbohydrates than dry food. Here is the dry matter basis comparison for dry, canned and raw food from some well-regarded brands.The products are ordered from highest percentage of protein on a dry matter basis to lowest.


In the table above, Carbohydrates is represented in the last column, which provides a total number for all other nutrients (including ash ) present in the food, not covered in the protein, fat and fibre columns.
Three takeaways
The proportion of protein and fat can vary widely within a brand itself, as can be seen in the raw brands. Specific canned food products here (e.g. wellness and ziwipeak canned foods) presented high proportions of protein and fat, exceeding that of dry food products and sometimes even raw food products.


.

Canned food also contains less carbohydrates than dry food. This is great for pet parents who prefer their dogs to consume food with higher levels of protein compared to carbohydrates.


.


Percentages in the last column (carbohydrates + others) for Dog Canned food typically fall between the range of 10% – 30%. Percentages in this column for Dry food can vary between 30% – 50%. This can be indicative of the amount of carbohydrates present in the food.


.

Canned Dog food may marginally be more digestible than dry food.


.


Simplistically speaking, Digestibility is measured by comparing the weight of food fed, versus the weight of faeces expelled. According to this article in the Veterinary Times, "The faecal output for a medium-sized dog when fed solely wet foods is 52 to 78g/100g of dry matter consumed, compared with 44 to 75g/100g dry matter when solely dry food is eaten."


.


It can depend on the amount of dietary fibre in the food. Fibre can reduce digestibility of the dry matter between 2%-20%. So picking a canned food with a higher proportion of protein and a lower percentage of fibre can potentially help dog absorb the nutrients in the food better. But don't do away with fibre entirely. It moves things along at a normal rate during the digestion process so dogs do benefit from the inclusion of some fibre in their diet.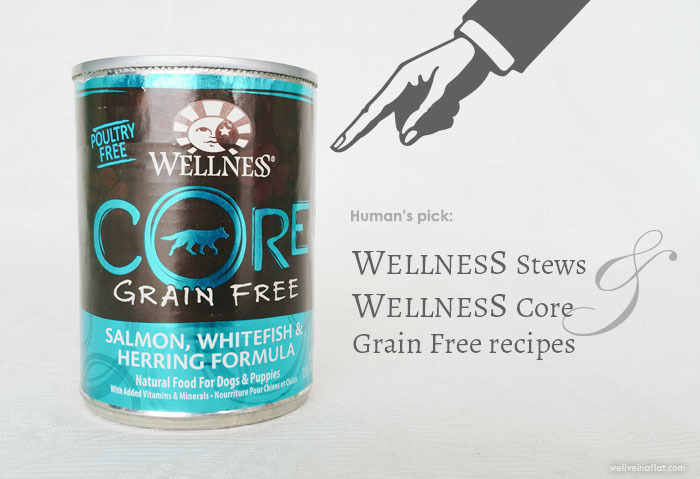 Human's pick| Wellness Core Grain Free Turkey and Salmon recipes have high levels of protein and fat and low levels of carbohydrates. 
3. Train positively, Effectively And yet keep your dog's diet balanced
I was adamant that Donna should grow to like her kibble. I had already started to train her positively by then. And for a food-motivated dog like Donna that meant food rewards need to be frequent. To my mind, kibble as a dry pallet is easy to handle as a food reward. Of course Donna disagreed. :P
But she was overweight at the time, so I was uncomfortable with feeding her treats on top of her dry and wet food. I didn't want to cut down too much on the dry and wet food to compensate for the treats because I worried that her diet may not be complete or balanced.
What I didn't realise then, was that unlike the Addiction Canned Food, some brands of wet food come in chunks. These chunks can be cleanly and easily doled out when training both indoors and outdoors, using a fork or spoon.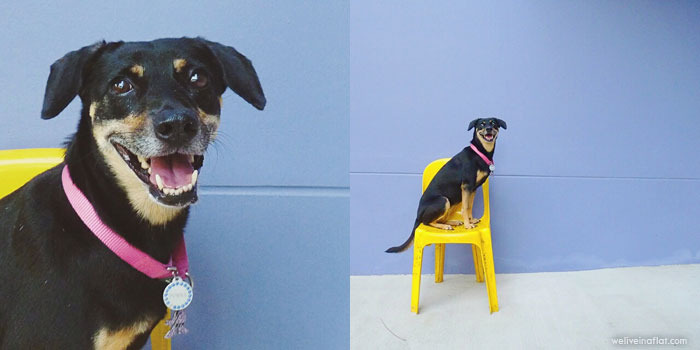 High value Avoderm canned food used to lure Donna to overcome her fears and sit on the plastic chair.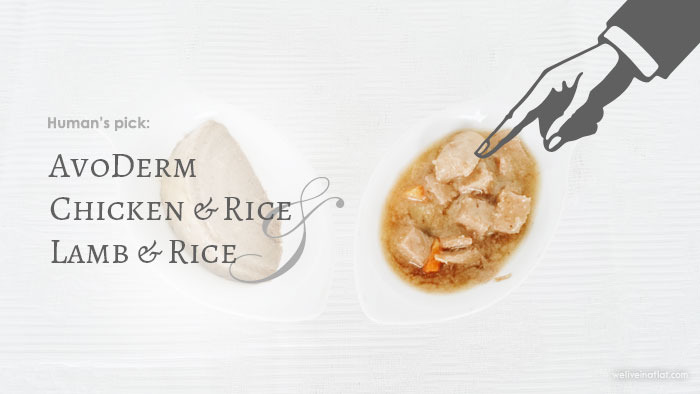 Human's pick| Complete and Balanced AvoDerm Chicken & Rice Formula, AvoDerm Lamb & Rice Formula for training purposes. 
4. Nervous or worried dog? Canned food may be a comforting distraction
Because there are high levels of rainfall and thunder showers in April and May, training has unfortunately taken a back seat. But Dog Canned Food has become even more of a necessity.
You see, I have tried boiled meat, cheese, yoghurt, durian but none of them worked as well as Canned Food to distract thunder-phobic Donna and make her settle down despite the bad weather. They do work, but canned food just was able to work better.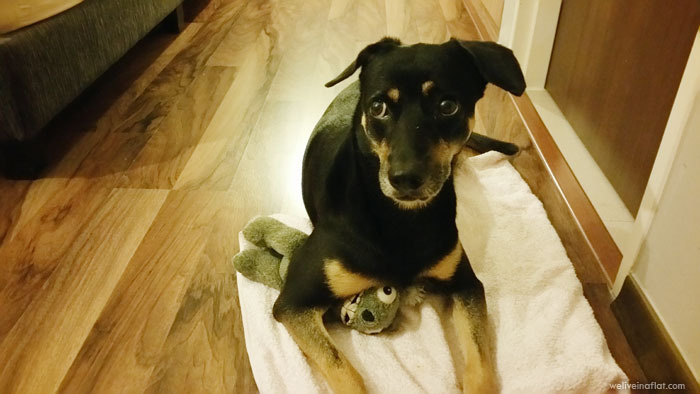 Mildly worried but not panicking. With canned food, I have been able to keep her distracted for longer periods of time, keeping her calmer despite the howling wind and loud thunder that scared her.
It's not just thunder phobia. Donna has also developed a slight separation anxiety after being stuck at home alone to endure the thunder by herself for a handful of days in the last month. Canned food works very well to distract her from panicking when we have to leave the flat without her. I put portions of it in her bowls and a portion of it in her Kong so it lasts longer.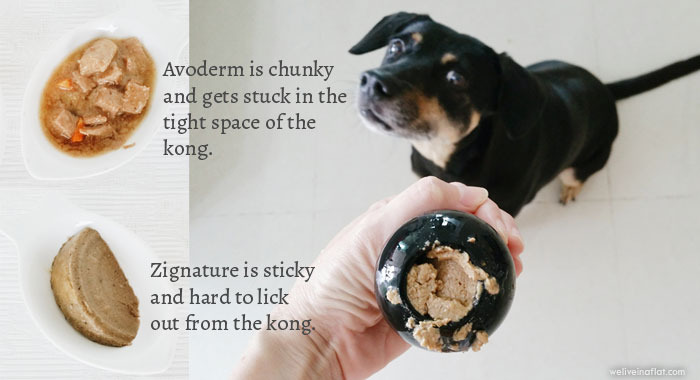 Different textures of canned food provide different challenges for getting the food out of the Kong toy. This Kong toy is filled with Avoderm on the inside and Zignature outside :P

Human's pick| Zignature – no guar gum, no carrageenan: Zignature Trout & Salmon , Zignature Turkey Canned Dog Food to distract the nervous or frightened dog. 
I also sprinkle her dry food and bits of fried egg all the over the house so that there's something for her to hunt and keep her occupied. More than a handful of times I have come home to find the canned food eaten but the kibble, and sometimes half the egg untouched.
5. Dog is allergic? Novel canned food brands can help!
To be honest, I am not so sure that exposing Donna to an Addiction canned food diet was such a good idea. She loved it that was for sure.
But after I learnt that food allergies are generally developed after a dog has been exposed to the same food for a long period of time. I started to wonder if I shouldn't have kept the novel food brand Addiction on my back-up shelf.
Now don't get me wrong, I rotate Donna's food – both the brands, the types (canned, wet and fresh), protein source – regularly. And that is said to keep food intolerance and allergy at bay.
Rotation feeding is really all about variety. It's a holistic and nutritional philosophy that offers your pet a dietary alternative — varying both food proteins (chicken, beef, lamb, etc.) and food forms (raw, frozen, wet, dry, etc)…

Many pet foods on the market are designed to be complete and balanced. However, food ingredients each have a unique nutritional profile. Components such as amino acids, vitamins, minerals and fatty acids can be found in different quantities, depending on the type of food. By combining specific complete diets, rotation feeding allows your pet to experience the benefits of two or more foods.
But still, it would be good to have a few back-up protein sources that she hasn't eaten somewhere. Just in case Donna ever develops an allergy when she's older, at least I can fall back on Addiction Venison or Brushtail or Rabbit as a novel food source. At least those will be cheaper and more convenient in a can than home-cooking crocodile or frog meat! :P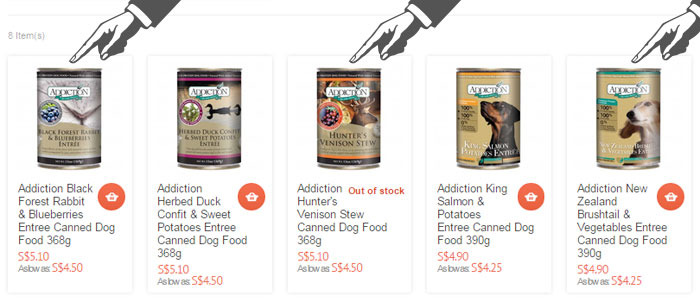 Human's pick of Novel Addiction canned food | The animal protein sources in these recipes New Zealand Brushtail & Vegetables Entree, Hunter's venison stew and Black Forest Rabbit & Blueberries are considered novel ONLY if your dog has never eaten them before. 
Please note of course that food allergies in dog are not as common as inhaled or fleabite allergies, you can learn more about allergies here. But still, it's human to worry. :P
6. A source of green tripe
Green tripe, the unprocessed stomach of a cud-chewing animal, such as cow or deer, is said to be a rich source of nutrients for pets, especially if you feed raw.
Unfortunately here in Singapore, fresh green tripe is not available. Nutripe and Ziwipeak are two canned food brands that incorporate Green Tripe in their recipes:
Nutripe: Only the freshest green tripe from free range sheep or cattle is used in the manufacturing of NUTRIPE to ensure the quality of our canned food. – source

Ziwipeak: ZiwiPeak uses only green tripe that is cold washed. It is not bleached or scalded, so it retains its full nutritional value. – source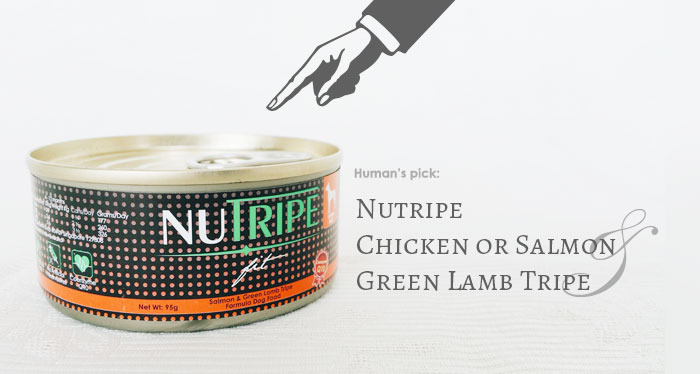 Human's pick from kohepets.com| Enjoy the benefits of green tripe with Nutripe Classic Chicken & Green Lamb Tripe, Nutripe Classic Salmon & Green Lamb Tripe.  
7. Human canned food for dogs? :P
That's right! If you're not giving your dog canned fatty fish like tuna or sardine, you really should. The key is to select canned fatty fish in water and preferably little to no salt.
If you for one would like your dog to eat more whole foods, rather than more supplements, these little fishies in the tin may just be the replacement for that bottle of omega-3 pills. Packed with omega-3 fatty acids EPA and DHA, canned sardines are really good for the skin, coat and the brain! Just be sure to feed soon after opening so these acids remain fresh!
More good news. Canned sardines can help keep the immune system strong and reduce inflammation. They are beneficial for dogs with allergies and arthritis. Please feed portions appropriate to the size of your dog. Sources 1 2 3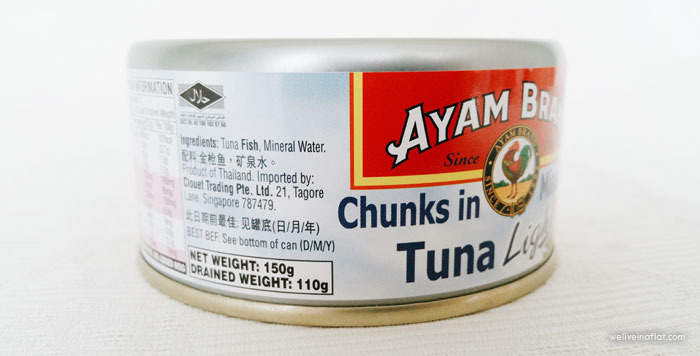 Ayam brand sells canned sardines in water and tuna chunks in mineral water. You can get it at the supermarket near you. :)
So that's the seven uses of canned food. If you have found more uses for canned food for your dog, be sure to share with me in the comments below. Or leave me a question if you have any!
These post evaluates selected products in terms of the nutrients they supply and their textural form and uses. What is missing is a review of the ingredients list. If you would like to be informed when a subsequent post on food, including review of canned food ingredients, is published. Consider signing up for our super random, ad-hoc newsletter here :P
See also All other posts on Dog Food by weliveinaflat ;)
---
Come :) Follow weliveinaflat.com on
Instagram @weliveinaflat |  Facebook donna.weliveinaflat | Youtube Mutt Vlog