[Media invite event] Donna and I were invited to Wagging Rights' official launch and media party to check out Wagging Rights' Daycare, Grooming and Gourmet food products for dogs. I thought it's  a good time to share some of the things we have considered when it comes to feeding Donna over the last two years ;) Opinions are my own. We are not paid but Donna gets to try out Wagging Rights' products and services for free. 
---
What diet do you feed your dog?
So many diets for dogs out there – dry, canned, dehydrated, raw and for some even vegan or vegetarian.
No judgement here over at weliveinaflat.com. There are actually some dogs that cannot take high protein diets and some dogs with the strangest allergies, like have you heard about this dog who is actually allergic to humans? So it's really up to the individual pet parent to figure out what works best for their dog. And for their lifestyle.
In my case, over the last two years I have read my fair share of what's good and bad about each of these different types of commercial or home-made dog food out there. There is no perfect diet because there are just too many variables involved in the production process for both commercial and home-made food. I don't let people tell me otherwise, haha :P
I would love to feed Donna fresh food, but I'm not confident about raw
I did and am still updating myself extensively on raw diets. Like did you know feeding chicken necks too regularly can possibly increase the chances of a dog developing hyperthyroidism even if it is a rare condition among dogs?
And that even though raw feeders enthuse about feeding raw bones to their dog for teeth cleaning benefits, etc, a raw bone can cause internal injuries to a dog like in Mort's case over here.
Of course, that doesn't mean a raw diet is a bad choice. Many would say it's a good choice for their dogs. It just means that a balanced raw diet that comprise boneless cuts with raw ground bones will make me feel so much safer when it comes to feeding Donna.
And there we have another problem. When we were at Wagging Rights – dog daycare, grooming and gourmet food – for their opening launch, owner Luyi Ong said in her presentation that when they started sourcing fresh food for their gourmet dog food products, they could not find a supplier for raw ground bone in Singapore.
Honestly, I'm not the only one hesitant about starting Donna on a home-made raw diet over here because of the perceived challenges. Commercial raw diets are costly and since I'm not a dog nutritionist, I wouldn't trust myself making home-made raw or cooked food for my dog. (Yes, even after spending much time reading up on the topic! Haha!).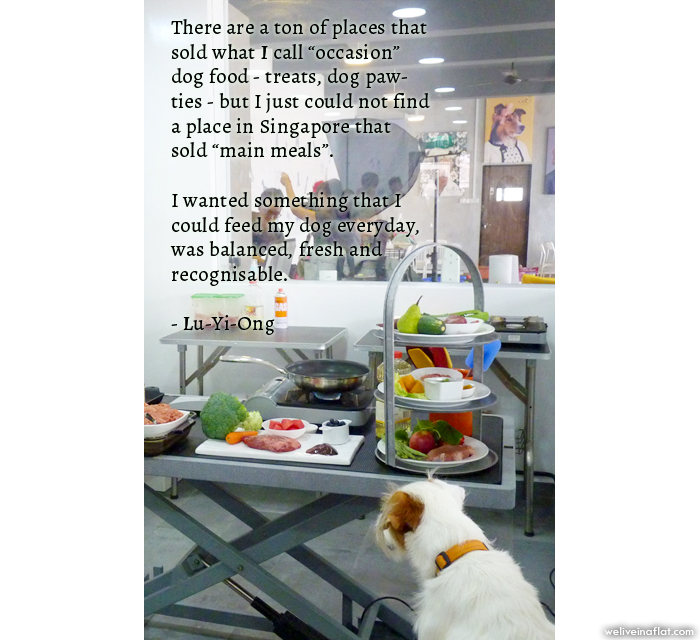 Sam Forest Loo Lim can't wait for Wagging Rights owner Lu-Yi Ong to start with the food demonstration at the media party! :P
So when we heard that Wagging Rights sells fresh food for dogs, I was of course interested to find out more.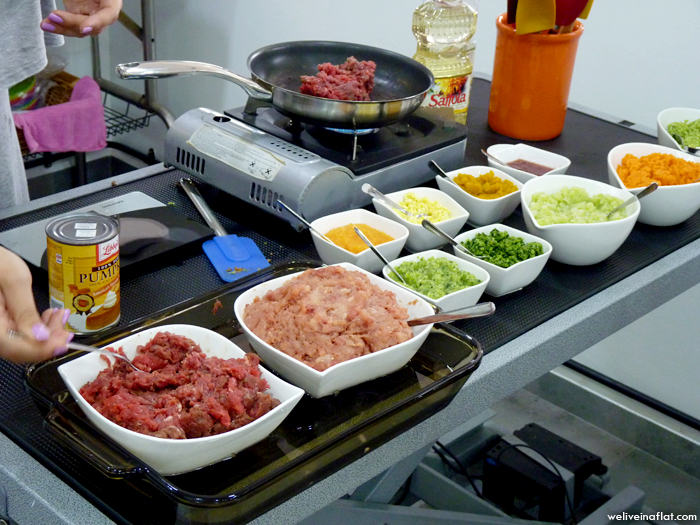 The meals prepared at Wagging Rights comprise human-grade meat (60% for regular recipes and 75% in the grain-free and raw versions). Fresh fruit and vegetables like carrots, pumpkin, peas, Chinese cabbage, courgettes, cantaloupe, pear and blueberries on top of supplements such as calcium phosphate, vitamin D, zinc are being added to the meat and then frozen – sans any preservative.
– Wagging Rights press release
Sounds good in writing, but how do I really know that besides the high protein content, it does supply all the necessary nutrients and minerals, etc that Donna needs?
I asked and was definitely pleased to learn from Wagging Rights that their "recipes are derived from recipes created by a Nutritionist with strict adherence to quantities and quality.  We are also in the process of getting batch samples to labs for analysis."
So exactly what recipes are these?
 On the menu are four appetite-whetting recipes: Chicken Terrine, Posh Pulled Pork, Sunday Roast Beef and Shepherd's Lamb Stew—all of which come in grain-free formulas.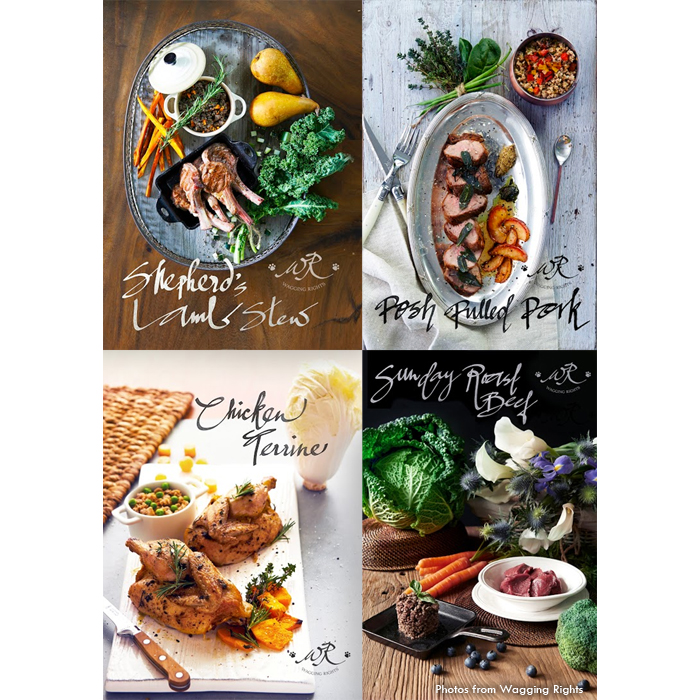 There is Grain Free and there is Grain Free
Now the thing about the grain-free label on the commercial dog  food that we buy, if you were to study this table by slimdoggy.com who analysed the food in his dog food database is that they aren't exactly low in carbohydrates.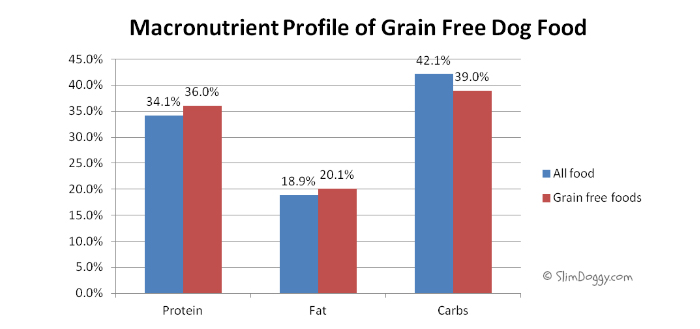 Slimdoggy's database covers over 3000 pet food and treats, including some common brands that we can find in Singapore. 
"…dog and cat owners are becoming more aware that their pet's bodies were meant to digest foods high in protein and fat," says Slimdoggy in his article Worst Reasons to Choose a Dog Food: Grain Free, "The mistake they are making is equating grain free with low carb… It turns out that while grain free foods are slightly lower in carbs (and higher in protein and fat) than non-grain free foods, the difference is not very large. The average grain free dog food still contains a higher carb content than protein content. That seems counter intuitive."
So you can see why I would appreciate Wagging Rights' recipes which they report as comprising 60-75% meat (protein and fat). Even the non-grain free versions at 60% meat appear to possibly comprise higher percentages of protein and fat compared to the average commercial grain free dog food based on slimdoggy's chart. :P (note: this is a very simplified comparison considering Wagging Rights' food are pending lab analysis so bear with me :P heehee. )
…we buy whole meat pieces. We mince the meat ourselves to ensure quality and fat content. Raw food is prepared in extremely small quantities and is only available with prior notice of 3 days. This ensures that we never keep meat in unhealthy temperatures to allow bacteria growth. The small quantities also allow us to freeze quicker and thus reduce rate of bacteria growth. Of course, all raw food is handled with gloved hands and stainless steel utensils. Equipment is always disinfected after use regardless of whether the meat is for cooked or raw.
– email response from Wagging Rights about food
Theory aside, how does Wagging Rights' food fare tastewise?
During the food demo, we were given the choice of meat as well as 2-3 toppings such as pumpkin, carrot, with Wagging Rights' powdered supplement to ensure it is complete and balanced.
Lu-Yi cooked it and then we put Donna to the test!

Donna ate so fast her face is a blur. LOL. Passed!
Donna's diet follows the rotation feeding model
Donna doesn't have any known food allergies. That makes it easy for us to rotate the brands Donna gets for her dry food and canned food. We also feed her different types and cuts of boiled, dehydrated meat regularly, especially when we are training. Rotating foods from different brands and different sources ensures that Donna gets a variety of nutrients and a more complete and balanced diet in the long term.
Rotation feeding is really all about variety. It's a holistic and nutritional philosophy that offers your pet a dietary alternative — varying both food proteins (chicken, beef, lamb, etc.) and food forms (raw, frozen, wet, dry, etc)…

Many pet foods on the market are designed to be complete and balanced. However, food ingredients each have a unique nutritional profile. Components such as amino acids, vitamins, minerals and fatty acids can be found in different quantities, depending on the type of food. By combining specific complete diets, rotation feeding allows your pet to experience the benefits of two or more foods.

– Rotation feeding for pets | related: Diet rotation for dogs
And given Donna likes the food at Wagging Rights, it's probably easy for us to slip their 200 gram food portions into the rotation.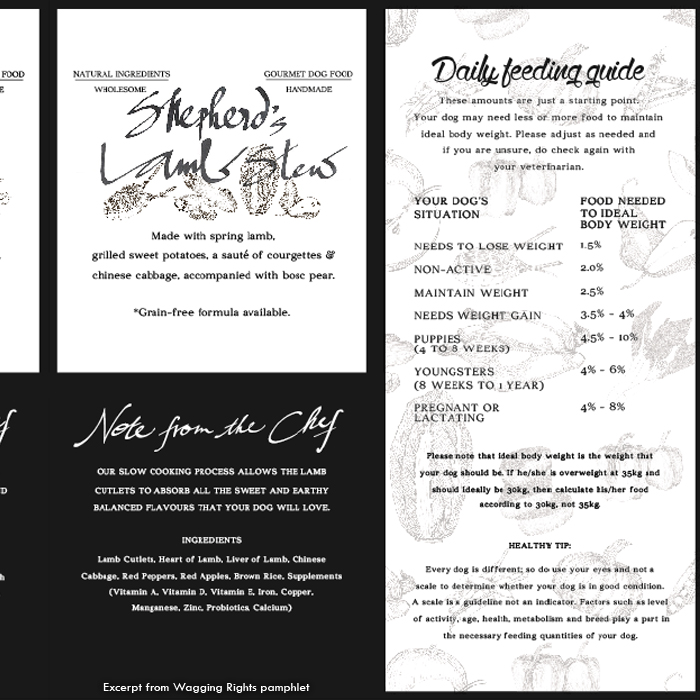 A sample of the ingredients list on Wagging Rights' pamphlet. I do like how the first three ingredients are lamb and lamb organs followed by vegetables and fruits. The carbohydrate, in this case brown rice is towards the end of the list.
The food is sold in 5kg bags which are then split into 200gm portions for easier feeding. The food comes frozen and it is our recommendation that it is not heated in order to maintain optimum probiotic quality. You are meant to thaw the food in the fridge before serving. Kept frozen the food can be kept in the freezer for 2 months. Once thawed it should be consumed within 2-3 days.
– response via email by Wagging rights
That makes 25 portions of food in each 5kg bag. Wagging Rights said food prices differ by recipe but it starts at $60 for the Regular Recipe Chicken Terrine. Grain Free recipes start at $85 for 5 kg.
That makes it rather comparable to the price of canned food which can range from $4.90 – $6.50 for each can of around 360g, depending on brand.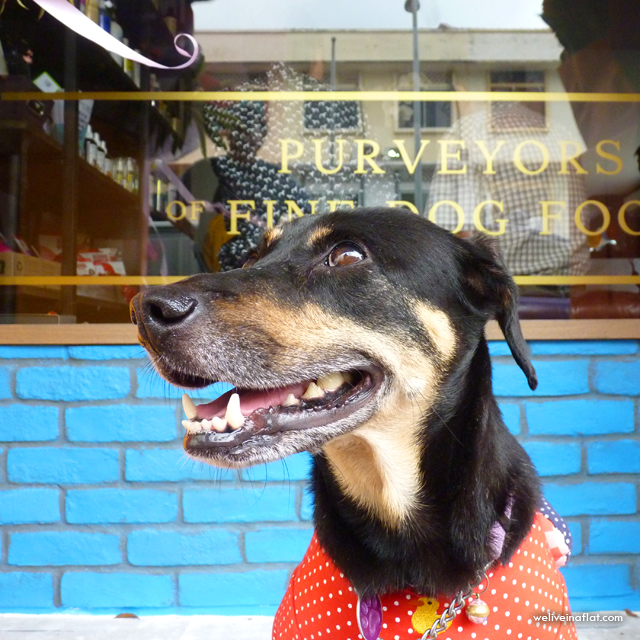 Donna looks at a ribbon in the air as she sits in front of Wagging Rights' signature blue storefront. Actually, she just wants to go back in there for more food, haha!
Considering Wagging Rights' very pleasant interior decor, I asked if we may bring Donna over for a meal sometimes. :P
Unfortuntely, Wagging Rights says they have no plan for a cafe for now. They don't cook at the shop. You need to order with at least three days notice for the food to be prepared if you have specific requests. Customers can call or go to the shop to purchase, but Wagging Rights will also deliver for purchases above $75.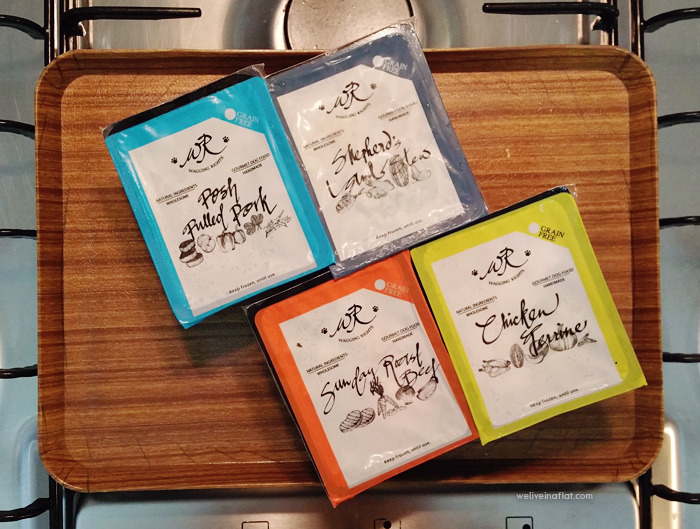 You can also try out this free Duck confit recipe from Wagging Rights on esquiresingapore.com.
Wagging Rights can be found at:
Address| 337 Joo Chiat Road [map]
Tel| 6447 0335.
Operating hours| 9am-6pm
Facebook
See also All other posts on Dog Food by weliveinaflat ;)
---
Come :) Follow weliveinaflat.com on
Instagram @weliveinaflat |  Facebook donna.weliveinaflat | Youtube Mutt Vlog