Description

Dog cafe at first floor shop space
Good open space for dogs to play
Air-conditioned environment
Roadside parking; surrounded by private housing estate

Menu
Address
16 Morse Road No. 207,
Singapore 099228 map
Operation hours


Tue – Thu

: 12:00 pm – 8:00 pm


Fri

: 12:00 pm – 11:00 pm


Sat

: 11:00 am – 11:00 pm


Sun

: 11:00 am – 8:00 pm
Call *8607 7622 – because store may sometimes be closed for private events/matters.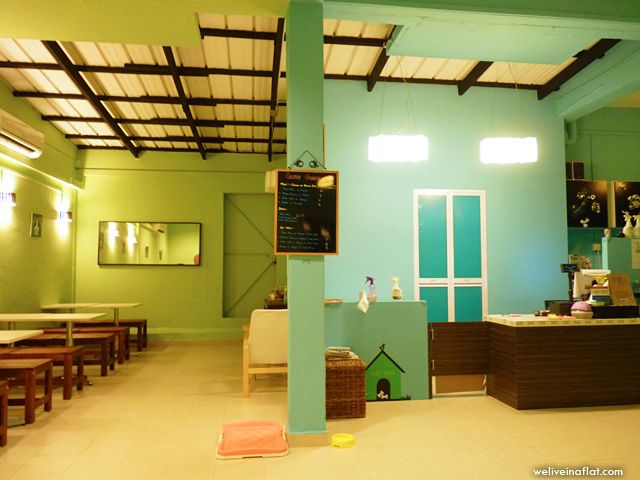 I love how spanking new this whole place looks.
Because it was just newly opened in August, somewhitecookie told me. :D That red cloth was still hanging over the entrance when we went. I wonder if its still there. Haha!
Why Dog Dot Cafe is awesome-sauce
Nice space for dogs to play
Bright, airy environment
Food for dogs available – Donna ate it
We hear the nasi lemak is good
No worries about not getting a table since it's relatively unknown and out of the way, lol
And Rudolph the Chihuahua
Great service, friendly owners
Opens until 11pm Fridays and Saturdays
Why Dog Dot Cafe is not so hot
Human food is hit and miss.
It is relatively out of the way for people.
The cafe space is L-shape and will have blind spots where you can't see dog depending on where you are seated.
Sometimes closed for private events, so best to call in advance to check if they are open.
Space management
There is a small landing area at the shop entrance before the doggie gate that keeps the dogs within the main cafe space. I love that dogs don't get to crowd at the entrance to welcome and inadvertently block you from entering the cafe. So that's a plus point for me.
Tables are lined along the ways creating a central space for dogs to play and makes it easier for humans to monitor. Another plus. However, because the shop is L-shop, there will be blind spots if patrons were seated further inside the store. Here's the visual reference again.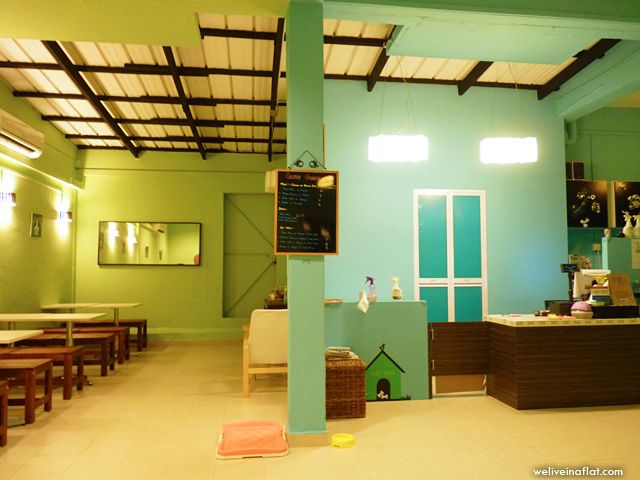 So bodily moving around to supervise will be necessary.
Socialisation
We went on a weekday, and were about the only customers at the shop. And that was ideal for us since we were there for dinner and didn't really want to have to supervise the dog all that much.
But if you want to bring your dog to a dog cafe for the specific purpose of socialisation, this cafe is perfect because they have an outgoing in-house chihuahua to play with your dog.
Donna (age 5) vs Rudolph (age 2) Mongrel plays with Chihuahua #mutt #chihuahua #sgdogs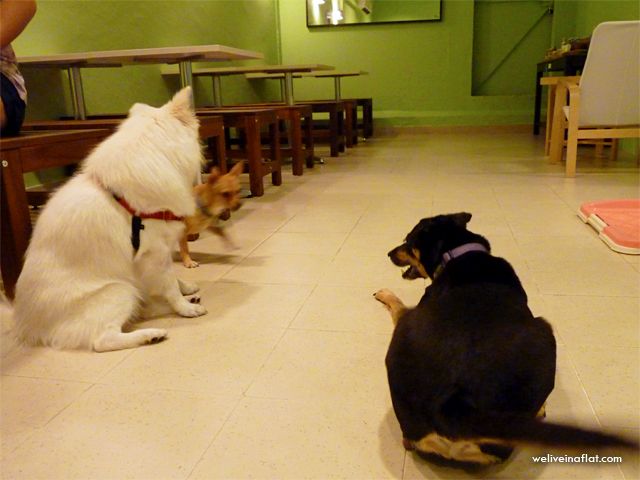 Rudolph is not impressed that Donna towered over him. I can be tall too!!
They played and they played and they played.

I'mma gonna tell you a secret that you can't tell cookie, ok?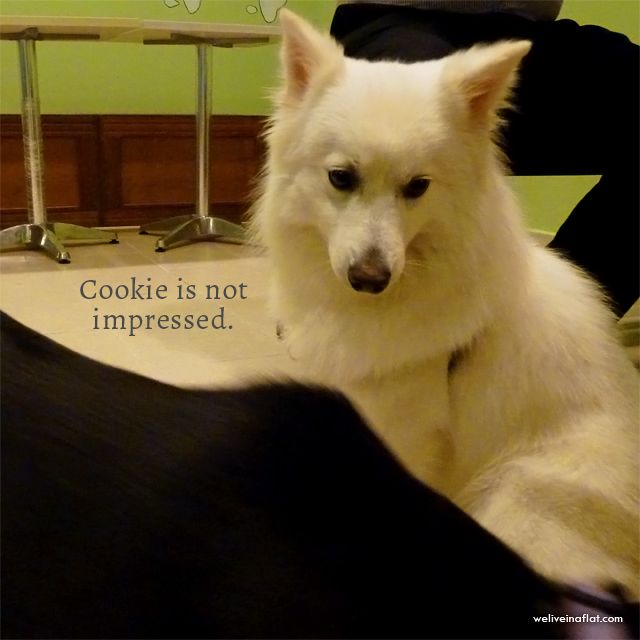 All this mouthing, I was really quite worried because Donna's mouth is bigger than the chihuahua and could accidentally hurt him in her enthusiasm.  
The Human Menu
So when the food came, we gave them a time out. And because Donna kept wanting to go play with Rudolph the Chi but the humans rather eat with some piece of mind. They kept her on the lead. On the bench where Rudolph couldn't reach her. So Donna got the pleasure of staring at us eat.

And stare she did. #evilhumans
Anyway here's the menu from Dog Dot's facebook:
And this was what the humans ordered: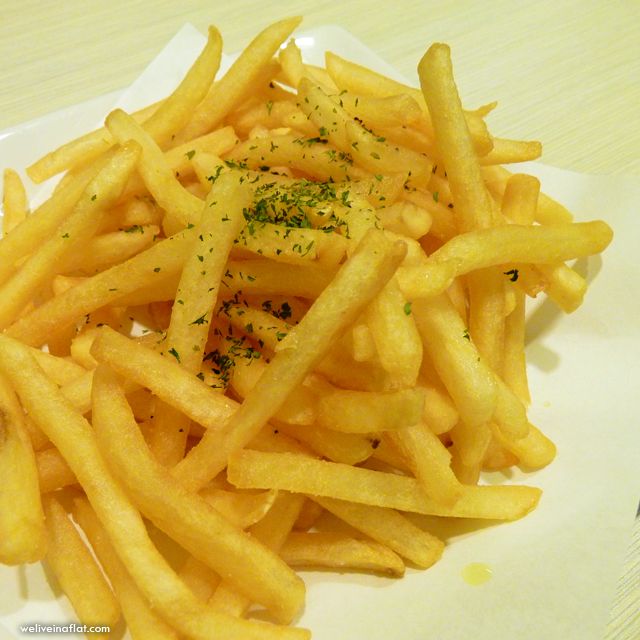 Truffle fries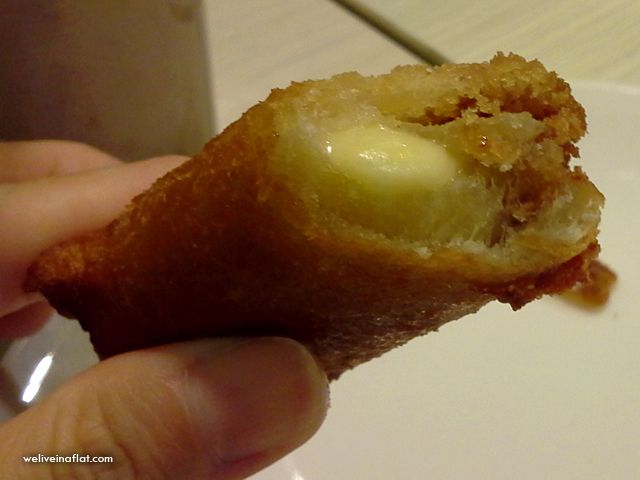 Cheesesticks – basically melted cheese between fried bread

Ice chocolate with salted cheese cream and Dog Dot Milk Tea (with palm sugar)

Melty Chicken Yappie Burger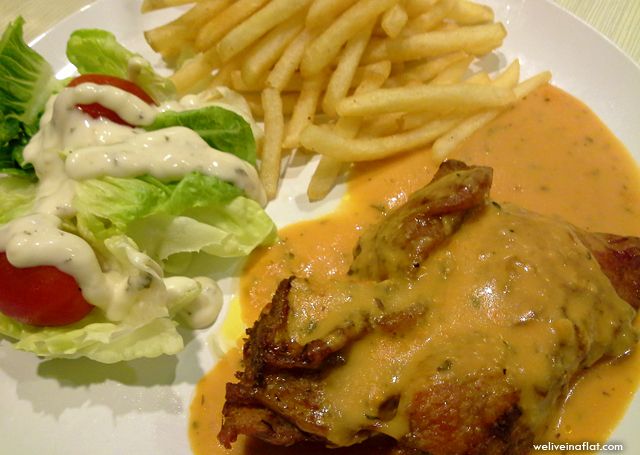 Cajun Roast Chicken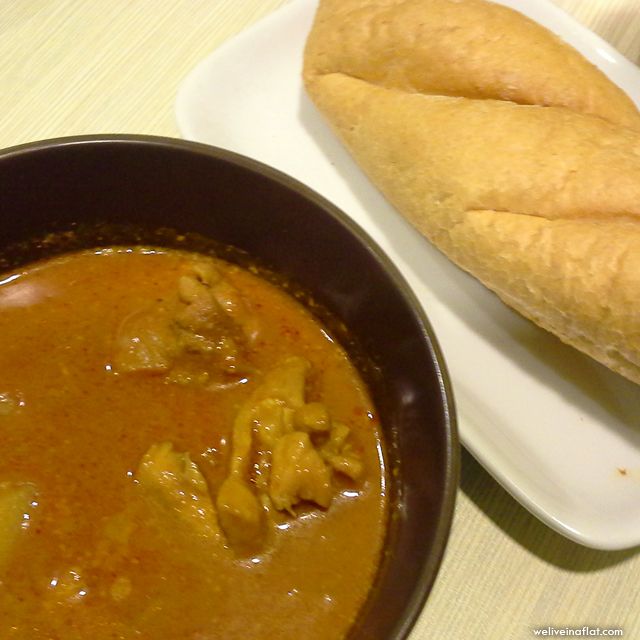 Curry Chicken with Bread
The food was OK, slightly expensive given the quality in relation to the price. The one item we will definitely shy away from the next time we were there was the Curry with Bread.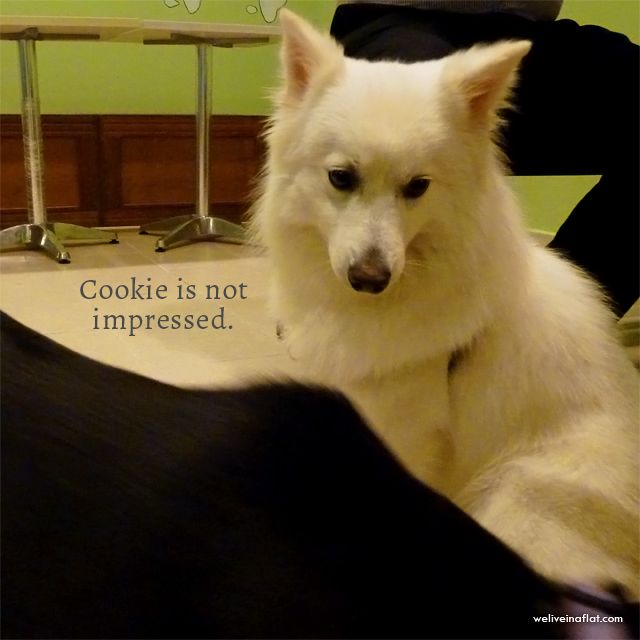 Nope, Cookie is not impressed with the curry with bread at all. *No we didn't really feed him human food, LOL*
The Doggie Menu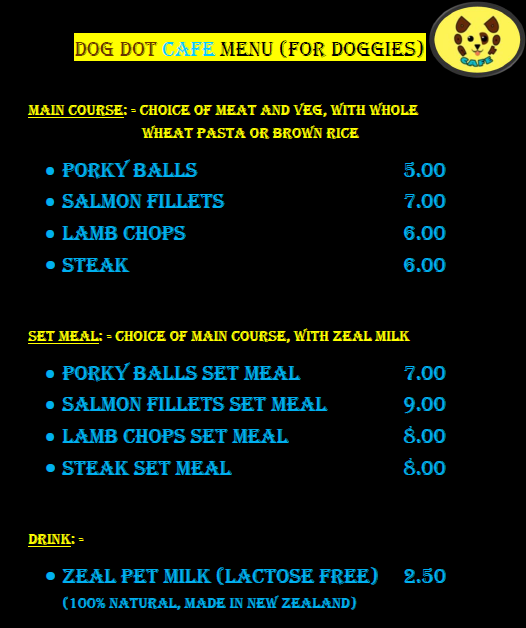 And this is what we got: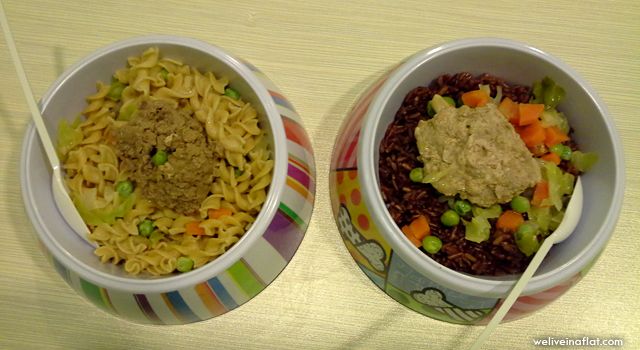 I don't remember what meat we got for the dogs, but you can see for yourselves the serving size. ;)
Donna spat out her rice the last time we got it for her at Taz Cafe, so I thought I'll try pasta this time round.
She ate Every Single Bit.
The good thing about pasta is. It is solid and bigger than rice so it's easy to handle and sort of make her practise her commands while feeding her at the same time. I sometimes do that when I get too busy in the day and have no time to train with her.
So yes, the food was a hit with the dogs. ;) There is still too much carbs for my liking, but as a once in a while meal, I suppose it's nothing the dog can't handle.
Our notes on this cafe for dogs
Location We parked some distance away not realising we could park nearer, since we were unfamiliar with the area. It is a little secluded but the shophouse the cafe is in, sits diagonally across the road from the Holy Covenant Methodist Church. So just use that as the landmark to find if you get lost.
Floorplan The space itself holds about 8-10 tables. There is enough space for small medium dogs to run around and play when we were there. Larger dogs will likely need more space if there were more than two to three of them.
Service & Facilities Service was good. And the owners were friendly enough.
I like that it is immediately obvious where the pee tray and water bowl is, because yes, I believe in setting the dog up for success. You're not gonna be setting the dog up for success with regards toilet training, if the cafe hides the pee tray, methinks. :P
Service & Food Food is average. But then taste is a very individual thing. I know some people recommend the truffle fries, the cheese sticks and the nasi lemak. The Furry Tales also enjoyed their meal there.
Socialisation Because there are currently not as many patrons as the shop is able to serve at a time, this is a great place to set up play dates with friends, without having to worry that there will be other dogs with owners who can't manage or handle them to spoil your day.
And of course, because a dog should be exposed to as many breeds as possible as part of his socialisation process, this cafe offers a very outgoing, sociable chihuahua, who makes a fun companion.
Hope you find this review useful. Brighten my day and leave a comment! ;P Or follow me on Facebook.
.