Update: T.A.Z. Cafe has closed down.

Human's view of T.A.Z. Cafe & Bistro

Dog's view of T.A.Z. Cafe & Bistro
Description

Dog cafe at first floor shop space
Some open space for dogs to play
Air-conditioned environment
Small carpark in front of the row of shop-houses; private housing estate at back

Menu
Address
10 Jalan Leban, Singapore 577551
map
Operation hours


Tue – Thu

: 12:00 pm – 10:00 pm


Fri – Sun

:

11:00 am – 11:00 pm


Call *9027 6109 / 8333 8021 / 9234 1926 – because store may sometimes be closed for private events.

Communal water bowls by the front of the shop, some merchandise – clothes, toys, collars – on the rack by the water bowls.
Why T.A.Z. Cafe is awesome-sauce
Some space for dogs to play
Bright, airy environment
Food for dogs available.
Why T.A.Z. Cafe is not so hot
Human food is average.
Donna doesn't like the food for dogs.
Sometimes closed for private events, so best to call in advance to check if they are open.
Space management
There is a small landing area at the shop entrance before the doggie gate that keeps the dogs within the main cafe space. I love that dogs don't get to crowd at the entrance to welcome and inadvertently block you from entering the cafe.


Donna and dachshund stuck at the doggie gate, checking out the new arrivals


There is some play space towards the front of the cafe

But the fact is the dogs will run around the centre island of chairs and tables too.
Depending on where you are seated, there will be some blind spots. So it may be hard to supervise them unless you follow your dog around.

The dog menu


Donna taste tests the Dory Fish Rice with Milk Sauce

I mixed it up because I know Donna wouldn't eat the rice and cucumbers by themselves.

Donna picks out the cucumbers and spits it on the floor – –

She decides there's too much rice and not enough fish to make it palatable. So she "generously" leaves it to the dachshund.
Verdict: Not the right menu for Donna! Too much carbs, too little meat. Nope, rejected.

The human menu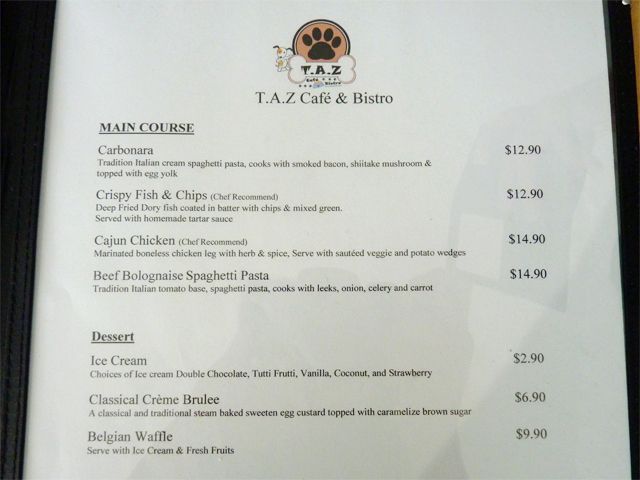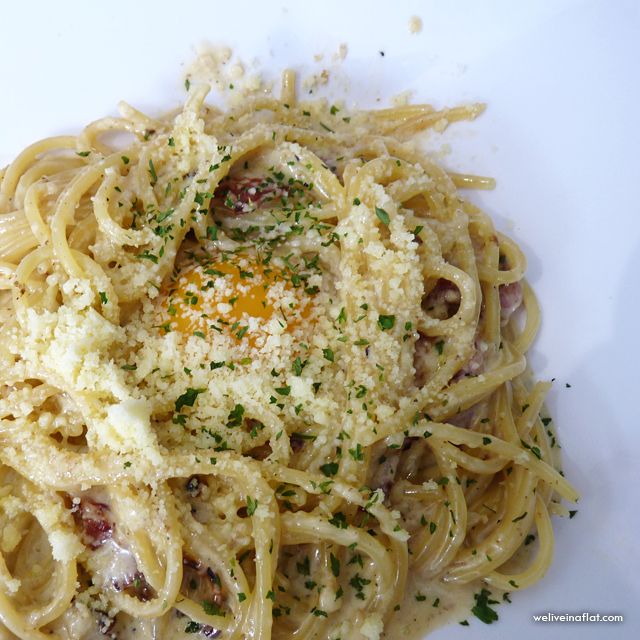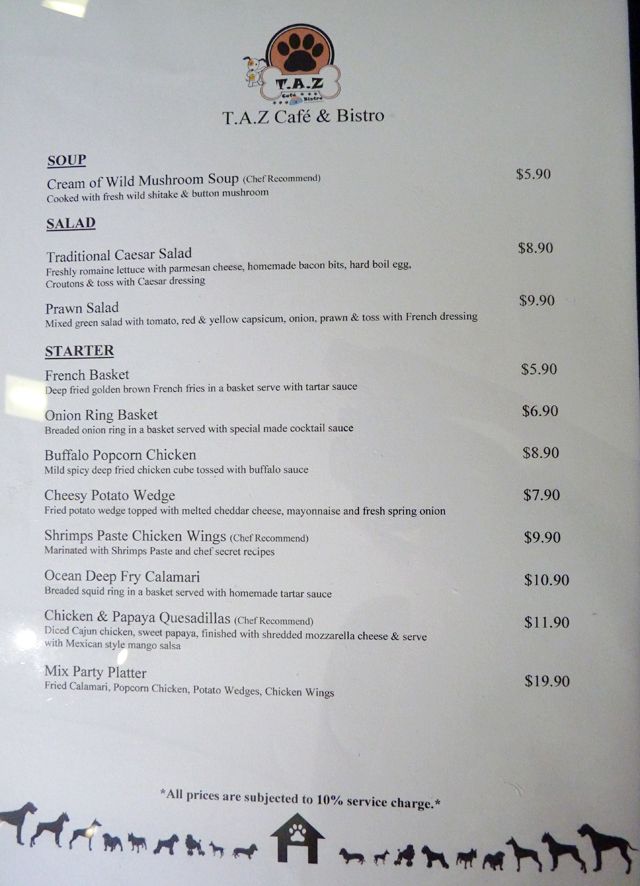 Menu is pretty limited. The mains we ordered are average. The starters appear slightly pricier than average.
Where to answer the call of nature

Leban Park is just opposite the shophouse where T.A.Z. Cafe & Bistro resides.
Set dog up for success so she doesn't do it in the cafe when other patrons are eating. ;)
Our notes on this cafe for dogs
Location Easy to find. There is a Pet Lovers Centre outlet right next door so it's very convenient to just hop over and get something in a jiffy. Pet lovers in the North will be happy to get something so accessible in the area.
Floorplan The space itself holds about 10 tables. There is enough small for small medium dogs to run around and play when we were there.  But I imagine it will be cramp when all the chairs are taken. So not such a great space for big dogs perhaps.
Service & Facilities Even though the cafe was relatively empty when we got there, there didn't appear to be service staff available. So I self-serviced, picked up the menu by the doggie gate and picked a table for Donna and I. I sat for a pretty long time perusing the menu while waiting for Mr P. He was looking for a place to park. We were able to get some service when he joined us.
When I was there, a pee tray was not immediately visible but there is a bucket and mop to the back of the shop. Somewhitecookie assures me there is a pee pan somewhere, so look for that if your dog needs it.
Communal water bowls are available.
The shop appears to offer day care services, but I didn't ask more about it.
Service & Food Average. I probably will not order the mains the next time I come around, nor food for the dog since she didn't enjoy it.
Socialisation There were dogs who were not comfortable with other dogs approaching them when we were there. And that's ok because the dog was kept close to the owner, and I should do my own part and keep Donna from being overly friendly with other dogs who may not welcome it.
It is always necessary to monitor and supervise your dog even if there are no dogs appearing to be aggressive. When we were there, the dachshund did appear to pick up some bites/scratches from a dog he was playing with without the owner realising until she checked her dog later.
Hope you find this review useful. Brighten my day and leave a comment! ;P Or follow me on Facebook.
.
See more Pet Cafes in Singapore