LAST WEEK'S ENTRIES: My Best Photo of the Week (MBPOTW) Challenge – WEEK 11 (30 Oct – 6 Nov)
Pictures are cropped, please visit the original post (links below) to view the full pictures with the photographer's original thoughts on them :)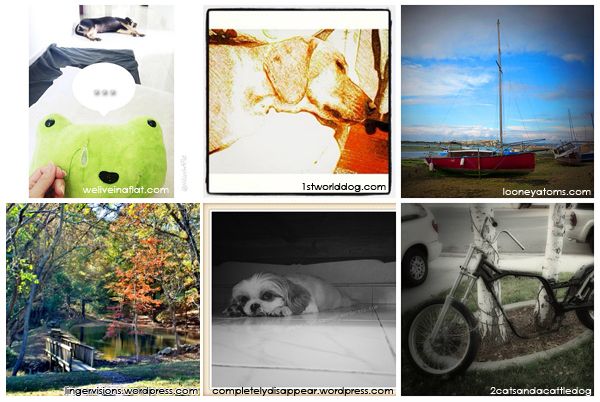 Clockwise from top left:
Top Left: Facial Reconstruction, weliveinaflat.com
Top Center: The Sketch, 1stworlddog.com
Top Right: Low Tide outside Southsea Marina, Langston Harbour, looneyatoms.com
Bottom Right: Pee-mail, 2catsandacattledog.com
Bottom Centre: You think you know, completelydisappear.wordpress.com
Bottom Left: Naked Mountain Bridge, lingeringvisions.wordpress.com
Welcome back! We were all quite experimental for Week 11.
weliveinaflat was trying out an iPhone app called Studio, that lets her incorporate graphical elements and text as layers before saving it as one image. It could be as simple as a speech bubble (pictured top left) or as complex as this picture of Little Mamam and Miss Harper Lee.
1stworlddog was trying out a sketching app (pictured top center) that turns Bodhi's picture into a work of art.
Meanwhile, Barbara (looneyatoms.com) was toying with editing using her camera' software to achieve a painterly effect. Her subject of boats certainly makes it very suitable for painting :) And Dawn (lingeringvisions) was also editing her autumn landscape of a picture she took earlier. Two landscapes, different approaches.
2catsandacattledog also opted to be artistic by going for a dreamy, slightly desaturated effect. The picture in the thumbnail is cropped and trust me it does not tell the full story!
Last but not least, CompletelyDisappeared rendered grumpy Kookai in black and white, splat on the floor… and still very adorable in his grumpiness :P
Go click on the links above because the photographers will have more detail what they did at the point of taking the picture. Thank you for sharing :)
This challenge celebrates your best picture of the week. It may be a picture which you feel shows your focus in particular types or formats of photography. It may be a simple image that shares your feelings while on some mode of transport. It may be a a technique you are trying out. Whatever it is, it is a picture that you feel is that best/most interesting photo you have taken/edited for the week and which you would love to feature again.
---
Welcome to My Best Photo of the Week (MBPOTW) Challenge – Week 12
This challenge has ended and the submitted photos can be found on the My Best Photo of the Week Challenge Week 13 post.
---
Note: weliveinaflat has asked permission from the featured challenge participant to repost their photos on this blog post. Copyright belongs to the author/challenge participant of the photo, please visit their blogs or contact them directly if you would like to learn about their terms on usage and limitations.