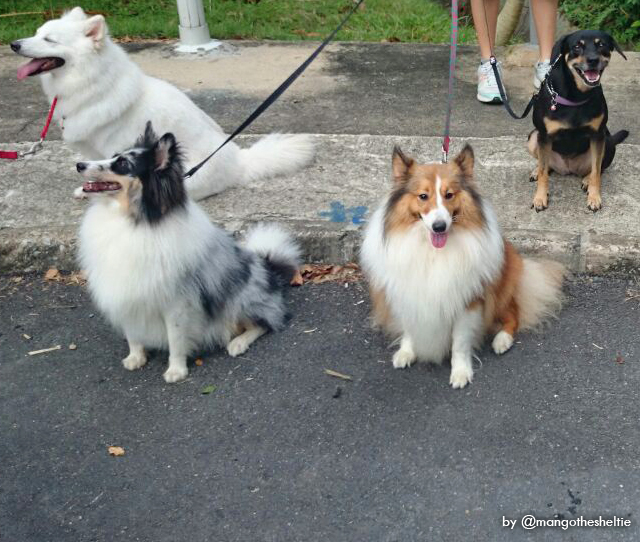 Come on with me and my super fluffy puffy chest friends on our Saturday morning adventure!
Where are we, you may ask.
Clue no #1: It's Green Everywhere.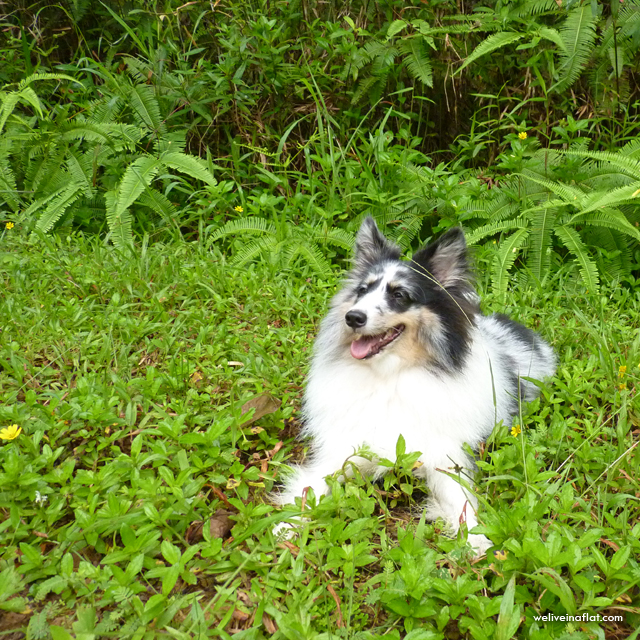 Chara Sheltie is Dog Model of the Day – she's great at putting herself in spots for interesting photos XD
Clue no #2: There's only one way to go along a muddy track


Summer the Golden Retriever tracks right through the mud while Kooky Sheltie walks around the mud. XD. 
It's the Green Corridor!!
Directions
We started out from Greenleaf View and basically followed the route taken by Janicia the last time she was there with Mango the Sheltie. From there we trekked North until we hit the bridge along Dunearn Road and then we turned back since we left our vehicles back at Greenleaf View. It's really just one long dirt path bordered by vegetation on both sides so there's no real worry of anyone getting lost or the dogs running away.
Urgh, mud…
We didn't have to walk very far before the dirt path started to get muddy.

Donna checks out the muddy tracks. You can see the streaks left by the bicycles that cut through the mud. The path is popular with joggers and cyclists. 
Donna obviously has no aversion to mud and trekked through it like the Golden Retriever in our group. At least she didn't stop to roll in it after getting some of it onto her nose. We figured it just never occurred to her to take the longer way around the mud like some of the Shetland Sheepdogs in our group are doing. She's the straightforward kind of dog, haha~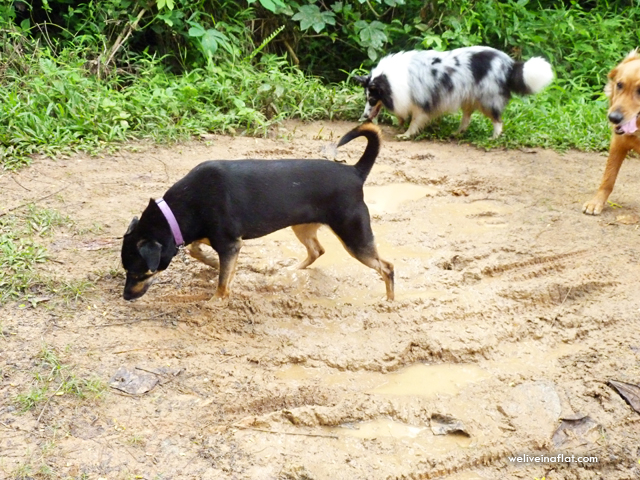 Donna walks right through the mud while Chara picks her way at the side where it's dryer.
Cookie the Japanese Spitz was the funniest, he sniffed the mud and decided that it was time to turn around and head home. XD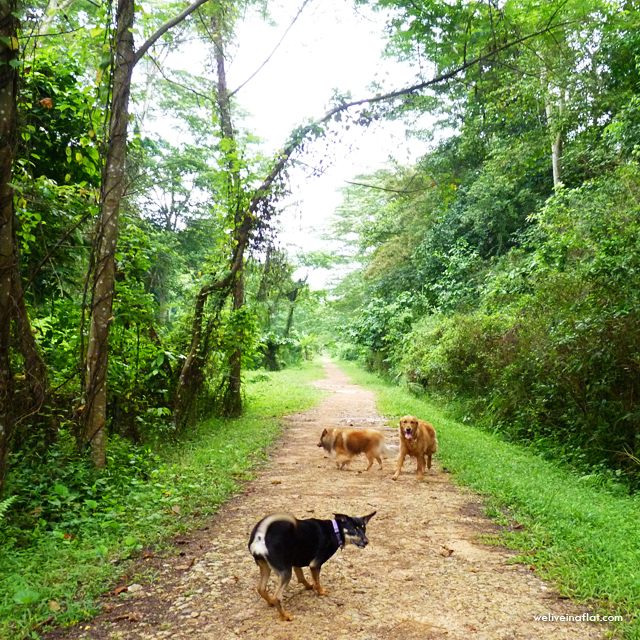 The dirt road was dry for the most part. And the dogs had fun running here and there checking out the scents left by other dogs.
Vegetation trap
Dense vegetation border both sides of the mud track, I wouldn't walk into these but Donna as usual had less concerns about bugs and possible creepy crawlies hidden in there than I do.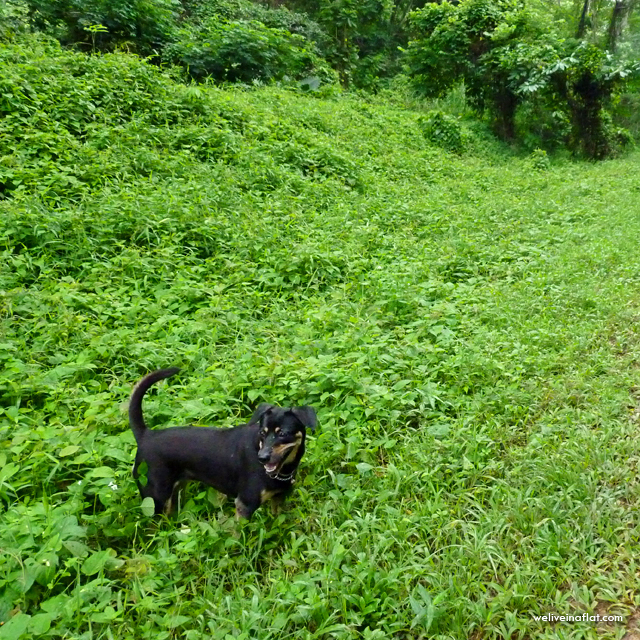 This dog is on Frontline and Heartgaurd, so I'm not that concerned about ticks and mossies :D
But bugs are not the only things that can hurt a dog. The dense vegetation hid depressions in the ground and one false step saw Chara the shetland sheepdog dropping into a nest of green limbs that seemed to be drawing her down into their leafy depths.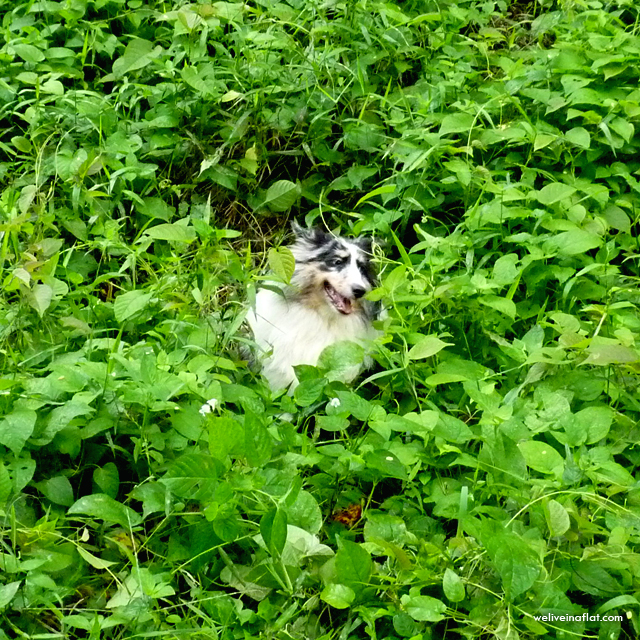 Yikes, the plants are going to eat me alive! She couldn't jump out of this treacherous nest. 


White knight to the rescue!
You see how useful humans are??? HAHA!
Our party of Adventurers!
The dogs were let off-lead and had a grand time socialising.
Donna has met Cookie the Japanese Spitz and Mango the Sheltie before, but it was the first time for her meeting Summer the Golden Retriever and Chara Sheltie. She met Kooky Sheltie at Cookie's birthday party before but I don't remember them spending much time together.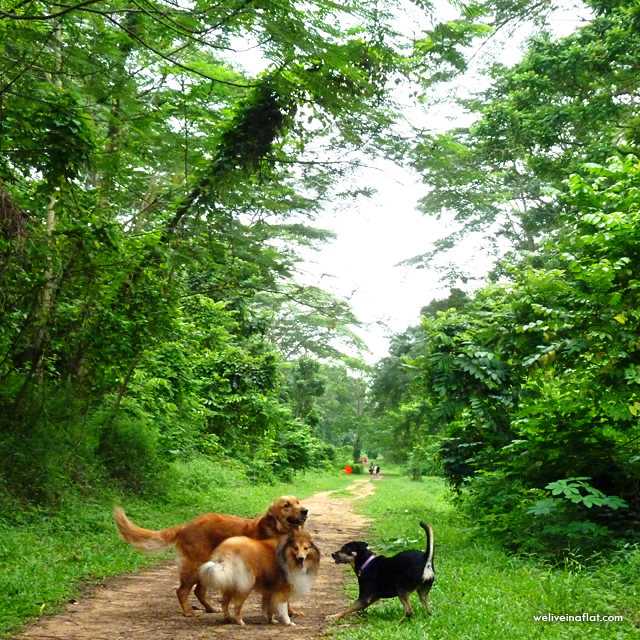 Donna, Summer and Kooky Sheltie at the front of the pack and still having time to stop and play while they wait for the rest. 
The way the dogs navigated the landscape varies.
Donna is often trotting ahead of the pack, scouting out the new territory. Kooky sheltie appeared to be similarly intent on sniffing out the land.
Summer the Golden Retriever probably covered three times as much distance as the rest since she kept trotting up and down the line of our party as we trekked.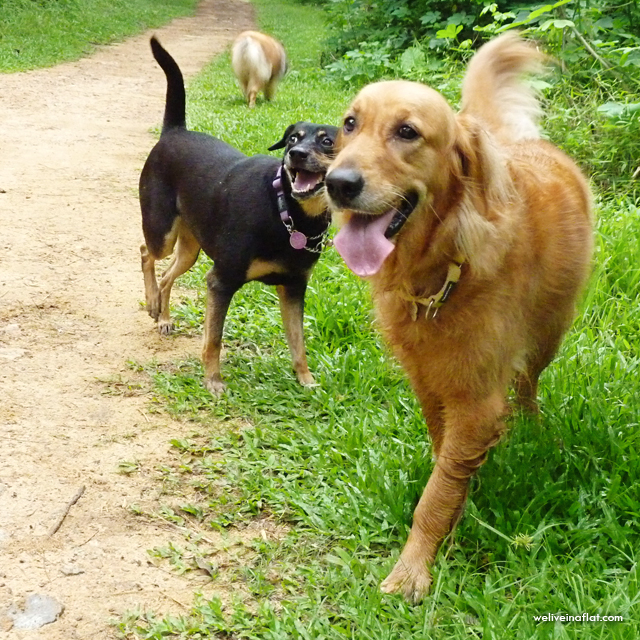 Donna and Summer the Golden Retriever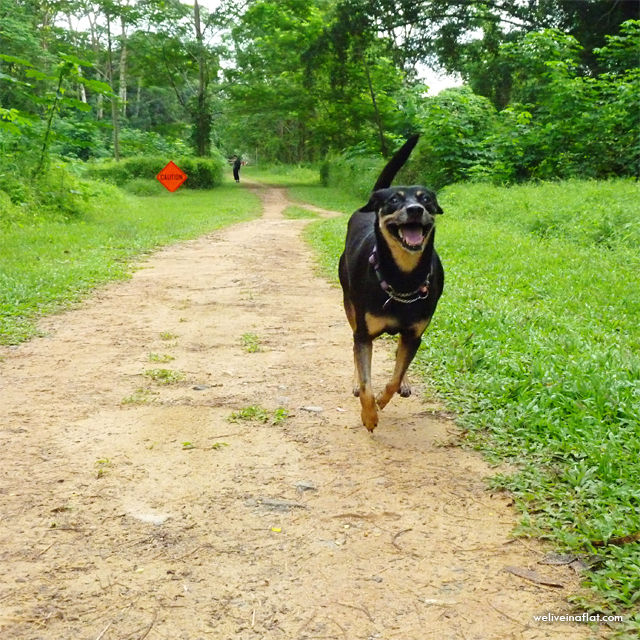 Donna running back after going too far forward. Since she kept going ahead, it made sense to do recall exercises with her every once in a while.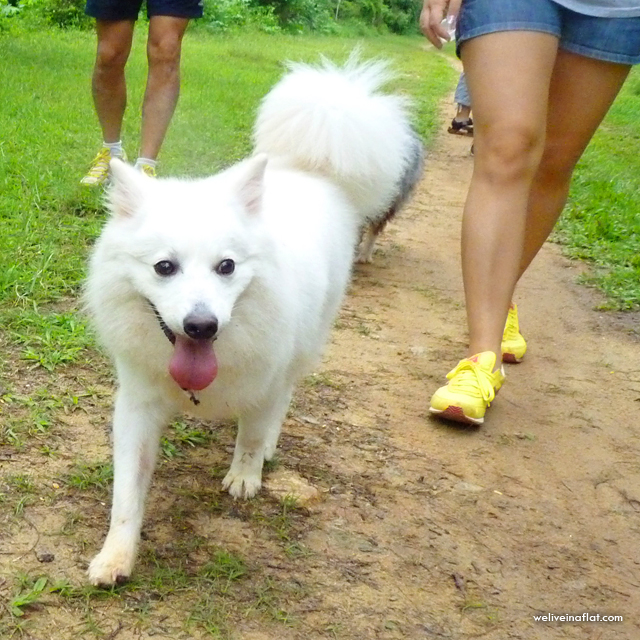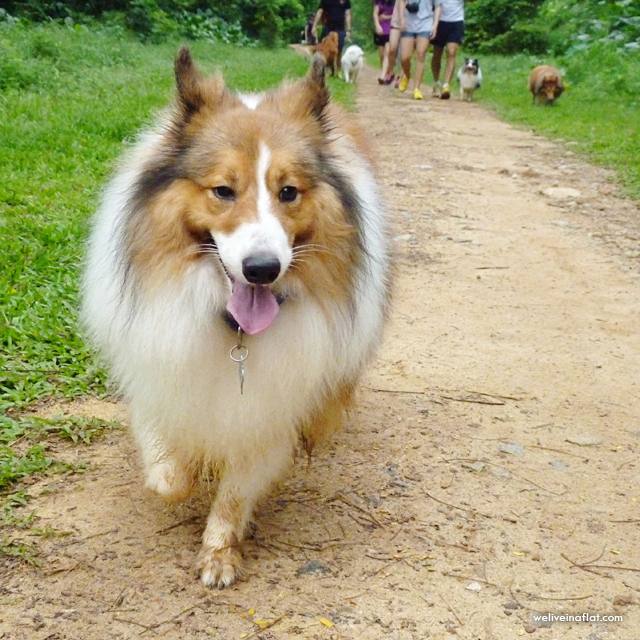 Cookie the Japanese Spitz and Mango the sheltie were happy to hang out by their humans along the walk. 
Meeting other dogs
We were bound to meet with other off-lead dogs outside of our own party. The good thing was that all the dogs we met were well-socialised.
We didn't meet with a single aggressive dog, although Donna did run up to a mongrel who was fearful. And the human had to bundle up the mongrel in her arms and walk away.
Donna especially had a lot of fun playing  chase-chase with these two Labrador dogs when we bumped into them on two separate occasions on the same walk.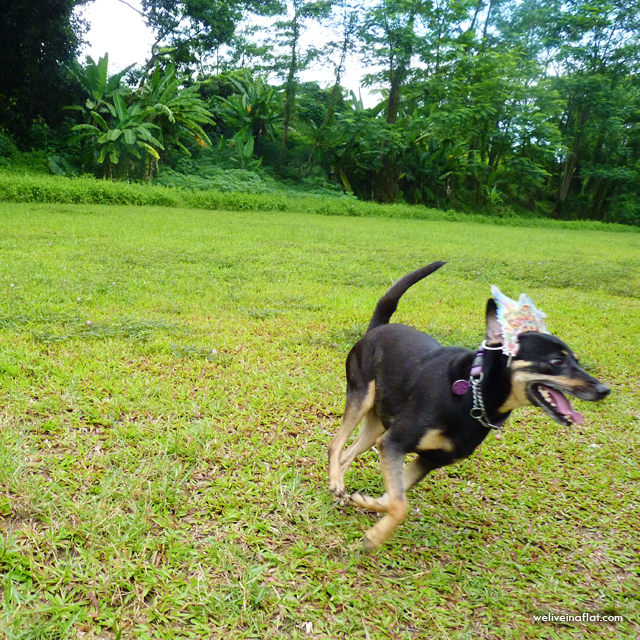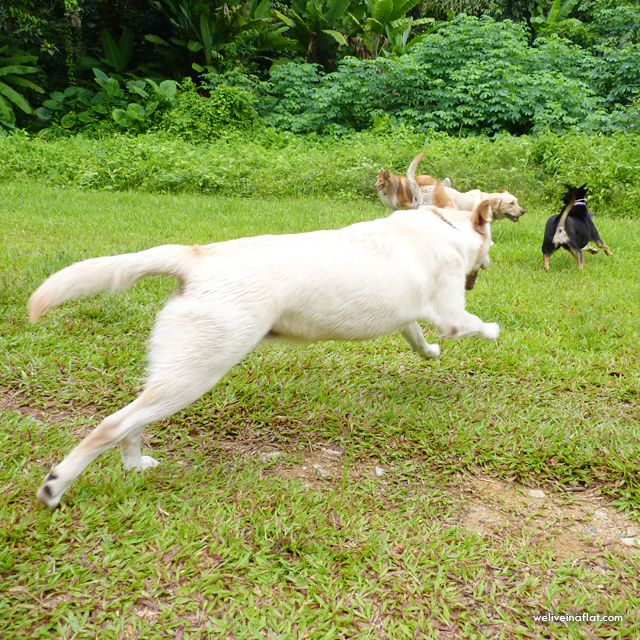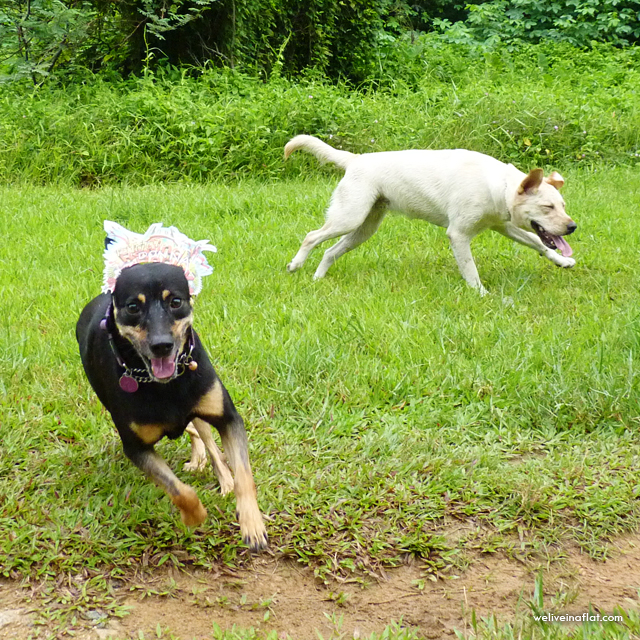 Yes, I can still play despite having to wear this silly thing on my head!
They eventually did separate so that the two parties of human and dogs can continue on their merry way because we did have some landmarks we wanted to hit.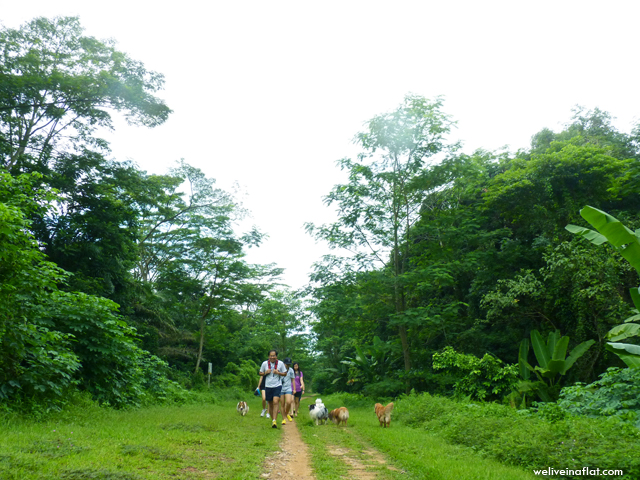 Still trekking along in this green tunnel, but wasn't boring at all since the dogs were entertaining :P
Why the silly headgear?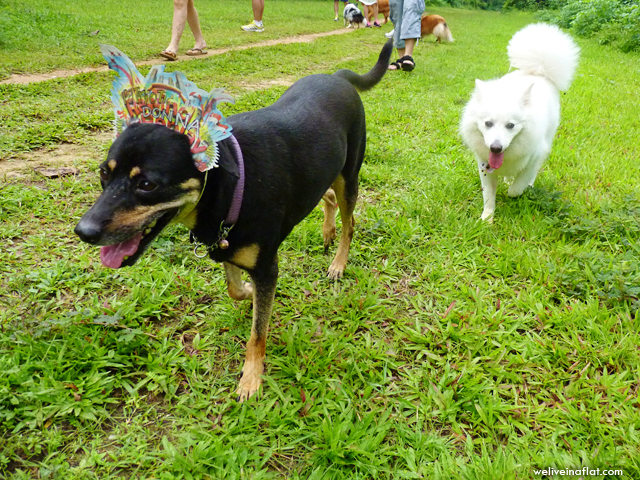 Come on Cookie, we'll hit our rest stop soon!
Besides the fact that it's National Day that day, letting the dog wear things during fun outings allows the dog to associate the costume with the positive emotions she feels while playing outside. This is a great way to get your dog to get used to wearing clothes and other accessories that she may not be accustomed to, such as doggles. ;)
Landmark: Bukit Timah Railway Station
And then we reached out first landmark – the Bukit Timah Railway Station… or what remains of it.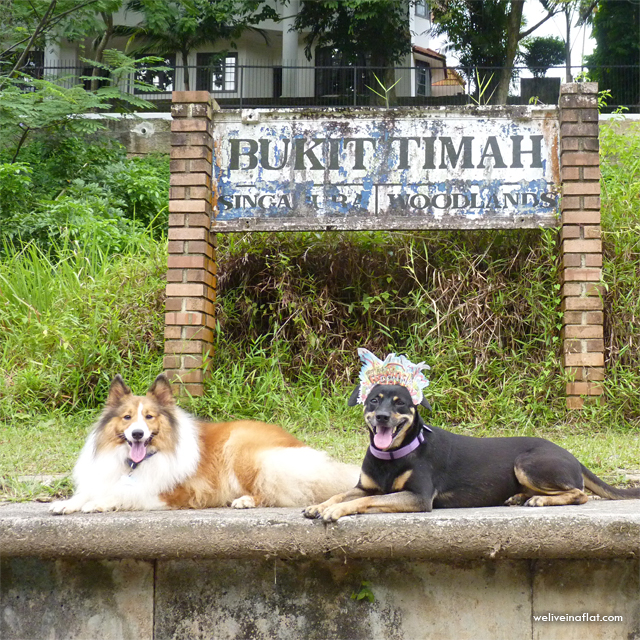 Mango and Donna posed in front of the signboard of an old railway station. I imagine this was the platform where people may have gotten on and off the train when it was still in operation many years ago.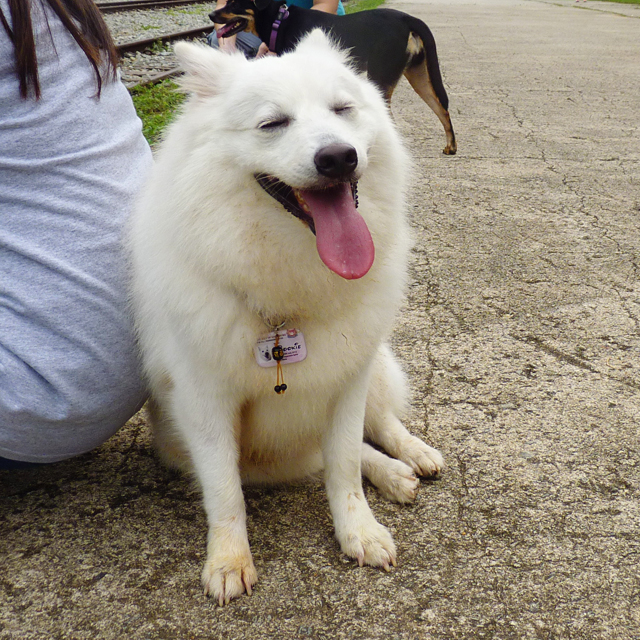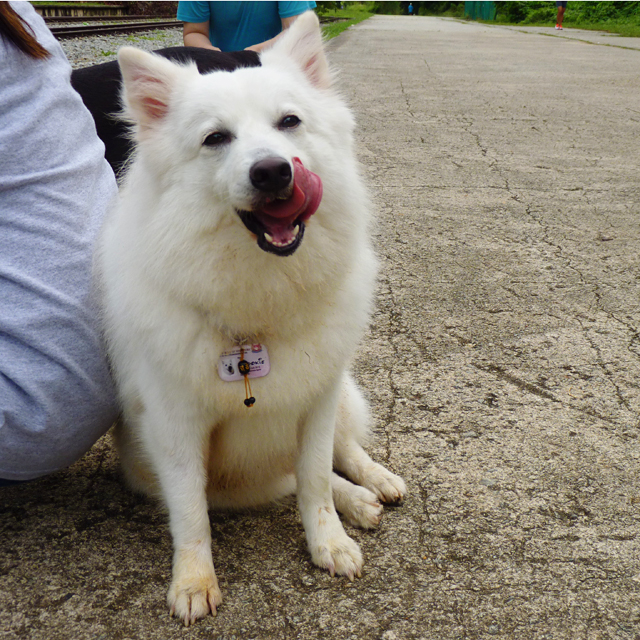 Cookie was too happy to plop down for a well-deserved break by the conserved tracks. Humans are good as backrests.
Unfortunately for him, his break didn't last long.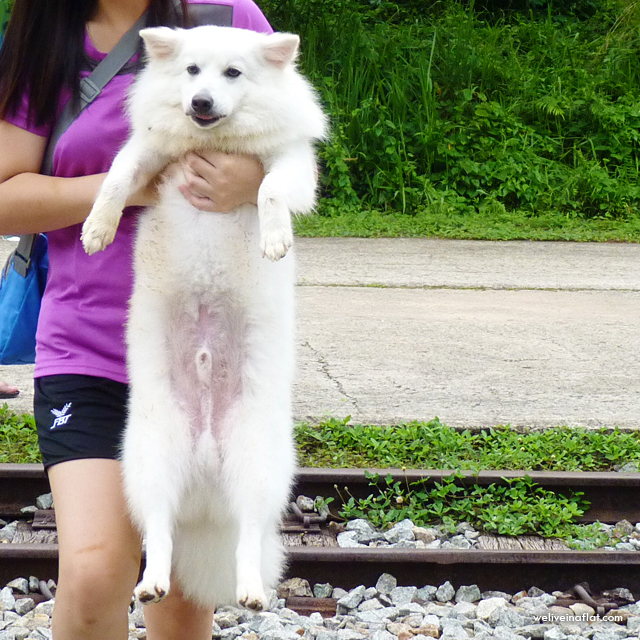 Jeez, haul me off my ass while I'm resting, why don't you.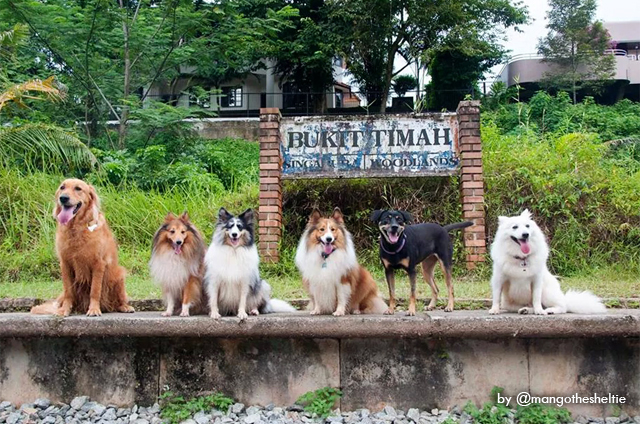 Group photo: Summer, Kooky, Chara, Mango, Donna and Cookie taken by Janicia.
Below where these dogs are sitting are these rocky rail tracks. Only a short section of the tracks have been conserved. These tracks used to run over the mud tracks that we have trekked over from right at the start to get to this place. Right now it looks like most of it have been converted to dirt path to create a Green Corridor where cyclists, joggers, etc can traverse.

View on one side

View on the other side. Donna picks her way carefully over the rocks.
Further down the conserve tracks, the old railway station sits within a fenced compound. According to this post on thegreencorridor.org , it didn't used to be fenced.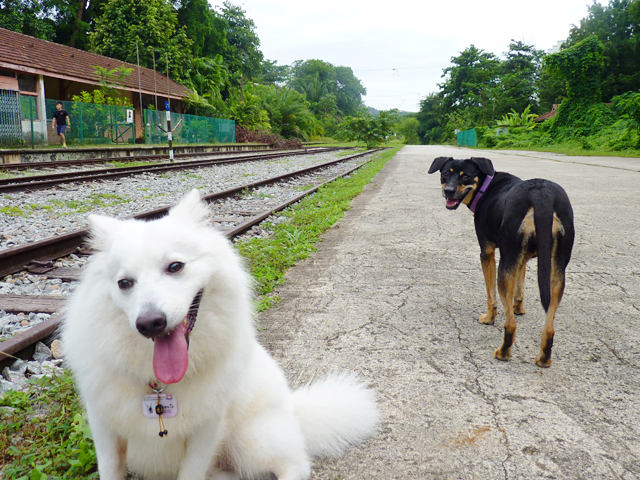 Cookie says he was too tired to go check it out with us :P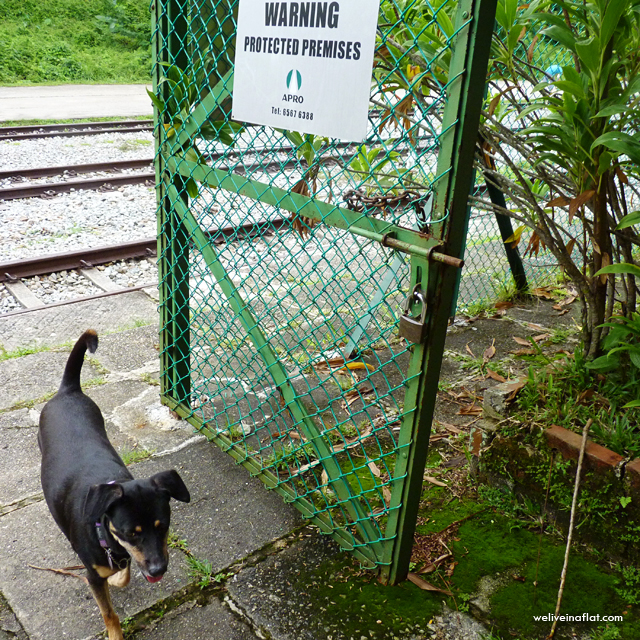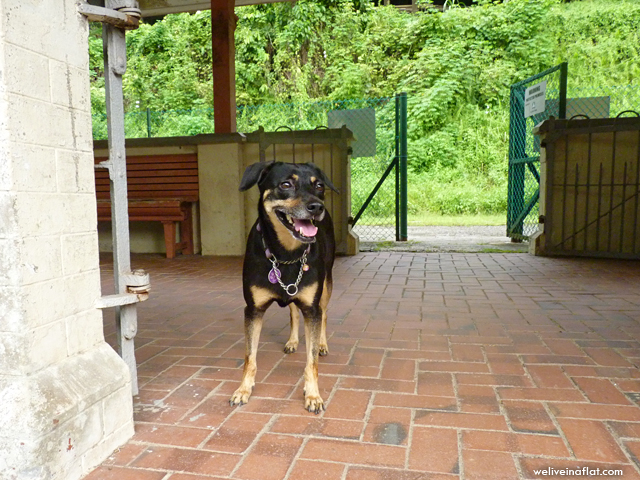 People used to sit and wait for trains here, perhaps??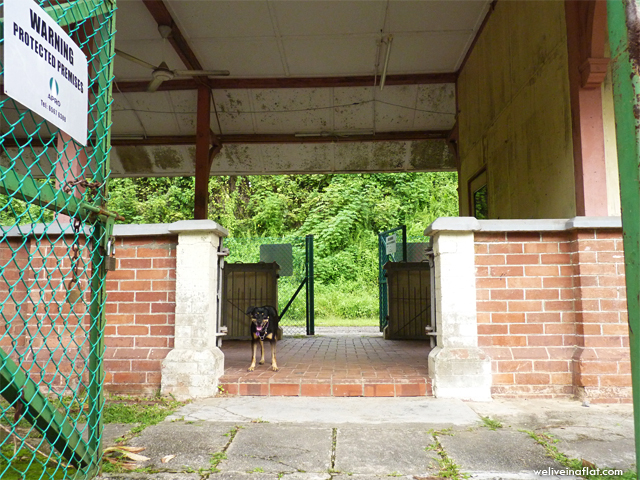 Next to this empty seating area was a noisy room :D Go see it if you go there ;)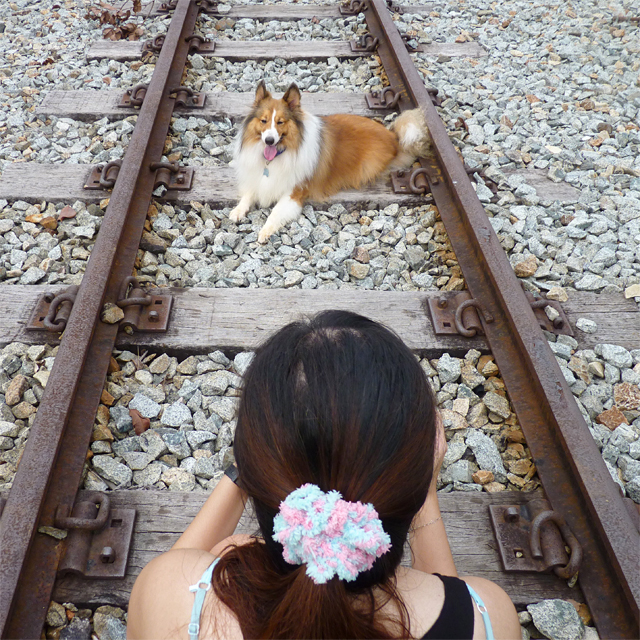 Mango the Sheltie says I'm tired and I'm just going to lie here. 
A last shot and we're off to the next landmark.
Landmark: The Bridge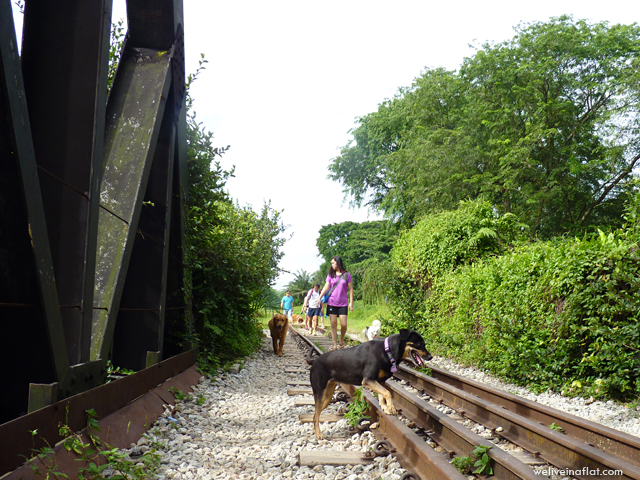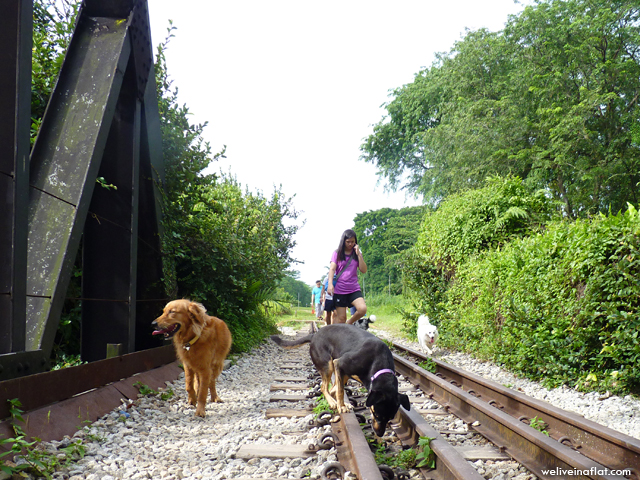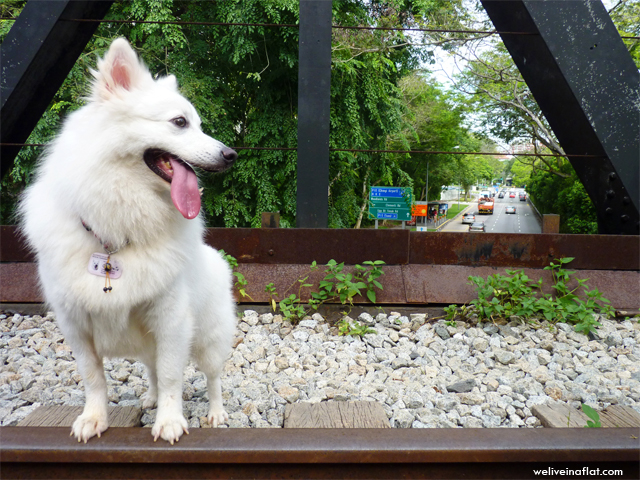 This railway bridge spans across a busy road. A dog can easily jump off if it has a mind too, for example if it is suddenly startled or spooked by a loud noise. So for safety's sake, it may be advisable to keep your dog on a lead like Summer here.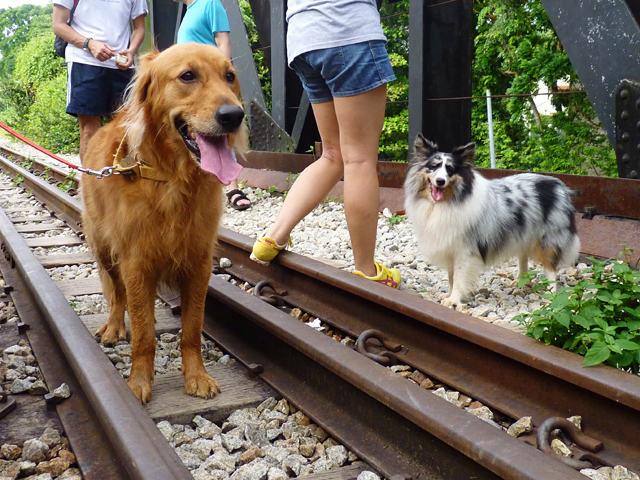 Of course, I never listen to my own advice.
The bridge is a nice spot for photos because of all the textures and structural shapes around us.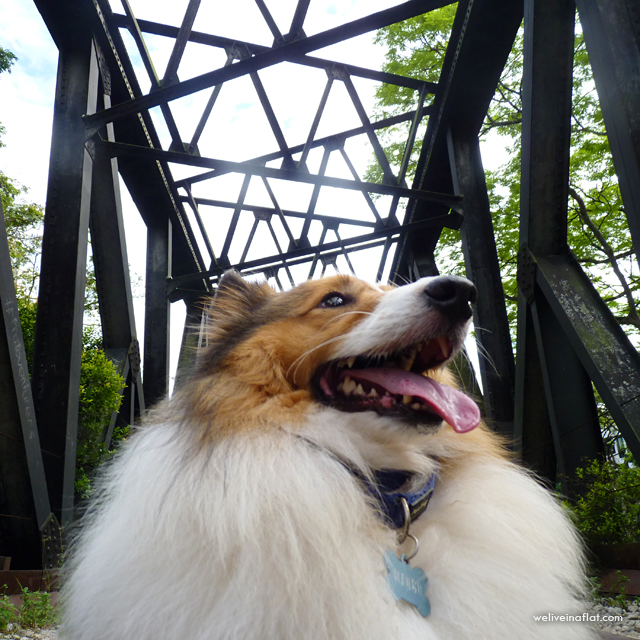 Look up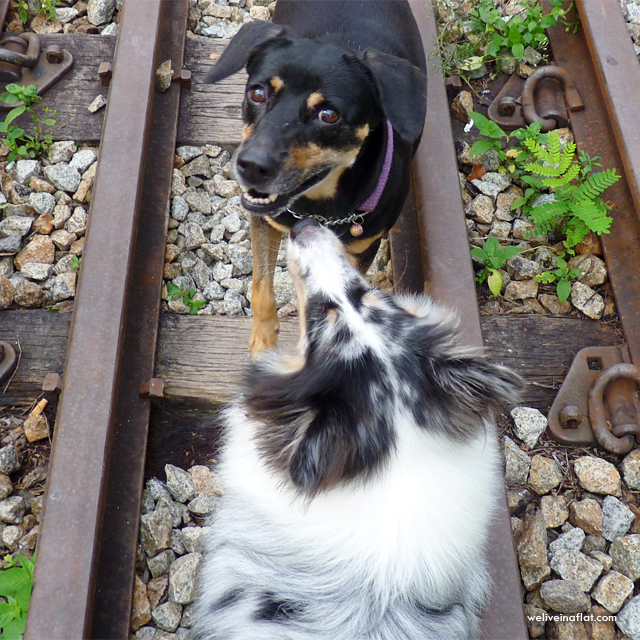 Look down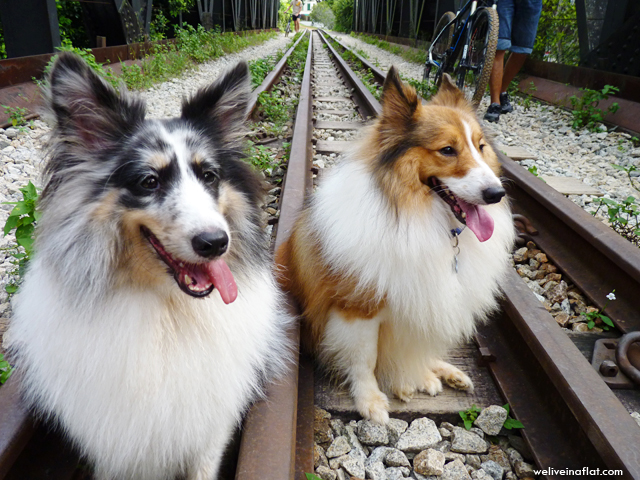 Lines creating depth in the image.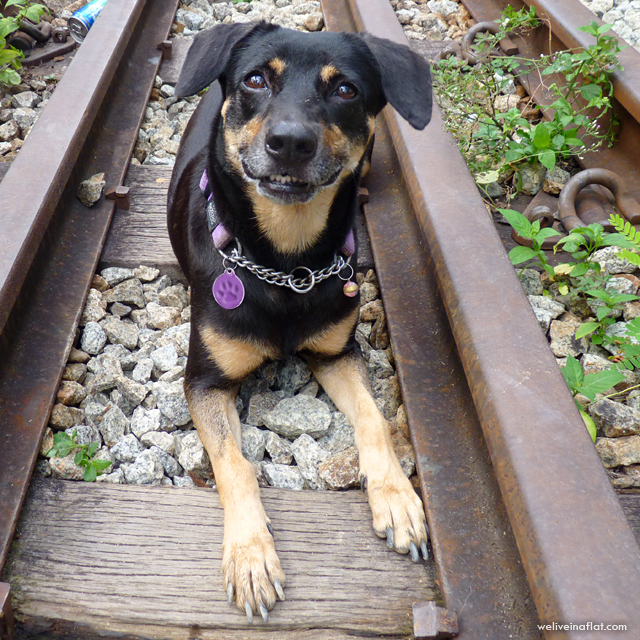 Oh my, who's this cute dog with a weird face.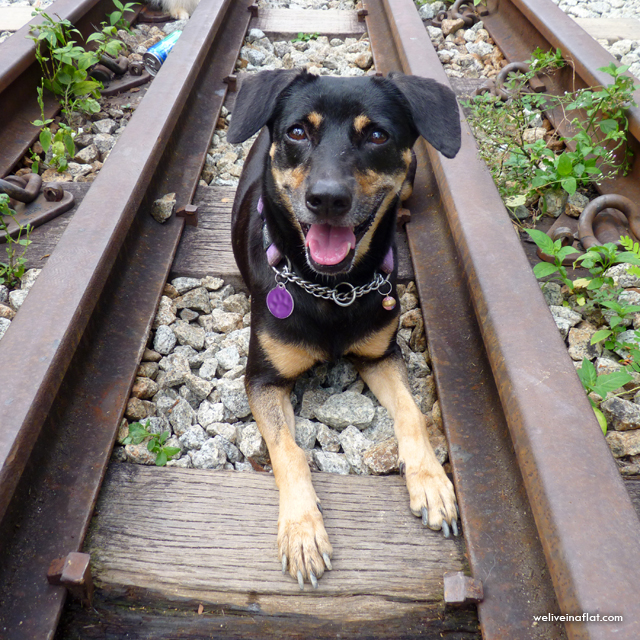 Me! It's Donna!
More to explore
We've 
only covered a short part of the Green Corridor. A look at other posts and photos taken of the Green Corridor shows that there are some interesting parts of the walk where the landscape changes or where there are some street art that I think would be interesting to explore in future.
Related
– A walk down the tracks – the green corridor (what it looked like in 2011)
– The green corridor – janicia.blogspot.sg
– Graffiti/Street Art along the Rail Corridor
– More graffiti