We  recently had more opportunities to visit Bukit Timah as some of our dog dancing classes are held there. So of course I was interested to visit Dairy Farm Nature Park and also the part of the Green Corridor in that area. But, we had to assuage the lunchtime hunger pangs after class before we venture into the leafy outdoors. What's there to eat while out with dog at Bukit Timah?
There's nothing to eat at Dairy Farm Nature Park, but we remembered the row of cafes with outdoor seating when we visited Lorong Kilat [google map] recently. So we figured we'll go there and try our luck.
Cafes with Outdoor Seating along Lorong Kilat, Bukit Timah
And that's how we ended up at the Manhattan-themed East Manhattan Bakery Cafe. The indoors looked pretty cosy if you're without a dog, but we're happy to be at the road-facing outside. It's a quiet road with more passers-by than vehicular traffic. ;)
P had already enjoyed his brunch while Donna and I were at class, so it was drinks for him and food for me.
I was feeling pretty witty today, so I will tell you my crabmeat sandwich with scrambled eggs and fries had character. The squid ink bread was stubborn and the scrambled eggs were cold and insipid.
I had no idea why this cafe felt a need to bury the crabmeat with that bland bread. Flip the bread aside and the crabmeat was not bad.
The staff were warm and friendly, which is always comforting like the hot tea and coffee.
Donna fell asleep as we took our time with our drinks. :P
East Manhattan Bakery Cafe
Address: 19 Lor Kilat #01-03 S598120
We spent –  $24+
Contact them – Facebook
I would be tempted to try East Manhattan's Chocolate Hazelnut Tart which was on The New Paper news-clipping on top of their display case, except that it didn't look as good as the Banoffee tart I had before from Carpenter And Cook. :P
And yes, Carpenter and Cook is just right down the same row of shops along Lorong Kilat as East Manhattan Bakery Cafe. ;)
Carpenter and Cook
Address: 19 Lorong Kilat #01-06, Singapore 598120
Contact them – Facebook
Website – http://www.carpenterandcook.com/
Also on the same row, probably something else we can try asking if the dog is allowed, the next time we are in the area again.
The Signature Patisserie
Address: 21 Lorong Kilat #01-01, Singapore 598123
Contact them – Facebook
Website – http://www.thesignaturepatisserie.com/
Other dog-friendly services at Lorong Kilat, Bukit Timah
Woody Pet Shop Interestingly this pet shop offers a small indoor hydrotherapy pool service for dogs according to their Facebook page. Also offers shopping and grooming services. I have not visited myself, so no comments/reviews from moi. :P
Woody Pet Shop
Address: 27A Lorong Kilat, Bukit Timah, Singapore 598128
Contact them – Facebook
The Positive Academy Recently opened in 2016, this is a daycare service that offers a full day training program for their daycare pups. The service is targeted at full-time working pet parents who probably would not have the time to effectively socialise and train their puppies into well-manner adult dogs.
The Positive Academy
Address: 21 Lorong Kilat, Singapore 598123
Contact them – Facebook
Website – http://thepositiveacademy.com/
Two Outdoor Trails to explore near Lorong Kilat, Bukit Timah
1. Dairy Farm Nature Park
Lunch done, we brought Donna to the nearby Dairy Farm Nature Park for a walk. The foliage was dense so it was surprisingly cooling to walk along the path even though it was early in the afternoon.
We found that most of the trails that led to the nature reserve were not opened to dogs, so we stuck along the main path to the Wallace Environmental Learning Lab (WELL). Along the way, we met monkey packs hanging about the tree branches overhead who were startled by Donna. I imagine they could be quite feisty if Donna went too close to them. So do beware if you visit with your dog.
We followed the trail to the WELL, where Donna met a perturbed looking cow. :P
The Dairy Farm Nature Park trail that is dog-friendly appears to be rather short, so if you are looking for a longer hike, the Green Corridor may be a better choice. ;)
2. The Green Corridor near Rail Mall
A stretch of the Green Corridor passes by Rail Mall along Upper Bukit Timah Road.

It runs right by the Rail Mall, and you'll just need to get on the path with the disused rail way track to explore. ;)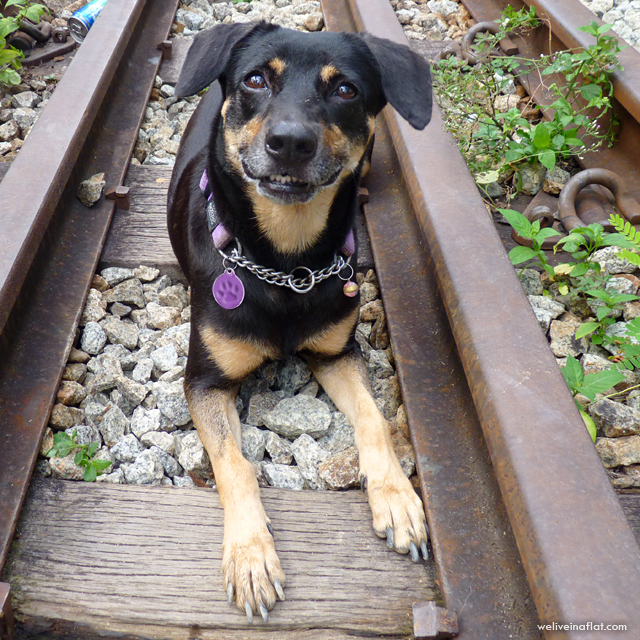 Depending on the direction you take, you may eventually pass by the Bukit Timah Railway Station that we explore on my previous post about the Green Corridor.
While exploring the Green Corridor, do be vigilant to prevent your dog from drinking from standing puddles of water from you ground. This is because there was a case of leptopirosis reported recently, and the dog that contracted the disease was exposed to contaminated water at the Green Corridor. More about leptospirosis prevention and symptoms here.
Play Safe. Happy exploring! ;)
---
Come :) Follow weliveinaflat.com on
Instagram @weliveinaflat |  Facebook donna.weliveinaflat | Youtube Mutt Vlog
Know of more dog-friendly spots in Bukit Timah or the rest of Singapore? Leave me in recommendation in the comments below please! ;)