Description

Dog cafe at first floor shop space
Some open space for dogs to play
Air-conditioned environment

Menu

Serves food for humans. See menu.
Serves food for dogs.

Address
530 Balestier Road Monville Mansion #01-07 Singapore 329857
map
Operation hours
Mon: 5:00 pm – 11:00 pm
Wed – Thu: 3:00 pm – 11:00 pm
Fri: 3:00 pm – 2:00 am
Sat: 11:00 am – 2:00 am
Sun: 11:00 am – 11:00 pm
Call *9747 3295 – store may sometimes be closed for private events.
Why Paw Pet-radise is awesome-sauce
Space for pet to play
Comfortable environment
Awesome yummy meatballs for dogs
Parking is easy
Bonus for nightowls – opened until 2am Fridays and Saturdays
Why Paw Pet-radise is not so hot
Different daily opening hours can be confusing
This place is popular so weekends are typically packed
Human food is said to be average.
Sometimes closed for private events/emergencies, and their Facebook does not seem to be updated since June, so best course call *65 9747 3295 to check if they are open. The day we were there for a private party, some customers had to wait outside because they were not aware that the shop was closed for private party.
Somehow just not the space for the human :P
We've attempted to visit Paw Pet-radise before but it was so packed. The human stopped at the front door, looked in saw no empty tables, saw a giant dog blocking the front entrance and decided to head home instead. LOL
I don't know why, the glass door with the doggie gate immediately after is just such a huge mental block for me to want to step in! It's just me I guess…. more comfortable with there being a landing area between the main door and the doggie gates that protect the dogs from running out of the cafe, such as at Happy 3 Bites and Taz cafe.
And given the time taken making that wasted trip the first time, I didn't really want to visit again. :P Haha!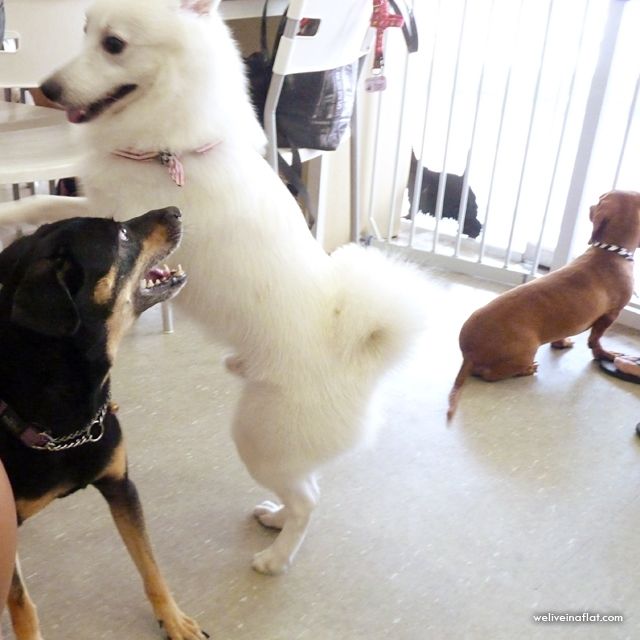 Dachshund sitting in front of the doggie gate. 
A hot favourite with some
But Paw Pet-radise certainly has its share of loyal fans. And when we were invited for a doggie birthday party to be held at Paw Pet-radise, the human was happy to attend with Donna.
And honestly speaking, there is nothing to quibble about the play space which is comparable to the other cafes with bigger spaces.
And the cafe did impressed as it pulled no stops to prepare yummy doggy fare for Paris' carnival theme party. I mean, look at this cake! Each dog was also given a doggie bento to bring home from paw-petradise.
The human microwaved it for Donna at home and plated half of it as shown in the picture below (top left). That's half a slice of fish on a mound of pumpkin rice (I think). The bento included vegetables and fruits which the human used as garnish on and around the fish. The fruits (blueberries, honey melon, apples and strawberries) she sliced up and combined with plain yoghurt to make fruity frozen cubes for Donna (pictured below bottom right).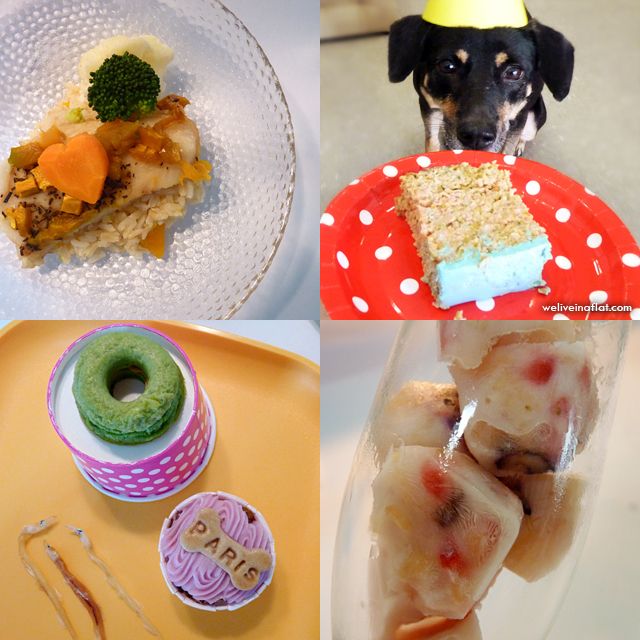 Donna totally enjoyed that slice of cake (pictured above – top right) and the other treats from a different dog treat maker.
So yes, the human was very impressed by Paris' generosity, and Paris' humans appeared very happy with Paw Pet-radise' services for the party . Haha!!
And of course, all the dogs are just happy to be around the great company and abundant doggy meatballs.
Related posts from other blogs
– Sam's night out – paw pet-radise
– Paw Pet-radise Cafe
– Alton's 8th birthday