Sadly, Happy 3 Bites Cafe has closed. This post captures photos of Donna and some of our thoughts about this dog cafe.

Donna is sitting in front of Happy 3 Bites Pet Cafe entrance
Description

Dog cafe under HDB block
Limited space for dogs to play
Air-conditioned environment

Menu

Serves food for humans. See menu.
Does not serve food for dogs. Bring your own.

Address
Blk 6, Everton Park, #01-18,
Singapore 080006
map
Operation hours
Tue – Sun: 10am to 9pm
Closed on Monday
Check Facebook, call *65 9834 8776 – store is sometimes closed for emergency, private events.
Why Happy 3 Bites is awesome-sauce
Better than the average food from other pet cafes
If you're looking for a quiet, pet-friendly place, this is it.
Cosy environment, with some interesting amenities like photo props and a water fountain.
Friendly staff. Facebook timeline showed not just dogs but birds, rabbits have visited.
5% profit goes to canine-related charities
Why Happy 3 Bites is not so hot
Space is tight and not suitable for dogs who want to play
On average, no dog visitors on weekdays
No pet menu
Could be difficult to locate for the first time due to overall landscape design and HDB layout
Sometimes closed for private events/emergencies, check their Facebook or call *65 9834 8776 to check if they are open. The day we wanted to go, I wasn't sure if they are opened based on their FB page, so I called. They did not pick up the phone when I called, but they did call me back.
Pet customers and play space
The weekday night we were there, we must have been lucky because there was a young Shetland Sheepdog all eager and happy to play with Donna. We were later told that usually Happy 3 Bites seldom sees any dog coming in on weekdays.
Unfortunately, there was really just walking space between the tables and the counter, so these two made themselves at home running up and down the walking space. Not that anybody minded or complained, so it's all good. :P
I supervised and made sure I was comfortable with their play before I took photos.
 

The sheltie was so energetic and moving all the time that he always appeared as a blur in the photos! Donna finally seemed to have enough of the rambunctious young sheltie, age around 1 year. He kept trying to mount her and sniff her. She is good at playing and stopping play now and then to sniff and checking out the corners so pretty balanced.
But after a while, it got less fun for her perhaps, you can see her ears pinned back and her looking at me in that last pic above. So we gave them a timeout.
For the humans' amusement
At the back of the shop, we discovered some props! Hah!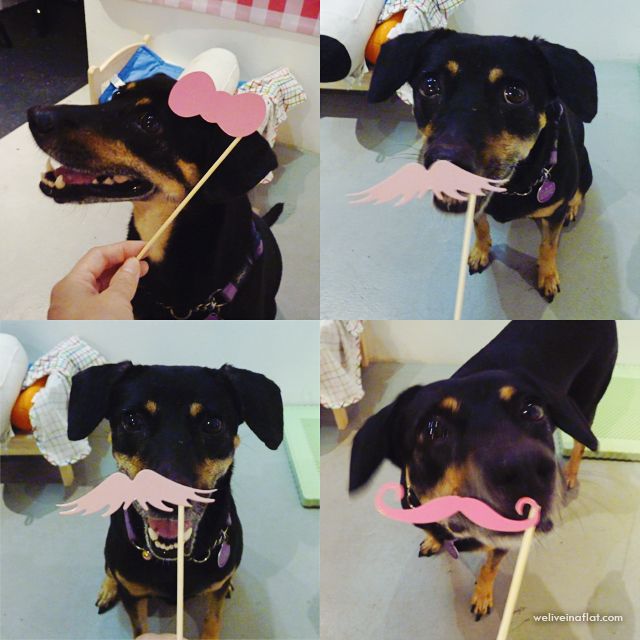 Modeling the pink props because they stand out from her dark colour better.
And nope, Donna is not altogether cooperative when it comes to modeling props. :P
I suppose the novelty factor would have worn out by the next visit, unless we visit with different doggy friends and can get the dogs to pose together. But it's something fun to do while waiting for the food.
Speaking of food…
A limited menu
We were recommended to visit by enpointethroughlife. She noted that the menu was limited but the food was decent for a dog cafe. You know what, sometimes, I prefer a place that does a limited but decent menu, than a place that sells a variety of substandard food.
So yes, we came with expectations that the food should at least surpass the below average fare that some pet cafes serve. When we arrived there was about 3 to 4 tables filled and only one table with a dog. That a pet cafe is also visited by humans without pets is a good sign that the food is at least not bad, right?
The cafe staff must have thought we were rather perverse. I asked for a recommendation of what's good. Wait staff recommended the Aglio Olio, I ordered the Fish 'n' Chips and Mr P ordered the Chicken Cutlet.
The young man in charge also tried to sell us their signature healthy cucumber drink. Wrong move. Both husband and dog are carnivores. Carnivores!
*I kept my face blank*
And sorry, no refreshing cucumber drink for me either. I always ordered a warm drink when in an air-con room. Haha! :P
Yup, we must be perverse.
Anyway, our order was not bad. Should we ever want to take the dog somewhere and have a craving for fish 'n' chips or chicken cutlet, this remains on the list of options available.
So yup, if you go, you could try the staff recommendation – Aglio Olio and Cucumber drink. Or you can be perverse like us and order the few other stuff on the menu:


Happy 3 Bites Menu
Appetizer
Portobello with asparagus SGD5.90
Main courses
All day big breakfast SGD14.90
(2x garlic toast, 2x sausages, sauteed mushroom, scrambled eggs, mushroom, garden veg salad)
Egg Benedict SGD12.90
(2x garlic toast, 2x breakfast ham, poached egg with hollandaise sauce, garden vege salad)
Fish 'n' Chips SGD15.90
Chicken Cutlet SGD14.90
Agio Olio SGD11.90
Carbonara SGD13.90
Food pictures on burpple … I want to try the durian cheesecake…
.
More about the Cafe Space
Donna didn't settle very well. After she got tired of lying around while we ate, she got up to explore the cafe space. It wasn't big, perhaps about 8-10 tables with some bar counter seats lining the shopfront. Donna had a great time sniffing about that corner there.
The small toy bed by the wall I thought was cute, and wanted to take a picture of Donna sitting on it if possible. I gave up on the idea after poking around the covers, a little too well-used and dirty for me to bear :P

Next to the toy bed lay a pee tray, and a few steps from that a communal drinking fountain for visiting dogs.
There is a gated barrier by the counter preventing the dogs from going out of the dining space, where they could possibly run out when customers push the main glass doors to come in. There is a second gated area towards the back of the cafe, preventing the dog from accessing the toilet.
.
Carpark and surrounding areas
There is a playground area right in front of the row of shops, including Happy 3 Bites Cafe and Monster Pet Vet, under Block 6. Go past the playground and down the stairs and you'll find the multi-storey carpark. There are also some open air parking lots behind Happy 3 Bites cafe, but those seem pretty limited.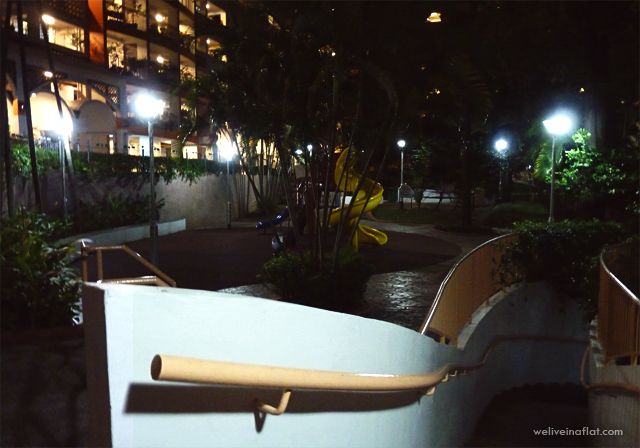 The open grass patch next to the multi-storey carpark is also pretty convenient for the dog's toilet. Remember to pick up the poo!
.
More reviews of Happy 3 Bites Cafe from other blogs
2014, Jun 16 – Bunday party at Happy 3 Bites Cafe, mmeeshell
2014, Jun 16 – Happy 3 Bites Cafe, Everton Park, Singapore, jacqsowhat
2014, Apr 19 – Happy3 Bites Cafe, an NEA-approved pet cafe, nahmj
2014, Mar 17 – Cafes at Everton Park, The J Babies 
2014, Feb 9 – Happy3 Bites Cafe – Everton Park, jiaksimipng
Our notes on this cafe for dogs
Location happy 3 Bites Cafe may take a little effort to find for the first time visitor driving there because of the way the HDB blocks are laid out.
Floorplan The space itself holds about 8-10 tables, with only the walking aisle between tables and by the pee tray/water fountain area for dogs to romp in.
Service & Facilities Since the cafe was not filled up the entire time we were there, we are able to get service pretty speedily. The staff was also friendly and took the time to tell us more about the cafe, but also left us well alone when we were in conversation between ourselves.
They have some interesting amenities like the water fountain, the props and toy bed. The pink checked sheets they have covering the walls seemed out of place though.
Service & Food We have no complaints about the food or service. You may have to speak in Chinese though, depending on who takes the order.
Socialisation Given that this cafe is not as popular with dog owners as other cafes, Happy 3 Bites Cafe is not a great place for socialisation. Not unless you arrange playdates in advance.
That said, it occurs to me that pet owners with reactive pets who never had a chance to visit a cafe, could possibly find this cafe an option. Especially on weekdays when there is a high chance there are no other dogs around.
Training For dogs ready to go beyond the home but not ready for overly-distracting environments, this may be a good low-distraction space to train the dog to settle and/or do simple tricks.
.