Mr P and I were invited to the launch of Mongrel 2014: #mongrelsareawesome photo and art exhibition yesterday evening by Three Legs Good.
Three Legs Good is a registered charity working to give injured and disabled dogs a second chance at life. – http://threelegsgood.org/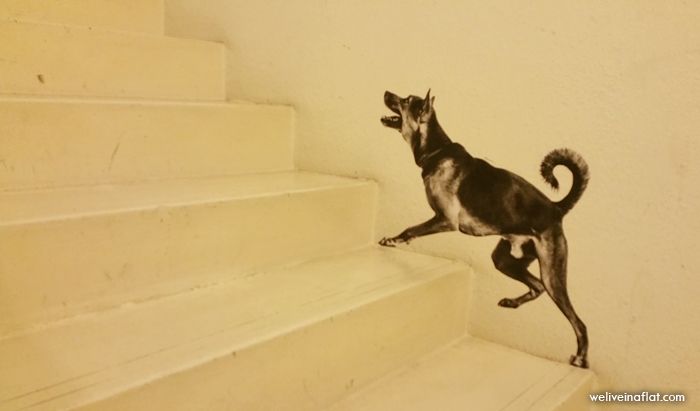 Trip the Dog by Ernest Goh. 
So we  followed this three-legged mongrel dog up the stairs to check it out!
Mongrel 2014: #mongrelsareawesome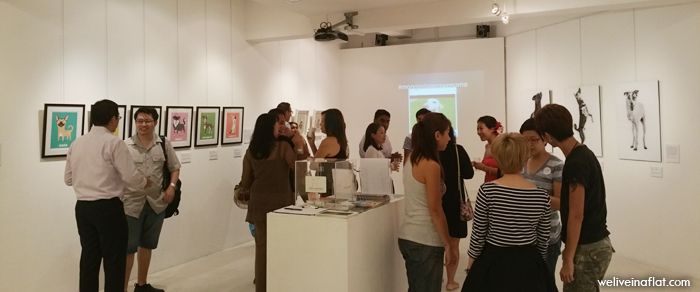 Guests at Mongrel 2014: #mongrelsareawesome exhibition launch 
The exhibition brings together the works of six artists and photographers. The varied mix in media used works out rather well since the exhibition is about the mongrel or mixed breed dog.
This is the third exhibition for Three Legs Good involving the most artists so far, one of whom is Lili Chin of doggiedrawings.net.
Ms Chin created a set of six renditions of mongrels from different cultures exclusively for the show. The new limited edition signed and numbered 11″ x 14″ prints are available for sale at $80 when we were there at the launch. Proceeds go to support Three Legs Good's work with injured dogs.

Celebrating the awesomeness of mongrels LOL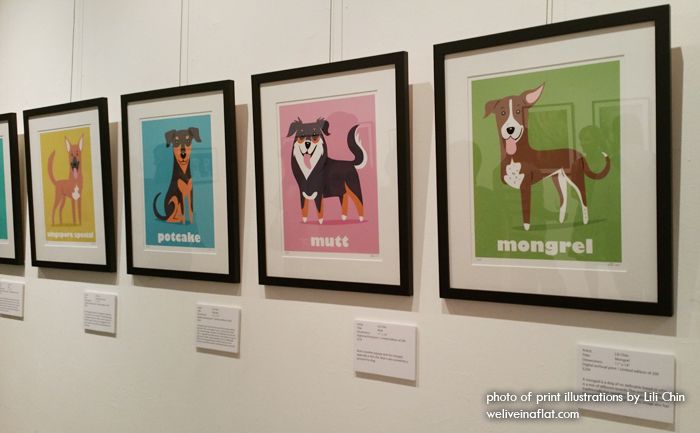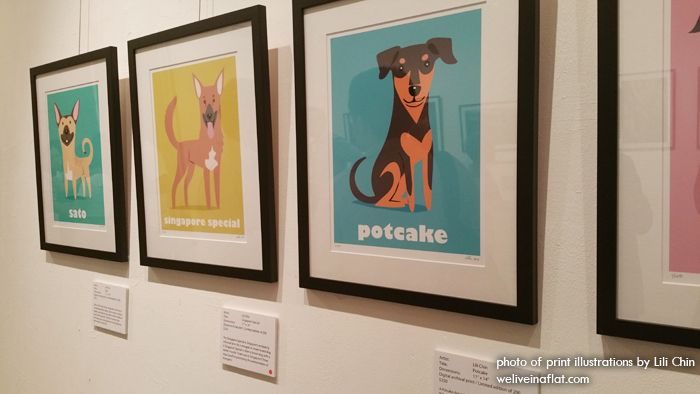 Apparently Donna is a potcake. HAHA! And the Singapore Special looks rather foxy :P
Moving on, because we are selfish and egoistic dog humans, we immediately shamefacedly camped in front of the video installation waiting for Donna's photos to appear. Haha!
Yay!! Donna's 10 seconds of fame – LOL
A video wall of dog photos to "raise awareness of the joys of adopting a mongrel."
…and also her sister, Dyana (RIP)'s 10 seconds of fame! HAHA!
Ok, make that 20 seconds of fame since Three Legs Good picked two photos of Donna. HAHAHA!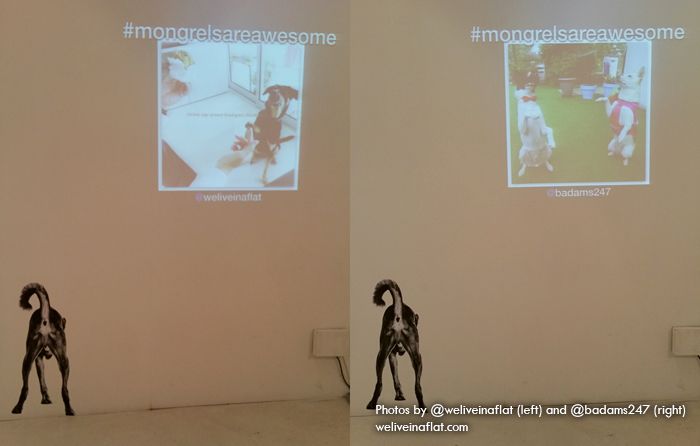 Mr P says that's his 10 seconds of fame since that's his hand with the burger Donna is demanding he hand over. And Trip's butt is famous! so says Adeline. 
We submitted three of Donna's photos, two of which were selected to be a part of the video display at the exhibition. Over a thousand photos were hashtagged #mongrelsareawesome on Instagram in the run up to the exhibition.
Out of these about a hundred photos were chosen for the final video presentation. This I learnt as I chatted with Adeline, one of the organisers from Three Legs Good.
Elke Vogelsang
Mr P and I actually hadn't been to an art exhibition in quite some time, so we definitely enjoyed the night out.
We had fun looking at the photos by Elke Vogelsang, not because they are beautiful (they are), but because the dogs' expressions (third picture in the photo below) are interesting when put together. It's photos like this that generate discussions.

These framed prints are available for sale at $550 to support Three Legs Good's charity work with injured dogs. 
Why is the dog's eye so opportunely closed in both photos (you have to visit the exhibition to see the other photo I'm talking about HAHA!) as if winking. Is he really winking or perhaps the dog is blind in one eye? What did the photographer do to lure them to look the way they look with their tongues out?
I love photos with a story that makes you think about the condition of the dog. The dog stops being objectified.
---
Mongrel 2014: #mongrelsareawesome opens to public today, from Nov 20- Nov 30 2014 at Objectifs Centre for Photography and Film, 56A Arab St, Singapore 199753. Admission is FREE. 
Besides international artists like Lili Chin and Elke Vogelsang, the show also features works by photographers Ernest Goh, Siong Chung Hua, and illustrators/painters Ly Yeow and Namiko Chan Takahashi.

Go on Saturday (22 Nov) and catch the artist talk at 2.30pm. Chung Siong Hua and Ly Yeow will share with you how they got involved in this exhibition, their inspirations and the creative process behind the works they are exhibiting. Exhibition organiser Lillian Wang will also share about how this exhibition came about and animal welfare. [event details here]

with 2browndawgs and Heart like a Dog