I was curious what goes into the Jingo Box when I was told everything in it is sourced from the USA. If you are interested as well, read on to find my honest review of this gift box for dogs. There's also a 20% off discount code at the end. ;)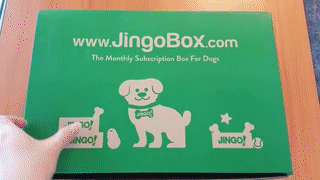 What's in the Jingo Box?
Let's review the items.
Donna's Complimentary Jingo Box includes:
1. Preppy Puppy Bakery – "American to the Bone" cookie
2. Fruitables – Sweet Potato & Pecan Flavour cookies
3. Snicky Snaks – Blueberry Crunch Bear
3. BeastieBar – Turkey Chewy Bar
5. Earthbath – Grooming Wipes (Extra Large)
6. Espree – Bug Bite Relief
7. Multipet – Dog Toy
8. Jones Natural Chews – Pork Femur Bone

Get 20% off your JingoBox, use this code:
"WELIVEINAFLAT"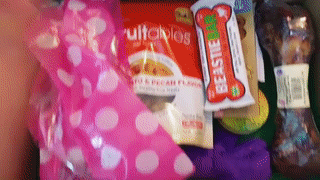 From the Preppy Puppy Bakery located in Massachusetts, the American to the Bone biscuit is covered in a bright pink glaze that is dusted with happy sprinkles.
I have never given anything so BRIGHT PINK with multi-colour sprinkles to Donna before. So this was interesting to me.
To be honest, this isn't what most would perceive a healthy treat for dogs, mainly because of the artificial colouring and sugar used in the layer of pink glazing and sprinkles on the biscuit. But, since she has no food allergies, medical conditions, etc, I just let her have a small chunk of it at a time as a very rare, once in a blue moon treat.
Did Donna like this? It's a really hard biscuit so I wasn't sure if Donna would like it. But she did like this biscuit with molasses, peanut butter and carob inside. 😅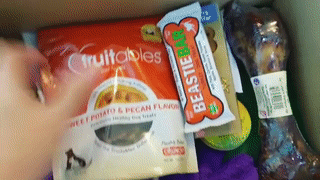 Fruitables – nothing new you say. True, the Fruitables brand of commercial dog biscuits can be purchased from pet stores in Singapore. That said, I did a cursory search of this particular flavour – Sweet Potato & Pecan – on two of our online stores and could not find it.
And that's what can be cool about a service like Jingo Box, if they bring in flavours that's limited edition or not available here in Singapore yet. I remember in a previous Christmas season, Fruitables had snowflake flavour biscuits made with real snowflakes.
Fruitables crunchy cookies generally retail around $12-$17 online in Singapore pet stores. These cookies are made in USA.
Did Donna like this? Fruitables biscuits appear to be low value for Donna from past experience. :P She eats them. She just won't do tricks for them. :P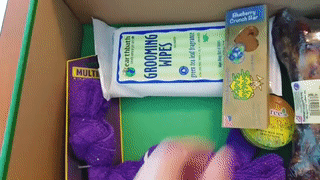 Healthy ingredients in this hard biscuit, even if it is mostly carbs – oat flour, rolled oats, and some organic ingredients like organic coconut oil. Unfortunately, even though this product is named the Blueberry Crunch Bar, the blueberry content is not significant. Blueberries are second last on the ingredients list, right before whole eggs.
Did Donna like this? Yes, she did. I think maybe she is slowly cultivating a taste for hard biscuits. :P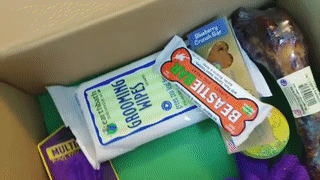 Finally a dog treat with meat in it! The Turkey Beastie Bar is 42% protein on the dry matter basis, comparable for high quality commercial raw dog food. It is also gluten-free and hormone-free.
The product is as advertised. Turkey is the first ingredient in the ingredients list, followed by vegetable glycerin (used as a binder, preservative and sweetener), sea salt, sweet potato and pumpkin. This product does include smaller amounts of peas, carrot, apple, banana, etc, etc healthy ingredients, which leaves me a little confused why it was necessary to have salt so high on the ingredients list.
Did Donna like this? Yes, she liked this chewy bar and waved her tail! This is also one product of the four dog biscuits and bars in Donna's Jingo Box that I am likely to buy for her on my own infrequently, if it were available in Singapore.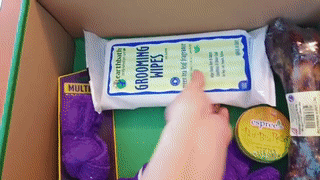 Jingo was also considerate to pack in extra large towels (8x7inches) for our 15kg medium dog. They can be used as a touch up or bath alternative. We actually use EarthBath Green Tea Conditioner for Donna when we shower her, and yes, sometimes we get so busy we do miss out on those weekly showers. So this pack of Earthbath gooming wipes with awapuhi and green tea leaf fragrance was especially useful, relevant and personalised to us. :)
EarthBath Grooming Wipes retail around $15 on selected online pet stores in Singapore. These towels are made in USA.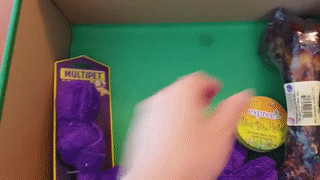 Donna had gotten bug bites before from running around in the grass in the more "jungle" areas of Singapore that we took her to. I had actually bought a different product from Espree to sooth her itchiness at that time, simply because I was specifically searching for Aloe Vera gel. So yes, Espree is a brand that I do use. It would be interesting to compare and see which product works better.
Espree Bug Bite Relief retails online from $17-$20 on selected online pet stores in Singapore. This product is made in the USA.
This toy will work pretty well with Donna who loves to tug and play fetch. It is made in China, so some pet parents may not like that. Given that a dog box service like Jingo positions itself as sourcing its products from USA, I do have expectations that the toys would be made in the USA or within the American continent at least. :P
So to round up the list of 8 items that came in Donna's Jingo Box, here's the Pork Femur Bone from Jones Natural Chews. According to Jones Natural Chew's website, this is a "whole USA all-natural Pork Femur Bone with knuckles on each end". Knuckle bones are recommended if you are looking to give a dog a recreational bone.
In general, raw bones are safe to feed, but not cooked bones. These bones are oven-baked. For me, I just don't give bones to Donna because I worry about her chipping her tooth on it, having blockage or having splinters hurt her internally. :P If I ever feed bones to Donna they would be ground ones or made into bone broth. (Note: although I did let Donna have a little nibble on this bone since it flew all the way here from the US :P)
Jones Natural Chews does have other boneless chews, so maybe Jingo can consider selecting those for their boxes rather than bone products next time.
More previews of Jingo's dog boxes here. I do see better toy brands like Kong so I think there may have more improvement with their subsequent boxes.

Get 20% off your JingoBox, use this code:
"WELIVEINAFLAT"
Concluding our Jingo Box review
There's only 2 dog box services left in Singapore, out of the Singapore dog box services reviewed last year. Jingo Box has a clear offering of products sourced from USA that would be compelling, if the products in the box were exclusive and cannot be bought in Singapore. That said, there was a good mix of products in the box that I enjoyed discovering.
Unfortunately, half the box contained brands that we are familiar with and know that we can buy in Singapore. Granted, Jingo chose the same quality Brands like EarthBath and Espree that we get for Donna to send to us.
Jingo Box offered a range of 5 treats of varying quality in Donna's box and Donna enjoyed all of them. As a discovery box where treats are concerned, I had fun unpacking it to see what was in the box as a one-off event.
But if I have to commit to a longer term subscription, I would expect more value from Jingo's higher price for a box. For one, I would love to see better curation of the treats, including better ingredients, clear ingredients lists and expiry dates stated clearly on each product. And like I said, the inclusion of quality pet products that we can't easily get in Singapore.
To be objective, getting 8 items at a one-time price of $58/box is already a good deal, with an average cost of $7 per item in the box. Remember some of the products  available for sale in Singapore cost anywhere from $12 to $20.
Jingo is a new start up, so obviously it's a whole learning process for them. My hope is that as Jingo Box continues to grow and mature as a business, they will continue to surprise local customers with refreshing items in their dog box of items sourced from USA.
See how Jingo Box compares to other existing Dog Boxes in Singapore.
---
Come :) Follow weliveinaflat.com on
Instagram @weliveinaflat |  Facebook donna.weliveinaflat |  Youtube Mutt Vlog