1 Day 1 World Project: Donna at 2:00am – 03:00am
She stretches whenever she wakes up from her sleep.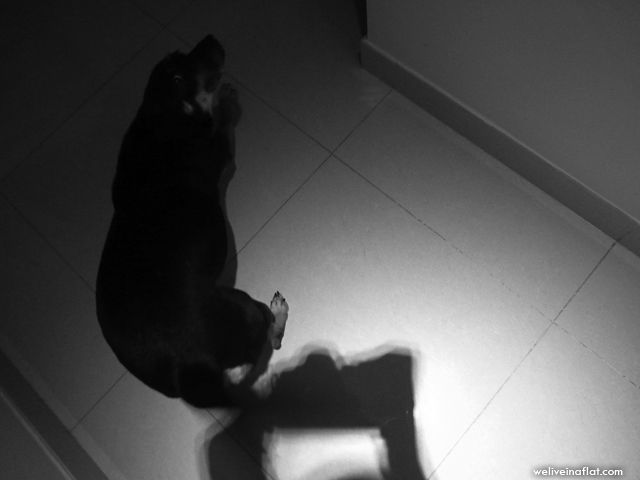 You can see her happy tail, regardless of what time of the night it was and how sleepy she was.
Unfortunately for her, and fortunately for me, I remembered I had forgotten to brush her teeth for the night. So yes, we were up at 2a.m. brushing her teeth. Haha!
More about toothbrushes for dog here.
1 Day 1 World Project: Donna at 03:00am – 04:00am
Taking the cue from Lisa at NWFrameofMind, I venture out on the balcony to see if I can take a picture of the moon at this inhuman hour.
There was no moon in sight, but I offer you this city scape.
I've never been up and out on the balcony this late before, looking at the expressway that sparkles in the distance like a golden river. On good days/nights, you can see the top half of the Singapore Flyer forming a little bracelet of light in the dark amidst skyline. This is one of those nights. :)
Down below, someone cycles off into the night at this unearthly hour.
Behind me, the Donna's silhouette peers out silently. You can see the reflection of apartment lights opposite imprinted on her side.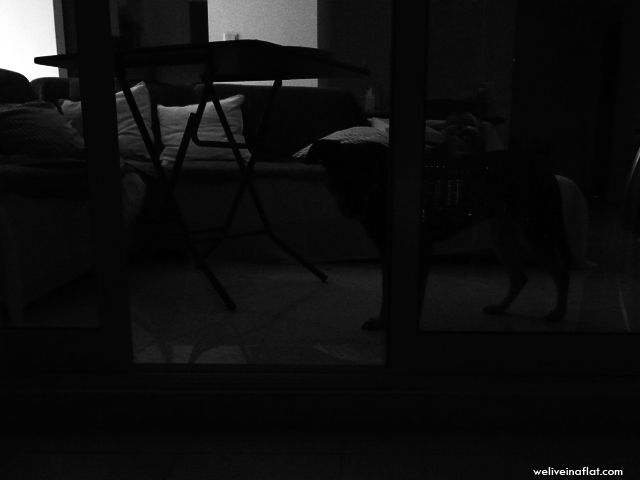 For 24 weeks, weliveinaflat will post photos taken for a specific hour in that week.
We will cover 24 hours in 24 weeks. (I've no idea how we will do the sleeping hours, lol!)
More about the 1 Day 1 World Project here.