| | |
| --- | --- |
| | Norm the Pug is pretty well-known for his iconic pet self shots. But how does he do it?Here's we got Donna to pull a Norm Pug (faux) selfie. Right now the human has this to say to you, Norm Pug – you make it look so easy. |
1) Teach your dog to high-five
The true pet selfie usually involves having one of the pet's front limbs held up and cut off by the side of the frame, just like a human's would when holding up a camera/phone to take a self shot!
Teach your dog to high-five against your hand, and you'll be able to keep your pet's front paw up-raised longer to take a sharp picture.
This is how we we managed to teach Donna to high-five, quite by a fluke, believe it or not!Donna can now high-five with her left or right paw. And when she is super excited, she would offer both… but no, she doesn't know to do both paws on command. The human reckons another lucky fluke is much needed!! :P
If your dog has not managed to learn to high-five, you may also want to try using shake-a-paw instead. In this case, your hand will need to raise up your pets paw to the height you want for your pet selfie.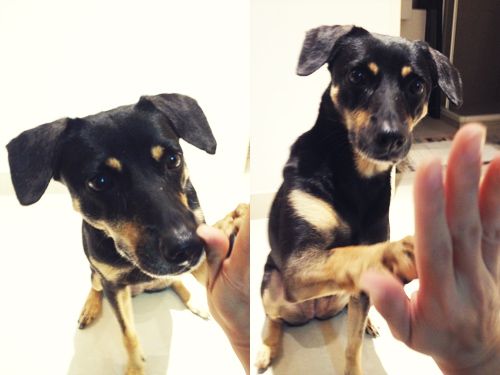 2) Get your dog to love looking at the camera/mobile photo-taking communication device
Norm Pug must really love the camera. Unfortunately, Donna disdains it, so much so she doesn't want to look at it! Here's the evidence/out-takes :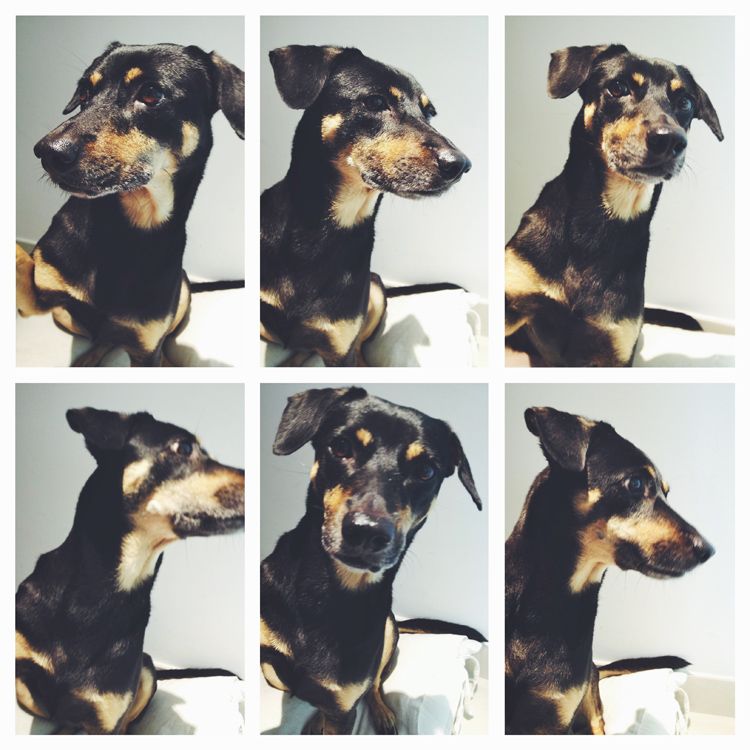 It probably will be possible to train the dog to look at the camera, but I would avoid that. I like to have a variety of pictures with the dog looking at a variety of angles with a variety of expressions. A dog that is too well trained may end up delivering photos all with the same expression looking straight on at you or the camera and waiting to be rewarded. At least, I thought that can be a possibility.
But what if I really need the dog to look at the camera?
I did wonder though if playing a dog barking audio from the phone will get Donna to look at it when needed. I remembered reading something like that on Kristen's post about a dog database app that plays dog barking noises (I think) to get the dog to look at  the phone for picture taking. Perhaps that's worth a shot, who knows? In any case, sometimes I try to get Donna to look towards me by making any weird sound that I don't usually make. That can elicit a quizzical look from my dog.
But mainly I just waited to snap the moment Donna looks to the front.
3) Take the picture with the dog looking straight into the frame, with her right front leg lifted and paw cut off on the left side of frame, just like a selfie.
Norm pug, are you right-handed paw-ed? You seem to favour your right paw for your selfies. Donna doesn't care either way but I'm a stickler for details so right paw it is.
4) Crop the self shot to the square format and upload to Instagram
Norm Pug usually has his picture taken in front of a flat background that is one vibrant colour. I don't have that so I applied filters to the picture instead.
Classic vs Candy Selfie
Many different expressions OK for selfie!
A selfie is dictated by the pet's posture and placement of its fore paw, rather than by his expression on the face. So don't worry if your dog or cat or hamster is not smiling!
Can you see Donna's grumpy face in the photos? For this photo, Donna really was not in the mood. And yet the dog still stays there waiting for a treat! The conflict of being the apartment dog in our family! :P
That said, please don't force your pet to take a selfie if he really is unwilling to do so. One of the reasons why I do prefer Donna to look natural, even naturally grumpy (!), is so that it is easier to tell when Donna feels distressed and that the session should be stopped for her sake.
How do I know when Donna feels too stressed up over a long photo shoot?
Donna usually will give me the I-don't-want-to-look-at-you nose point to the side or up in the air when Donna starts to get frustrated. Sometimes, she wipes her paw over her face like she is crying. Observe your pet and soon you will grow to learn his body language too, if you don't know already.
So yup, those are the steps that we used for taking a dog selfie like Norm the Pug. I quite like pugs, specifically many years back after I saw this Japanese Horror flick Gakko no Kaidan (I think) which had, among many ghosties, a talking pug in it. But that was many years ago, and hardly a compelling reason to get a pug. (No offence there!) Our mongrel is pretty special too! :)