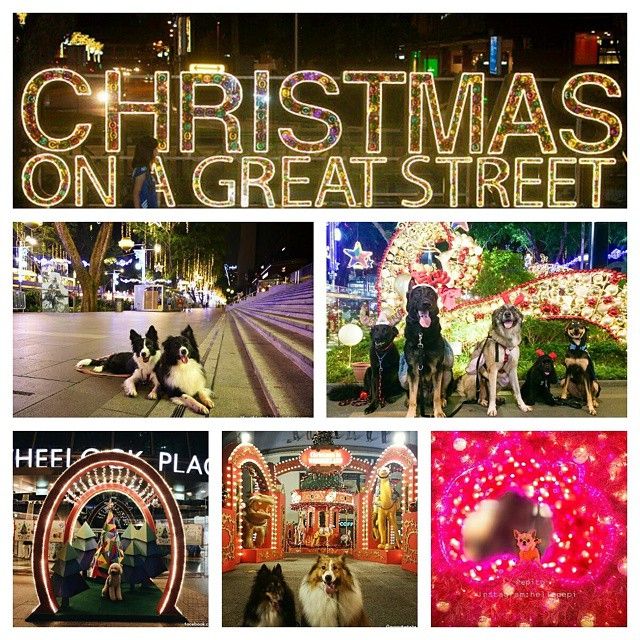 Every year in December, Singapore's shopping belt – Orchard Road – is all lit up for Christmas. It's not uncommon or difficult to find tourists taking selfies or parents taking photos of their children during this period.
But dogs?
There are many reasons why pet parents wouldn't think about taking dog for a walk at Orchard Road. Transport can be one problem. The crowd can also be daunting, especially if one's dog finds busy environments overwhelming. And since dogs aren't exactly a common sight at Orchard Road, just a simple walk with dog can be a spectacle itself, not to mention photographing dogs.
So I contacted several adventurous pet humans who made it to the Orchard Road Light-up with their dogs to get a sense of the popular spots for photographing dogs.
Top of the list, we have…
Tanglin Mall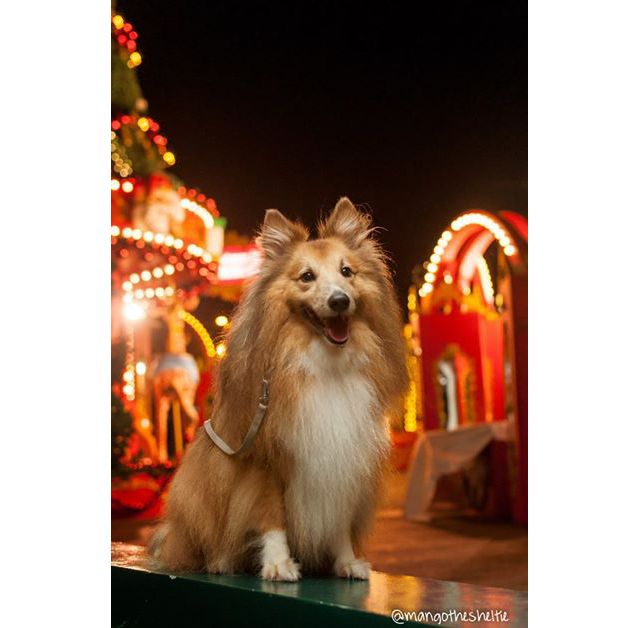 Recommended by @hellopepi and @mangothesheltie, I really love the circus theme and would have brought my dog, Donna, there if I had the time and transportation. Hah!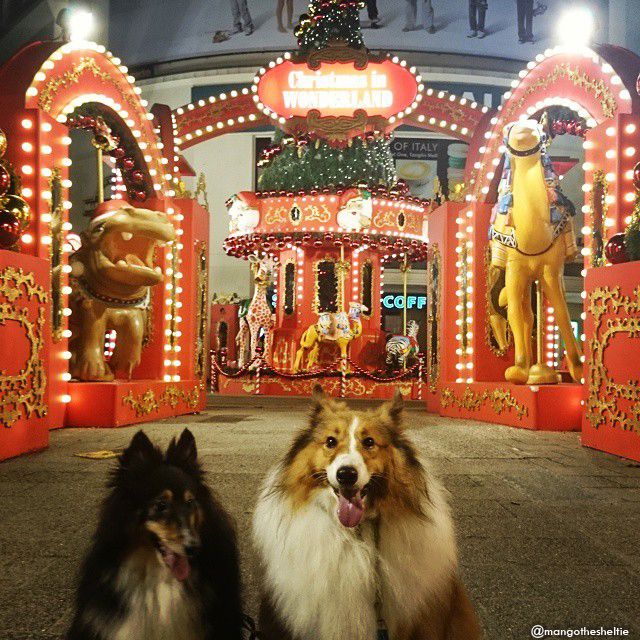 Echo and Mango pose in front of Tanglin Mall's Circus themed Christmas decorations. Echo, slightly distracted.
S from @hellopepi also liked its location, "It's at the beginning of the street, which means less people."
The Christmas decoration at Tanglin Mall will however, still present some challenge for small dog photographers like S, who says her chihuahua, Pepi, tends to fade into the busy background.

Of course, it doesn't help that Pepi's mama decided Pepi should stand in a computed-generated snow storm in tropical Singapore. :P Can you see Pepi?
"If you have a small toy dog, it probably isn't going to look very nice if you insist on taking in the whole scene as (the dog) would be "lost and dwarfed" in the christmas lights looking like nothing more than an inanimate object," S acknowledged candidly. "(a) closeup with interesting props, example, a candy cane, a santa's hat, a snowmobile headlights if any (may work better)."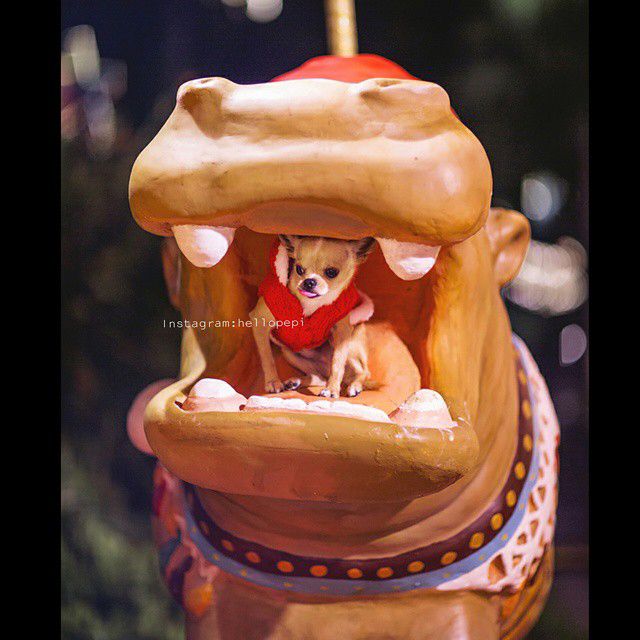 Pepi's small size is an advantage when taking interesting close ups of the Christmas decorations like the hippo that is part of the circus theme set at Tanglin Mall. 
Outside Ion Orchard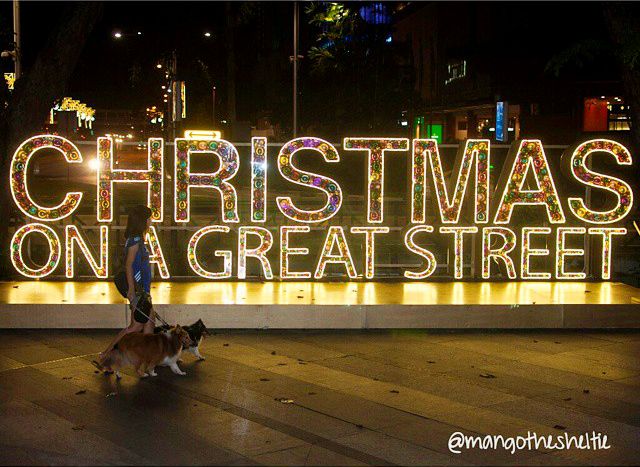 For an iconic photo of this year's decorations, Ion Orchard is probably the pit stop for that "I was here" photo. The towering red and gold Christmas tree and the candy cane display there were also hot photography subjects. Hence, this place is recommended by Tuffy Wong and @mangothesheltie.

Tuffy waits for the candy to drop. Lights were off for the display in this photo I think. 
Best spot was the area outside Ion with the huge tree and reindeers! Reindeers were not too tall to take full body pictures without the dogs being too small. – Tuffy's human
But because the display looked great for photos, it was unfortunately too popular. Thefurrytales found Ion to be an "utter chaos because of the candy cane displays and big Xmas tree outside of it." Their verdict? Too many kids.
Paragon
Thefurrytales prefered location for photos was at Paragon, "because it was less crowded so we were able to take better photos." Another location they suggested was Knightsbridge.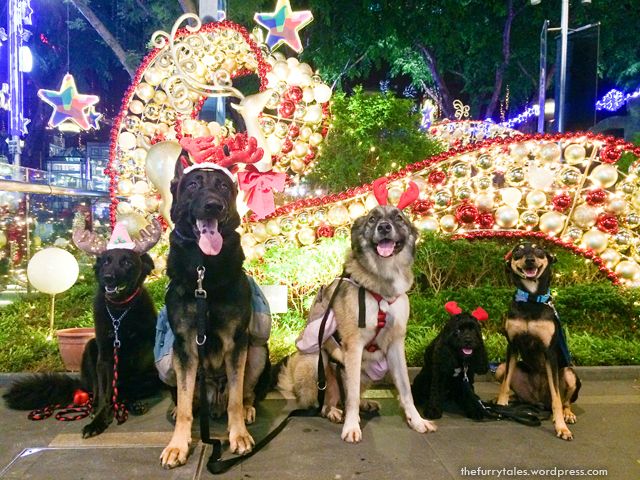 The dogs from thefurrytales, what an awesome bunch!
I think this spot is somewhere just outside of Paragon. It is a good spot because it's not on the main stretch of orchard pavement where people can crowd around you. This Xmas decor is right outside the shop windows so the only crowd you'll find are people coming to or exiting paragon. It's a narrow stretch so there's no space for people to gather behind you and stress the other dogs out. It was quiet an peaceful and it was where we took our best picture. Plus it was brightly lit. So you can quickly snap and go.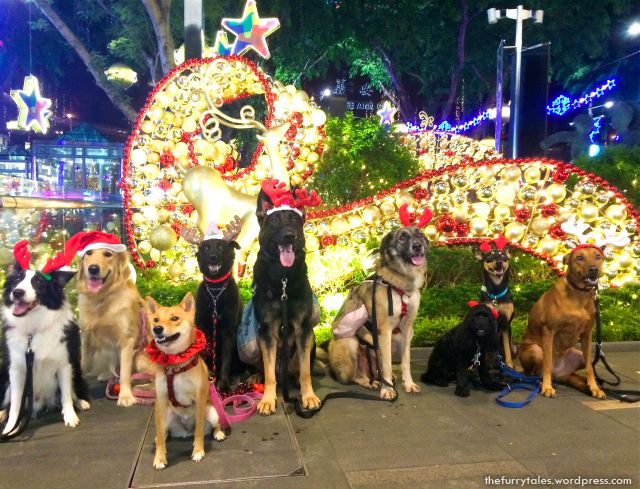 The nine dogs for the pack walk in the evening and it was "insanely crowded".
The dogs had to wear Santa hats and reindeer antlers. Some of them aren't meant for dogs (the ones for dogs have chin elastic bands so it won't fall off) so every time you try and snap a picture, one dog's antler or hat would fall off and we'd have to fix it. Coupled with the noise level and crowd, it was hard getting all the dogs to look at us while trying to keep their heads still. – thefurrytales
More about it on Our Christmas Pack Walk on the furrytales.wordpress.com.
Wheelock Place
Not on any of the interviewed pet owners's favourite spots. Nonetheless, I thought this was an interesting photobooth that immerses the dog in an origami-like world. :P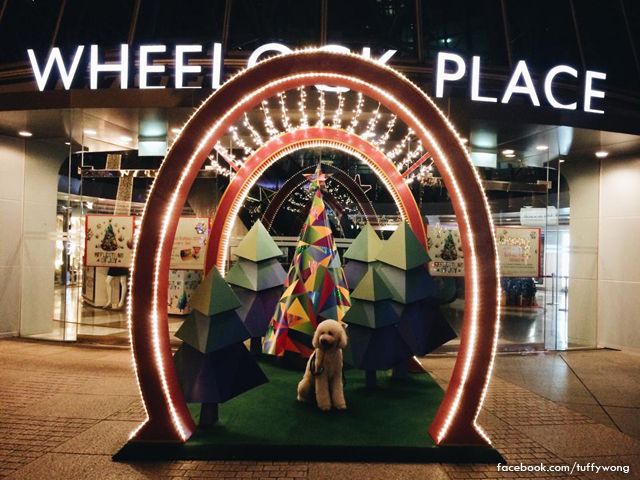 Tuffy will usually be asked to do a sit/ stand-stay while we humans go trigger happy. Some people are astonished ('omg he really just sit there leh!') that he will do as told haha. Usually they'll sneak a photo or two – Tuffy's human
Orchard Central
And rounding up the list, we have Orchard Central. You either love it or hate it, I suppose.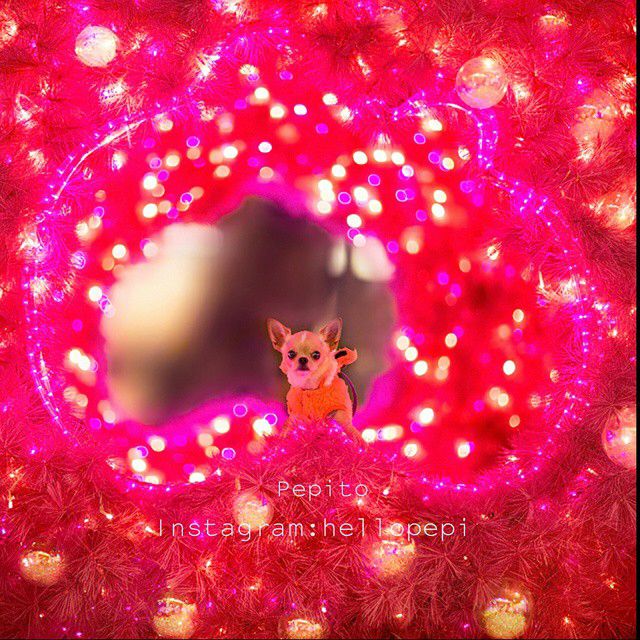 Nope, guess hot pink is not Pepi's favourite colour. :P
And yet, there are some quirky displays about Orchard Central, that did caught my attention… like the erm… unicorns…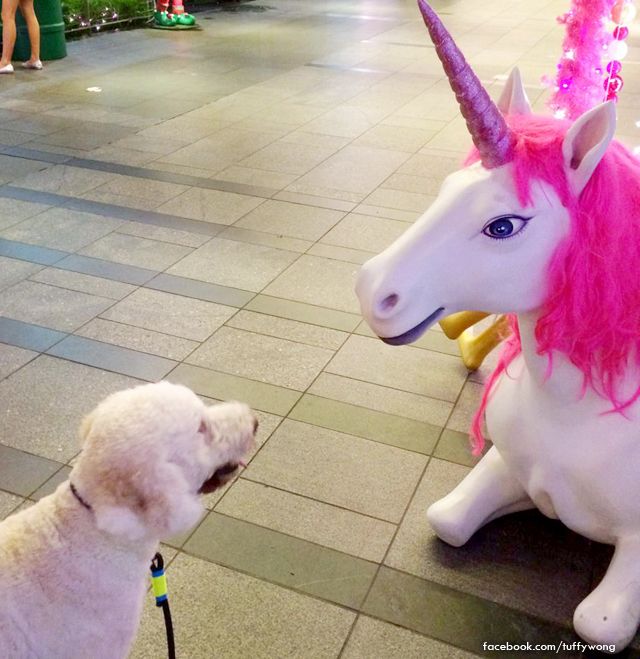 I think Tuffy found the unicorn's good side.. I remembered them as looking a lot uglier, HAHA! *Ooops*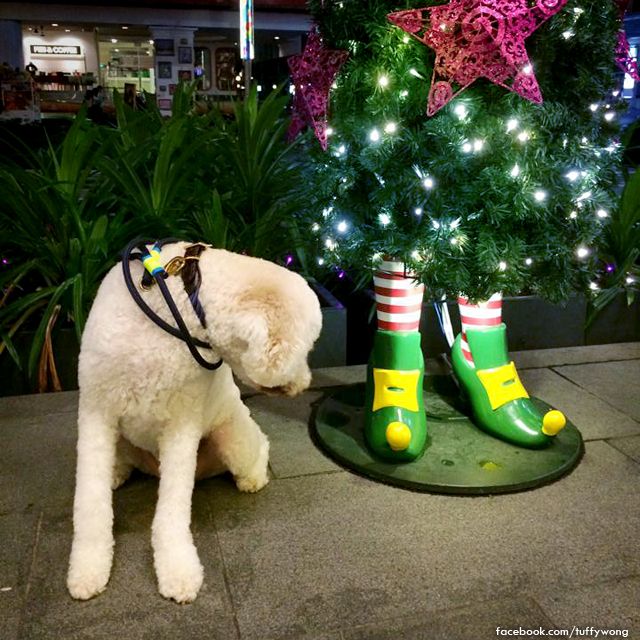 Tuffy is similarly weirded out by the scary feet hiding under the Christmas Trees, I think. :P HAHAHA! *Ooops!*
So anyway, that's the list of Five Spots you can check out with your dog this Christmas. Just be aware that taking photographs of dog among the Christmas lights may not be as easy as it looks.
What you need to be prepared for
Thefurrytales: Rude strangers wanting to take photos of the dogs.
There were ALOT of very rude people shoving us aside to try and snap pictures of our dogs. None of them asked permission and some even tried to go to the back of the dogs to pet them….So because of the 20-30 people constantly surrounding them, our dogs were fidgety and it was harder than usual trying to get a perfect group shot where all the dogs were looking at the camera.

LifewithLycanLexie: Night photography can be difficult with dogs who will move.
As we weren't experienced photographers and my first time taking pictures at night, one of it would be making sure the pictures didn't come out too dark. As my camera was pretty basic, we couldn't get the aperture to go below 3.5 so we had to make the shutter speed slower. That brings me to my second problem; the dogs can't keep still. The best pictures would be those with only ear movements or tongue licks so you can only imagine how blur the others turned out.

Tuffy Wong: Photobombers
We went at about 11pm or so on a Saturday night and there were still more people than expected. Some of them tend to crowd around the deco/ exhibits thus we had to work with whatever angle we could and it may not be the best one.

Tuffy might just be the dog with the biggest collection of selfies with Christmas trees. :P
More on his facebook – facebook.com/tuffywong
Top Five Advice from these Been-There-Done-That Pet Humans
Thefurrytales: Be prepared if your dog is reactive or wary of strangers/kids. A lot of people will touch your dog without asking. Some people might scream and go "SOOOO CUTEEEE!!" not realizing they're scaring your dog. So, Practice doing night walks before Xmas if possible so there is less crowd and by the time Xmas comes around, your dog will be more ready for it.

HelloPepi: There are many ways to take a christmas lights photo. You need a fast lens if possible. If you can't afford, rent one. A tripod… is highly recommended. Good photos have no shortcuts…Shoot in Manual to override what the camera chooses for you. It doesn't know better. It only tries to make everything 18% grey.
Avoid Flash. But, if you are still unable to lit up your subject's face without blowing the christmas lights, you need a flash. When using a flash outdoors, you most likely need to get it off camera  for more creativity and you may even need to gel it to get it to match the ambient light. Basically what you are trying to do with the flash is to hope it throws light on your subject and illuminates it without overpowering the christmas lights.
Mango the Sheltie:
Make sure dogs are leashed at all times.
Check light up timings, parking locations and walking routes.
If your dog is showing signs of stress, call it off and go home. Try again another day.
Learn your camera's functions.

Life with Lycan Lexie: There are a lot of loud cars especially during the weekends so if your dog is sensitive, I don't really advice on going. I was told by Mango the Sheltie that there are loud cars but I didn't expect it to be THAT bad. I had constantly assure Lexie that "the big loud cars weren't going to get her".

Tuffy Wong: 
Go with friends! Makes everything more fun and you may capture some cute candid moments amidst the Christmas background.
Bring some props like reindeer ears or dress your furkid up.
Make sure you have water on hand for the doggies. Otherwise there's always McDonalds near scape for water (and supper for humans after all that walking. Off topic – Orchard Tower has thai food that opens until 3am or something!).
There can be long stretches along the main roads where there isn't a grass patch to do their business so I let Tuffy do his when I see a decent (clean and not too long grass) patch of greens.
When should you go with dog?
Hello Pepi suggests about dusk is when the sky is still blue and may provide enough light naturally on your subject's face with the christmas lights. HOWEVER a major caveat is the huge amount of crowds.
Thefurrytales went between 930-11pm and still encountered many school children.
LifewithLycanLexie reached at 12.30am and most lights were turned off so definitely earlier than that!
So it seems you would only have the short time between 10.30pm to 11.30pm to work with. Some malls switch off their displays before midnight.
But between having to contend with the crowd and photobombers and the risk of having some light displays switched off, LifewithLycanLexie figures the latter is the lesser evil of the two. "I'd go about 12am should I have the chance to go again," she says.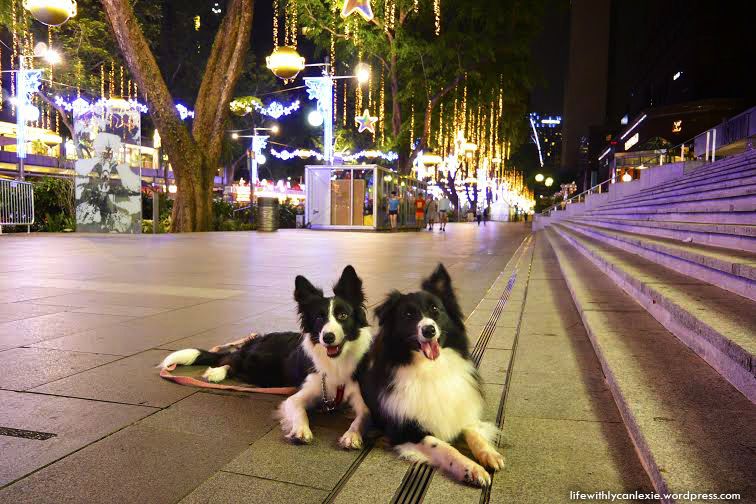 Mall light displays were off? No problem, we can still take photos photos of the light up along the pavement, says Life with Lycan Lexie.
Is it really worth the effort to take the dog to Orchard Road for a walk and for photos?
Out of the five pet humans contacted, four of them had never taken photos of their dogs with the Christmas decorations and light until this year (2014). Four of them will probably do it again next year.
We definitely will keep to this tradition but will go better prepared- with smellier, yummier treats, ALL our dogs will have elastic head gear so we don't have to worry abt them dropping, and we'll make sure we form a better barrier around our dogs so people can't squeeze past us while picture taking and frighten our dogs. – thefurrytales
Even if we do not take pictures, we will still go to soak up the atmosphere. Orchard Road is pretty safe and bright enough for a late night's walk. – Tuffy Wong

Lycan visited after 12.30am and had a funny expression on his face. :P
However, for humans and/or dogs who don't enjoy the experience, fret not. Home photography can be worthwhile too.
Your best bet if you /your dog is stressed with Christmas lights outdoors, crowds/ photo bombers, is to take some at home where you are more in control! After all the real meaning of Christmas is just a festive occasion with family and friends (at a home), not a mall! lol! – @hellopepi, who subsequently published home photos on his IG feed here.

Hellopepi says, I don't enjoy this crowd and photobombers. No more next year. 
---
Special thanks to the following for the use of their photos and for responding to my questions! :)
Are you planning your own trip to photograph dog with the Christmas decorations in your area? Or what sort of photos of dog do you take for Christmas? Share some photos or tips in the comments below! :)
Reindeer toy for pup this Christmas! Shop here.

Get featured/Business enquiries: If you are a pet-related business/service providing new and innovative pet products and services in Singapore that you think our readers may be interested in, get in touch! – weliveinaflat@gmail.com ;)
---
Come :) Follow weliveinaflat.com on
Instagram @weliveinaflat |  Facebook donna.weliveinaflat |  Youtube Mutt Vlog by weliveinaflat