Ordering cakes for Donna has become a fun thing for me. I'm at the age where there hasn't been a cake for my own birthday for a number of years. So I guess I am enjoying the cakes vicariously through Donna, without incurring extra calories for myself. Hahaha.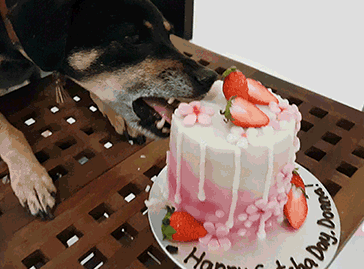 This is why I tend to order "trendy" cakes inspired by real human cakes. Typically what happens is, I browse human cakes. Something catches my eye that I like. I send it to the dog bakery to see if they think it is doable.
This year for Donna's Gotcha Day, I decided to hire Barking Good to bake her cake for her because I knew I wanted a cake with a marbling effect. Barking Good is the only dog bakery I have seen so far with the marbling effect. They have also done gorgeous, detailed flower pupcakes.
To give them an idea of what I wanted, this is the photo of a human cake that I sent to them as reference.
The result they delivered is this:
Strawberry & Cherry Blossom Drip Cake for Donna's Gotcha Day 2018
A refreshing and cheery cake that makes me think – Ah! Strawberries and sakura! The next thing that hits you is the strong and sweet scent of cut strawberries!
Seriously, this is the best smelling cake I have every received for Donna! OMG!!
Typically, dog cakes don't really have any strong smell since they are covered with mashed potato as "frosting". In the place of buttercream flowers or real flowers on human cakes, dog bakers typically craft flowers from sculpting or forming mash potato into the shapes they require.
The inside is a dense meatloaf made of pork and vegetables. The dog bakeries I buy from tend to use naturally-derived colouring for their potato frosting. Beet for the pink colour and carob for the brown words in this case. No artificial colouring.
Strawberry Blossoms Drip Cake (1.2kg)

Ingredients list
Cake – Pork, Carrot, Broccoli, Rosemary
Icing and other exterior decoration – Potato, Beet, Sweet potato, Carob, Strawberry
Since it was a small cake for 16 dogs, each of the dogs got to take only a tiny portion of the cake home. Perhaps an individual pupcake would be a better idea for next time. :P
Here's a video summary of the day's celebration for Donna's adoption anniversary. You can also see more photos from the morning here and the afternoon here.
Many thanks to Barking Good for patiently working with me to decide on the final design of the cake. Many thanks to Pawsible Playschool for hosting us that day, and also helping to portion out the cake for the furkids!
Cake by Barking Good
Venue and props Pawsible Playschool
Donna's collar Avaloncrafts
---
Come :) Follow weliveinaflat.com on
Instagram @weliveinaflat |  Facebook donna.weliveinaflat |  Youtube Mutt Vlog