Pasir Ris Park is a park that we've been to only about a handful of times. It actually didn't leave an impression on me, but Mr. P tells me we visited on weekends when it was very busy. AND I was NOT impressed by the crowd.
I have to say now…
Pasir Ris Park on a weekday is quite beautiful.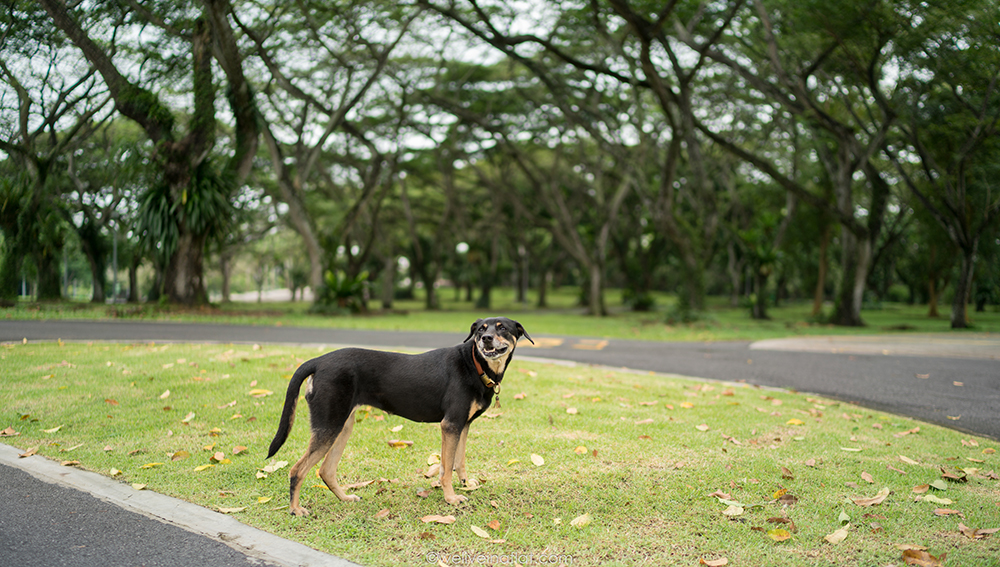 Pasir Ris Park weather when we were there
We were there near the start of what was later reported as Singapore's longest cold spell (all of 5 days lol) for at least a decade. And by cold we meant minimum temperatures of 21°C to 22°C. It is rare for our hot and humid tropical weather!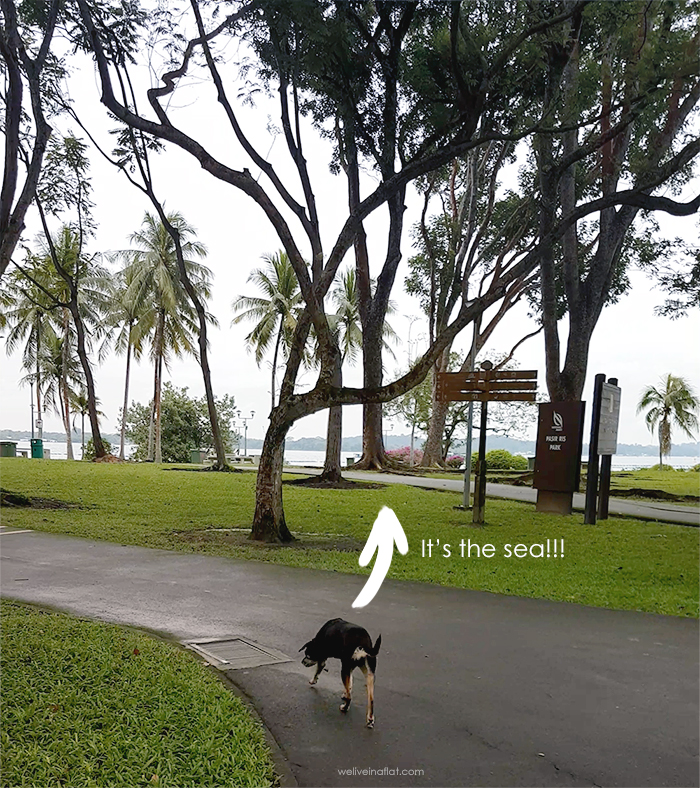 Perhaps its was the cool, slightly rainy weather. Perhaps because we were right by the sea. Perhaps it was the green open space that was not bespoiled by the weekend horde.
Perhaps it was everything together, but I suddenly felt like I was on holiday and not in Singapore anymore. HAHA!
Pasir Ris Park Scenery and Dogs!
We weren't here to take photos… even though the evidence indicated otherwise.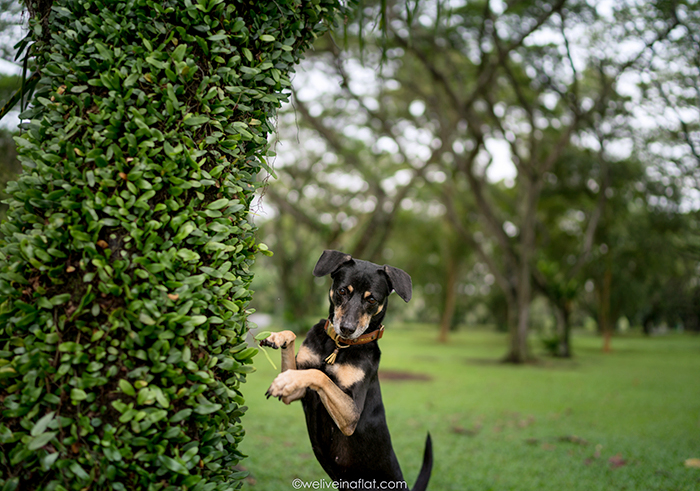 We were here to take a walk with the dogs from Donna's daycare!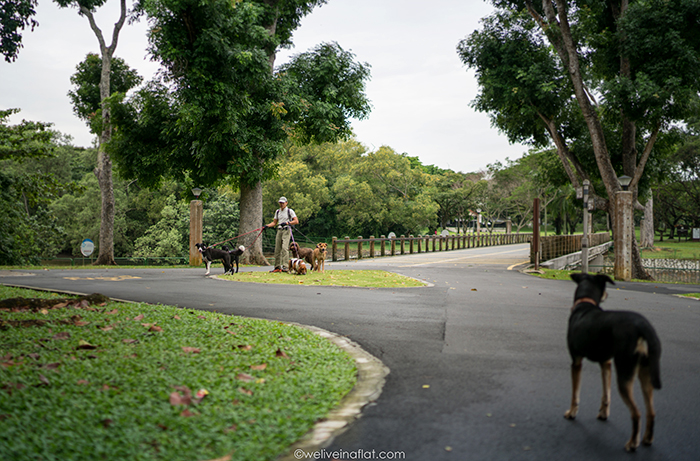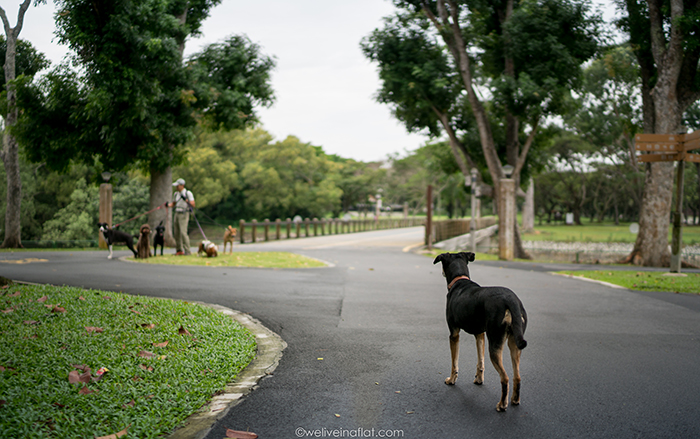 Although Donna's sudden appearance proved to be rather distracting for the dogs! Oops!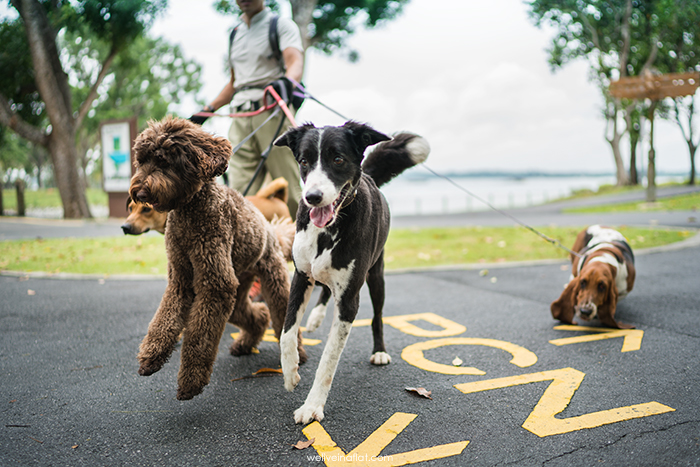 Yup! Very distracting! :P
Rest stop at one of the shelters at Pasir Ris Park
The pack takes a break, before the higher energy dogs continue with the walk. The lower energy ones will just rest and relax under the shelter until the whole pack is ready to leave.
I try to distract Donna from approaching the other dogs, and then I noticed these two figures standing behind Donna.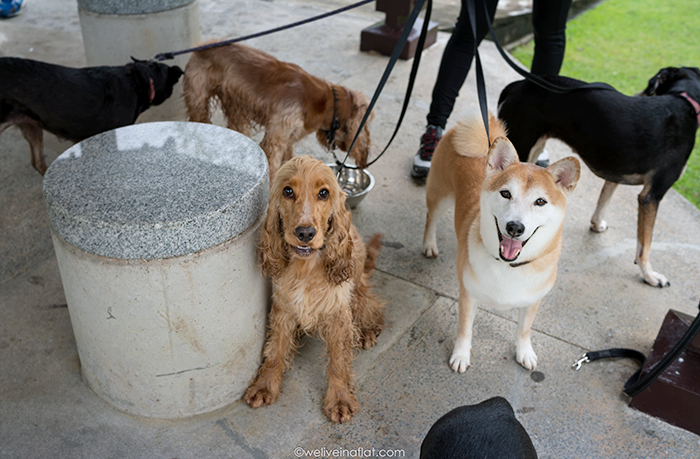 It seems Donna wasn't the only one distracted by my treats! ( But I didn't know what they could/couldn't eat, so I couldn't give them.)
And then it was time for these big boys and girls to continue with their walk.
The little ones stayed behind.
Although this little one seems to think she is a big dog. :P I mean, I heard huskies and malamutes like to howl but pugs?
Seriously, I didn't know Howling Pugs were a thing until I searched "howling pug" on Youtube. There were 89k results. I scrolled down and every single video has at least 1 howling pug. OMG!
Getting to and exploring Pasir Ris Park
This time round we parked at Pasir Ris Park Carpark D, we headed right and crossed the bridge in the direction of D'Resort Downtown East. We actually only explored a small part of this big park so I'm definitely looking forward to visiting again for more photos of the park and the beach!
Many thanks to Pawsible Playschool for letting us join their morning dogwalk and playschool for a day.
Advertisment

---
Come :) Follow weliveinaflat.com on
Instagram @weliveinaflat |  Facebook donna.weliveinaflat |  Youtube Mutt Vlog