What do these cuties have in common? They were all here in one space to attend a Shih Tzu birthday party!
Come check out the party with Donna!!
It was Cookie Neo and Cookie Ang Shih Tzus' joint birthday celebration. And both were all dressed up for it!
Cookie Neo had her dresses all prepared for her, but she was lacking a collar for that dress. Have to say the black Dolce bib she found at Little Cherry matched the dress perfectly!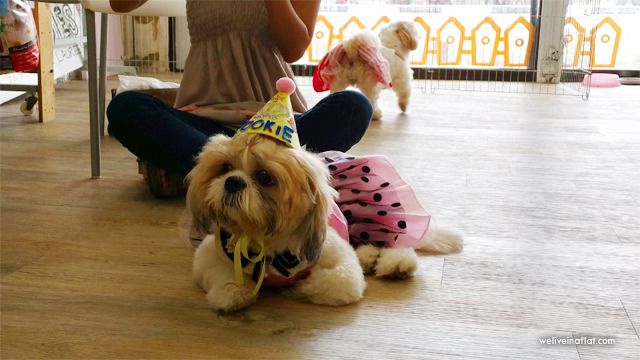 Cookie wearing her new clothes and birthday hat, handmade by Cookie's mama. We went shopping together at Little Cherry's home studio a few days before and it was a lot of fun just to be able to try the stuff and see if it really fits/matches the pup's colouring before we buy! Haha! You can see what we bought Donna on Facebook. 
Who else was at the party? There was Max the Standard Poodle.

If Max looks deliciously avant garde to you, that's because his human is the groomer and lady boss of pet grooming salon, Furbabies. That's where the party was held. 
It was certainly interesting to see Donna meet Max. They played a bit and then decided to check out the little guys.
Since poodles and Shih Tzus are the fashionistas of the dog world, Donna was decked out in accordance to the occasion. :P
But Donna really wasn't too concern about what she was wearing. Neither it seemed was Max.
It wasn't too soon before two suspicious characters started to gravitate towards the yummy doggie party treats!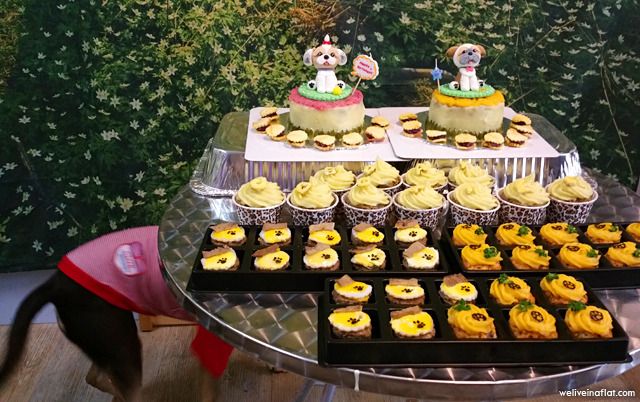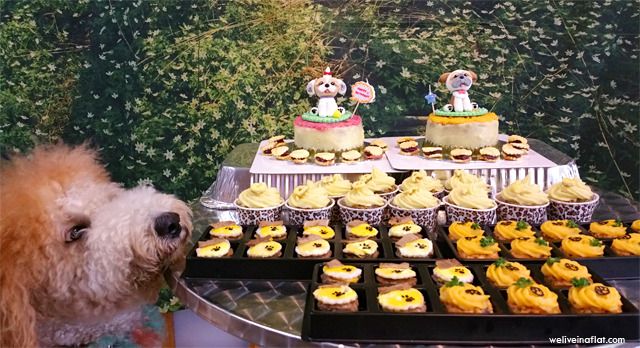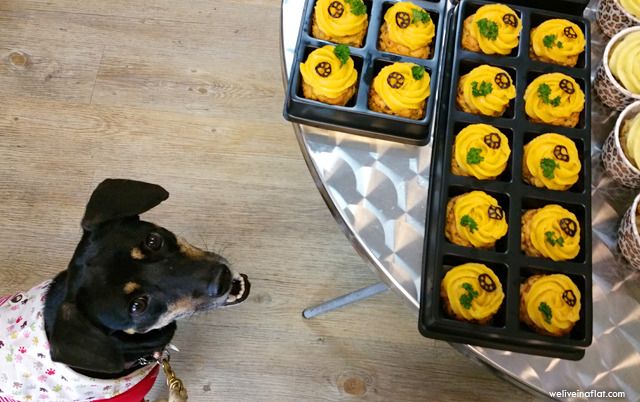 Donna always has great eye contact when angling for food.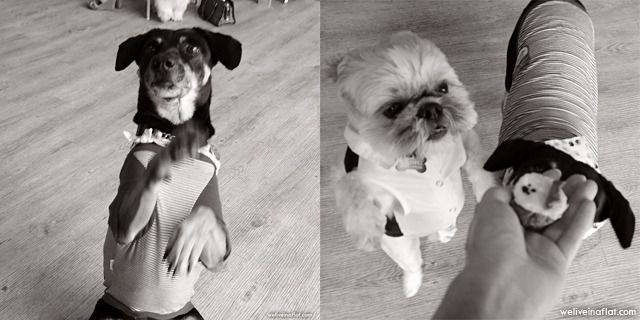 C'mon, says Donna, how about I trade in some kungfu moves for food? Donna's not the only one with moves~ Cookie Ang the birthday boy has some moves of his own ;)
These dogs can get a little too in your face though… For instance, when the birthday boy and girl and other Shih Tzu guests were posing for photos at the photo booth: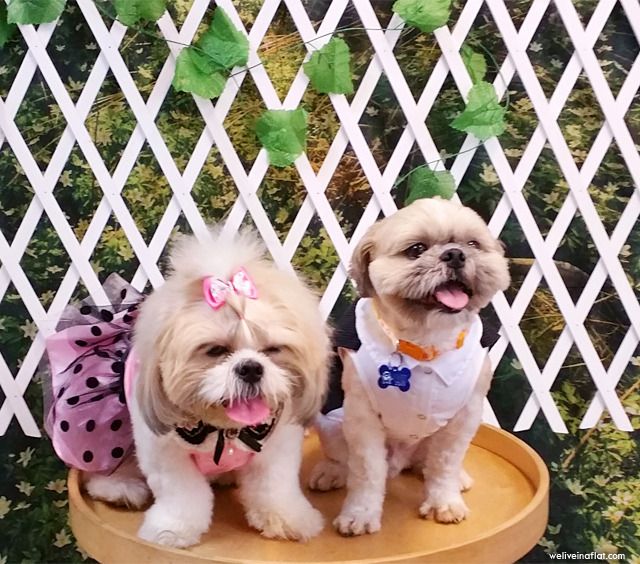 Guess who were attempting to highjack the photoshoot?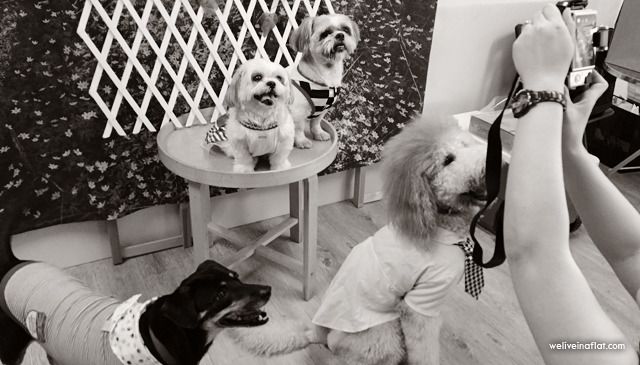 We see the treats in your hands, human. We are good models too!
And again when the proud pawrents of the birthday boy and girl take family photos in front of the yummy spread: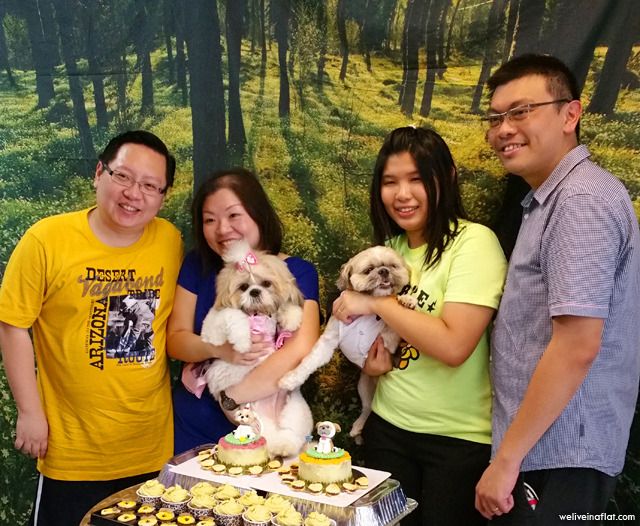 Guess who's photoboming?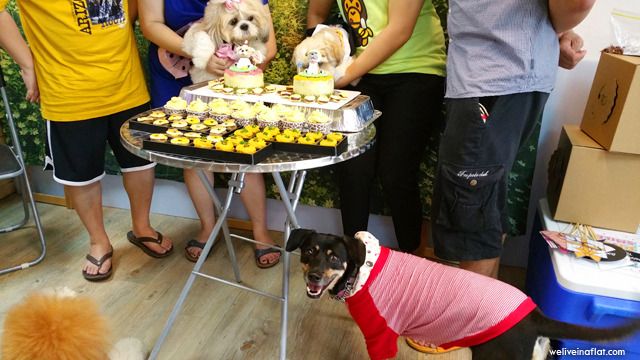 At least Max Standard Poodle settled down to wait.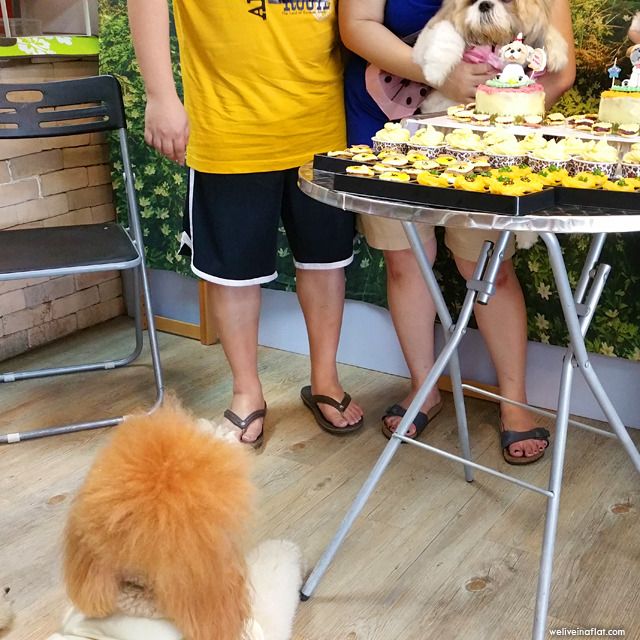 But Donna is ever hopeful.
I guess she had some reason, since the food was pretty as this: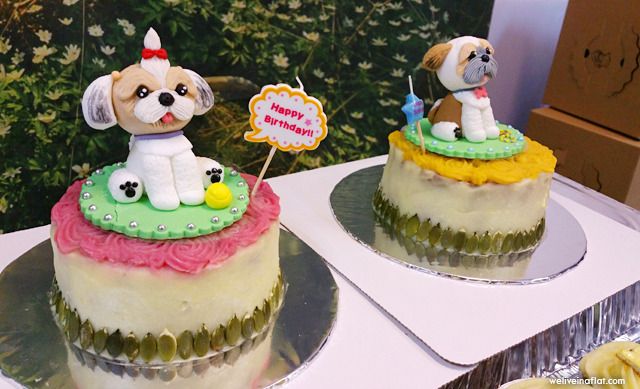 Cookie Neo's pink round cake, with a figurine that can be kept as a keepsake for the occasion. 
Thank you for inviting Donna to such a lively party, Cookie Neo the Shih Tzu!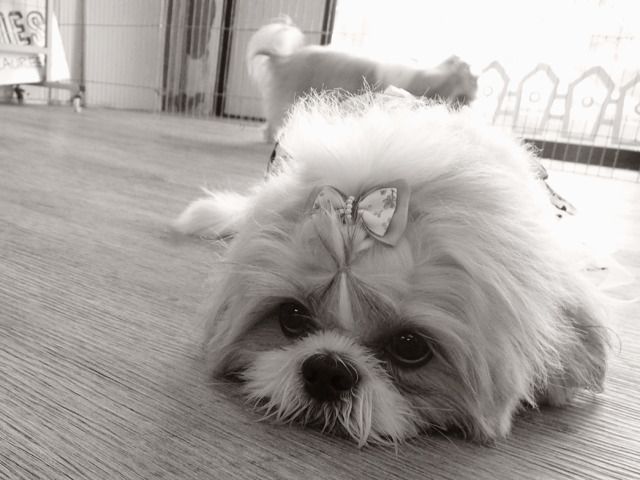 Even tired, Cookie Neo somehow always manages to make flopping on the floor look adorable.
---


Sweet cookie giving kisses.
Many thanks to Cookie mama for the use of some of her party photos for this post.
Donna's clothes are gifts from Cookie Neo and Beanie.
More of Cookie's fashionable picks at Stylish Pets – pretty ecollars and more. 
While Pet Cafes may be the more obvious choice to host an indoor party for your pooch, they can be rather expensive affairs. So Cookie Mama got creative and found an alternative venue at pet groomer shop, Furbabies. The space was sufficient for a party of pre-dominantly small Shih Tzu dogs. And, the guests got the added option of a shower for their dog at a discount after the party. Very convenient and I would actually have utilised that if we weren't in a rush to go attend another party. Haha!
Dog party food and cakes were ordered from Pawoof. Humans potlucked their own food. Hee hee.