So 1stworlddog learnt to walk backwards sometime back, and we thought we'll try to learn that too. It was kind of hard trying to lure Donna to take a step back with food. Mel from 1stworlddog suggested that we line up against the wall so that Donna learns to back up along it. That sounded like a great idea since when Donna does back up on occasion, she doesn't back up in a straight line but curves around instead like in the picture below.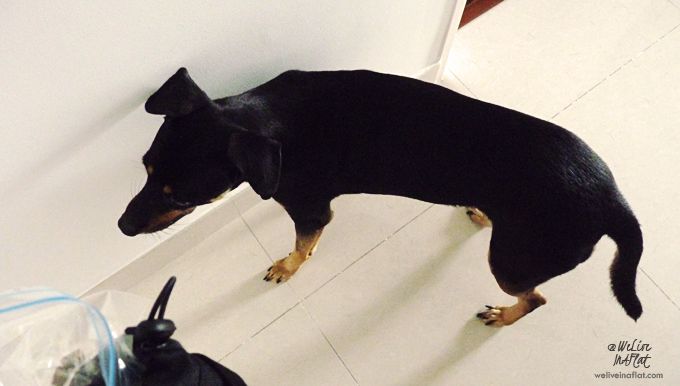 But for a while there, it was a little bit of a struggle to get Donna lined up against the wall to practice walking backwards.
Luckily, we found the positive training blog hop and one of the topics covered was hand targeting or Touching Nose to Hand and that was a handy trick to get Donna to line up against the wall for this exercise.
The next challenge I had was Donna's habit of just sitting for treats whenever she struggled to figure out what she is supposed to do.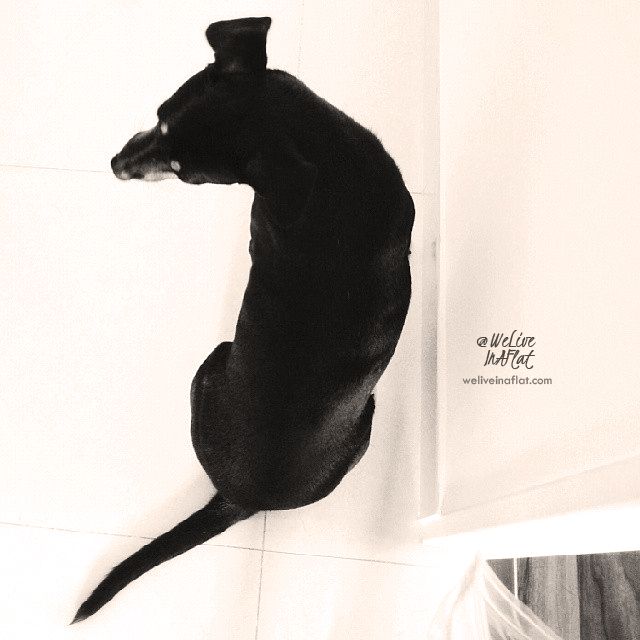 Tilting her head back as if to ask, what are you waiting for human? Treat.
And then she hears Mr P coming home and she rushes off to welcome him home instead.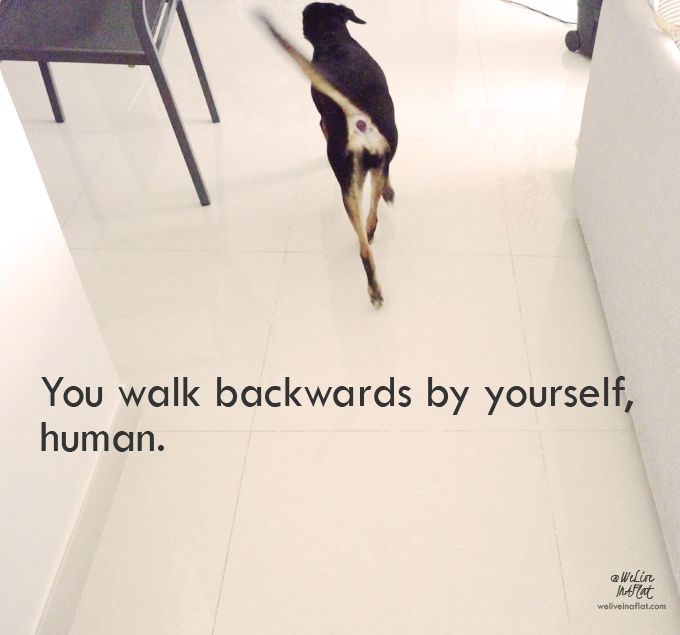 Obviously not too impressed with learning the new trick huh? :P *rueful*
There must be something I am doing wrong because she is always either stopping and sitting or craning her backwards on one side trying to reach the treat. Having a visual reference and having a good feel of the end goal is always helpful for me, so here are two videos that gave me a better idea of what exactly I should be trying to achieve with Donna when it comes to the Backward Heel.
Two videos for teaching the dog to walk backwards
– http://youtu.be/k4LoPU1g310
– http://youtu.be/XKmy0Q1Otqc
And since 1stWorldDog also been going on about rear-end awareness, this is the next trick we are going to learn – http://youtu.be/xEqQDw8Jo9M