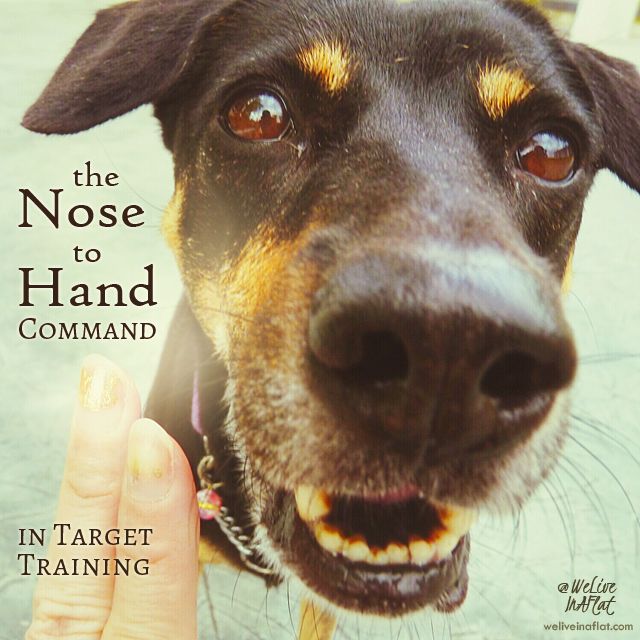 "May I gently boop your nose?"
Is nose booping something that you do?
I don't. In fact, the word wasn't in my vocabulary until I got that comment on Instagram!
That's ironic because I spent the last week encouraging Donna to "boop" her nose against my two fingers by herself. We were specifically training the Nose to Hand behaviour, also called Touch, which is part of Target Training.
What is Target Training?
In Target Training, the dog is taught to touch a specific part of his/her body part to a pre-defined spot. This could be her nose or her paw on a pre-defined area like the palm of your hand, your fingers, a target stick, a door or any other object that you have chosen to train targeting with.
But for us, we have mainly been working on the Nose to Hand.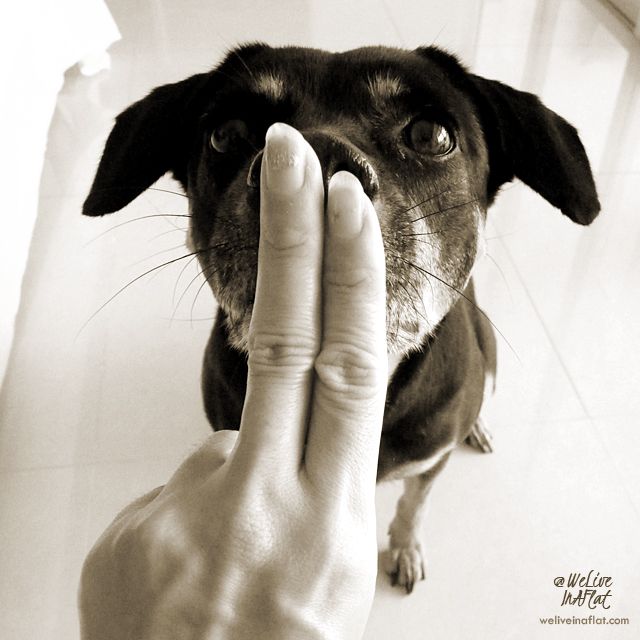 Our version of Nose to Hand is really Nose to Fingers. We adapted it following a training video we saw because Donna is too used to reacting to an open palm with a paw-shake or a high-five.
Why should my dog learn the Nose to Hand?
Yeah, why would I want her to boop her nose anywhere at all? What are the practical uses for it?
Well, imagine Donna doing this:
It makes directing the dog to go to a particular spot easy.
Just hold out your hand where you want her nose to end up at, and the rest of the dog will follow. Practical uses include guiding the dog onto the weighing scale at the vet. The nose to hand helps guide the dog voluntarily to where you want her to shift herself, without a need to tug at her lead.
It can be used as a form of Recall
If the dog has the strong habit of following the Nose to Hand command, it can be used as a form of Recall to get the dog away from whatever you want to recall her from.
The Nose to Hand is also an introduction to more advanced Targeting skills
The dog can be progressively trained to go through Canine freestyle routines, or even closing cabinet doors or ringing bells..
Whole Dog journal has a  longer list of more uses of the command here.
Is Nose to Hand difficult to train?
It's not difficult or frustrating to train. The key is to set your dog and yourself up for success right at the start.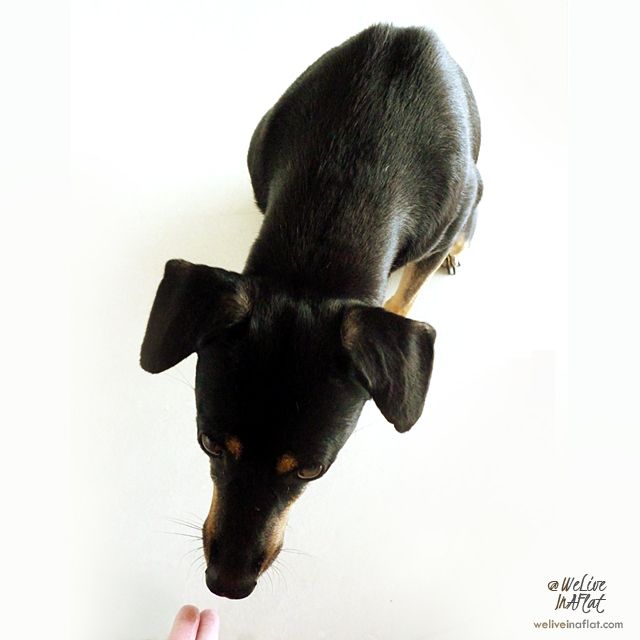 All you need to do is to place your hand/fingers a very, very short distance from the dog's nose. The dog will naturally move to sniff it and that is the point to mark with a Yes or a Click and treat. Once the dog gets better at it and can offer the Nose to Hand when asked, you can then use it to reliably move the dog around and to refocus the dog's attention back to you with the Nose to Hand command. (For more information, here's a training video)
Of course, as like any other beginner, I did encounter some challenges. These are the lessons that I have learnt and am still learning.
How to keep the dog interested in training Basic Nose to Hand
1) Yummy treats get the dog interested in making the effort to learn something new
Donna did touch her nose to my fingers in the beginning when we were starting the Nose to Hand. But her eagerness to do so slowly waned and she grew reluctant to continue pretty soon. Once I switched to little pieces of meat instead of kibble, she was more interested in offering the behaviour.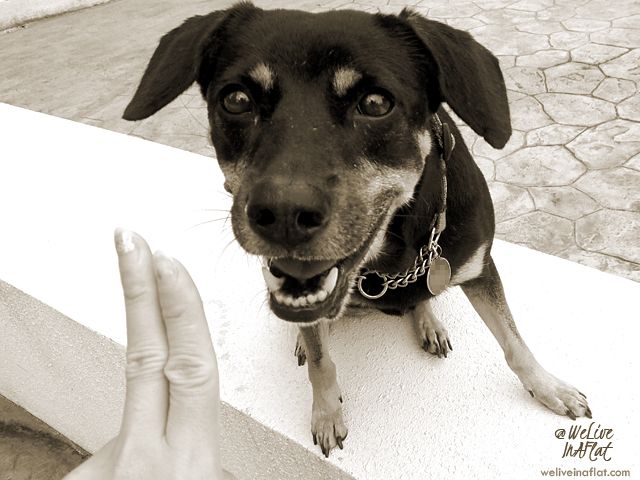 2) Keep training short and sweet, repeat sessions through the day
In a low distraction environment like our living room, I chose to use kibble as the reward. She was obviously not too impressed and as I persisted in trying to get her to repeat the Nose to Hand action, she started to stall for longer periods staring to the left or the right before doing the Nose to Hand. See previous post for details.
Keeping the training short and sweet would have prevented her from losing interest within the first session itself, and perhaps she will look forward to the next training session. Once I switched to pieces of plain boiled meat rather than kibble, I was able to sustain her focus and attention for a longer time.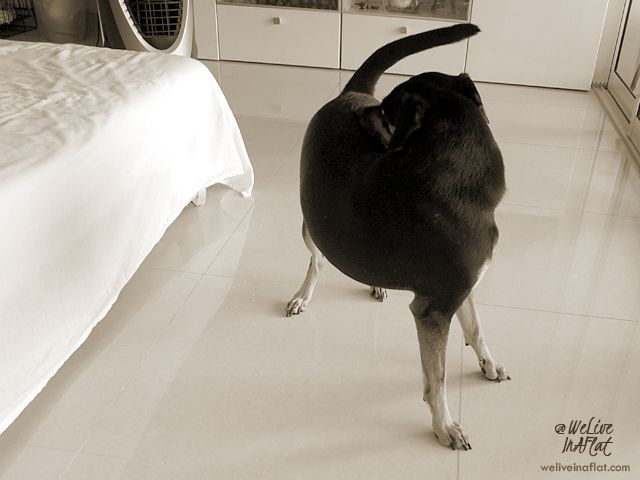 Tip | Donna sometimes curls back to vigorously nibble at her rump when she feels some level of frustration. Watch out for signs of stress that may indicate the dog is uncomfortable with the training. These may include whale eyes, lip-licking, ears pinned to the back of the head, scratching of face, turning away/sniffing the floor and not making eye contact. In such cases, it may be that the dog needs to go slower, get more encouragement via the use of treats to build positive associations with the exercise or it could be more productive to take a break from training for a while.
3) Keep the dog active
Another way that helped to keep my dog interested, is to throw the treat away so that she would run after it to catch it. It becomes an exciting game. She soon learns that every time she touches her nose to my fingers, she gets a treat delivered into the air.

Hunting the kibble that landed on the floor.
Tip | Treat delivery tactics like throwing the treat can build excitement in the dog, while holding it out to the dog on the palm is less exciting than throwing. This is good to know if you want your dog to maintain a certain level of calmness versus wanting your dog to feel more excited about the training.
4) Move around to vary the position of your hand/fingers so the dog gets used to moving in order to touch her nose to your hand/fingers
Donna's default position when training is to sit. And when she sits, she doesn't want to get up again.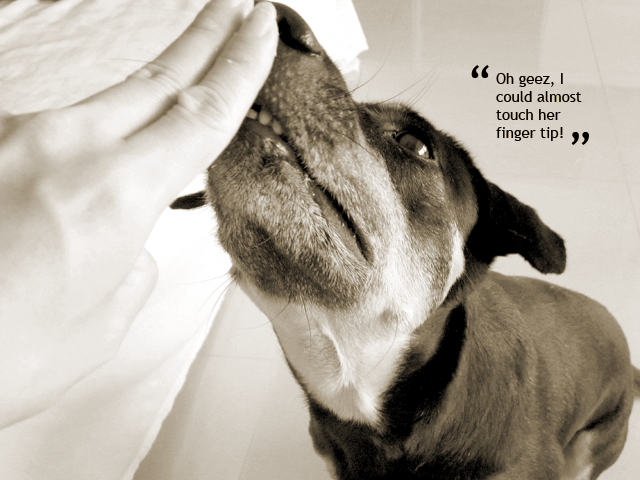 Instead, she would resort to trying to bridge the gap between her nose and my hand with her tongue, or scooching left or right on her backside to reach my fingers. So if I want to use the Nose command as a way of moving her to a specific location, having her on her butt and reluctant to move is not going to help.
So once she got reliable on the Nose to Hand, I had to make sure we move around. Every time she started to sit, I would throw her treat for her to fetch and that keeps her on her feet. Once she is on her feet, I made sure I myself move around so she gets used to moving after me to touch her nose to my fingers wherever I position them.
Mr P tells me I give Donna mixed signals, so here's a video to review and spot the mistakes I make when I try to get Donna to do the Nose to Hand while moving around. The bad thing about taking videos is that half the time I'm distracted with how the image looks on the screen. :P Anyway, here's awful video #1.
Training Nose to Hand while Moving Around from weliveinaflat on Vimeo.
Tip | Nose to Hand can be really useful when training other behaviours. We were training Backward Heel by taking steps backwards along a wall at the same time and the Nose command helped to get her back on her feet (whenever she sat down) and lined up against the wall again.
It also proved to be REALLY helpful at the agility trial session we brought Donna to this morning. Every time she got distracted trying to play with the other dogs, I used the Nose command to get her to focus back on me. It also helped to get her into position at one end of the weave pole before I try to get her to go through the weave poles.
5) Mix it up
Right at the beginning, Donna would often offer other behaviours instead of the Nose to Hand.
When she offers a high-five, a paw-shake, or when she licks my fingers, I consciously avoid saying "no" or making some other sound meant to correct her. From what I understand of Positive Reinforcement, this helps to build her confidence to try new things.
I wait for her to eventually offer up the correct action before I mark it with a Yes or a click and treat.
Can the dog get confused?
But as we moved along, I noticed that perhaps she was starting to be a little confused between the Nose to Hand and the Wave trick that she already knows. I started to reinforce her response to Wave and then alternated the Nose to Hand and Wave commands during sessions, hoping that she will start to differentiate the different hand signs and to offer the behaviours matching the commands accurately.
Being the smart and patient dog that she is, she did very well pretty soon.
More of Donna's awesomeness and my awful training skills in Awful video #2 :P
Alternating Wave and Nose to Hand from weliveinaflat on Vimeo.
So what's next?
We're really just at the beginning of target training.
Here are two links that show the cool things that can be done if we ever get as good as that! :P
– Turning on/off switches, closing doors – http://vimeo.com/61318147
– Canine freestyle near the end of this one – http://youtu.be/RWSJVwZybwo.
Have tips for how we can continue with Donna's target training? I'll love to hear in the comments below! ;)
In the meantime, I'll end this post with my favourite photos from the training sessions. ;)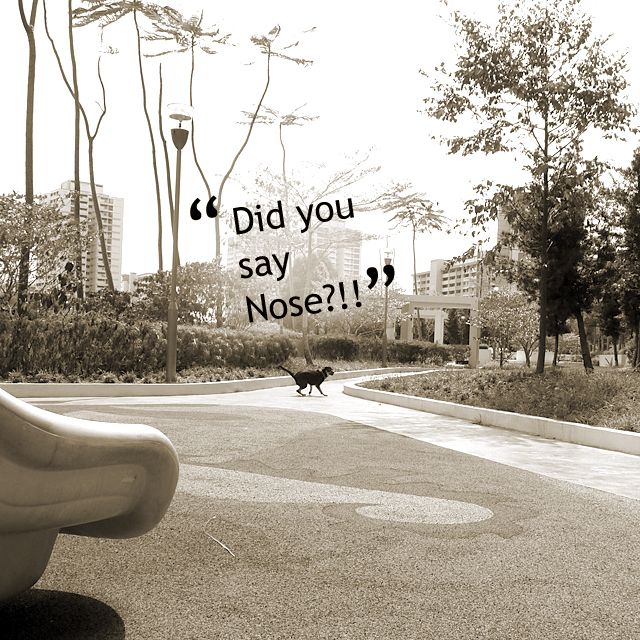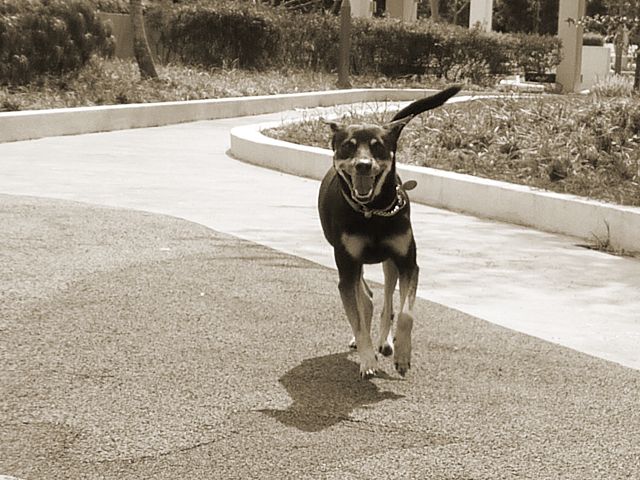 More hand-targeting experience sharing at
 References
---
All photos tinted with a sepia overlay at 50%. Joining OTHER SEPIA TINTED DOG OR PET BLOGS WITH RUCKUS ESKIE.