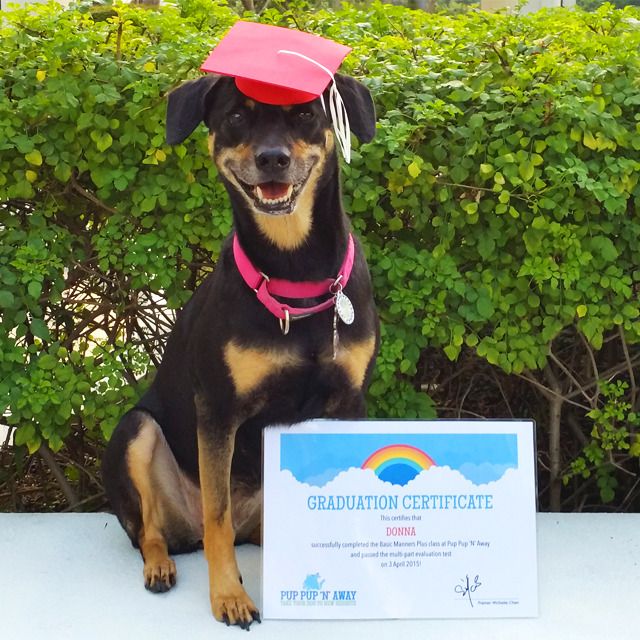 Two years after adoption, Donna has finally attended and completed the long-overdue Basic Obedience Training.
She turned 6 this year and the human asks what's up next for this not quite so young mongrel dog.
Well, technically Donna graduated from Basic Manners Plus class on Friday, 3 April 2015. It's called Basic Manners Plus because as a group we had extra requirements from our trainer – Pup Pup 'N' Away.
We wanted to be tested to the exact testing items of the AKC Canine Good Citizen program, similar to the SKC (Singapore Kennel Club).
We wanted to learn additional skills like teaching the dog to pivot and to target.
We also wanted to be tested on skills and behaviours that a therapy dog needed to have because we have an interest in developing our dogs in that area. Donna, as you may already know, is a member of Therapy Dogs Singapore and has been on therapy visits already.
So now, thanks to Michelle, we're all set to move on from Basic Manners Plus to something more.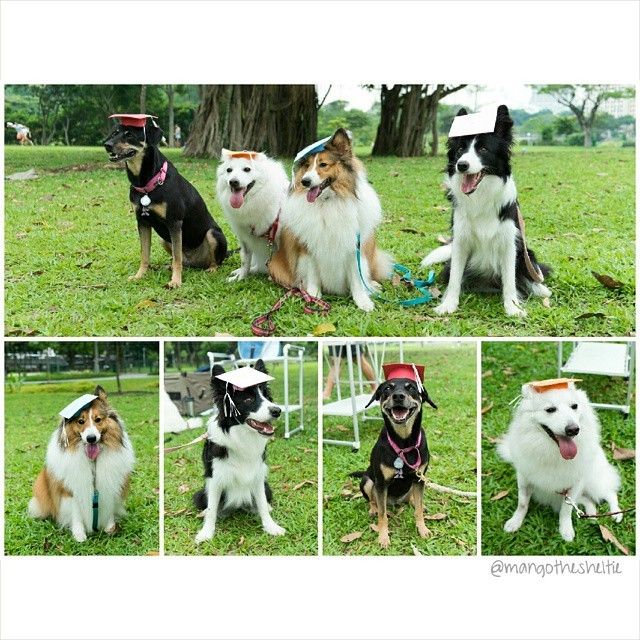 Basic Manners Plus class graduating dogs – Mango the Sheltie, Lexie the Border Collie, Donna the Singapore Special and Cookie the Japanese Spitz. 
Hoop
The first new thing Donna and I tried to train post the test was inspired by 1st World Dog who said on Facebook:
Rainy morning here so Mum has me playing a game of running to the hoop and sitting in it. Something about similar to a UD exercise in Obedience.How do you keep busy on a rainy morning?

Posted by 1st World Dog on Thursday, April 2, 2015
The human was immediately interested to try because we have an under-utilised hoop at home!!! Haha!
We did two sessions, both under 5 min, I think.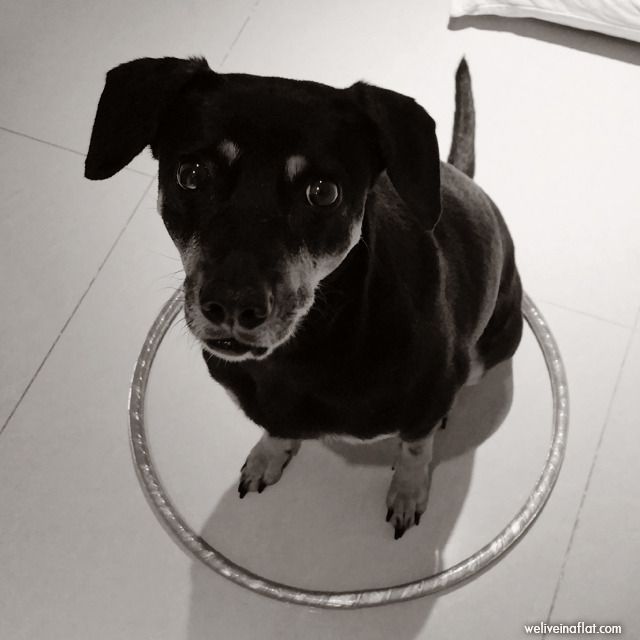 Donna in the hoop, giving me her feed-this-starving-child look.
The second time, I took a video. So here we go, I do hope we are doing exactly what 1st world dog, Bodhi, described!

I think Donna looks fairly responsive in the video. She wasn't eagerly bounding towards me but she shows no hesitation in coming towards me with a relaxed trot and happy wag to her tail when asked. I watched the video 2-3 times looking for signs of stress like yawning, lip-licking, whale eyes, ears that are pinned back against her head but I don't really find these. There was a spot of sniffing at the hoop, which I took to be distraction, but let me know otherwise if you disagree and think it is sniffing as a calming signal or if you see any signs of distress that I have missed. 
Teach your pet something new in 10 minutes
This week, we are joining in the Positive Pet Training Blog Hop hosted by Cascadian Nomads, Rubicon Days & Tenacious Little Terrier.
The Positive Pet Training Week theme for April is "Teach Your Pet Something New In Ten Minutes."
Donna already is strong in her stay, so it became a matter of calling her to the hoop, holding out my hand in a position to touch which will get her in the hoop and then asking her to sit-stay. That means, to do this your dog needs to know "Come", "Touch" or "Nose" and Sit-stay, in order to execute them in combination. Of course, if your dog doesn't know Touch/Nose, you can always try to lure them into position instead.
Since this running to and sitting in the hoop thing was something new for her, I didn't really have any expectations. So to be able to have her responding like that in 10 minutes (broken up into two sessions of under 5 minutes) was really fun for me.
On hindsight, it probably helped that Donna is instructed to "Go to her crate" on a daily basis. The concept is rather similar and perhaps helped her in transferring her skills from her crate or bed or mat to the hoop.
However, she was not able to replicate the same thing with the hoop in more distracting conditions outdoors.  She was focused on me but kept offering to walk circles around the hoop (we were training walking around things in the last few weeks) rather than going in and sitting within the hoop. So more work there needed in terms of helping her to generalise to going in and sitting in the hoop on different surfaces  and environments perhaps. Maybe she just needs to recognise Hoop as the command, haha!
It's always easy to overdo things, so Teach your pet something new in 10 minutes definitely provided me with a timely reminder to keep it short and keep it fun. Because that is how training can be positively fun and something to look forward to, not just for dog, but more importantly for human too. :P (I'm sure you'll agree with me, humans don't enjoy doing things that feel like a drudgery. :P So make it fun!)
Providing an alternative behaviour for your dog when someone is at the door
If you would like to teach your dog NOT to  go crazy at the door when someone rings the doorbell and jump on visitors, Bethany at the CascadienNomads found that this is rather doable in 10 minutes! Imagine that.
Similar to asking Donna to go and sit-stay in her hoop, Bethany asked her dogs to go and stay on their beds when someone is at the door. Dogs don't know they are not suppose to go crazy at the door until you teach them that they are supposed to perform an alternative behaviour like going to bed, when someone is at the door.
But once they have learnt the new behaviour, they get really good at it. See what Donna does when the doorbell rings in this video ;)

This video was taken about 8 months ago. Truthfully, she doesn't do this automatically anymore because I haven't really worked on reinforcing it *oops* :P So I do have to tell her to go to crate nowadays rather then expect the doorbell to cue her, hahaha! So remember to continue to treat now and then so dog will continue to go there automatically in hopes of scoring some yummy treat. Haha!  
What next?
So what else would you suggest we work on now that we've completed our basic obedience class?
The human is thinking we need to strengthen our heel work and pivoting so that we can start experimenting with dog dancing. What other specific skills or techniques do you think we need to start looking at learning?
---
Note: After this post on Instagram yesterday, we had a short discussion among friends exactly how do we define what falls under the banner of positive training and what doesn't. For me, I wrote this definition for myself last year in Sept, which explains why I film training sessions with Donna: so I can review and see if I had missed signs that showed she was under stress.
Positive training refers to training where the dog is not forced or coerced in anyway to perform a particular behaviour.

Rewards are an important part of positive training.

Rewards:
1) make the training fun so that the dog is motivated to focus on the training.
2) encourages the dog to replicate the desired behaviour or trick in order to be rewarded.
3) helps dog look forward to future training sessions

Training is positive when…

1) dog is having fun with the training, with the appropriate relaxed body language

2) dog volunteers the behaviour or trick being trained because he wants the rewards

3) dog does not show signs of fear or distress, such as tensed body, ears pinned back against the head, tensed, closed mouth, whale eyes, looking away repeatedly and for long periods of time

4) dog does not offer the behaviour or trick being trained because he is forced to e.g. pushed on the rump to sit, pulled by the collar to correct barking, grabbed by the muzzle to stop growling. He does not offer the behaviour or trick because he wants to avoid punishment e.g. tug on the collar, a kick, being pushed down to lie flat on the floor

Looking at the above, I have to conclude that positive training is grounded in an understanding of dog behaviour and body language.

If a person is unable to tell if a dog is relaxed and happy versus tense and upset, if a person is unable to tell when a dog is being pushed too far that he will lash back or pull back into himself and become unresponsive, the person will find it hard to positive train a dog effectively.

see original post: http://weliveinaflat.com/blog/positive-training-blog-hop/
I have to say Positive Training is not exactly an intuitive science. It needs a lot of thought and understanding of dog body language and behaviour going behind it. So if you are new to this and struggling with behavioural issues, it actually would be a great idea to consult with a qualified positive trainer rather than struggle on your own. So here's a post about How to find a positive dog trainer in Singapore.
Learn more, read a book. ;)