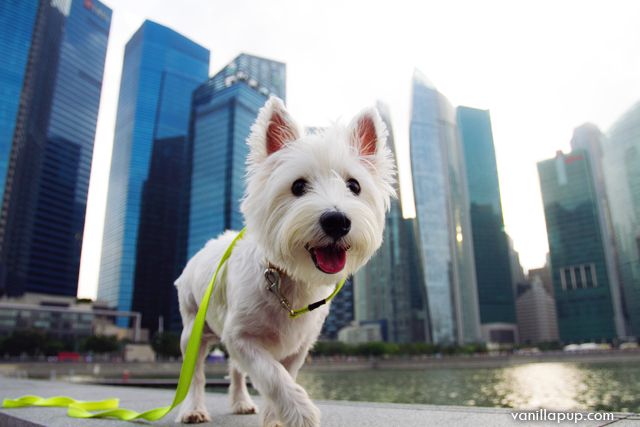 Vanilla is a classic flavour that adds taste to many things. That's one reason why Latte's human, Sarah, named her blog – Vanillapup.com.
More about Vanillapup in out interview. 
If you haven't met Latte yet, she is a young West Highland White Terrier residing in Singapore. Latte means "milk" in Italian and a cute name for a pretty adorable white pup.
We had a quick little Q&A with Latte's human about living with a Westie that turns two in a few months time, and their blog Vanillapup.com …
Q&A with Singapore dog blogger, vanillapup
---
weliveinaflat:  A quick scroll through the Vanillapup blog shows that you cover the topics – dog fashion and accessories, food and treats, health, grooming and exploring the dog-friendly parts of Singapore.
Which dog topic excites you the most out of all these topics you write about? Which is the one post you wrote that you recommend we read for this topic?
vanillapup: I love to share my discoveries as a dog mama, and they very often fall under the topic of health and wellness. I wrote about Latte's bioresonance allergy test, which is one of the more popular posts on the blog.
---
weliveinaflat: Speaking of your post about the bioresonance allergy test Latte took, that was particularly interesting for me.
In the end, Latte tested to be allergic to such a lot of things and I quote 'common ingredients used in dog food and treats, such as apple, rice, potato, coconut oil, duck, turkey, chicken, oats, barley and banana… and also things Latte comes into contact on a regular basis such as shampoo, heartworm prevention medication, Revolution, calcium supplement and the prescription diet the vet prescribed for Latte's skin issues.'
To be honest, it really is mind-boggling for me since a lot of these ingredients I can find in Donna's commercial diet. And I have to say, I rotate brands and flavours very regularly. And all these brands and flavours do include one or more of those ingredients in your allergy list.
So you must have had to do a lot of research to rejig Latte's diet plan. What sort of changes have you made to her diet?
vanillapup: I am now cooking for Latte*, which is something I'm more than happy about.

I like knowing what goes into her food and that what I'm feeding her is something that I would eat too. I've done a fair amount of research to ensure she gets complete and balanced nutrition. I don't even care as much about my own nutrition!

I encourage all dogs to have home-cooked meals (if that is a viable option for the human).
Note: Latte's home cooked food* were done in consultation with her vet. Please do consult with a vet and/or pet nutritionist you trust to ensure home-cooked meals provide balanced nutrition for your pet and that your pet is tested regularly to verify that the food is providing your pet with the nutrients he/she needs.  
Note: The bioresonance test is not science-based or proven. Use is not advised. More information here.
---
weliveinaflat: Since we're on the topic of health, you've also written about Latte's Luxating Patella problem besides her allergy problems.
Have you spoken with other Westie owners in Singapore about these problems?How common are these problems in Westies bred or bought in Singapore?
vanillapup: Luxating Patella is a common condition amongst smaller dog breeds, so westies are just one breed that is susceptible to it. Allergies, on the other hand, seem to plague most westies all over the world.

Fortunately, with careful diet planning, it should be manageable.

I love being part of the doggie owners communities. Everyone is so helpful, encouraging and generous in sharing their experience. If you are a westie owner, you can join SGWesties Club and also the international Facebook group called, Westies Health – From Ears to Tail.
---
weliveinaflat: Totally agree that dog owners' communities are a great way to find support and share the love for a particular breed.
I have been told, quite repeatedly by a grumpy senior terrier dog who has her own blog, that terriers are a stubborn breed. Would you agree that Latte has a stubborn streak?
vanillapup: Latte does have a little stubborn streak but it is part of what makes her so adorable.

I wouldn't say we had any disagreements. The only thing I can think of is that she still doesn't "sit" or "come" unless there's something in it for her. But I blame that on our lax training…
---
weliveinaflat: That sounds really smart of her to ensure that there's always something for her, haha!
What to you is the greatest part about living life with Latte? What is so charming about her?
vanillapup: There's no more ants in the house because she cleans off all the crumbs and scraps on the floor! Just kidding ;P… The greatest part about living life with Latte is how much she has taught me in living my life; mainly to enjoy the moment and to always have hope.

The thing I like most about Latte is that she loves everyone… Everyone, be it a dog, a cat, a rabbit, a hamster, a human … is a friend to Latte. She also doesn't bark much, unless she thinks there's an intruder outside the house, who is probably also a potential friend to her.
---
weliveinaflat: Taking the dog out is also part of the fun of dog ownership, isn't it? Especially a dog that loves everyone. :)
Which is your favourite place to take Latte to?
vanillapup:  That will have to be Tanjong Beach at Sentosa! It satisfies all my criteria – a large stretch of sandy beach for Latte to run freely (the sand is also not so hard on her knees), other dogs to mingle with, and a relatively clean sea for swimming.

There was once when the cisco patrol was going round the beach, and the rule was all dogs had to be leashed up as long as they were not in the water.

Unfortunately, Latte was very engaged chasing another dog (unleashed, of course) and when I shouted for her, she simply ran even faster. I was chasing her round and round in circles, with the cisco patrol car in the middle of that circle.

I think they didn't say much after witnessing my sad plight. It was only funny on hindsight, in case you were wondering.
---
weliveinaflat: Oh I can imagine! I would have been so vexed and embarrassed at first, but it does make a good story to tell! :D So much excitement outside!Does staying at home become boring then?
What does Latte like to do at home?
vanillapup: She loves to play chase and also football at home. Yes, she's actually quite a soccer player. She changed the rules though. As long as she can stop the ball, she wins.
---
weliveinaflat: Oh nice, sounds a little bit like playing monkey :P I don't think Donna will ever learn to play soccer, haha! Then again, we never did buy her a soccer ball. So many things to buy!
Being a first-time dog owner like you, I have to say I actually have not planned very well when it comes to expenses with the dog. Besides quality food, grooming, hygiene products, toys, outings and other novelty items… Vet bills particularly strains our budget due to unforeseen accidents. And that is on top of annual checks and other recommendations that the vet may have along the way for Donna.
What would you say is the cost of Westie ownership for you in Singapore? Perhaps an estimate on monthly or annual expenses if you can put a number to it?
vanillapup:  I totally feel you! Having a dog is definitely a big decision that shouldn't be taken lightly.

Even though Latte didn't cost me much, everything else did!

I spent more than $1,000 on her the first two, three months, which included check ups, vaccinations, quality food and supplements, accessories, toys and so on. The little things just added up!

It helps to research on the things to purchase before bringing the dog home. Sometimes, it saves you money to buy more expensive but quality products compared to cheap products that you have to throw aside eventually. Now that she has settled down, her monthly expenses come up to be about $200.
---
weliveinaflat: Thanks for being so frank about the expenses. :)
You're right. A dog is a commitment, regardless of his temperament or health needs that can surface later as the puppy matures into an adult.
With all your experiences so far, what would be your advice to people considering a West Highland Terrier as their first pet dog?
vanilllapup: Always read up on the dog breed that you are looking to get to assess its suitability to your lifestyle, personality and environment.

No matter the breed, just like a human child, medical conditions and behavioural problems cannot be predicted.

Before I got Latte, I was told that westies were loud but she turned out to be so quiet you might just forget she's there. This shows that you have to be ready for anything and everything.

Once you have committed yourself to the dog, you must love it unconditionally and be responsible for it till the end. It might be scary sometimes, wondering if you are doing things right but having the love and companionship of a dog is something I would not trade anything for. I'm sure it would be equally rewarding to anyone else
---
More about Latte's first day home
Latte is 1 year and 8 months old this month (June 2014). I decided on a westie after reading up on various breeds, as I think it suits me best. I preferred to adopt but as a first time dog owner, I wanted a younger dog to watch it grow up. Hence, it took a long time.

On that fateful day, I was feeling rather sad thinking that I would never have a dog (yes, I am pretty pessimistic sometimes), a friend called to say that a "breeder"/pet shop owner was letting go of westie puppies.

At first, I refused to go but my boyfriend convinced me to just go take a look. The moment I saw Latte jumping at me, I guess the rest is history. Although I am not proud of how I got Latte, I don't regret bringing her home a single bit.
Latte frequents Pet Loft for grooming, Polypet & Kohe Pets for online shopping, and she supports local designer brand, ohpopdog for its wonderful range of dogwear.
---
Special Thanks to vanillapup for taking the time to answer me in the email interview. And also for the use of her beautiful photos! :)
The Q&A with dog blogs is a new series designed to explore real issues and lifestyle stories that dog humans face or encounter with their dogs. I hope the series will help give anyone interested a better idea of life with a particular breed of dog, both the good and the bad.
Kicking off with a Singapore dog blog, but I think it will be fun to learn about the lives of other dogs in other countries as well, so the series will not be limited to Singapore.
---
 Dogs 101 : West Highland White Terrier

Source: http://www.animalplanet.com/tv-shows/dogs-101/videos/west-highland-white-terrier.htm
Originating from Scotland, the West Highland White Terrier is a feisty dog bred to dig out vermin from the ground. Westies are not lap dogs, but they do make amazing pets. They were bred to be independent, high-energy working dogs, but can adapt to living in a flat, with the right level of training and exercise. Generally healthy but susceptible to sunburn on the ears, allergies and some orthopedic issues that can affect small dogs.