Ulu Ulu Pet Cafe is officially opening this weekend, check out my events page for more details!
Anyway, Donna, P and I went allllllllllllllllll the way to D'Kranji Farm Resort to check out this new dog-friendly cafe in the north-west of Singapore. Come see it with us in this video!
More photos and details 
Ulu Ulu Pet Cafe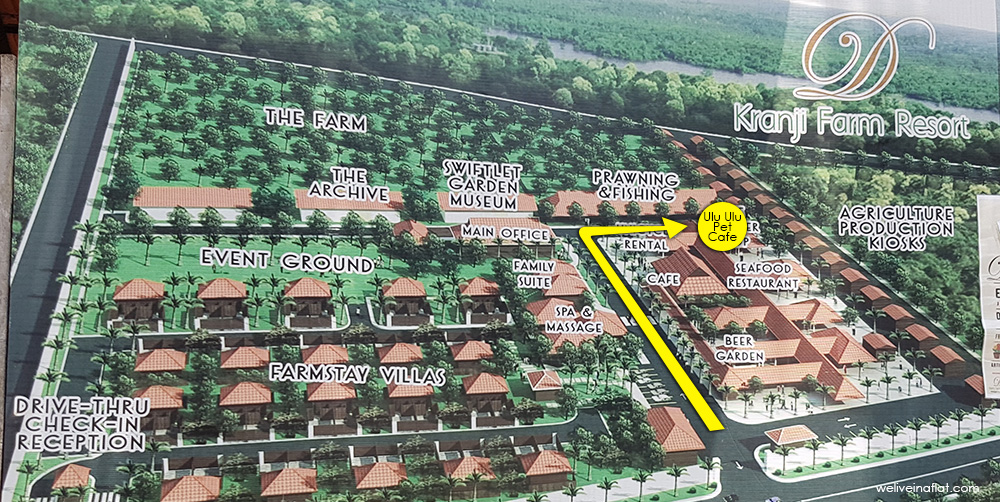 Address: Ulu Ulu Pet Cafe 10 Neo Tiew Lane 2 D'Kranji Farm Resort #01-10C & 10D Singapore 718813
Call: 8208 2651
Facebook: https://www.facebook.com/uluulupetcafe/
Open from 10am. Closed Mondays and Tuesdays.
Ulu Ulu Pet Cafe Menu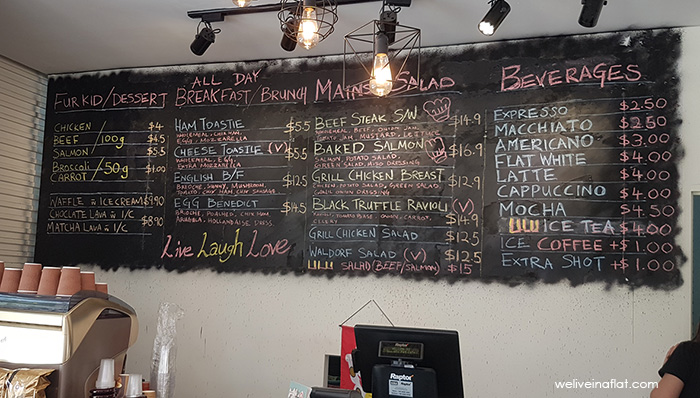 We were there for breakfast. With only 4 items on the breakfast menu, I still took some time to decide what to get, oops! Guess what we ordered?
Donna was attracted by the food packages on our table!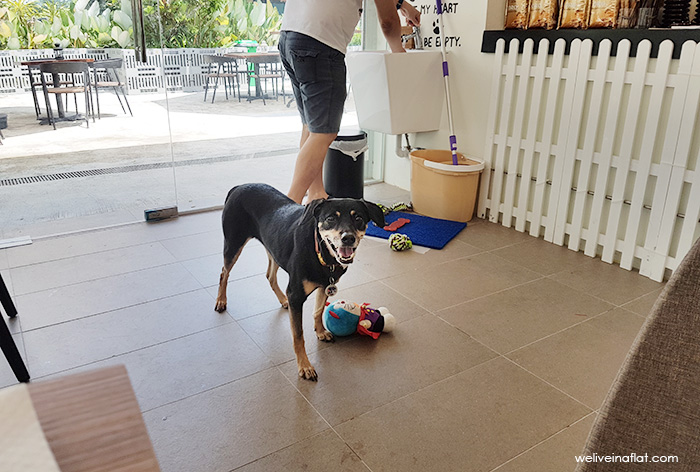 Quick! Open up the food, mom!!

In the paper bag was the Cheese Toasties ($5.50). It's wholemeal sandwich with mozzarella cheese and egg.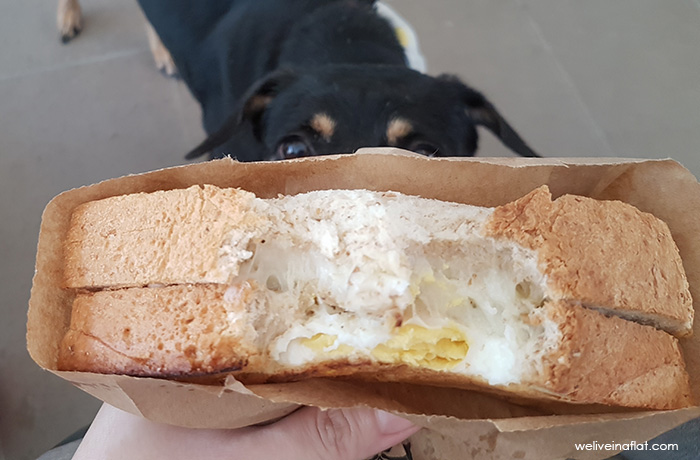 In the paper box was the English Breakfast, tadah!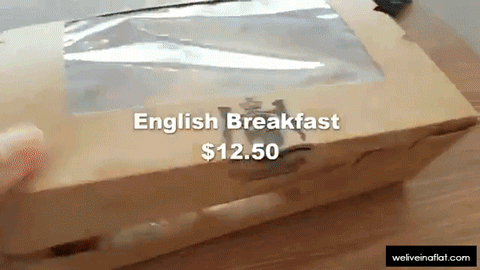 We also ordered the Ulu Ice Tea, it tastes better with the sugar syrup. #Justsaying :P
And for our pup, we ordered beef (100g at $4.50) and broccoli (50g at $1)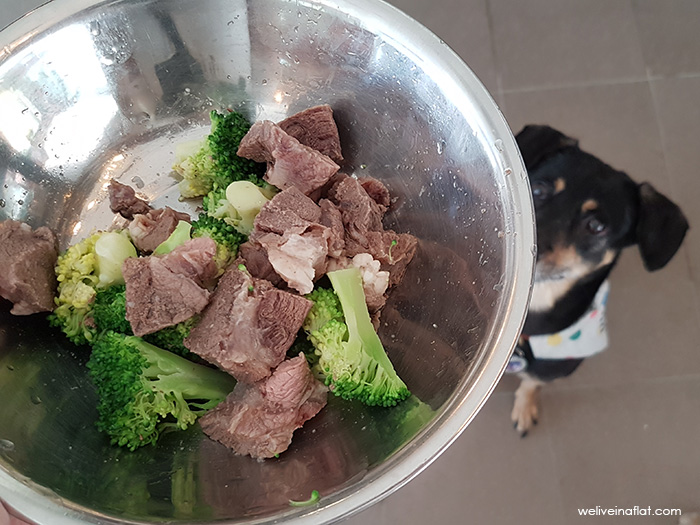 Donna couldn't even finish her broccoli – –
After a few pieces, she threw it on the floor for Jam to pick up. :/
Ulu Ulu Pet Cafe is Dog-Friendly
We were the only customers in the shop when we first arrived that morning. Jam the Golden Retriever is the dog of one of the owners of Ulu Ulu Pet cafe.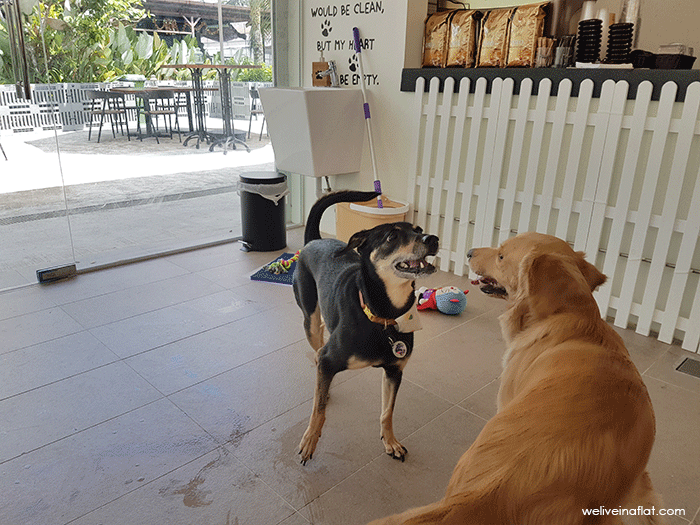 And that got me thinking about whether the size of your dog influences your choices when you open a pet cafe.
Would a person with a golden retriever choose shop space with larger floor areas for  big dogs to play? Would a person used to having smaller dogs be more ready to rent smaller shop spaces which can fit small dogs more comfortably than large dogs?
In the case of Ulu Ulu Pet Cafe, the indoors is air-conditioned, but you can see the indoor cafe space is really just a small square.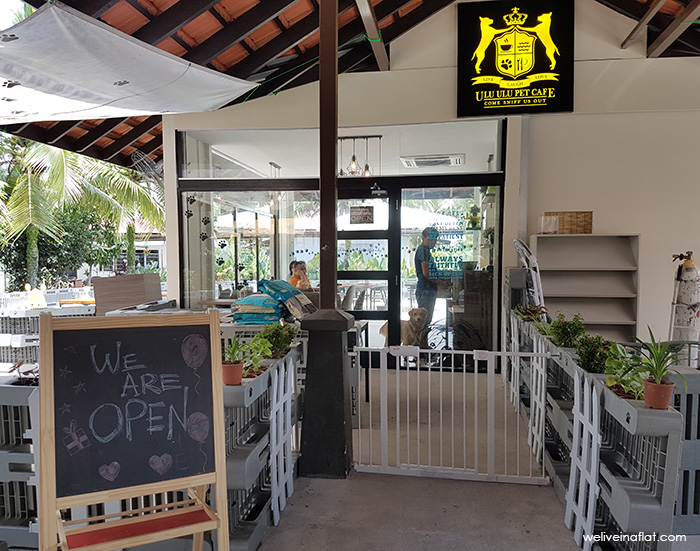 That said, the space is all set up to cater for doggie visitors. Witness! The shelves of peepads and water for dogs!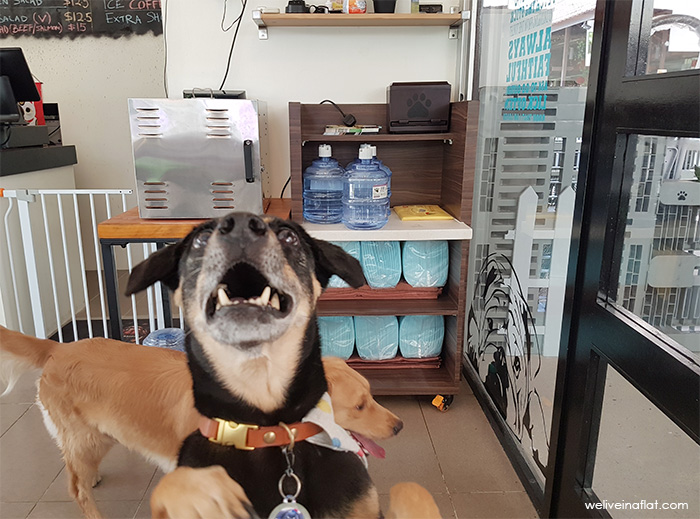 Also the wash basin and other necessary tools to clean up after your dog. :P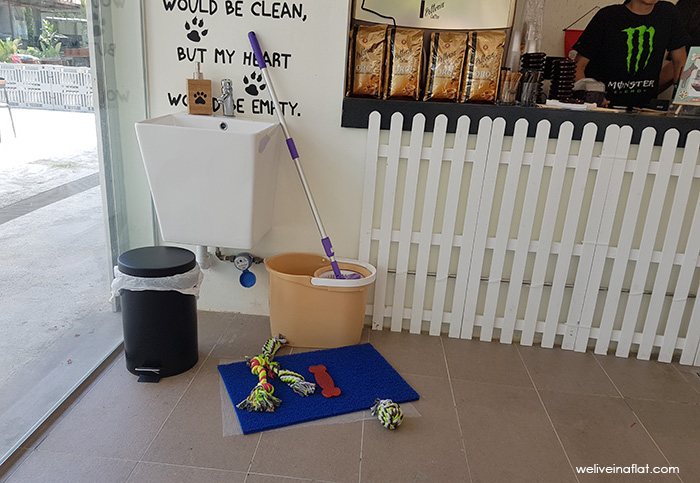 Oh look here's a dehydrator, this golden retriever is pondering the chicken feet that's being loaded into it. :P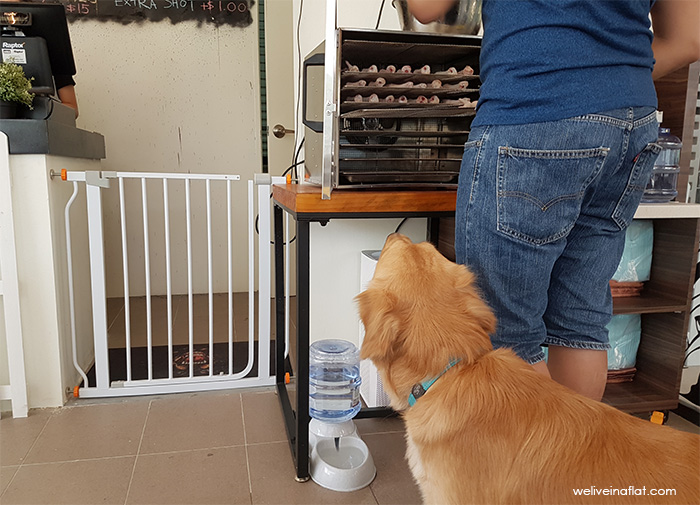 You can dehydrate food into jerky treats for your dogs using a dehydrator. Nesco says all food contact surfaces in their dehydrators are BPA-free. You can buy it on Amazon here.
Ulu Ulu's outdoor yard gives plenty of space for bigger dogs to run.

Ulu Ulu opens til 9pm Friday – Sunday, so this can be a cooling evening place for dog owners and their pups to gather and just chill.
And if you love taking photos of your dog, these doggy murals provide a ready-made photo-booth!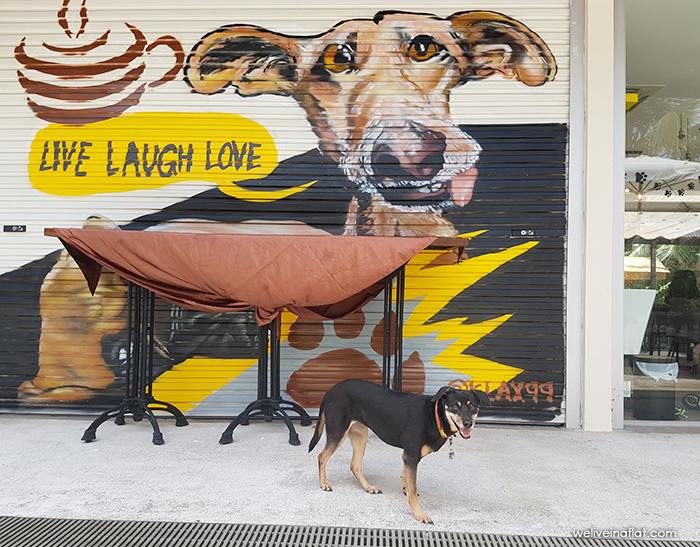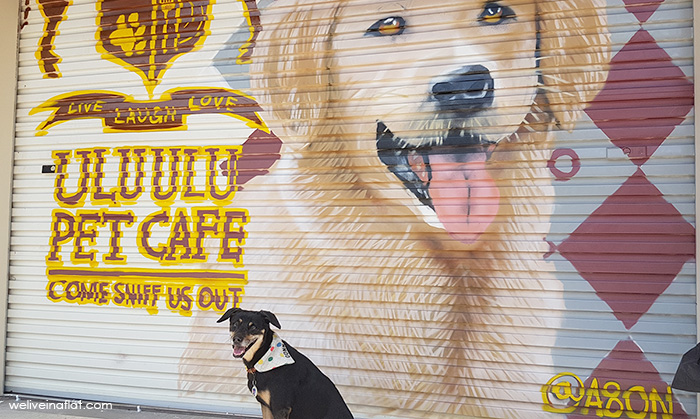 My review of Ulu Ulu Pet Cafe
Now this cafe is really new, so I don't think what I have shown you so far will be the end state. Certainly, the owner says that they are still looking at making improvements to the space, like more tentages to provide shade outdoors.
Recent photos by visitors since the pet cafe officially opened have shown that the cafe recently provided a pet pool and dog shower facilities!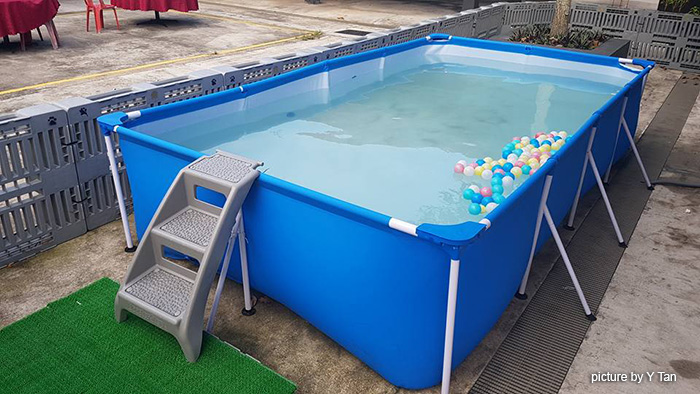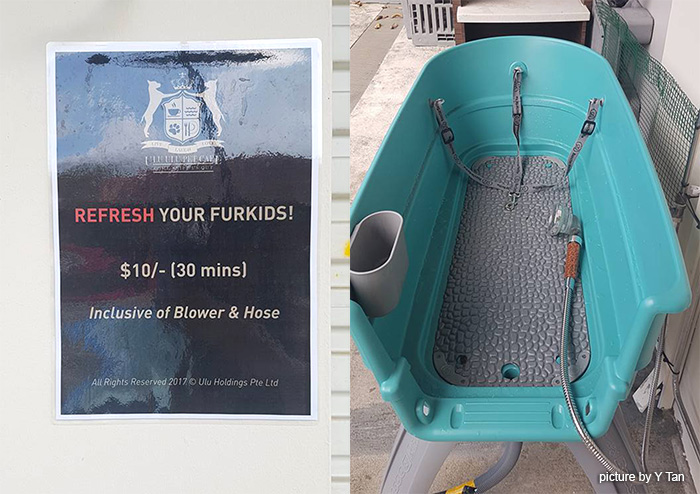 So I would be interested to see how this shop has developed 3-6 months down the road.
Mr P would also like to see finger food on the menu because currently there isn't any. I definitely like that there is food for dogs because sometimes I just get too busy to prepare for Donna.
Given the hot weather these days, we are more likely to stay in the air-conditioned indoors than venture outdoors. Even Donna doesn't like the heat :P
That said, I do like the large yard, although I wish there were some grassy areas which will be kinder to the pup's paws.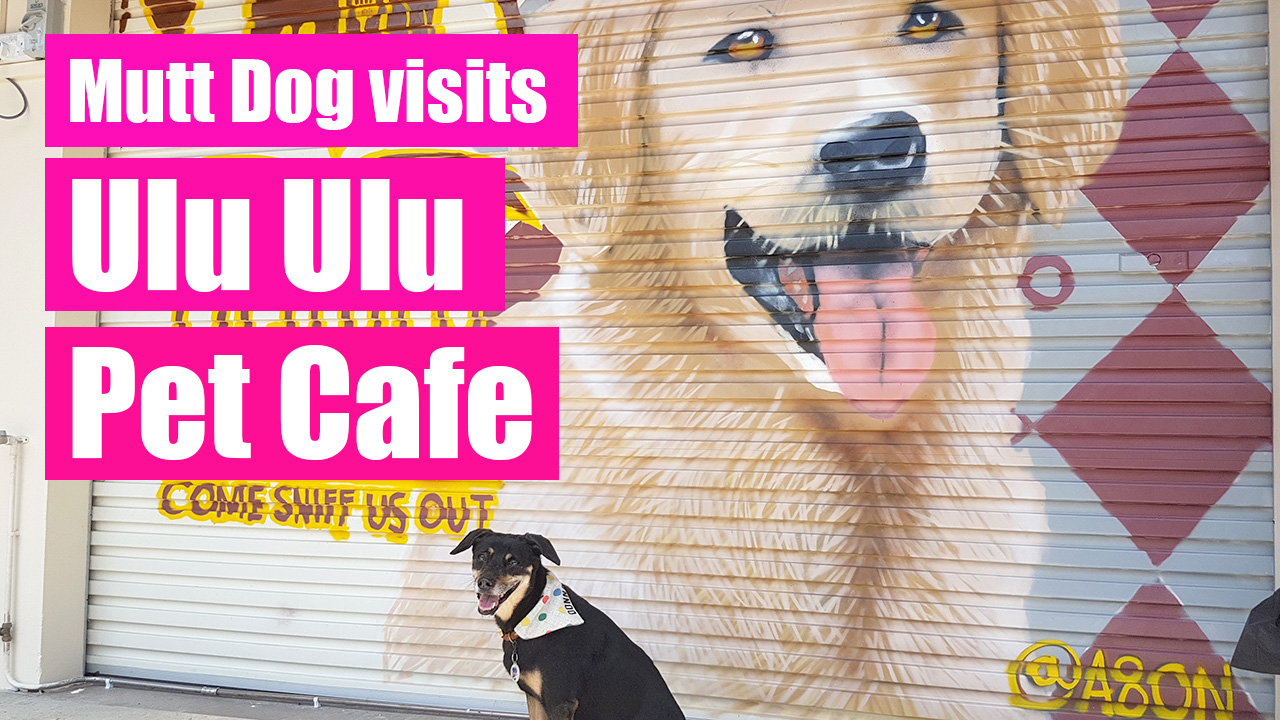 If you visit, share your pictures with me on Facebook so I can see how the rest of their menu looks like!! :P
Special thanks to Y Tan for the kind use of her photos for this post!
---
Come :) Follow weliveinaflat.com on
Instagram @weliveinaflat |  Facebook donna.weliveinaflat |  Youtube Mutt Vlog