"You could walk a little slower, human… *pant pant*"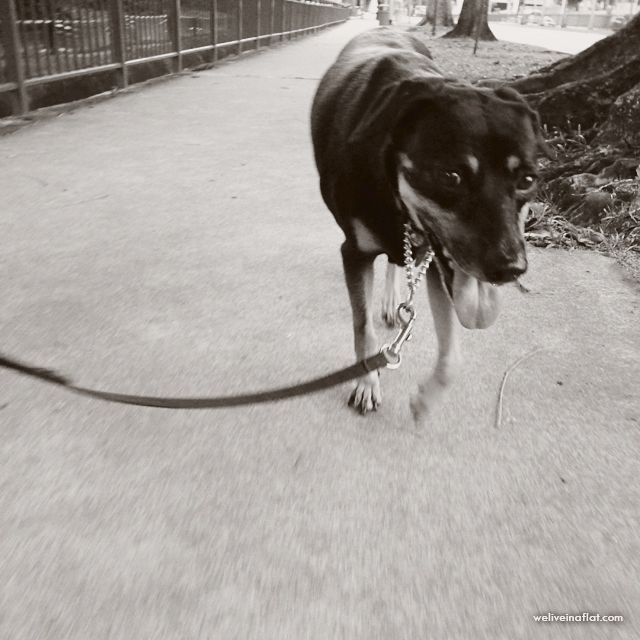 This is the face of a 5-year-old dog. Outplayed and outlasted by a 6-month-old chocolate lab puppy (that was about her size but bulkier). A month ago.
At first they had fun, but puppy was unstoppable and kept going after her even though she probably had fulfilled her quota for fun wrestling with salivary dog. :P She played with him still, but for the first time, she got so excited she was play-growling. I have never heard her growl during playing with another dog before so that's new to me. But she has play growled with me when she gets too excited before, so I wasn't too surprised. That's usually the signal for me to give her a timeout.
It occurred to us we should separate them when Donna started the play growling. Have to say though that considering the action was fast and furious, the other lady (even smaller and slimmer than me) and I were probably somewhat at a loss how to separate them.
Donna didn't seem particularly unhappy though, but I wouldn't be surprised if I missed some calming signals from her.  And should have given them a time out sooner.
Eventually, enough was enough so she flung herself on the ground in a submissive gesture and puppy was onto her. We quickly move to separate them, but she had already darted off. Puppy gave chase but was no match for Donna's speed.
Eventually they stopped and we were able to corner and separate the puppy from Donna.
So there you have it. Exhausted Donna. Outplayed, Outwitted and Outlasted by a 6 month old puppy.
At least she outran him. :P
I think it was still a good play session considering both dogs had fun and there was no antagonism between them even when things got a little wild. Just wondering if I was over-worrying over the play growling or I could have done better. :) I guess perhaps I should err on the cautious side and start giving them time outs earlier before they get too rambunctious for us to separate?