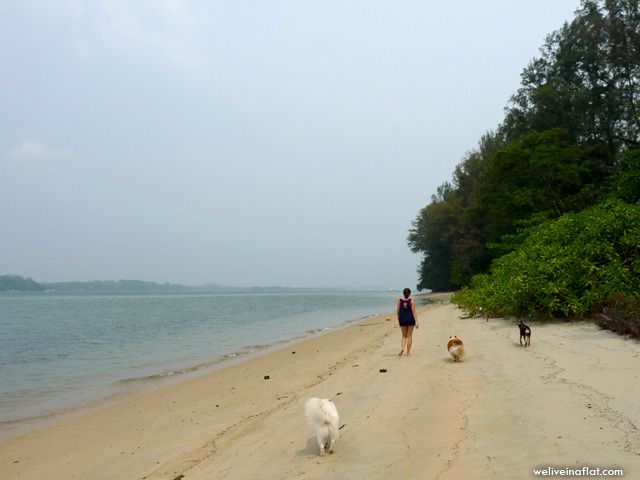 So the admins at Dogs of Instagram SG sent me an invitation that I just could not refuse. YES! Even if I was on a break and went offline for a while! Who wouldn't let Donna go to her first Pet Cruise experience? Much thanks to Mango the Sheltie, Lycan and Lexie,  and Somewhitecookie for setting this up with Pet Cruise!


Waiting with Lycan and Lexie for the Pet Cruise staff to come pick us up!
I heard it was a 2-hour outing on the pet cruise, so before we left home I thought I'd better take Donna outdoors to toilet because I was afraid she might try to pee or poo on the cruise boat, for some reason. (Wouldn't that be embarrassing?)

Donna zoomie-ing around the tiny park near our home when she was supposed to be doing her toilet.
The weather was exceedingly hot that day, so Donna soon gave up her zommies, preferring to just hide it out under the pavillion. – –

Silly girl refuses to go home.
So of course I was somewhat worried about the heat doing her in since the cruise was planned for 2.30pm on a bright, sunny day. Since the cruise comes with complementary bottled water, I decided to pack our trusty Coleman 1/2 gallon jug with ice, her steamed pork cut into little bits and five strawberries, knowing the ice will keep all these chilled and provide an alternative source of water if needed.
Coleman 1/2 gallon jug, buy now on Amazon**
I also packed a peepad, two towels, wet wipes, hand sanitiser, the camera and her Kong (I don't have a toy for the water so the Kong will have to do for now. LOL )
So anyway, let's set off!
Now wasn't that fun?
But if you know Donna, you will already anticipate that she may react negatively to the boat ride. Because her highness is (1) not a water dog and (2) habitually eschews instable/rocky and therefore life threatening platforms.
Honestly though, she boarded the boat by herself, I didn't need to carry her onto it. But after the initial excitement, she appeared subdued and had her tail tucked between her legs at points. It could be fear, but she also appeared comfortable to nestle on the floor with her centre of gravity low on the ground. So perhaps it was just some discomfort or dissonance she was experiencing. Who knows?
I asked Pet Cruise representative Joe, if any of the pets that boarding the boat had ever been sea sick and he said "no".
So I did want I normally do when I want to make the positive side of things outweigh the negative for the dog. I took out the chilled boiled meat and started treating her for just staying calmly on the floor and she turned from…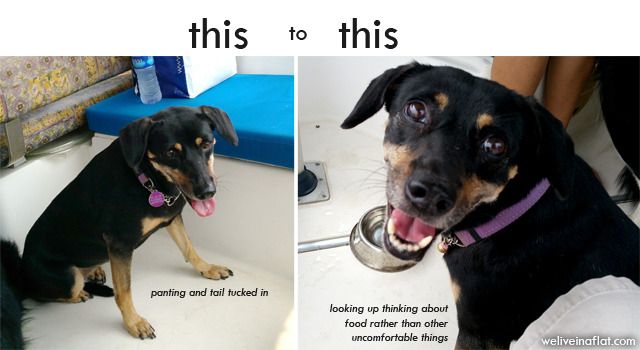 And eventually she did look more comfortable, as long as she was lying on the floor of the boat. Mango preferred to be on his human's lap. :P

Sailing past Punggol Settlement
Meanwhile, we sailed past the Punggol settlement buildings, where we rented our bikes for the cycling outing and continue along the coastline until we hit our destination – Coney Island.
The boat stopped by the shore. Unlike when we boarded from the pier where it was fairly level to the boat, we had to disembark by literally stepping into the water. I couldn't really estimate the depth of the water myself but luckily Skipper Joe was there to give me a hand.
Since 15kg Donna fears being carried, letting her jump off by herself really was the lesser of two evils. And with some encouragement she did, and was given lots of treats and she was happy again with her four paws firmly on the sandy beach.
There was only a narrow strip of sandy shore to explore, so I figured we can head off to one end of it that appeared to have less debris.

A bigger piece of bone(?) on the beach….
If you do make a trip, I recommend footwear, because there are small bits of disintegrated sealife – shells, fish bone – that can be sharp and nasty should you happen to step on them as you make your way around.

Donna making spins on a strange black case half buried in the sand on the beach.

Not a water dog but that doesn't stop Donna's attempts to play with Lycan and Lexie! :P
Once we've had enough of exploration, it was time to head to our second destination – deeper into the sea where the dogs can do a spot of swimming.
Of all the "adventurers" on board, only Lycan and Lexie with their dad accepted the swimming challenge. The rest of us were content to look on. :D
And then it was back to the pier at Marina Country Club.
Two hours well spent doing something a little different on a weekend. I guess you can say it was one more thing to tick off my non-existent bucket list. :P
Boat owner Joe Howe launched the Pet Cruise service in July, 2012. His 7.8-metre motor catamaran can be booked for 2 or 3 hours to take you to various points via water in Singapore as well as two islands – Coney Island and Seletar Island. The boat is equipped with a swimming deck, a cleaning station and life jackets for humans and dogs.

While it was interesting checking out Coney Island and it's coastline, Joe tells us that Seletar island is much nicer, so hopefully we'll get to visit that one day.

Pet Cruise can be contacted via Facebook – https://www.facebook.com/petcruise88 – for more information and price.

Seletar Island, photo kindly provided for use by Pet Cruise.
More information
---
* weliveinaflat thanks Pet Cruise for taking us out to sea and a deserted island at a discounted rate. 
** weliveinaflat participates in the Amazon Services LLC Associates Program. The program provides a means for sites to earn commissions by linking to Amazon.com. This means that whenever you buy an item from Amazon from a link on here, I get a small percentage of its price. It does not increase the cost of the product you buy, and it currently does not offset what it takes to maintain the site, but it does mean we will receive a few cents which will eventually accumulate enough for the human to get a free coffee once in a while. Haha!.