In time with General Election 2015, Donna has suddenly found her cafeteria upgraded. Donna is happy that her Bread and Butter issues are addressed. Considering she upgraded from dry and wet food, to dry food and the human-grade Honest Kitchen food this year, I'll say she's doing not bad at all. :P Here's her review of the Neater Feeder.
The Evolution of Feeding Donna!
Summary of video
0:02 The evolution of feeding Donna
1:34 Now that I started feeding her The Honest Kitchen dehydrated food, mealtimes are messy.
2:48 Let's test out Donna's new Neater Feeder from Pink Edge Pte Ltd.
3:39 Serving The Honest Kitchen re-hydrated food to Donna in her Neater Feeder
5:22 A closer look at the Neater Feeder and how it works (Unboxing the Neater Feeder)
7:59 Bonus clip: Donna's sit pretty :P
Full summary on the video page on my Youtube channel here.  
Donna's review of the Neater Feeder

So I'll say Donna has minimal complaints about the Neater Feeder. The noise it makes is something that she can get used to easily, especially since she can easily associate it with the fun of eating. :P Not to mention, she gets to get the high value food all at once compared to when she has to work for a few pieces of kibble each time :P
Human's review of the Neater Feeder
1. A safer choice for the home
There are some ways the Neater Feeder makes the home safer for dog and human.
It's certainly more stable than my existing bowls, which makes it a lot less likely for Donna to accidentally topple it while playing with her toys or with us.
Since the Neater Feeder is designed to eliminate splashes even when bumped, it helps to prevent clumsy humans from slipping on the wet floor and hurting themselves. I think that will be helpful, if any MP-wannabe comes for a house visit. :P Disclosure: I have slipped and fallen on the  wet floor around Donna's water bowl on several occasions. *Oops!*
I'm not sure if most households use pet-safe floor cleaners for their floors or not. So if you think about it, the Neater Feeder does help to give less reasons for the dog to lick your floor, simply because he is not flicking or dumping food onto the floor. ;)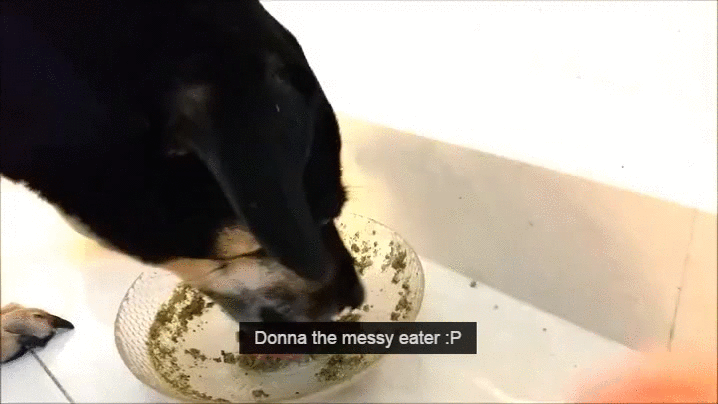 If you have elderly folks or members of the family with compromised or weaker immune system, think babies crawling around on the floor, this solution totally makes sense since it helps keep the home environment cleaner for them.
If you are contemplating to get one, you need to make some decisions on the following:
2. Legs or no legs.
Get extension legs for an elevated feeder, if appropriate for your dog.

The legs come with rubber grips so the Neater Feeder doesn't slide across the floor from nudges from the dog or accidental kicks from humans. ;)
As for me, I particularly like that I have the option of attaching extension legs to get a taller product. Eating at an elevated height puts less pressure on her neck and back. But it's not just for Donna's well-being really. Having a higher stand for the bowls also meant I had to bend less to pick them up to wash or put them back for her use. :P
3. Pick a colour – Bronze or Cranberry
Get the bronze version, so it fits quietly into your home.
This is a piece that will sit in some corner of your home. Honestly speaking, not everything should stand out in the interior design of your home.
Furniture and other functional items in the whole should align with your colour theme and style so they work in a cohesive manner. When a guest visits your home, their eyes should ideally be captured by whatever is meant to be the focal point of the living room, whether it's your luxurious, welcoming sofa or your feature wall or your cute puppy wall art. It should not be the dog's food bowls. HAHAHAHA. :P That's why Donna's original made-for-human bowls are simple and non-descript.
So I like that the Neater Feeder's design is fairly simple and minimalist, with the option of a neutral colour that fades into the background. There is a Cranberry version if you prefer something more striking to fit in your colourful home.
4. Pick the right size and height for your dog.
It was difficult deducing the right size for Donna.
The Neater Feeder comes in a few sizes for cats and small, medium and big dogs.
I wasn't too sure if Medium was suitable for Donna considering it's appropriate for beagles, jack russells and cocker spaniels. And all these dogs can be visibly smaller and shorter than Donna. At the same time, the large Neater Feeder promises to take up too much space in the flat.
It helped that upon my asking, Debrah from Nekojam furnished me with the following chart, so I can get a better idea how the sizes compare to each other in terms of the suggested weight range and shoulder height for the pet as well as the feeding height of the bowl.
That's how I eventually decided to get Medium with leg extensions. :)
5. Easy to assemble for use
Once you've got the product, just wash to get rid of any industrial residue from the manufacturing process and assemble.

Only a few stackable component parts. Not rocket science. 

This picture illustrates how the Neater Feeder parts work together to make mealtimes cleaner.

A deeper bowl holds more water to help dog keep hydrated throughout the day. 

Legs are labelled R for rear and F for front so you can easily assemble with no mistake. 
Conclusion
Mr P and I are happy with the Neater Feeder because of the benefits it has over our previous feeding situation – two bowls that slide around and a messy floor. :P
The only thing I don't like about the Neater Feeder is, it does take up space because it is chunky. But that's something I can put up with for the utility. I think it works well for a family living in a small flat with one dog. If I have two dogs, I would likely have them take turns to eat and at other times fill both bowls with water, since two of these things is going to take up too much space in a small flat like ours. Lucky for us Donna is a single child! :P
---
Many thanks to Nekojam.com and Pinkedge Pte Ltd for giving us the Neater Feeder with additional extension legs to try out. We are loving it! :)
The Neater Feeder is now on sale at Nekojam.com. Get 20% of the Neater Feeder today, while stocks last. Buy now.
---
More reviews of the Neater Feeder
---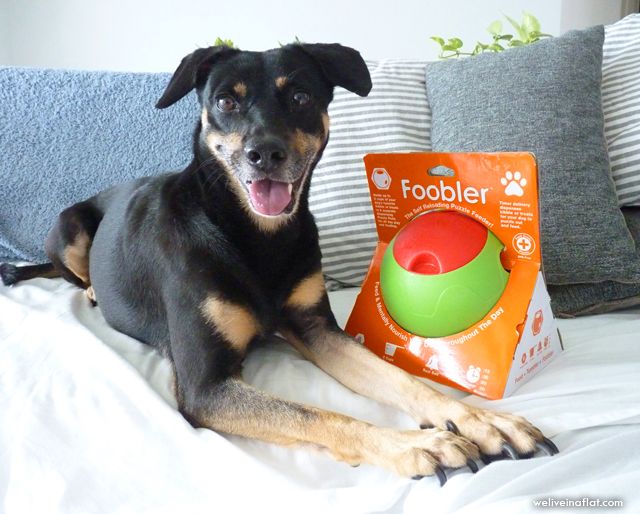 Check out the other innovative product available on Nekojam Online Store – The Foobler. Get $5 off when you key in our discount code – "DONNA" at nekojam.com!
My review here. 
---
Come :) Follow weliveinaflat.com on
Instagram @weliveinaflat |  Facebook donna.weliveinaflat |  Youtube Mutt Vlog by weliveinaflat