Warning: This post contains a picture of a flesh wound that you may prefer not to look at.
We have a lot of cats around the neighbourhood, so I actually don't recognise them. Even though like dogs, I'm sure they have their own unique markings, they all seem pretty generic to me.
When you photograph something, the process may make you look closer at the subject.

Mr Movember
But in the case of Mr Movember here, what caught my eye wasn't his markings that made him look like he had a moustache.
What caught my eye was this gaping hole on his side as he lay in the sun. Upon spying Donna with me, he moved into the crouch pictured above, seeking to hide his wound on the other side away from Donna.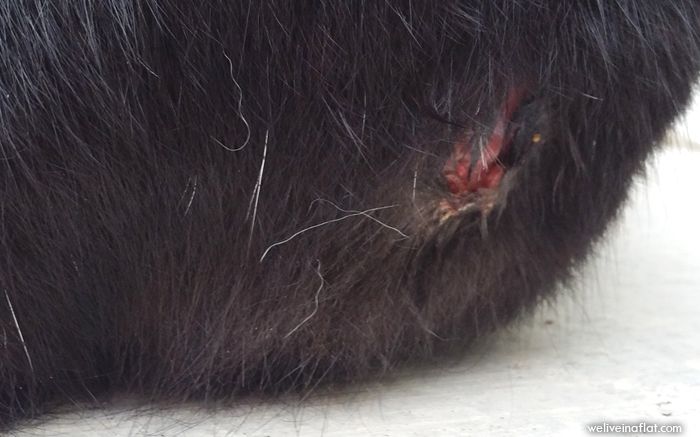 A wound on the back hind leg of the cat
I don't know about you, but I'm sure Donna will be on her way to the vet faster than you can say "go" if such a wound ever appeared on her.
Unfortunately for Mr Movember the street cat, I had other human concerns such as I was running late and was hurrying to deposit Donna back home after our walk. So the best I could do was to hastily snap these two photos and hope to find some help for the cat later on.
It would sound simple, but real life never is. A check at the Cat Welfare Society FAQ page informed me this:
We do not run a rescue operation as we are run entirely by volunteers with work commitments. If you drop us an email, we can try to connect you with a caregiver in the area if one is available.

However, sick or injured cats often go into hiding. If these cats are not caught and brought down to the vet by the person who sees the cat, there is a good chance that the cat will be gone by the time caregivers go down. Remember that time is of essence — every minute that is wasted deciding whether to pick up the cat may be the minute that could save that cat's life.

If you have trouble catching the cat, you can seek help from SPCA at 62875355 or consider contacting a professional cat trapping and transportation service.
– cat welfare society FAQ page
So I gave the SPCA a call and sent them the photos I took. They took a look and advised that I monitor the cat for 2-3 days to see if the wound heals. If it doesn't heal or if it gets bigger, I should contact them again and they will bring someone down to get it. In the meantime, I should try to feed the cat and gain it's trust or connect with a stray cat feeder who has been feeding the cat so that SPCA can work with him/her to trap the cat to bring it in for treatment.
Sure, I could do that.
Unfortunately, since that time I sighted the cat, he appeared to have vanished. At least during those time slots through the day when I scoured the area looking for it. A post to the Cat Welfare Society page did not get a response as to whether there might be a stray feeder acquainted with the cat. (Now that I looked their webpage again, I realise I should have emailed them. )
I do regret that I wasn't able to give him more help. My best hope is that a feeder has already gotten the cat away for treatment, which is why I'm no longer seeing him around the neighbourhood. Or maybe I just have lousy timing, who knows?