Update May 1, 2017: Handle Bar near Sembawang has been relocated to Gillman Barracks. It is still dog friendly, and I heard from a source on Facebook that the food is much better at the new location too. :) More about Handle Bar at Gillman Barracks here.
---
Old Article: June 18, 2015
Some White Cookie had been talking about wanting to visit the Biker-themed bar called Handle Bar, so we went. You can visit Sembawang Park Dog Run and Handle bar together!
OFFICIALLY CLOSED AT THIS LOCATION – facebook post here
Address | 57 Jalan Mempurong, 759057 [google maps]
Tel | +65 6475 9571 (Reservations advised Fri-Sun)
Operating hours | Tue – Thu 5pm – 1am, Fri 5pm – 2am, Sat 3pm – 2am, Sun 3pm – 1am
Menu | see here 
Location
Handle Bar is secluded in a really deserted end of Singapore. You literally have to drive through the jungle to get there (see image below lol). There is a narrow road that cars, bikes and cyclists use to get through the overgrown wilderness. Please don't attempt to walk. And relying on cabs may not be a great idea since it's such a deserted place.
Which is why, it seems like such an adventure just to go. LOL #cheapthrill
In reality the drive there from Sembawang Park is really not long, if Google maps is to be believed. 4min, it says. :P
So welcome to Handle Bar!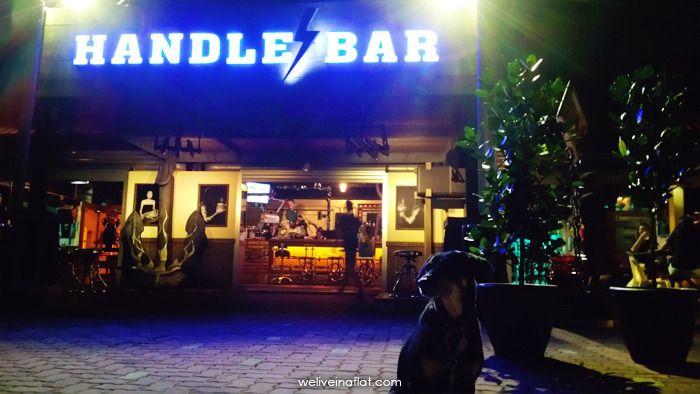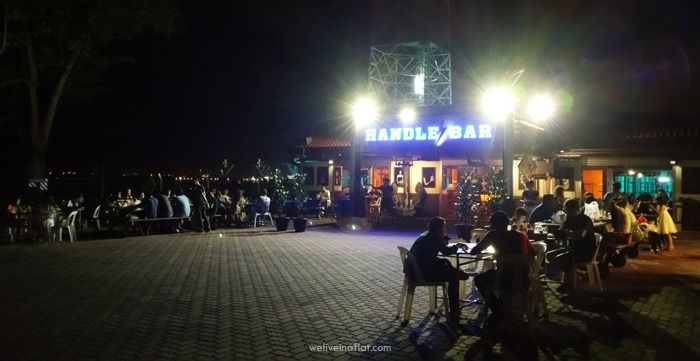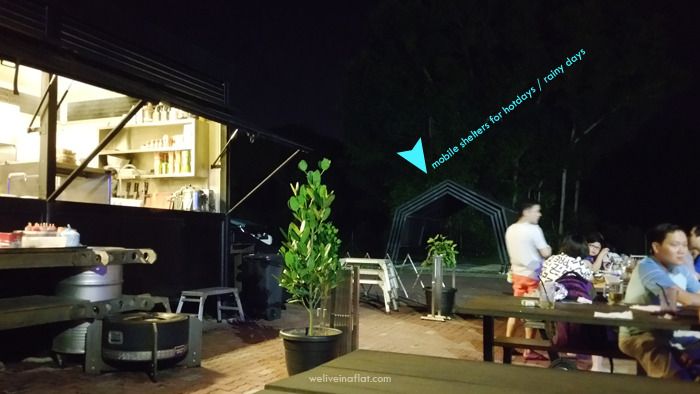 Most patrons sat outdoors, but there are mobile shelters which I assume they will wheel over the tables it's too hot in the afternoons or if it rains.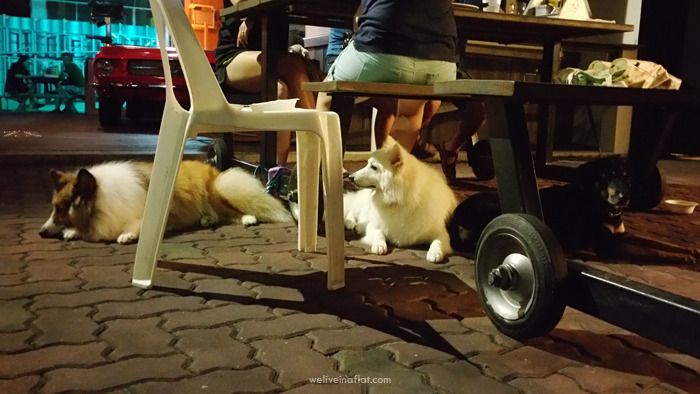 Dogs under the table – Mango, Cookie and Donna.
Wheels  on the outdoors table and chair sets should be quite functional, no? :P 
The indoors appear to cater more for drinks and leisure, with lots of transport related paraphernalia. Think wheels on the back of chairs, etc
The Food Truck-style Kitchen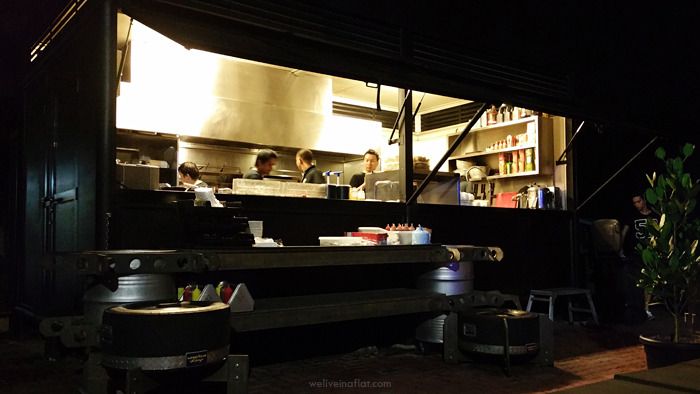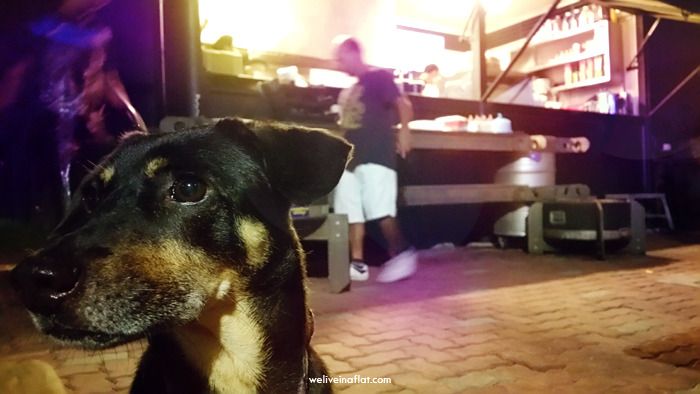 Donna's not too interested in the place where all the food comes from since she's just there to rest under the table. *Ooops!* No food for dogs served here.
Handlebar Menu
We perused the menu at length since the names of the food were rather attention-seeking.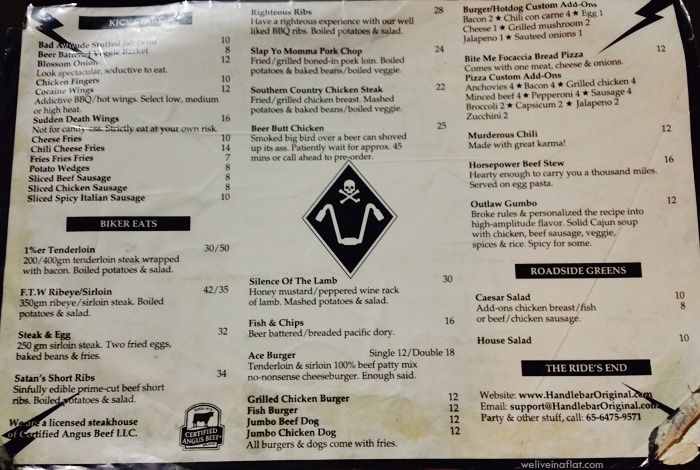 Note: We were there some months back so the menu may or may not be up to date.
We couldn't decide between Sudden Death Wings or Cocaine wings so we ordered both.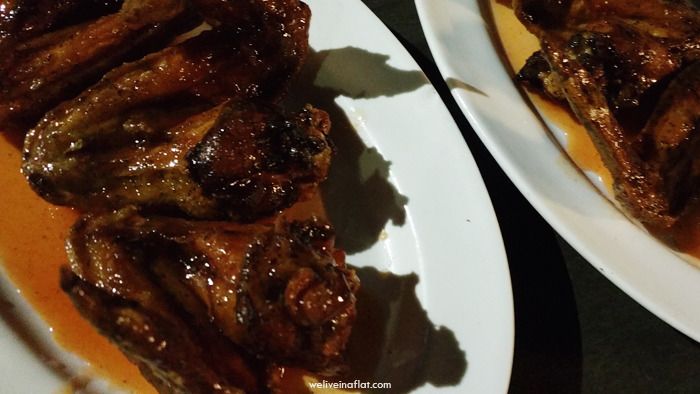 And I think this is the Bite Me Focacia Bread Pizza.

The Blossom Onion did not turn out as pretty as we expected it to. :P

And the random mains we ordered.

The food was very filling, but not as yummy as expected. LOL. But food is a relative thing, I know some people who enjoyed the food there. :)
Mostly, for me it was interesting to just go off the beaten path a bit and eat at some outdoor place at the end of the jungle in the middle of the night. HAHAHAHAHAHA :P
Night-time is not the best time for photography with a camera phone. But if you'd rather see all than to leave it as a mystery to discover, the following blogs capture the decorative details of this themed restaurant and bar in more detail. :P
I'm not sure if we'll return to Handlebar since Mr P is not keen to make the drive there again. :P But if we do, Donna is ready to don her doggles for the occasion! :P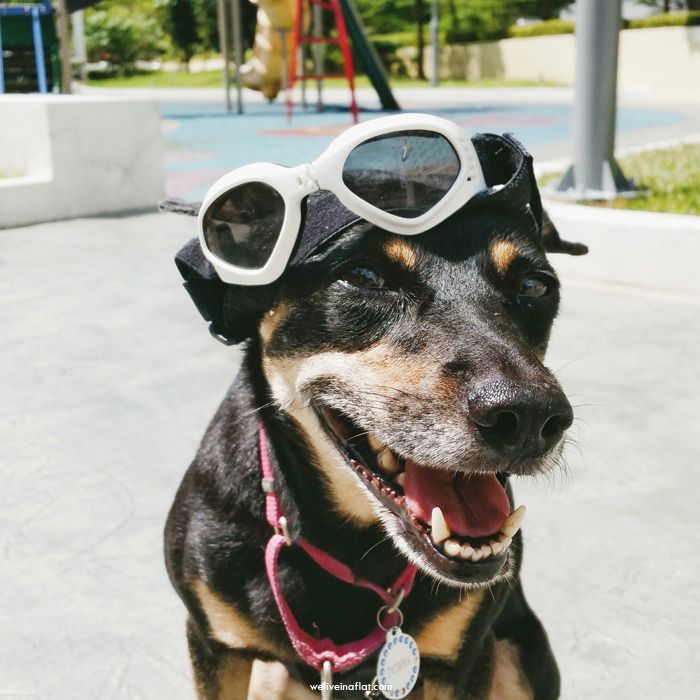 ---
Come :) Follow weliveinaflat.com on


 Instagram @weliveinaflat | 

 Facebook fb.com/donna.weliveinaflat