It was one day some months before, I told Mr P that we have to get a Kong.
"A what?"
"A Kong."
"And what is that?"
"It is a rubber food dispensing toy."
"Then say so."
That evening, he returned from work and said he spoke with all his friends who had dogs. And nobody, nobody knew what a Kong was.
Wow.
I've been reading all those blogs and webpages about how to prevent separation anxiety in dogs, and how to keep dogs busy and mentally active, yada, yada. And basically everybody praised the Kong to the skies when it comes to a good tool to use when dealing with separation anxiety or just for leaving the dog at home alone . It almost seemed to me that every dog should be born with one. :P Yes, a little overly dramatic there.
But anyway, if you are visiting even a dog blog as new and unknown as ours, then you must be very knowledgeable about dogs and stuff people talk online about dogs already. So please be patient while I splatter my blog with some pictures of the regular Kong. :P
Basically, food goes in and comes out through this end: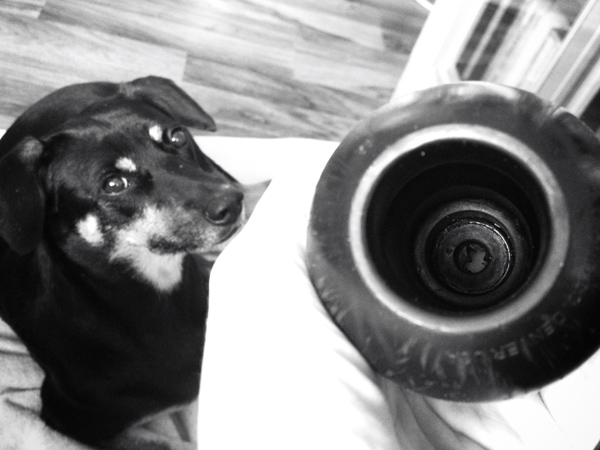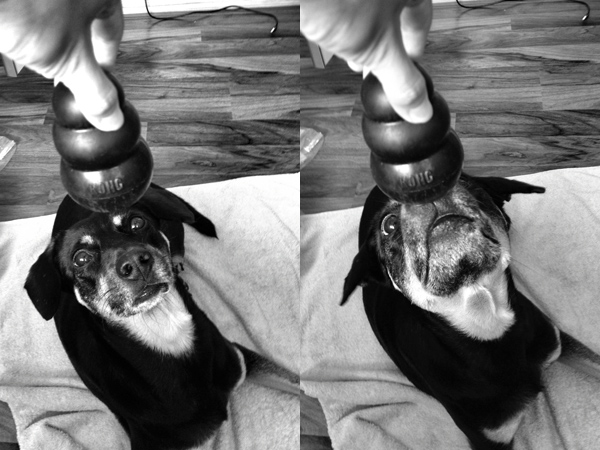 Yup, Donna knows how to work it. Sniff, sniff and then a huge disgusted snort. Because it's empty. :P She only bothers with it when there's food.
The Kong only appears when we are going out of the house. We fill it with her regular canned food and kibble mix and freeze it over night.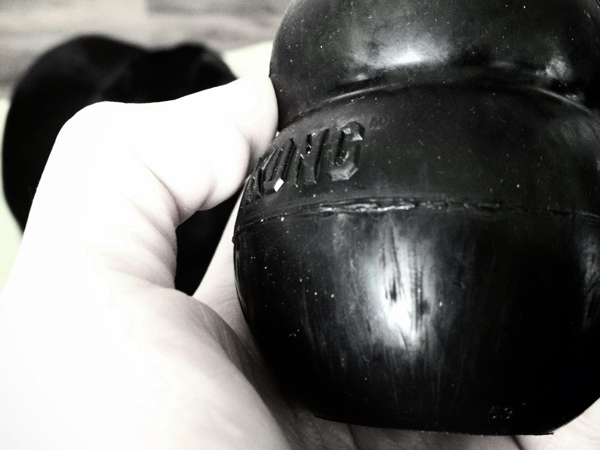 You can see the scratches from her teeth. We got the black Extreme Kong for power chewers in the first weeks of Donna joining our little family. But she is less destructive than when she first came, so I do think a regular red one will work fine for her as well.
We started using it as a means to lift her mood when she sees us stepping out of the house. The logic, as I have learnt from others, is thus: If she were to equate us leaving the house with food in the Kong, that would make us leaving the house a good thing, rather than something to be scared or worried about. We mainly wanted to deter and prevent her developing separation anxiety, especially since we do see a future where both of us will be out of the house for long hours at work.
At first, it worked pretty well.
However, after a couple of months we observed that she had started to ignore the frozen Kong. And she only paid attention to it when we came back again and after she has given us her welcome home dance at that. And then pretty soon, we noticed that her tail would be tucked between her legs when she noticed that we were going out without her.  (Note: We always try to leave and come back with minimal fuss so that Donna does not get overly excited.)
So nowadays, when we leave the house we serve her food in her food bowl following her mealtime ritual instead. We make her sit on her bed, maybe do some high-fives, shake-a-paw, and then wait so that she anticipates the food. And then we let her go get it just before we step out of the house. Usually she is so busy with her food, she doesn't even come to the door with her "where are you going without me" stare. Dentastix worked fine for this too as it takes her quite a bit of time to chew through half a stick, just in case I need to return to pick up something I forgot! :P
I did try serving high value food like canned tuna and hard boiled egg in her food bowl before but those food gets her overly-excited and I still am not sure if that is a good state to leave her alone at home in. Although I may have to resort to these again since recently Donna has become less distracted by her food bowl and stops to stare as I depart the house anyway.
Perhaps I just need to rotate and ensure a good variety so that she keeps interested?
Anyway that's our experience with leaving Donna at home by herself for now. The longest we have left her I think was for 8-9 hours with food, a lot of toys and no mishap. However, there are cases where we have left her for less and she managed to poison herself or she has "considerately" dragged out my running shoes onto the floor, rearranged some furniture.
Besides food, there are other tactics like crate-training, etc that help to keep a dog calm. But this post focuses specifically on food.
The Kong and Kong Genius Leo remain toys I use when I want to distract her, or just get her to spend some effort getting her food and exhaust some of that mental energy, while freeing me up to do other things.
If you have not tried the Kong before, but are keen to do so, there are lots of Kong recipes floating around online. The only thing I thought would be useful to touch on will be on the topic of peanut butter.
I recently tried peanut butter with some kibble in the Kong. All you need to do is spread a thin layer of it on the inside of the Kong to make it sticky then throw in some kibble or treats (whatever rocks your dog's socks) so that it is slightly more difficult and takes more time for the dog to lick it out again. This is a good way to get the dog to learn to use the Kong before you move him on to tougher stuff like frozen Kong ;D That keeps Donna occupied even longer.
Peanut butter seems to be a popular filling for the Kong, but our supermarket shelves are laden with all sorts of peanut butter brands with added sugar and salt. Since Donna is overweight, I am not eager to use peanut butter on her either. But I did happen on a forum of *ahem* body builders (I am not a body builder :P) who recommended Adam's Peanut Butter (Unsalted) because it does not contain added salt or sugar.
Skippy on the left; Adam's on the right – check out the ingredients list.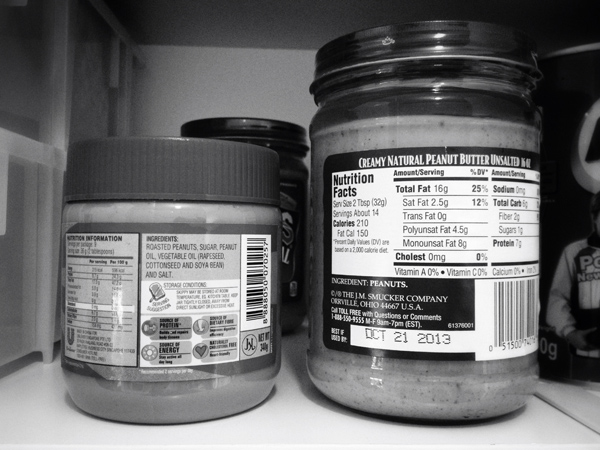 I do like peanut butter so I bought these for myself and sometimes I share it with the dog muahahahahahaha!
If you are in Singapore, Adam's Peanut Butter is very rare and are sold out really fast (omg those kiasu* body builders!!) but you can find it in selected NTUC supermarket(s). I only manage to get this jar after months of skulking around the peanut butter shelf myself. LOL.
But yes, this is probably the better choice to use if you want to feed your dog peanut butter, short of being organic or making your own. And if you do want to make your own, youdidwhatwithyourweiner has a low calorie recipe she would recommend.
If you buy your dog items online on Amazon, you can click through the advertisements below to get directly to the relevant product pages. ;)
References:
– Is unsalted peanut butter ok for dogs?
– Skippy peanut butter vs Adam's peanut butter
– Adam's peanut butter nutrition
*kiasu – afraid to lose out, and will over-react urgently to achieve the goal.
See also All other posts on Dog Food by weliveinaflat ;)
---
Come :) Follow weliveinaflat.com on
Instagram @weliveinaflat |  Facebook donna.weliveinaflat |  Youtube Mutt Vlog