Donna and I had a tiny taste of dog agility at the PetExpo Saturday morning (that's yesterday!)
I had some difficulty trying to get Donna to weave through the poles, but Mr P says it's because half the time I'm standing too close and blocking her from weaving. OMG!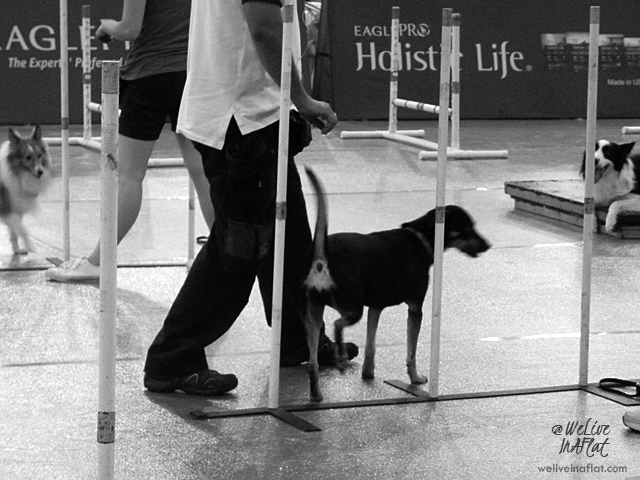 Donna navigating the weavepole with the agility instructor.
After 2-3 turns doing the jumping route, I was more comfortable with Donna being off-lead for this, and she did great!!

Donna jumping over the bars.
The ramp was the one thing that I had the most apprehension about, knowing that Donna does have some nervousness with new platforms that she sometimes perceives as unstable and "life-threatening". :P She was a little hesitant at the start but she totally flew over it at the end.

Donna climbing the A-ramp.
Her tail was wagging throughout the session, probably due to the massive amount of sausage that Mr P accused me of over-feeding her. But hey, I needed to be more interesting than all the other dogs around in order to get her to focus on getting through the different equipment, right?
---
Come :) Follow weliveinaflat.com on
Instagram @weliveinaflat |  Facebook donna.weliveinaflat | Youtube Mutt Vlog