The Eng Kong Terrace row of shophouses is a pretty nice place to take a quick stroll and have a cake and coffee, especially if you are a dog lover.
Here's why. 
Eng Kong Terrace Dog-friendly Establishments covered:
June's Pet House
Lynn's Cakes & Coffee
Necessary Provisions
Relax and watch Cute Dogs at June's Pet House
Our Japanese Spitz friend Some White Cookie's human, henceforth called E, decided to try out a grooming shop at Eng Kong Terrace. It's not Cookie's regular groomer. He's still searching for that elusive, perfect groomer. :P
But the great thing about June's Pet House for the dog lover, is the dog waiting area right at the shop front. Ladies will like it because it's furnished in White and Pink, and there are cute, well-groomed dogs easily viewed from outside the shop like these ones. *Squee*
The dog on the sofa is 1 of 6 Tibetan Terriers in Singapore, according to June. But we particularly love this adorable Jack Russell Terrier named Mineral. :P
Website | Facebook | Tel 91060404
Add 5 Eng Kong Terrace Singapore 598977 | Parking Street
Hours Mon-Sun 10am-6pm
Have cake at Lynn's Cakes and Coffee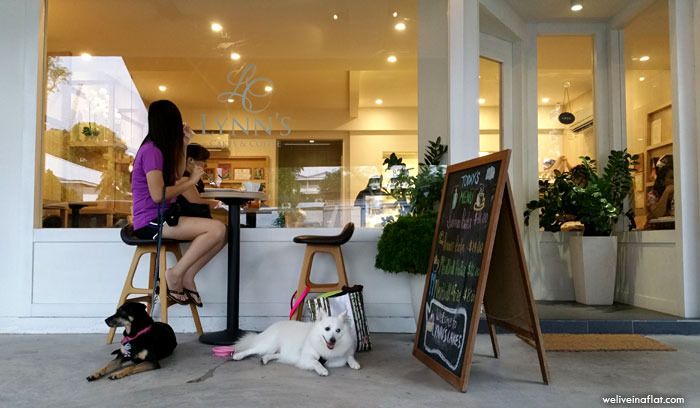 Despite my uncooperative photo subjects :P, Lynn's Cakes and Coffee serves good pasta and cakes. There was a constant stream of customers walking in and out for takeaways! Their Carrot Cake appear to be the most recommended, looking at online reviews.
Helmed by a Malay lady, we were surprised that they allowed us to take the only outdoor seating that they offer. But if you do drop by with dogs, be ready for the wait staff to be skirting nervously around your dogs. :P
Reviews Springtomorrow | Readysetfoogo | I eat and eat
Website | Facebook | Tel 63142886  | Payment Cash only
Add 11 Eng Kong Terrace Singapore 598983 | Parking Street
Hours Tues-Thu 11am – 7pm, Fri-Sat 11am – 9pm, Sun 11am – 8pm Closed on Mon
Have Coffee at Necessary Provisions
Honestly, I want to visit this place with Donna just to take a picture of her with the vintage toy car at the shopfront. *Ooops! :P*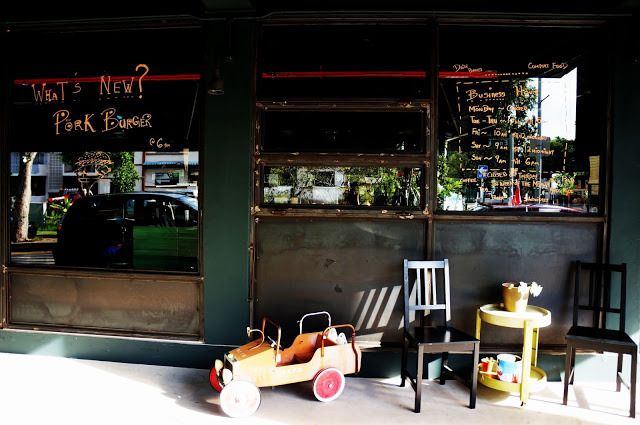 Picture used with permission by chikumama
This is one of the popular places to go for a good cup of coffee.
Reviews Chikumama | Aspirant.sg | ladyironchef
Website | Facebook | Tel 92317920  | Payment Cash, Visa, Amex, Master Card
Add 21 Eng Kong Terrace Singapore 598983 | Parking Street
Hours Tue–Thu 10am – 10pm, Fri & Sat 10am – 12 Midnight, Sun 10am – 6pm, Closed on Mondays
Wait for surprises while you nurse that cake and coffee :P
The thing about outdoor dining at pet-friendly places with dogs, is that sometimes unexpected objects and adventures may land right into your lap. :P
We were just finishing up our meal when a fledgling pigeon crash-landed on the tarmac between two cars near us.

Fledgling pigeon being transported in a Lynn's Cakes cake box :P
It just laid there. Quietly. But we could see it was still breathing.
E called ACRES (Animal Concerns and Research Education Society) who said they could only come pick it up a couple of hours later. But neither of us had the skills to tell how badly the bird was hurt. So rather than wait, we decided to call a cab to send it to ACRES directly.
When we reached ACRES, it was dark and raining in a very deserted part of Singapore. We were standing in the drizzle because there was not-so-friendly dogs in their compound so they couldn't let Donna and Some White Cookie in. Standing with us in the rain, the ACRES representatives examined the bird and pronounce him not injured… and fat.
What??!!!
Yes. Apparently, the parents fed it very well. – – !
Since I didn't think we could climb the roof to put the bird back at Eng Kong Terrace. Leaving it on the ground will just leave it prey for cats. And ACRES agreed that the fat fledgling  was probably too heavy for his parents to pick him up back to safety, they decided to take fat kid in in the end. :P
They think the fat fledgling just needs two weeks more to be fully developed, I think.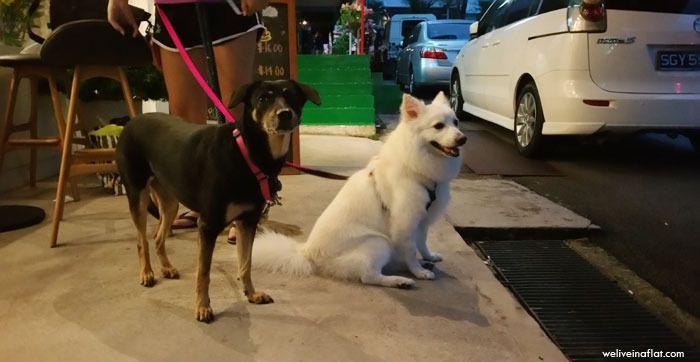 Donna of course was quite right that it was all a fuss over nothing.
Honestly, we just didn't want to have a dead baby bird on our hands. Even if it was only a pigeon. :P
So that was our adventure at Eng Kong Terrace. :P



Been there before? Or had a similar adventure? Tell me all in the comments below! ;)
---
Come :) Follow weliveinaflat.com on


 Instagram @weliveinaflat | 

 Facebook fb.com/donna.weliveinaflat