1 Day 1 World Project: Donna at 05:00am – 06:00am
One of the reasons why it was so difficult for me to deal with a thunder phobic dog in the first year of adoption is that when I lose it, I really lose it.
When the rainy season comes around, I start losing sleep because the dog makes a racket and a mess of the house when it thunders in the middle of the night. The loss of sleep hours accumulated and eventually the human is pushed past her threshold.
My dog is not aggressive.
But I am, when I get to that point.
Which basically unravels all the good work I put in with desensitisation and dog regresses.
I find myself at that point again today, unfortunately, after a week of extremely poor sleep patterns and long hours. The best I can do for Donna is to distance myself.
This is Donna at about 5:30am sometime in the last week. I was woken by the thud of potted plants toppling due to strong winds and rain. Donna was looking only mildly worried, but happy to find me checking on her.

Welcome, human.
Since it was close to daybreak, there was no point going back to bed.
You know that when she stands pointing towards the study, she wants to go hide in the room. She feels safest there but isn't as comfortable in there by herself if I'm not in there with her.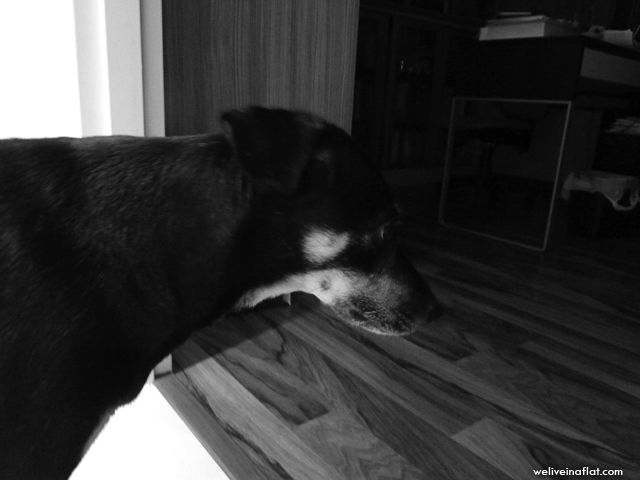 Let's go to my safe place, human

I don't like the weather outside, human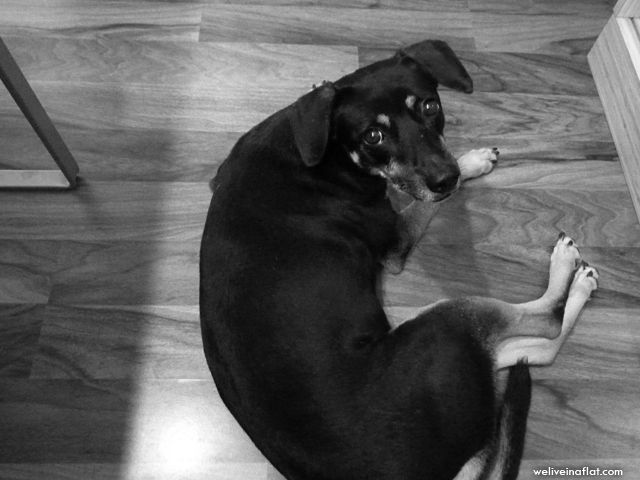 Now that you're in your chair, you should start giving me treats, human.
While each dog is an individual, if you are interested to know what helped with Donna's awful thunder phobia so that nowadays she only shows mild worry around humans – read this:
– Donna finds shelter from Thunder Phobia
I hope one day she would be worry free, even when the humans are not home.
Note: Despite the human's bad humour today, the good news is Donna has passed the temperament test today at Therapy Dogs Singapore. Hopefully she will be comforting to the people she is suppose to therapise.
For 24 weeks, weliveinaflat will post photos taken for a specific hour in that week.
We will cover 24 hours in 24 weeks.
More about the 1 Day 1 World Project here.