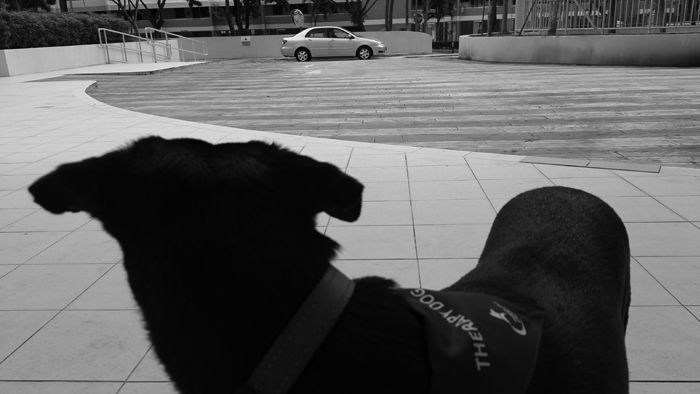 It's easy to assume that it would be difficult to cab with a dog in Singapore.
Is it really though? Donna asks – will we get a cab?
Muslim drivers may not be receptive to ferrying a dog for religious reasons. Regular drivers may not be receptive because of various other reasons –  the dog may dirty the seat, the dog may get carsick, the dog may not settle and try to approach the driver in the front seat, the dog may be worried or over-excited and try to bite, etc.
But after having witness Some White Cookie successfully travel by taxi on outings with his  Japanese spitz friends. I thought we should try it as well, especially since Mr P is not always around to ferry us.
1st try – Grab Taxi app
I have never successfully flag down a cab with Donna beside me. So I downloaded the Grab Taxi app that Some White Cookie uses. Activation in the app using a code sent via SMS was easy.
And then all I needed to do was to key in my location, my destination and also my comment: "travelling with medium-size dog" before submitting my booking.
When a booking is made by a commuter, the phone shows in real-time a list of cabs being offered the job. Once a match is made, the commuter's and the driver's phone numbers are immediately made available to each other so that they can communicate about any unexpected issues. Dialing can be done from within the app.
– Tech in Asia:  why Grab Taxi is giving Singapore's largest Taxi operator a run for it's money
Once my booking was confirmed, I immediately called the driver to confirm that he is comfortable with having a dog in the car. The first driver asked what size the dog was and then declined to take us. Donna wasn't an issue with the second driver.
It was a Friday afternoon about 2pm. It took us two tries to secure our ride and my booking was confirmed within a minute. I was impressed with the speed.  And I guess, it can be attributed to the following reasons:
Drivers have to bid for the job. Those who bid within 30 seconds and are closest to the passenger's location will get the job.
– Straits Times: Grab taxi – currently the most prominent third-party taxi app

Because drivers and commuters are likely to be using 3G devices, the response times are much faster than those from the operator's terminals, which are on the much slower GPRS.
– Tech in Asia:  why Grab Taxi is giving Singapore's largest Taxi operator a run for it's money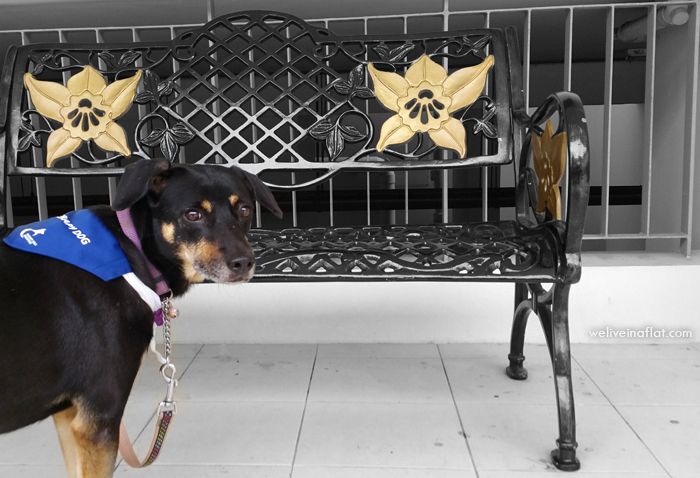 Why are we standing around? says Donna, who has no idea we are waiting for the cab.
It can be notoriously difficult to get a cab at times, even when one is travelling without a dog. So certainly, there will be times when Grab Taxi doesn't deliver quite so fast.
But my good experience the first time does make it more likely to want to use it again, especially if this article is reflective of drivers being more likely to take a grab taxi booking than their regular operator booking.
Comfort, Singapore's largest taxi company, has around 16,600 cabs plying the road. GrabTaxi has 10,000 registered drivers now in the country, making it the second largest 'taxi operator'; and it's rapidly signing up more drivers…

The driver I spoke to now takes more than 10 jobs a day from GrabTaxi, but only two from Comfort…

GrabTaxi in Singapore easily completes more than 200,000 bookings a week now with its present fleet of drivers. It is arranging regular meetings with LTA to show the authorities that it has a higher rate of success in matching drivers to commuters than the current fleet operators.
– Tech in Asia:  why Grab Taxi is giving Singapore's largest Taxi operator a run for it's money
It makes sense really, Grab Taxi operates across all the different taxi operators to allow the nearest taxis to bid for the job, regardless of which operator they belong to (as long as they are registered with Grab Taxi).
For the commuter, using GrabTaxi eliminates the hassle of trying to book cabs using three or four different apps when he's in a hurry for a taxi.
– Tech in Asia:  why Grab Taxi is giving Singapore's largest Taxi operator a run for it's money
Does it make cab travel more expensive for the commuter? It didn't seem so since the commuter is charged the regular booking fee that is dependent on the taxi operator anyway. The Grab Taxi app itself is free for download and use.
Related: LTA tightens grip on taxi apps by issuing regulations
Chatting with the taxi driver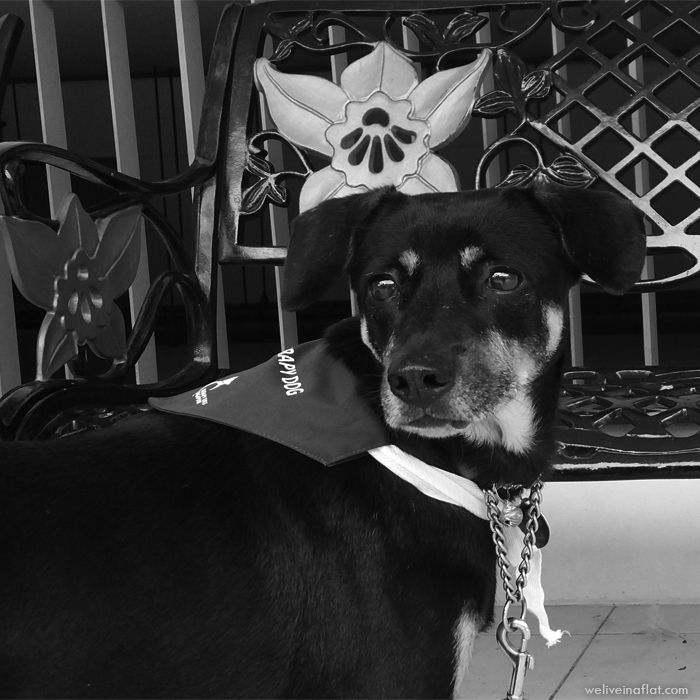 Boring, says Donna, what are we waiting for exactly?
It makes sense really, that a cab driver amenable to ferrying one or more dogs would be someone used to dogs himself. The cab driver who turned up readily shared that he used to own a pitbull years back.
"A pitbull?" I asked, "I thought those are illegal here."
I was told you just need to know the right people to get one, and there are probably still some lurking around in Singapore. But that was twenty years back for him, and this pitbull has since passed away.
The cabbie was amused how Donna sits without fidgeting the whole ride.
"Your dog quite small. Some people tell me their dog is medium dog, then when they come, the dog is a big Doberman," he complained, "…and not muzzled!"
I thought a big Doberman still wouldn't be trouble if well-trained. But this cab driver was being more realistic since different people have different standards with regards to what is "well trained".
"I know big dogs. Some are well trained, but not all. I just worry if something happens, it will bite me while I'm driving. "
Yup, that does sound a little dangerous for everyone on board. But the good news is, this cab driver at least, seems perhaps open to driving big dogs when muzzled. ;)
Is it difficult to travel in a taxi or other public transport in your country? I would love to hear!
---
Note: Checking with AVA list of scheduled dogs again, the Pitbull and it's associated crosses and breeds are allowed in Singapore subject to conditions such as compulsory obedience training, an insurance policy for at least $100,000 coverage against injury to persons and damage to property and a banker's guarantee of $5,000. More information.