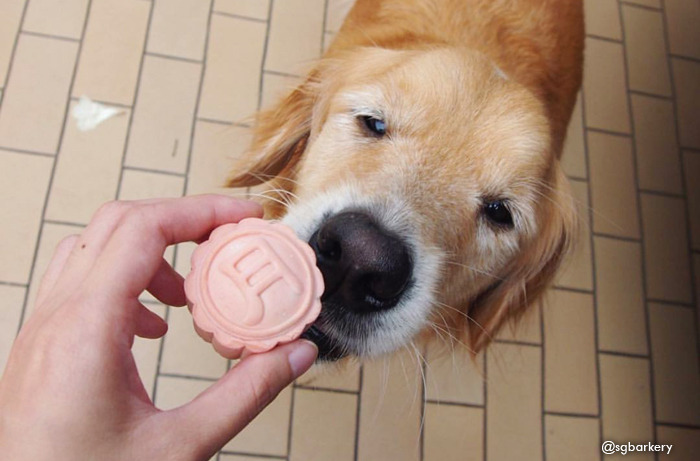 [Updated 21 Aug 2016] It's that time of the year again when kids look forward to lantern parades and adults try out the latest mooncake flavours. And our ever greedy canine friends are not left out. Mooncakes for dogs are not new in the market. What choices do we have for the mooncake festival this month? Come check it out! ;)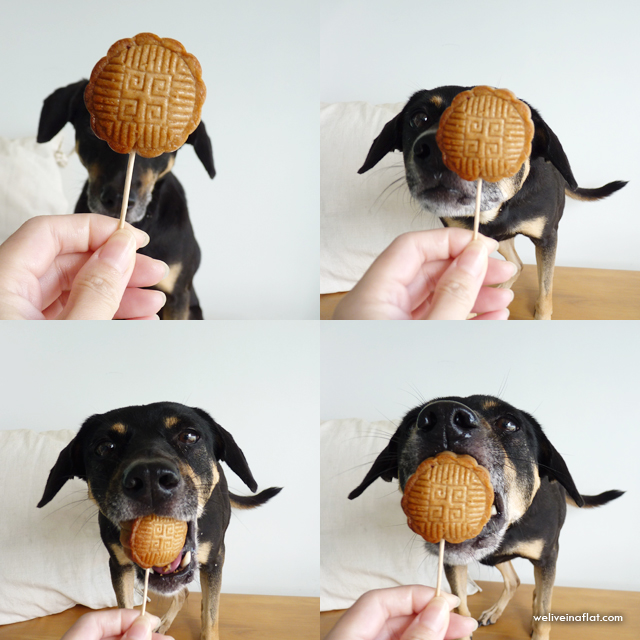 Mooncakes for Dog in Singapore this mid-autumn festival
Local bakeries, I realised, were setting up their mooncake pre-orders earlier since last year. By 1st Sept last year, two dog bakeries had already sold out on mooncake pre-orders.
Generally, there are about 6 stores offering mooncakes per year in the run up to the mid-autumn festival. Let's take a look at what's currently available and what's yet to be released.
The Barkery Singapore
I would have ordered the lovely pastel-hued mooncakes from the Barkery Singapore if I could, but they were already sold out. Bleah~ And it seems they are not coming back this year. *sad* But, The Barkery Singapore fans can still check out their latest Yogurt and Carob Snowskin Mooncakes, developed too look like premium chocolate. ;)
Woofy's Kitchen
Looking for cute piglet mooncakes? Look no further. Woofy's Kitchen is back with their original mini piggy and bunny mooncakes that were also available for order in previous years.
Pawlicious Pet bakery
Here's another cute option, but in the more traditional mooncake format. Pawlicious also offers venison, on top of the more common meat proteins in their mooncake flavours.
The Snoring Dog Bistro
In previous years, The Snoring Dog Bistro offered an interesting mix of flavours such as Blueberry Goat Cheese Cake and Cheesy Vegetarian.
Feed My Paws
If you are a Feed My Paws fan, you would probably already know that they are already sold out of mooncakes on their pre-order. 😱😱😱 So if you don't want to miss out next time, get on their mailing list at feedmypaws.com.
And that's the doggy mooncake news for this year. I will continue to update this post when something new comes up! ;)
---
PREVIOUS: What was on sale in 2015 
Who are these SIX dog bakeries that are selling or intending to sell mooncakes for dogs in 2015?
The Barkery Singapore
The Snoring Dog Bistro
Woofy's Kitchen
FeedMyPaws
The Doggy Bag
Crunchy Barkery
Pawlicious Pet Bakery
Pawlicious Pet Bakery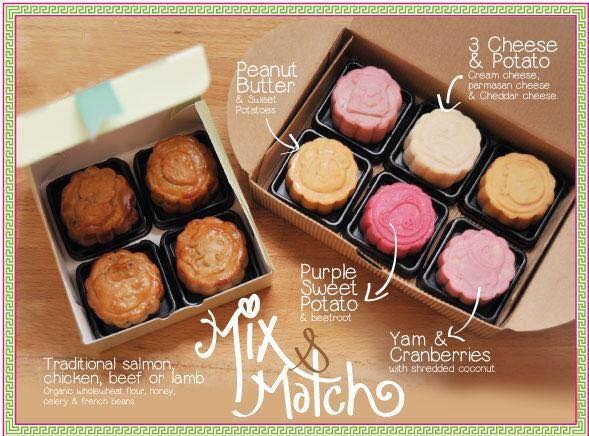 Pawlicious returns with its  wide choice of eight different mooncake flavours from last year. Meatloving-dogs get your pick of the traditional mooncakes in the following flavours – Salmon, Chicken, Beef and Lamb – with vegetables in the filling. Their snowskin mooncake flavours include – Peanut butter and sweet potatoes, Three cheese and potato, Purple sweet potato and beetroot, and Yam and cranberries with shredded coconut.
Mix and match the flavours to create
– a box of 4 priced at $26.90 or
– a box of 6 at $36.90. 

Pre-order now and get an early bird 10% discount from now till 15 Sep. Last order 20 Sep.
Collection from 19 Sept onwards.
Email your order to: pawliciousbakery@gmail.com with subject header: Mooncakes 2015, include your name, contact no.s, collection time and date. 
Last order is 18 September 2015 for delivery by 26 September 2015.
Self Collection only available at Balestier from 23 September to 26 September.
Product page on Facebook.
The Snoring Dog Bistro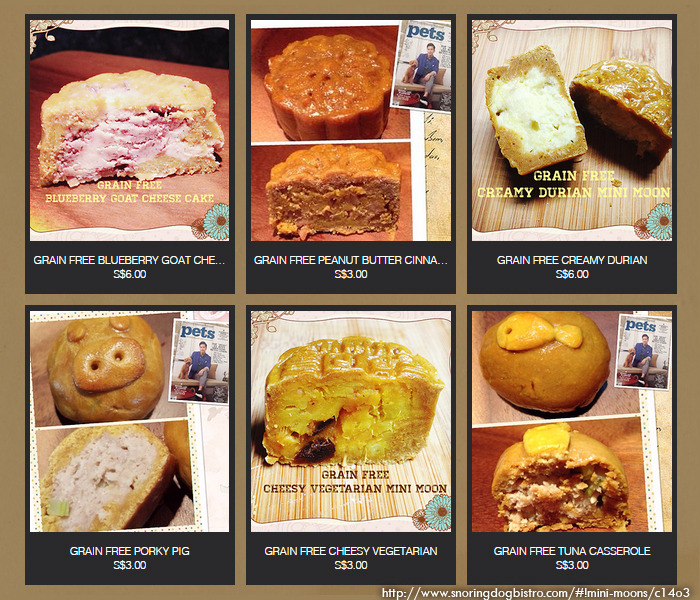 Each box comes with 6 mini moons (grain-free sweet potato crust). You can mix and match up to 3 different flavours in each box.
Price: SGD $18 – $35
Last order is 18 September 2015 for delivery by 26 September 2015.
Self Collection only available at Balestier from 23 September to 26 September.
Product page: http://www.snoringdogbistro.com/#!mini-moons/c14o3
Woofy's Kitchen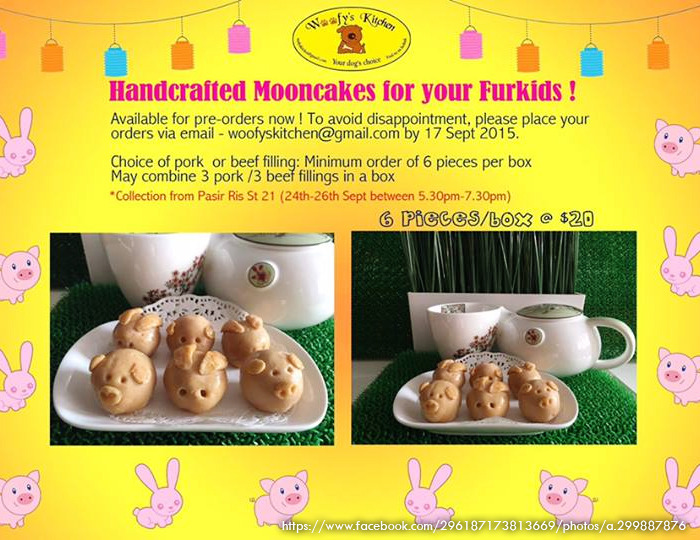 Each box comes with 6 mooncakes. You can mix and match pork and beef flavours, with organic flour and sweet potato crusts.
The mini moons are preservative free and can be kept in the fridge for a maximum of 5 days.
Price: SGD $20
Last order is 17 September 2015.
Self Collection at Pasir Ris St 21 from 24 September to 26 September, 5.30pm – 7.30pm.
Product page: Woofy's Kitchen Facebook
The Doggy Bag
This baskery offers 3 interesting-looking categories of mooncakes – Mini moons, Mooncake puppies and Naked mooncakes. Unfortunately, ingredient and sales information is not published publicly and The Doggy Bag declined to be featured in this article. So if you are interested, you'll have to contact them yourself at askdoggybag@gmail.com :P
Last order 18 Sept 2015.
The Barkery Singapore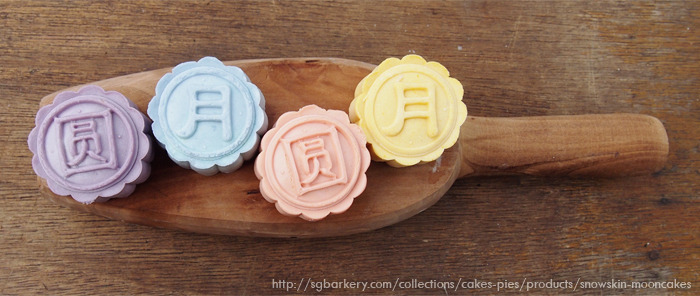 SOLD OUT
The Barkery Singapore is not a new name to pet humans in Singapore, but they've not been in the mooncake scene in previous years. Well, they've finally rectified this situation by making the development of mooncakes their priority this year. Haha.
The Barkery's new mini-sized (50g) SnowSkin Mooncakes come in 4 delectable pastel colours from natural ingredients, such as Blue Pea Flower for that baby blue-coloured mooncake.  They've kept it simply, offering Dory fish and Cheese or Pork and Liver filling. The snowskin ingredients are grain-free and you can find the full list here.
Each box comes with 4 mooncakes. You can mix and match the two flavours. All mooncake sets will come with the four different colours.
Price: SGD $20.80 
Delivery from 15 Sep onwards. 50 sets available for order. 
Product page: http://sgbarkery.com/collections/cakes-pies/products/snowskin-mooncakes
Feed My Paws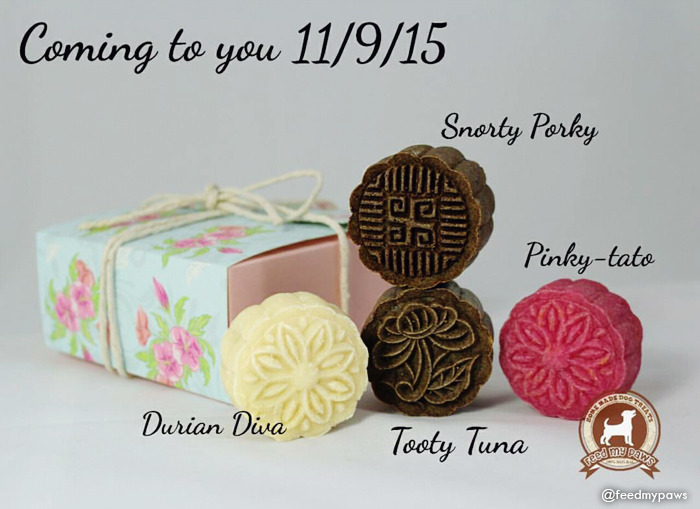 SOLD OUT
Each box comes with 4 mooncakes. Flavours available include – their bestseller Durian Diva snowskin mooncake, Tooty Tuna, Snorty Porky and Pinky-tato. Full ingredients list will be available 11 Sep 2015 for orders.
Price: SGD $21.90
Last order is 11 September 2015.
Order and delivery details to be released. 40 sets available for order.
Product page: Feed My Paws Instagram 
Crunchy Barkery, Pawlicious Pet Bakery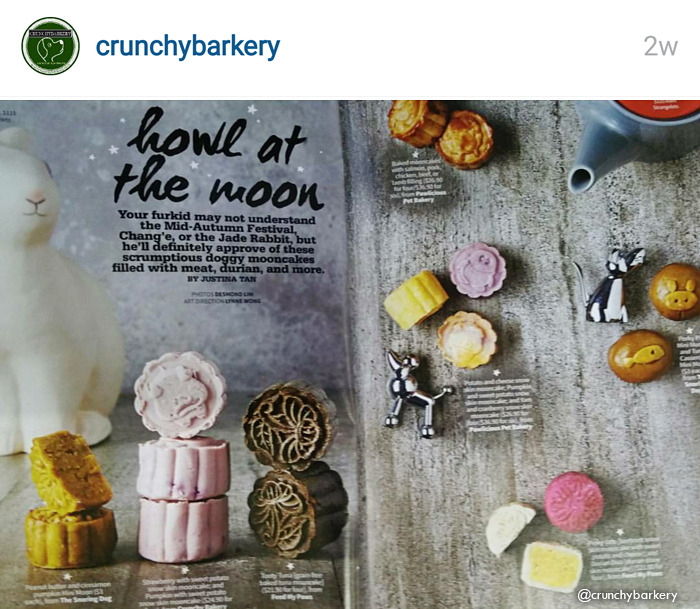 Mooncakes from Crunchy Barkery and Pawlicious Pet Bakery appeared in a recent issue of PETS Magazine, together with Feed My Paws and The Snoring Dog Bistro. However, mooncake menu, pre-order and sales information from them are currently no available. I will update this page when they release more information. ;)
Images used for review purposes were sourced from the respective shops as indicated. ;)  If you spot any errors, please do feel free to let me know :)
See also All other posts on Dog Food by weliveinaflat ;)
---
PREVIOUS: What was on sale in 2014? 
Here's a run down again of the shops selling mooncakes in 2014
Widest variety – Pawsitive Treats | Pawlicious Pet Bakery
Organic – Feed My Paws
Limited ingredients – My Greedy Pet.
Unknowns, because not interviewed, The Snoring Dog | Doggystyle Cafe (closed) | Woofy's Kitchen |  Dog Dot Cafe
Wide Mooncake Variety for Adventurous Pets
Customers of Pawsitive Treats and Pawlicious Pet Bakery were definitely spoilt for choice.
Pawsitive Treats offered the choice of three different mooncake skins – Traditional, Sweet potato and Snowskin – with 8 different fillings. Full menu here.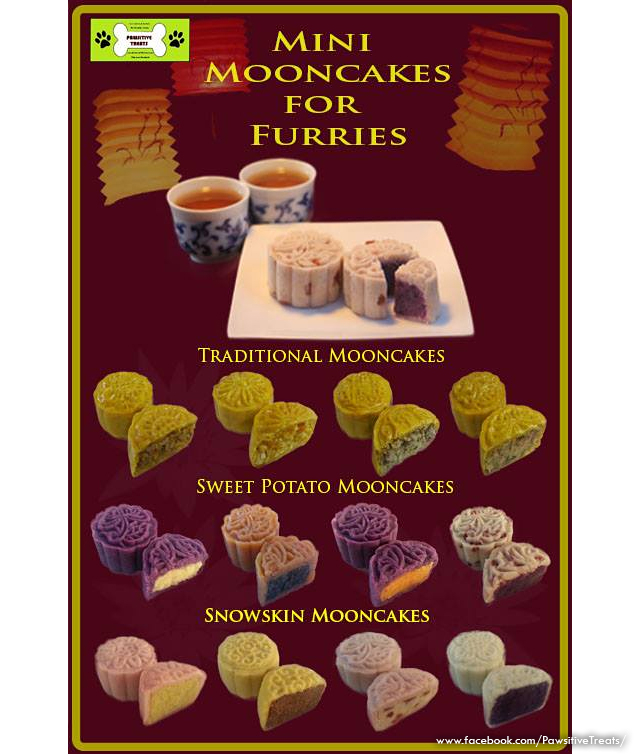 Meatlovers could buy traditional mooncakes in the following flavours – Salmon, Chicken, Beef and Pork. The filling in the pastry was a mix of the meat of you and your dog's choice, with vegetables.
Meat-free fillings – Yam and cream cheese with cranberry, Purple/Orange sweet potato, Organic carob and Home-made peanut butter – are also available in Baked, Sweet potato or Snowskin versions.
Pawlicious Pet Bakery also offered a wide choice of eight different flavours to choose from.
Meatlovers had their pick of the traditional mooncakes in the following flavours – Salmon, Chicken, Beef and Lamb. The filling in the pastry was a mix of the meat of you and your dog's choice, with vegetables.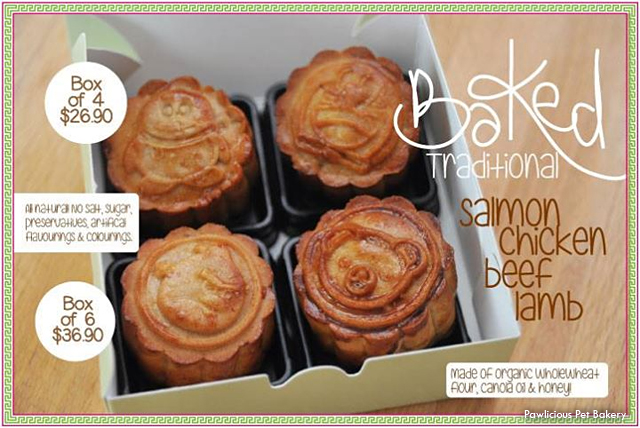 Pet parents who wanted the snowskin mooncakes for their pooches also could choose from these flavours – Peanut butter and sweet potatoes, Three cheese and potato, Purple sweet potato and beetroot, and Yam and cranberries with shredded coconut.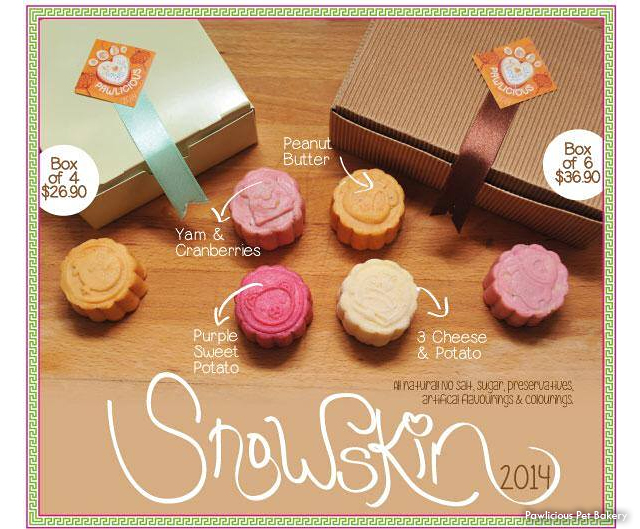 I wonder if the cartoon design on the mooncakes were as much a draw as the variety of flavours from Pawlicious.
The Organic Mooncake for Pets who deserve Quality
New player Feed My Paws offered a slightly smaller menu – five flavours. The good news for health-conscious pet parents is the menu consisted mostly organic mooncakes, with the option to go grain-free.
Meatlovers had their choice of the traditional baked mooncakes in the following flavours – Porky cheese or Beefy cheese. Feedmypaws said these are 100% made of organic ingredients.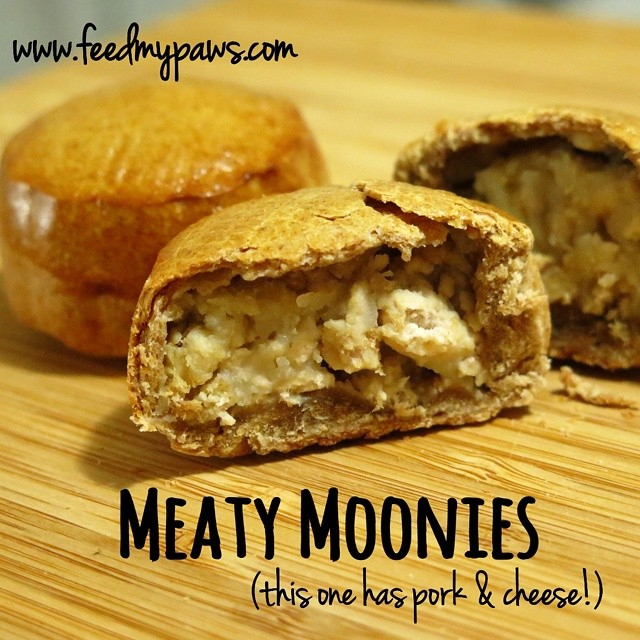 Pooches with a love of fruits could enjoy the following snowskin mooncake flavours – 100% durian paste filling,  Raspberry-strawberry ganache filling and 100% sweet potato paste filling. Most ingredients in these mooncakes were organic, except for the glutinous rice flour used for the snowskin.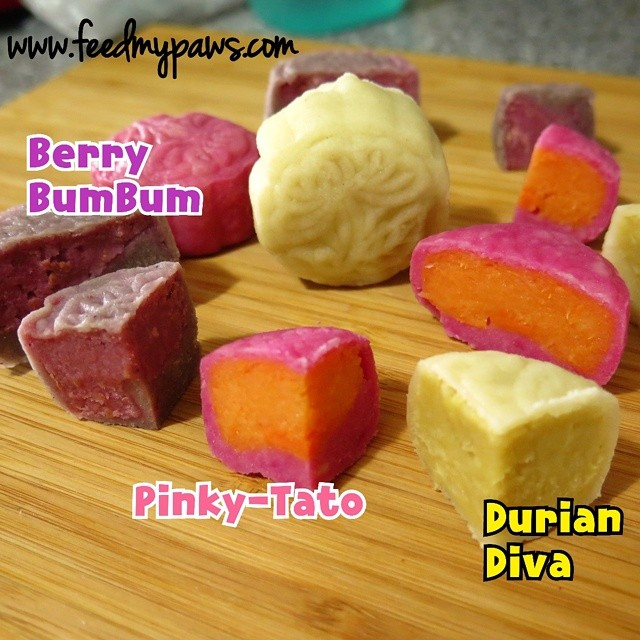 The good news for pets allergic to grain and some of the fillings available, customers could choose to order the limited ingredient fillings that the dog is not allergic to with a grain-free organic buckwheat crust* instead.
 *The buckwheat crust ingredients consisted buckwheat, olive oil and honey. All organic. 
The Limited Ingredients Mooncake for Pets with Allergies
Sometimes too many choices and flavours can be bewildering, especially for pet parents looking for limited ingredient mooncakes that their dogs can eat safely without an allergic reaction. 
My Greedy Pet makes it easy for pet parents with only two mooncake flavours to choose from – 100% fresh Chicken or 100% fresh Pork.
To differentiate between the two, honey sweet potatos are used to make the skin for the chicken mooncake;  purple sweet potato for the pork mooncake.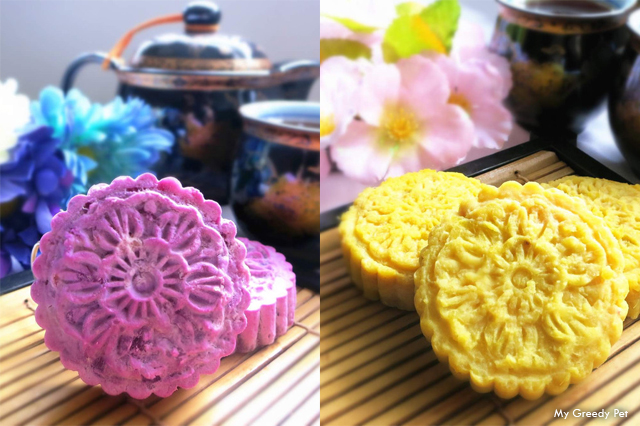 Sweet potatoes are often a substitute for humans who prefer a grain-free diet for their dog. But do note that these mooncakes are not 100% grain-free, as a small amount of gluten-free rice four is used to hold the mixture together. So it may or may not be suitable for pets with a grain allergy.
Popular mooncake flavours with pet bakery customers
With so many flavours on offer, which ones are popular with customers?
Meat, sweet potato and cheese apparently.
The top three mooncakes for Pawlicious are the: traditional meat-filling mooncakes, Peanut butter and sweet potato mooncake and Three cheese and potato mooncake.
Pawsitive Treats also see similar trends, their top three fillings are: Purple Sweet Potato, Meat fillings (Pork and Salmon) and the Yam and cream cheese with cranberry.
On the other hand, Crystle of Feed My Paws said,
"I assumed the meat ones would be really popular but nearly everyone who placed an order got at least two Durian Divas."
Besides the Durian mooncake, the Pork and cheese and Mixed berry mooncakes are among the top three flavours popular with Feed My Paws customers. Crystle said,
I'm guessing Durian Dive is pretty popular because of it's uniqueness. I haven't seen many durian doggie snacks on the market :) Besides, most of us humans love durians too and now there is a guilt-free version for our dogs hehe. As for Porky Cheese I'm guessing pork is a more common meat (fewer allergic reactions) hence the preference over beef. Berry Bum Bum however, really surprised me with its popularity!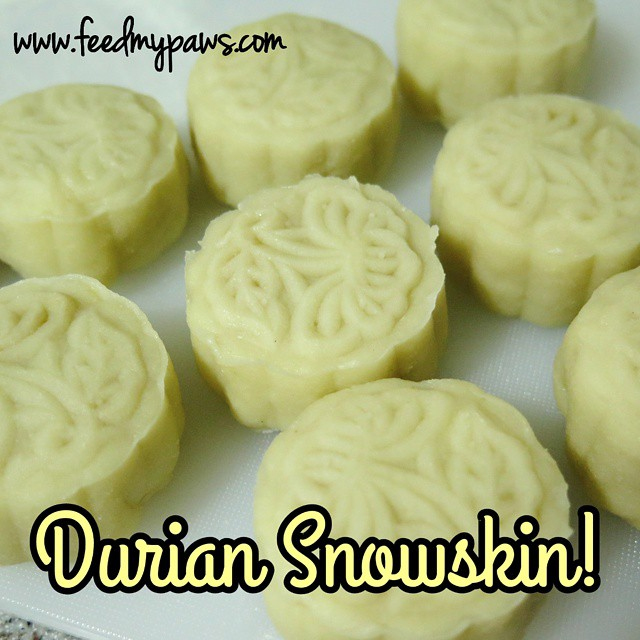 Customising the mooncake to suit dog
But the dog mooncake makers and customers don't just stop at ready flavours.
Instead of using organic whole wheat flour for her baked mooncakes like the other mooncake makers Feed My Paws and Pawlicious Pet Bakery, Myndy from My Greedy Pet used sweet potato as the main ingredient for her mooncake skin. She said her dog had the major say in this decision.
"She doesn't enjoy flour products such as cakes, muffins or biscuits. My dog likes meat and sweet potato! Hence we came up with the idea of having sweet potato as the mooncake skin, with the filling containing 100% fresh meat!"
At Feed My Paws, Crystle shared that she was motivated to make a grain-free version of her original offerings for a customer.
"I had a customer whose dog was allergic to grains, so I came up with a grain-free version just for him! It has since gained popularity and I'm really happy about that because now even dogs with grain-allergies can enjoy a yummy moonie :D…Given how I nearly broke my back trying to come up with the right recipe and technique, I would say, If at first you don't succeed, TRY, TRY, AND TRY AGAIN!!! Then maybe whine and rant for a little while and get back into the kitchen after that haha ;)"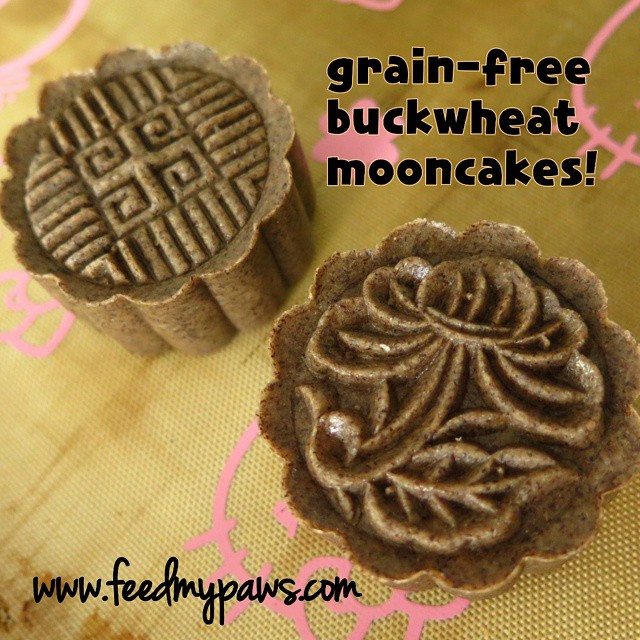 Pawlicious' doggie food challenge came from the Poodle Club,  Jaster of Pawlicious said,
"The poodle club asked if we could make a giant mooncake for their mid-autumn pawty, but unfortunately we couldn't find a 6″ mooncake mold!"
The good news is it seems these pet bakeries are happy to cater for dog's tastebuds and health needs, no matter how picky or challenging they are. ;)
Recommended feeding amount
That said, pet parents do still remember to feed in moderation. Delectable as they are in photos and in real life, mooncakes are still a treat that the dog does not get everyday and may not be used to.
Pawlicious said,
"I would recommend to try 1/4 of the mooncake first for small breed. My bull terriers had two each at one go, no problem so far :)"
If the dog shows no adverse reaction to the new food – e.g. diarrhoea and common signs of allergies like itchy skin – you can then proceed to give more.
Feed My Paws recommended up to two of their mooncakes a day for small dogs.
If they're having two, it would be better for it to be spaced apart as it can be pretty high in calories even though it looks small! There's a lot of meat, cheese, and natural sugars from the fruits used, especially durian, which is rich and  creamy :)

For medium sized dogs, two mooncakes will be no problem. And for large dogs, just have all six. Hahaha, okay I'm kidding. Three will be enough :P (although my cousin's Great Dane really did eat six!!)
For pet parents who worry that an additional mooncake on top of dog's normal diet will just add additional inches to his waistline, My Greedy Pet also advised for their mooncakes,
For a small dog of about 5kg, two mooncakes can be fed at one go to replace a meal :)
Last but not least, Pawsitive Treats recommended something that all dogs will no doubt applaud. Gobble it up ASAP! :D
…we recommend owners to feed within 2 days after collection so the moonies are at its freshest! To us freshness and quality are important. All mooncakes are made (either the night before collection or in the morning on collection day if time permits)
How do you decide which shop to buy from?
For the two raw-fed border collies at Life with Lycan and Lexie, their human decided it was time to spoil these two cuties who rarely get cooked food.
Saw it (the mooncakes) on Instagram and I couldn't resist!
Price was a factor and Hazel also wanted to try something from Feed My Paws to help her decision to place a bigger order for Lycan and Lexie's birthday party.  Her verdict? Looks as pretty as it smells. Lycan and Lexie's review here.
The Wong Dogs are return customers at Pawlicious. The Wong Dogs spared no time giving a verdict, their human wrote in their feature here,
Cory and Cole gobbled their portions as if they weren't fed for days.
Rona who bought from Pawsitive Treats said,
Mochi is a fussy eater, so hard to get her to eat her treats/food but she loves mooncakes from Pawsitive Treats.
These pet bakeries with their many varied and innovative flavours and human-grade ingredients have no doubt brought a lot of joy to dogs and their humans.
Pawsitive Treats shared humorously with us,
We have customers buying it for themselves too after tasting their's furry's mooncakes!
So, is your dog a lucky pup who gets to sink his teeth into a mooncake this Mid-Autumn Festival? Were you first attracted to them by the food photos?
Which mooncake did you order for your dog and did it live up to your expectations?
I'll love to hear in the comments below. ;)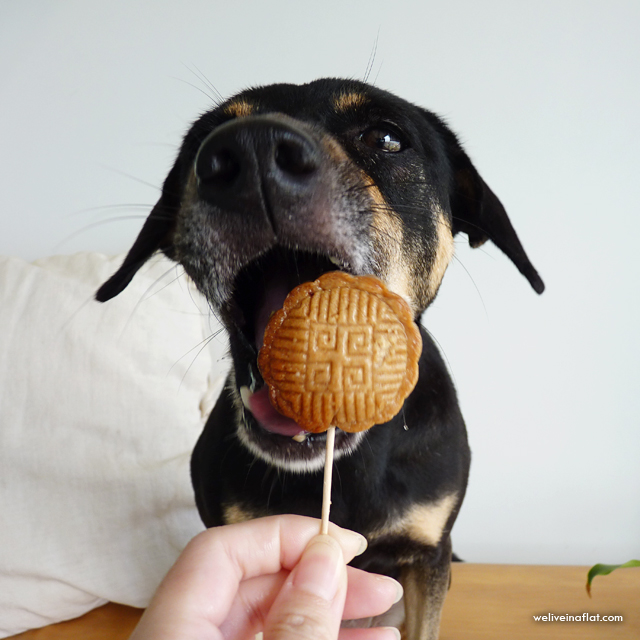 Special thanks to Feed My Paws, My Greedy Pet and Pawlicious Pet Bakery for kindly taking the time to answer my questions via email. Also Super Major Thanks to Pawsitive Treats for entertaining my super last minute enquiry. (I just discovered them today :P)  
All mooncake ingredients information shared in this post have been clarified with these pet treats and bakery stores via email. Please feel free to contact me for correction if you feel that I have misunderstood/misrepresented you in any way.
See also All other posts on Dog Food by weliveinaflat ;)
---
Come :) Follow weliveinaflat.com on
Instagram @weliveinaflat |  Facebook donna.weliveinaflat |  Youtube Mutt Vlog