You know an eating place has succeeded if you can remember at least one of the menu items and will return again to eat. I have a bad memory. Exceedingly bad. But I can tell you that I tried the Chicken Soup Pasta at Pasta J, and I wouldn't mind returning again.
But I'm jumping ahead of myself. Let me start from the beggining…
About Pasta J
You may already have heard of Pasta J last year when they were advertising a dog-friendly Halloween event. But we didn't visit until July this year (2016). This couple of days, a lady's negative review of the place has been spreading around on Facebook, which reminded me that I actually had photos to share. So what better time to write a post about it. :P
Pasta J – environment and space
Pasta J is basically a cafe set in a row of shop houses along Upper Thomson Road. Now if you remember the relative size of shophouse shops, you'll start to understand when I say seating is limited. If you are planning to visit in a large group that is more than four people, it's definitely a good idea to make reservations in advance. Otherwise, the walk-ins didn't have much trouble getting a table immediately when we were there lunchtime on a Saturday afternoon.
And because the shop space can be tight, it is easy for your dog to be affected by other dogs sitting nearby. Which is why I never go out without Donna's food to make me more exciting than all the other dogs around. :P :P :P
The dogs were also focused, many thanks as well to Cookie mama's home-made dehydrated fish. :P
While we waited for our food, we took photos. And I wanted to share this because I was just amused by how the Torus bowl fits into the stroller so Cookie will always have a water source if thirsty.
Anyway, so I was saying, Pasta J is dog-friendly BUT not a dog-cafe, so you have to keep your dogs on a leash beside you. And if your dog is likely to disturb other patrons, it's probably not the best place to bring him. ( Visit a dog cafe instead if you want your dog to socialise. Here's a list of dog cafes to check out. )
The food at Pasta J
Pasta J's menu was interesting because there were some quirky names for some of the food, and they even sell frozen soup for you to bring home. That was the reason why I ordered the Wholesome Chicken Soup Pasta. Because frozen chicken soup was available (if I don't remember wrongly) for purchase, so I wanted to try it first at the shop. ;)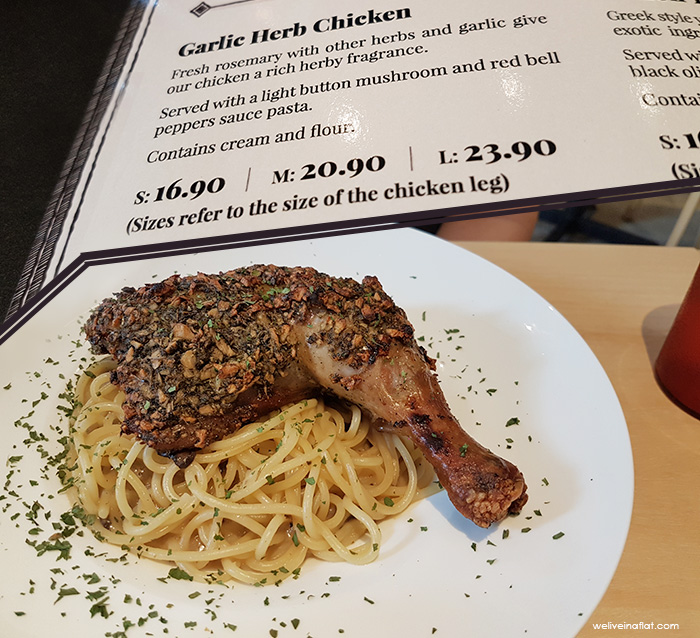 In general, Mr P and I enjoyed the food although some members of our party found it too salty. So it's really up to the individual. When it came to dessert, I think we agreed that it didn't hit the mark for us.
Dog-friendly Pasta J
How dog-friendly is Pasta J? Well the man in charge certainly appeared very attracted to Donna and came by to give her kisses more than once.
So P and I would definitely return for meals again with Donna. We enjoyed the food and were comfortable with the surroundings.
Visit Pasta J – Facebook | Website


Come :) Follow weliveinaflat.com on
Instagram @weliveinaflat |  Facebook donna.weliveinaflat | Youtube Mutt Vlog