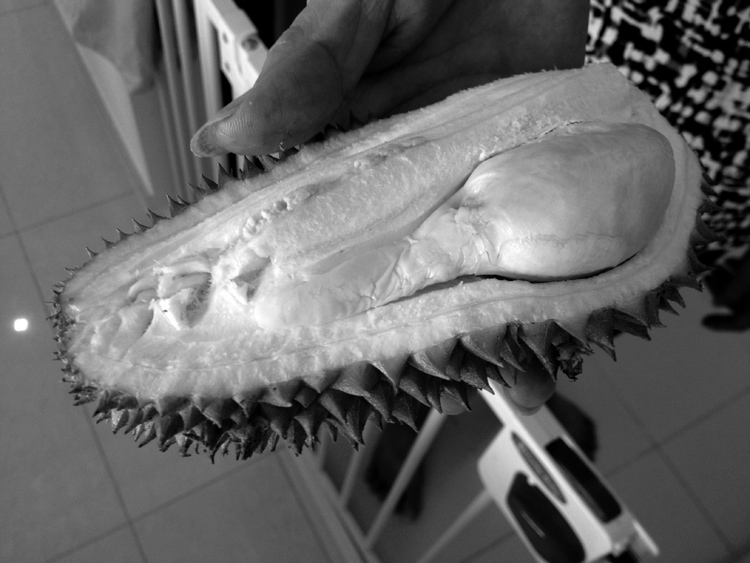 Can dogs eat the fruit, Durian?
There is very little online information on this that I can find but apparently yes but in small quantities only, if the links referenced at the end of this post are accurate. :P
The fruit, Durian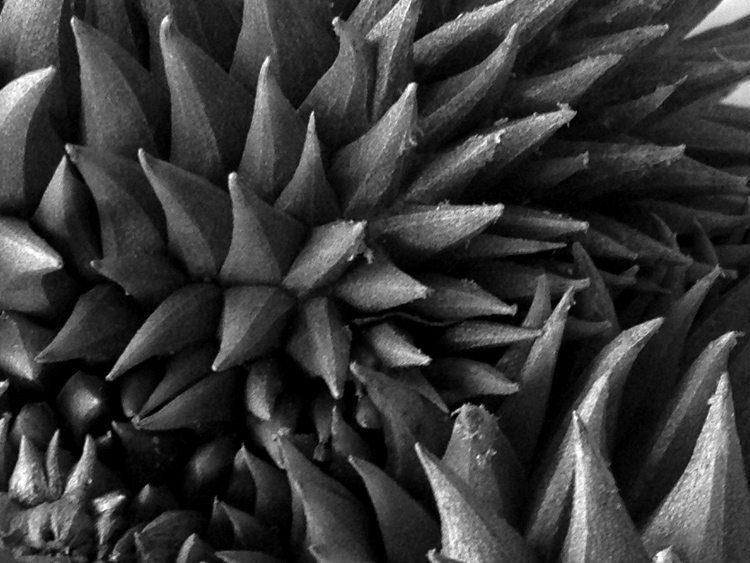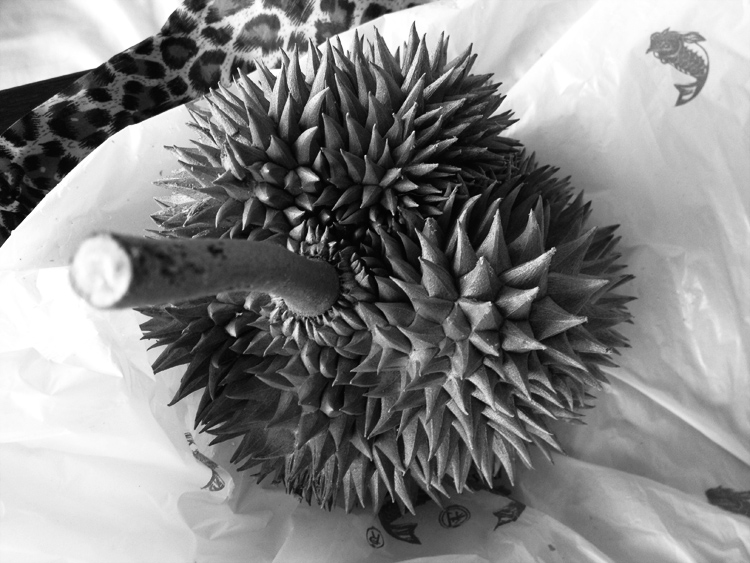 The Durian is hard and prickly on the outside. When opened, it can be split into sectional husks that hold it's seeds covered with creamy, smooth flesh that can be various tones of yellow. (Sydney has a post on the different types of durian here.)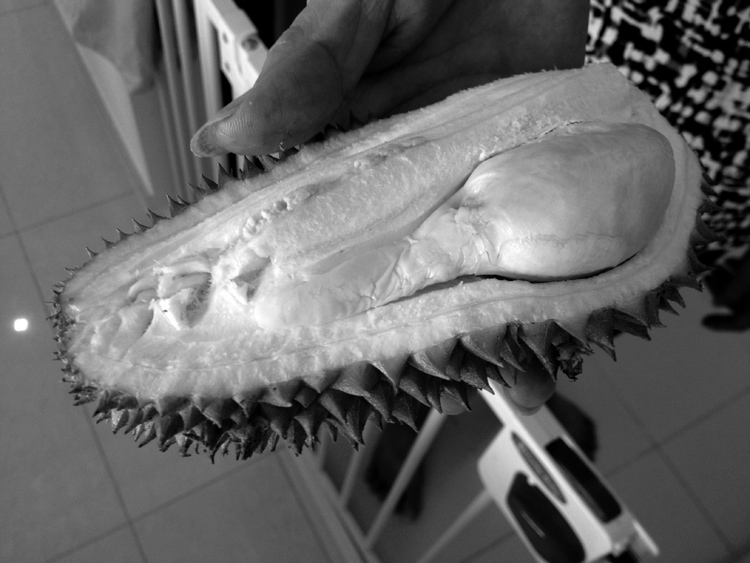 Nutrition
Durian is "high in fat and calorie-dense" though, so it would not the best food for dogs with weight problems. Dogs also can get upset tummies when the food they eat did not agree with them. In serious cases, poisoning can occur. Be aware that the seed of most fruits contain cyanide that is toxic to dogs, so do remove any seeds before feeding a small amount of the flesh of a durian to a dog if you choose to try it out.
Taste Test
I did offer the teeniest bit of it to Donna, and unlike the other fruits I offered to her before, she ate it without the usual licking taste test. So yes, she must like it. She did go into a heavy doze thereafter and I started worrying if I had poisoned her. D: And oh look, does her muzzle look a little swollen? Perhaps she is allergic to it and she was going to have breathing difficulties anytime soon as her muzzle and perhaps her throat swell up. D:
Of course it was pure paranoia. I realised a few days later that there will be occasions when her mouth will look contracted rather than relaxed in a wide grin. One of these occasions will be when she is all tensed up waiting for her toy to be thrown so she can go chase it down. This picture is not a very good example, but it's the only one I have for now as a visual reference of her mouth when she is slightly more nervous (left) versus the more relaxed wide mouth (right)

See the mouth? She's more relaxed on the right than on the left. In fact, I wasn't so used to her with her mouth clammed shut like it is on the left and as recent as two nights ago, I worried if it's swollen because she was allergic to something!!! Oops… – from: Crate-training for our dog who hates storms, Aug 2.

So there you have it, our durian tasting experience.
Important note
I have to say please do not feed your dog any food that you are not sure about without validating with a reliable source. Just search online and you will find lists of foods that are known to be toxic to dogs, including common human foods like chocolate and raisins. Again make sure the page you are reading is a reliable source.
Durian is not on any of these lists, but I also made sure to get a sense of whether people have fed it safely to dogs before. And I only gave her the teeniest bit because one never knows how she would react to it.
And while she seemed to like it, I think I shall just reserve all the durian for human consumption next time. :P Dogs do not need carbohydrates, so they do not need to eat the durian. She can continue to get some antioxidants from blueberries, minus the fats! :P
Special thanks to my mother for the durian in the pictures.
Durian, the king of fruits, has a strong smell so it can be pretty hard to transport around. Despite this, my mother decided to bring the two fruits she bought with her to the hospital where she was to have her medical appointment before coming to our flat. Of course when she was there, somebody had to remark on the smell in the pharmacy. And so my mother had to sneak out again, as inconspicuously as she could manage to the open-air areas of the hospital. Once out there, she decided she needed to stash her durians behind some plants so she could go for her medical appointment. She expected it to be gone by the time she returned but lucky her, the hospital cleaners had not detected or removed them.
Durians sold in Singapore are typically imported from Malaysia, but the two she had with her, my mother bought from an old lady at the market who claimed that she just picked it from some durian tree in some forested area locally. We don't have a lot of forested area, no. And in the old days, people buried the dead in forested areas. :/
I seldom eat food from dubious origins, but since my mother brought it, I dutifully ate every seed of flesh and I'm not dead yet, so good. :P
See also All other posts on Dog Food by weliveinaflat ;)
---
Come :) Follow weliveinaflat.com on
Instagram @weliveinaflat |  Facebook donna.weliveinaflat |  Youtube Mutt Vlog