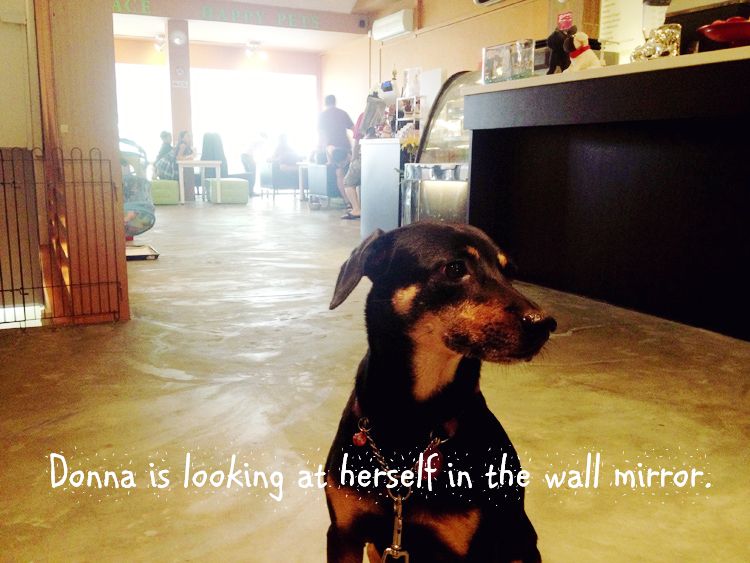 Sadly, III Cafe has closed. This post captures photos of Donna and some of our thoughts about this dog cafe. 

Donna sitting near the gated entrance of III Cafe, by the order counter. 
Description

Dog cafe in shophouse (2nd floor)
Some open space for dogs to play (see photo above)
Air-conditioned environment

Menu
Address
687A East Coast Road, 2nd floor, Singapore, Singapore 459055
Google map
Operation hours
Tue – Thur: 12pm to 10pm
Fri – Sun: 11am to 11pm
Closed on Monday
Check Facebook – store is sometimes closed for private events
Housedog Miu Miu, the French Bulldog
III Café is opened by 3 sisters … The "III" represents the 3 sisters but the middle sister explains that they also want the café to stand for "Happy Dogs, Happy Owners, Happy Place/Environment". – eatprayflying.com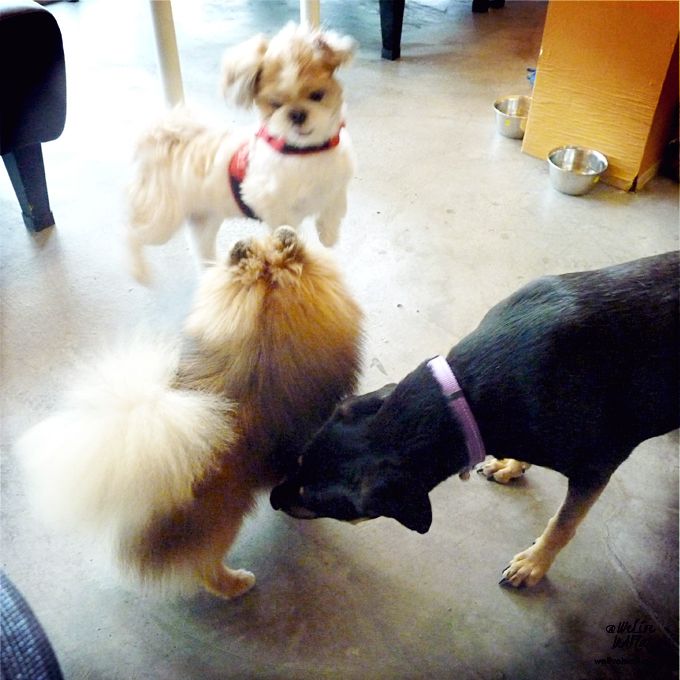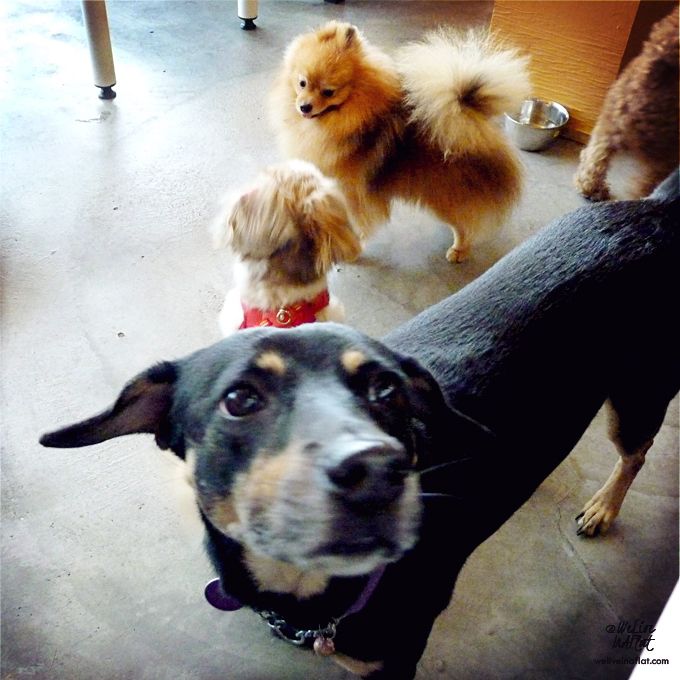 Why III Cafe is awesome-sauce
Open space for Donna (15kg) to run around and play with other dogs
Comfortable furniture and environment
These dogs enjoyed meatballs from The Barkery – samforestloolim, CookSnapEatLove, eatprayflying.com
Hand sanitiser, tissue, water dishes and mops readily available.
If your dog is ready to go beyond distraction-free training, this can be a great distracting space to train in ;)
Why III Cafe is not so hot

More reviews of III Cafe from other blogs
Our notes on this cafe for dogs
Location III Cafe may take a little effort to find for the first time visitor. It is located on the second floor towards the end of a row of shophouses. This meant that the entrance was not immediately visible when we drive by. So it's helpful to remember that it's right above Georges Mad Grill.
Floorplan The space itself holds about 10 tables, with a good amount of floor space for dogs to romp in. (I've never loved empty floors so much! omg!) :P
Service & Facilities Life is also very convenient with hand sanitisers and tissue on the table. The staff used to provide a water dish to each table when we visited in earlier months but the last time we were there Donna drank from a communal dish by a pillar instead. So service may not be consistent at all times, but the attention to detail they have from the start still makes up for it in my book.
Service & Food I honestly did not enjoy the human food, but Donna will probably think otherwise when it comes to baked goods from The Barkery. ;) That said, I have just sat there by myself and Donna hogging a table for four with only a drink and nothing else before. I wasn't made to feel unwelcome so that gains some service points for me :P
Socialisation Our dog is sometimes picky about her playmates, but this cafe still makes a great socialisation space for dogs. Of course, the safety and harmony between dogs is the responsibility of the dog owners, especially with more dogs packed in a smaller space than the dog run.
Training For dogs ready to go beyond distraction-free training, this is a good space to do so. The size of the shop caters to less dogs than in a dog run, which makes it less overwhelming for the dog.
Some photos of Donna at III Cafe