After an early morning jaunt about the Singapore Sports Hub ( photos here ), we headed to Artistry Cafe for brunch.
This is my ah gong's stadium, Singapore Sports Hub
Our pet taxi driver was surprised that Artistry Cafe opens as early as 9am.  That works really well for those who like to head out early with their dogs on a weekend! 
Artistry Cafe –  we arrived!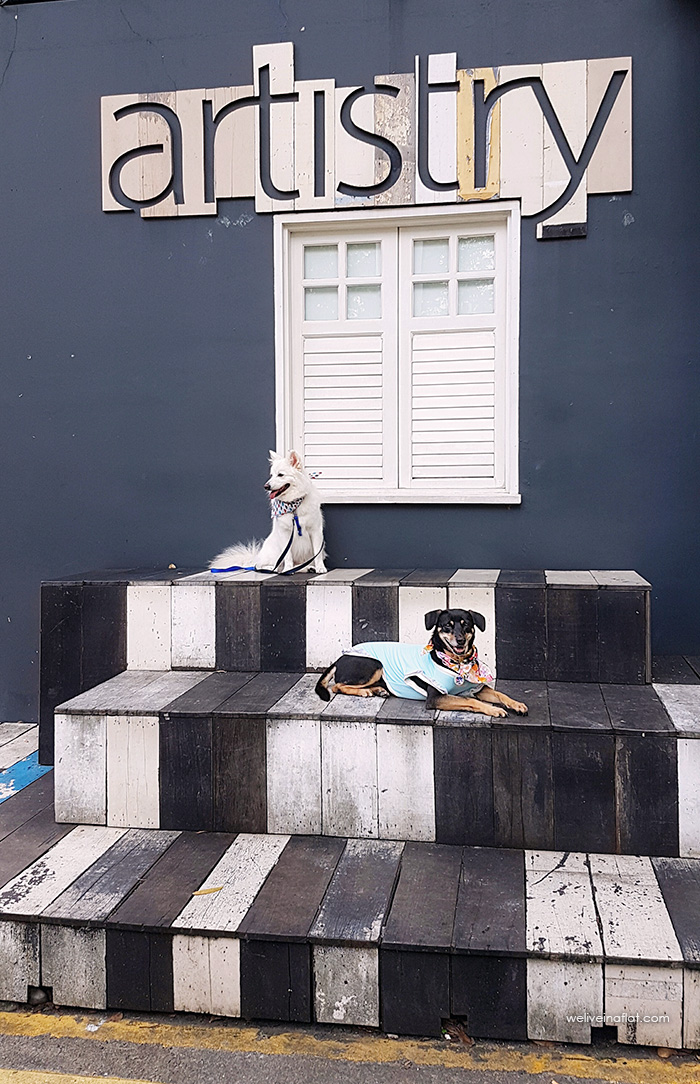 Obviously, nobody visits without taking photos at the iconic piano keys stepped platform at Artistry's shop front.
Food items on Artistry's menu
As for the food, prices range from $12-$25. Artistry serves a small selection of breakfast, salad, grilled paninis, burgers, pastas and desserts. A brief scan of reviews found recommendations for the chili crab burger, duck confit pasta and the PB&J french toast.
Our orders arrived without cutlery. We thought maybe it was self-service, but it seems they just forgot to bring them along with the food. :P Nothing that cannot be easily remedied.
Anyhow, here's our order:
Artistry Cafe's dog-friendly outdoor seating
Artistry Cafe is situated along Victoria Street. The outdoor tables are lined up by the wall, parallel to the little driveway that runs alongside Victoria Street.
Donna preferred to hide under the bench next to the water bowl provided by the staff. :P
After a while, she migrated from under the bench, and gives you an idea of the space between tables. :P
Overall
The staff were pretty friendly. The outdoor area was pretty comfortable and quiet early Sunday morning. We had a good time just chilling at our table. Would have been perfect for dogs if Artistry were running alongside the beach or a park! HAHAHA :P
Artistry Cafe [facebook | website]
Address: 17 Jalan Pinang Singapore 199149 [google maps]
Opening hours:
Wed – Sat 9am – 11pm
Sun 9am – 4pm
---
Come :) Follow weliveinaflat.com on
Instagram @weliveinaflat |  Facebook donna.weliveinaflat | Youtube Mutt Vlog