This Sunday, Dogs of Instagram SG will be throwing our very first Christmas Party at Serangoon Community Club.
The idea of a Christmas Party grew pretty organically. Life at Lycan Lexie first suggested a Christmas Party. The idea was then discussed within our Facebook group, and there was some interest which gave us the encouragement to bring the idea to life.
One person was not enough, so we ended up with Mango the Sheltie, Some White Cookie, Life with Lycan Lexie and We Live In a Flat as the organising committee for the Dogs of Instagram SG Christmas Party.
The Venue

The space!
Dog parties in Singapore are most commonly held at dog cafes. But considering we had over a hundred members over on our Facebook group, we thought we needed a bigger venue that could host more dogs even though we know we couldn't accommodate all members.
We considered various indoor and outdoor venues and finally decided that Serangoon Community Club will best fit our requirements, both cost and floor space. We wanted a dog-friendly venue where there is ample space for dogs to run, and for owners not have to worry that they and their dogs will run into  other dogs every time they turn. This is because we understand that not all dogs can get along so if we want to have a party that brings up to 50 dogs under one roof, we better have the space for it.
The cost
The cost of the Christmas Party is wholly supported by members who purchased tickets to the party. Tickets cost $35 per human and a nominal $5 per dog. Costs of the tickets go to cover the rental fee, cleaning and associated fees of using the venue, including tables and chairs rental. The tickets also cover a buffet lunch for human guests.

Chairs for rent!! Haha!
While a lavish decor will add to the ambience, we would not have the budget for that. That said, we hope that just having dogs together to have fun will make up for the minimalist decor that we would be having :P
We do not profit from the party.
The Sponsors
Why would we need sponsors for a self-funded party?
Share the joy with homeless pups
Well, since we are gathering up to 50 instagrammers with their own following on Instagram. We figured we can use this event to do some good for our favourite shelters.
To that end, we contacted more than 50 pet online stores on my fabulous (lol) list of pet online stores here, dog food distributors as well as other local popular pet businesses on Instagram.  To finally end up with eleven sponsors, is a pretty good response rate.
To date, our Christmas Party is expected to benefit the following animal welfare groups: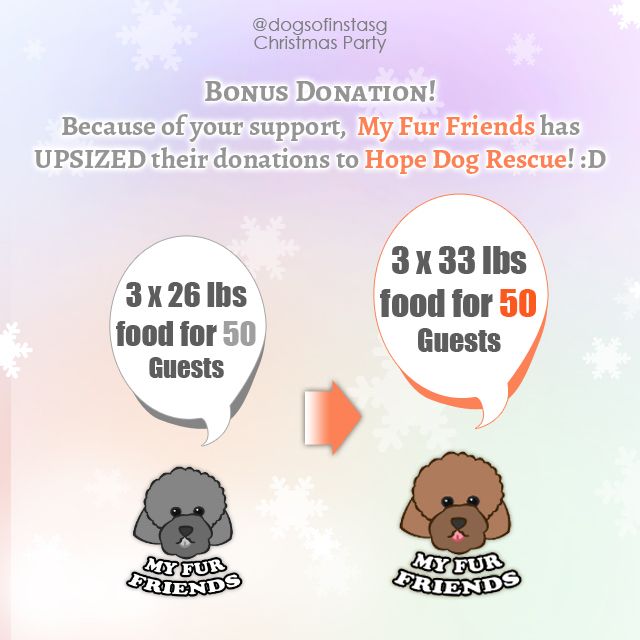 Hope Dog Rescue will receive 3 bags of 33 pounds food for stray feeding from myfurfriends.com.

Uncle Khoe's k9 will receive 50 pupcakes for their shelter dogs from feedmypaws.com.

Gentle Paws and Friends will receive food (amount to be determined) from our latest sponsor to come on board LittleCherry.sg.

myfurfriends will also be donating 50 leashes to be shared among shelters.
The benefiting shelters are chosen either by the sponsors themselves or through online voting within our Facebook group.
Goodies for party hounds!
1/ Doggie guests to the party will also get to enjoy treats from not one but two of our Doggie Treat Tables sponsored by Barking Good and The Barkery.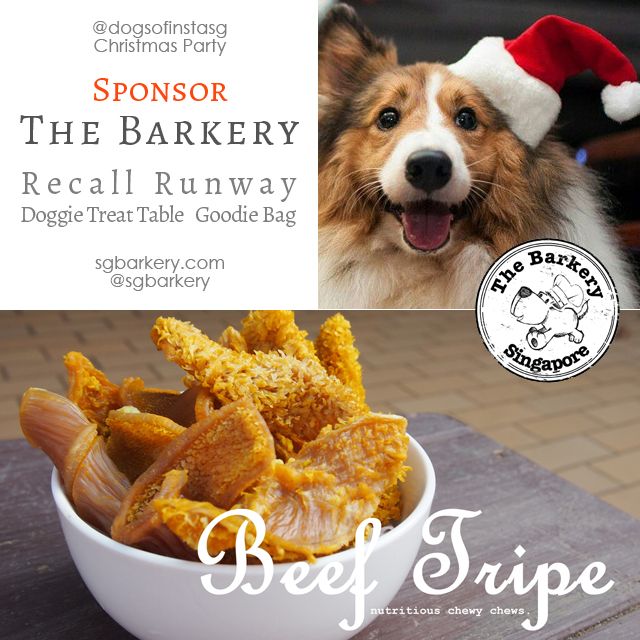 2/ Each doggie guest will also bring home with him/her a goodie bag inclusive of treat samples from Barking Good, The Barkery and Furrific as well as gifts, samples and vouchers from Pawmart, Little Cherry and Wagging Rights.
3/ And there are more than 10 lucky draw prizes of varying value to be won from the following sponsors: The Duf Store, Little Cherry, Wagging Rights, Barking Good,  Furrific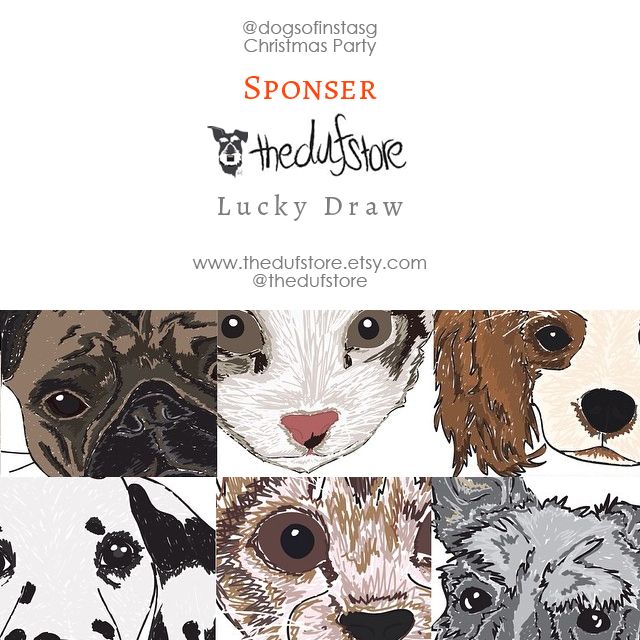 The Fun and Games
What is a party without party games?
Recall Runway
The Barkery is kindly sponsoring the goodies needed for the Recall Runway – the game that will put our dogs to the ultimate challenge. Can dog safely return to human via a path booby-trapped with all sorts of tempting treats and toys??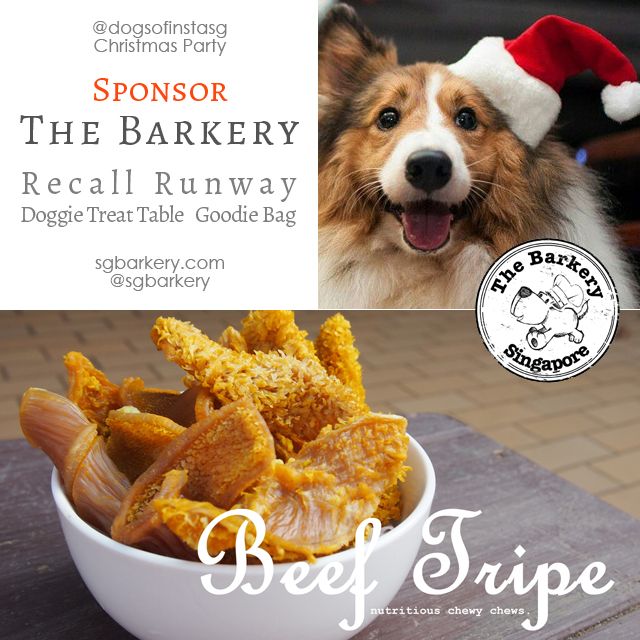 Best Dressed Christmas Pup
And be on the look out and vote for your favourite best dressed dog to the party. Because  OhPopDog is giving away three prizes from their collection to three lucky best dressed dogs!
Photobooth by Anna Phan
Remember to take a snapshot at our Photobooth! Photography kindly sponsored by Anna Phan. Photos will be uploaded to our Facebook group. ;)
Showcase
OhPopDog new collection showcase
Be the first to check out Ohpopdog's new collection right here at the party! Even before their launch at the Public Garden Christmas Markets 13-14 Dec! ;)
Visit to Uncle Khoe's K9
The dogs at Uncle Khoe's K9 will be having their Christmas Party in advance on Dec 12. Crystle from feedmypaws.com will be delivering 50 of her yummy pupcakes to Uncle Khoe's, one on behalf of each of our 50 guests! Check out the photos from our trip there!
See you this Sunday!
Of course, all these would not come to pass if we did not have the 50 guests who paid for the tickets and lent us the strength to approach our sponsors. So a big thank you to you!
We look forward to seeing you this Sunday, and hope you have a great time! :)