Less then two months to Christmas and the malls are already decked out for the season. Gift giving is hard! I totally procrastinate when it comes to gift shopping. Ideas seem to escape me when there comes a need for it. Hah!
At least, gift giving to a dog lover should be easier right? Today let's talk about personalised dog-related gifts to make it extra special for a dog-loving friend, partner or even yourself!
I'm going to share with you my pick for an affordable personalised gift and also recommendations from two lovely ladies I met on Instagram.
So come on and take a look:
1. Not just any Pillow

Customers favour sitting photos of their pets for the PIB Plush,
a very functional gift for modern interiors.
My pick: PIB Plush from Petsinbootz
Petsinbootz offers your own Pet Pillow available in two sizes – 35cm and 45cm.
These pillows let you have your personal stamp on it because you can have it printed with a photo that you took of your friend or partner's pet. The photo is printed on with "UV Digital Silkscreen" technology and further customised with your choice of fabric for the back of the pillow. With nine choices providing a good variety of classic patterns, colours and textures to choose from, making a choice is easy, not overwhelming.

Black and white photos on the PIB Plush to complement monochromatic interiors.
Petsinbootz says the PIB Plush is filled with polyester fibrefill stuffing that do not clump up, and are softer and more durable than lower grade stuffing. So even if said pet dog is not exactly lap dog material, this is one pet pillow that you can keep on your lap as long as you please.
Eighty percent of customer sales are shipped printed with dog photos, so you may be sure this product is popular with dog lovers. That said, Petsinbootz says they are game for and have made pet pillows of other smaller pets like cats, rabbits and even the tiny hamster.
I don't know about you, but I love my Donna pillow which I will share photos of in another post coming soon. :P
Petsinbootz.com PIB Plush
Customisation is easy. Simply send a clear, high-resolution photo that you/your friend would love to see on the pillow when you put in an order.

Customer service. Not every customer is a Photoshop hero, that's why Petsinbootz can help to crop your pet out of the photo for printing on the white background. For Donna's PIB Plush I got to review the processed photo before they sent it for printing of the final product.

Delivery. You can expect to get your order in 8-10 working days upon approval of the photo.

Price. SGD$55-$85 (depending on size and choice of fabric for the back. )
2. Not just any Cuddly Toy

Whether your dog is short hair or a fluffy puff,
Cuddle Clones still can make you a cute and cuddly clone of him.
Miss N's pick: Cuddle Clones
That's Kooky (Junior) the Sheltie on the right with his Cuddle Clone friends in the picture above. For something cuddly and more three-dimensional, CuddleClones.com offers to make a stuffed toy replica of your dog.
Kooky's Cuddle Clone was actually a gift from N's boyfriend, who saw how much she liked the idea of a "mini Kooky" when they were checking out the Cuddle Clone website.
"He knows I will appreciate something like this much better than jewelry or bags because I'm obsessed with Kooky," said N.
And when it was finally delivered, it was love at first sight for N.
"I love it so much!"

Kooky Jr and Kookie the Sheltie (right)
"The order… instructions was clear enough to upload different images that focus on different part of the dog," said N, who explained there are options for the clone's body/ear/tail position, eye color and whether you want the mouth to be open/close or tongue to be sticking out.
"I liked how they emphasized his eyes with the "eyeliners" and made his eyes huge and round as instructed. It looked so real that I felt like I'm holding a smaller version of Kooky and subconsciously I became very gentle with him as though he was a living thing.
And we also refer to him as a "he" rather than "it". Lol! "
As for Kooky's reaction to his cuddly buddy, here's a video. ;)
For more photos of Kooky Sheltie and his Cuddle Clone, follow @kookysheltie on Instagram.
Cuddle Clones
Online customisation is more detailed with clear instructions. At least 7 photos are required to be uploaded to ensure Cuddle Clones has a good view of the dog from all angles in order to replicate accurately. Customers also get the option to pick details that can indicate the pet's emotions like tail up or tail down, open or closed mouth.

Customer service is supportive. Cuddle Clone Kooky was meant to be a surprise for N so was notified only after her boyfriend placed the order. She quickly contacted Cuddle Clones to make sure that the details of Kooky's physical features will be captured accurately. The support she got from Shy at Cuddle Clones was patient and supportive, so N could rest easy that details such as the uneven white "socks" on Kooky's legs would not be missed.

Delivery. You can expect to get your order in 11-12 weeks.

Price.
USD $129 for small animals (rabbits, guinea pigs, birds, fishes)
USD $199 for bigger animals (dogs, cats, horses)
Not inclusive of shipping. It cost USD $50 to ship Kooky Jr. to Singapore.

Get 10% off all Cuddle Clones products with of these two
discount codes – Kooky10 or weliveinaflat.
Cuddle Clones' deadline for orders of pet figurines for Christmas – Dec 5.
3. Not just any Needle Felted Pet Sculpture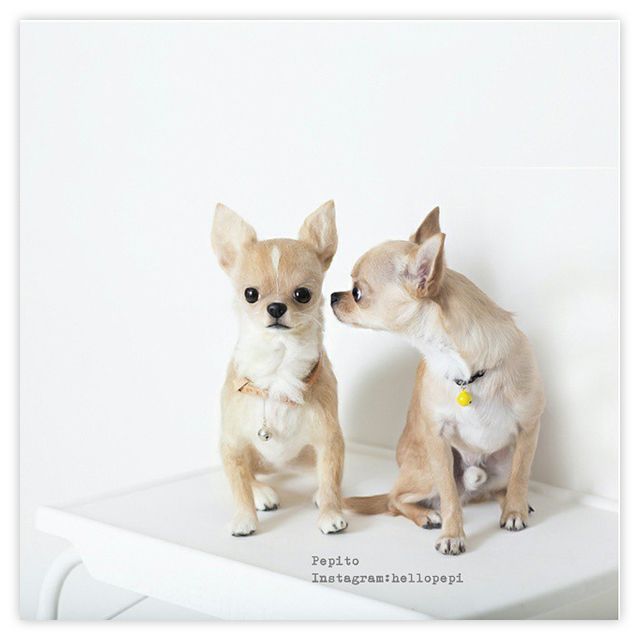 Go away, there's only room for One Pepi the Chihuahua in this house!,
says Pepi to his needle-felted doppelgänger.
Miss S's pick: Dollmofee needle-felted pet sculptures
S's four pet replicas were commissioned to Dollmofee artist Mavis Chen. Based in Taiwan, Mavis specialises in making amazingly life-like figures of pets using the technique of needle felting.
" She (Dollmofee) used to make custom blythes, blythe clothes etc, so she was known to me as an artist…The needle felted work I have seen from others are usually just cutesy stuff with just a head. They were not lifelike. But when I saw hers placed next to the pet it was customised to look like, I had to do a double take," S shared about the awe she felt when she first saw Mavis' pet replicas. "I like that she can capture what one calls "the essence" of the pet. She is also known in her circles as "The Hand of God"."
Mavis' works were so realistic that when there came a time when S felt she needed something to plug the hole from the loss of her dog, she knew exactly who to give her order to.
'Placing my order stems from a dark place. My first dog B died in 2001. I only had about 500 photos of her and just a handful of videos. That was not enough to help with my grief. Everyday I thumbed through the entire collection and had to repeat from page 1 because it wasn't enough. So I decided I would have ample ammunition (although we all know it's never enough) this time round and placed an order each for B, my pomeranian and my second dog, Pepi.'
When I first got to know S via Instagram, she had already had an 8cm replica of Pepi and a 10cm replica of B the Pomeranian made.

Pepi with his 8cm mini me, built to look "skinny, rebellious and unsatisfied".
This year (2014), she placed another order, this time for a life-size replica of Pepi.
Based on this report, Dollmofee had 70-80 orders in 2012 alone. That means she could be making 7 to 8 or more of these life-like replicas in a month.
"I noticed most people get bigger replicas because their pet is dying or has passed," said S, "I got her to make one of Pepi because I realised artists working in this sort of tedious (and labour intensive work)… do not last forever and I don't think she will be around doing this when Pepi is older."
S said while her family is in awe of the life size Pepi that was eventually shipped over, Pepi himself was not so impressed.
"He sniffed it and then acted like it was nothing when it was in the box. When placed side by side, he wanted nothing to do with it. It didn't have a "smell of something alive, it didn't move". He doesn't think it's another dog."
That if you ask me is a good thing. Donna would happily clamp her teeth on any stuffie given half the chance. And I'm sure I won't be too pleased should she decide to maul a Dollmofee replica of herself like she does her other toys, considering all that effort put in by the artist.
For more photos of Pepi and S's needle-felted replicas, follow @hellopepi on Instagram. See a video of her mini-replicas here.
Dollmofee
Customisation is super realistic especially for 1:1 and a more involvement and time to finetune with the artist to ensure accuracy and realism is necessary.

New orders are placed on wait list and takes an estimated 1-2 months before being placed. The actual time spent on crafting the order depends on the level of customisation and changes required by the customer.

"For 1:1 size I myself sent an entire folder (of photos), measuring his neck, chest, pawspan, tail, ears size . I had to be very detailed to tell her what I want highlighted, example scruff of fur on his neck, his eyebrows, the line of fur on both side of his face from the back view, the swirls on his backside.

S recalled needing only to go through one round of review and revision with the artist when making the smaller 8cm Pepi, but the life-size model took five rounds of review and revision. In S's case, it took a month just to make the base-model for the life-size Pepi. [see base model review video].

Customer service

Creating a super realistic life-size three-dimensional product based on photos obviously takes quite a fair bit of inventive skills, talent and dedication from the artist. And the final product can only be successful if both parties are willing to commit to the time necessary to communication and understanding each other.

The created pet sculpture based on photos is recorded on video and sent to the customer to review.

"…the chest was too droopy, the eyes weren't round enough, the muzzle was too long or dipped too low, the chest wasn't protruding enough, the tail seem too thick and long even before adding fur.. I sent videos to correct her," shared S on reviewing the work in progress. "It was very difficult to communicate with her only because I do not have strong command of the Language in her written Form. Taiwan uses a different writing system so I ended up drawing and using videos to highlight and revise."

However S had confidence in their collaboration, "I think Mavis naturally only seek the highest level of perfection given the limitations of the wool so she would just keep doing the revisions but at the same time cautioning me that "it would seem too big, or not proportionate" etc and letting me decide for myself what I would like."

Delivery. Probably reasonable to expect a wait of around 3-4 months from being waitlisted to final delivery.

Price. Dollmofee offers many sizes such as 8,10,15,20,25,30, (all in cm) and 1:1.

S estimates the prices start from USD$250 for a small dog miniature to a few thousand dollars for a 1:1 replica. Factors such as size, details of realism needed, length of fur, many colors and posture may also affect the final price.
So there you have it, three customised dog figure products to gift a dog lover.
OFFER OVER The PIB Plush printed with a photo of your dog is the simplest option. The ordering process is a breeze since you just need to submit your favourite good quality photo to be approved and printed.
SGD$55-85 at Petsinbootz.com
---
The Cuddle Clone will appeal to those who appreciate the details that capture the dog's features in 3D, with a dose of cute. The ordering process should be fun for those who like get involved in making the toy their own.
USD$125-199 at CuddleClones.com
---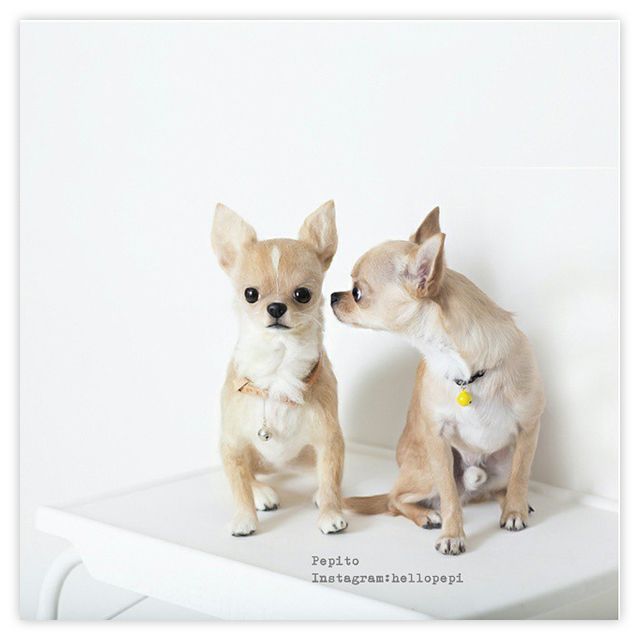 The Needle-felted Pet Sculpture requires the most involvement, time and effort from the pet parent to collaborate with the artist, who is physically located in Taiwan.
But the direct contact with the artist is what enables the collaboration to give birth to final pet sculptures with individual expressions that a human can identify as uniquely her pet's own. And yes, this uniqueness extends down to minute details like how one's butt hair swirls. :P
USD250 and up from Dollmofee.com | FB
The dog lover sure is lucky to have something to cater for different preferences and budget. Which is your favourite?
Many thanks to S and N for taking the time to answer my long interview questions and for using their photos and videos. Unfortunately, I had problems publishing S's videos to the page successfully, but you can still see it at the link provided.
Many thanks to Petsinbootz for answering my long questions about their PIB Plush. And also to both Petsinbootz and Cuddle Clones for kindly giving weliveinaflat discount codes for readers, should you be interested in the products featured.